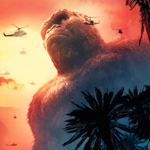 KONG presents SKULL ISLAND is a goofy, pulpy monster movie that doesn't live up to the hallowed cinematic legacy of KING KONG, but hey, it works as a more exploitative sequel. I think my expectations for this were more inflated than most because of how much I dug director Jordan Vogt-Roberts' first movie, THE KINGS OF SUMMER. That was an original comedy with wise, relatable insights into humanity, masculinity and growing up. I don't think there's any reason why a punching gorilla monster movie can't have that kind of substance behind it too, but to me this feels less human and more like the work of one of these distanced, pop culture loving whippersnappers.
In an unusual but arguably tasteless move, Vogt-Roberts set the movie at the end of the Vietnam War, an international disaster that he treats like a cool movie reference. The talk about senseless loss of human lives feels less impassioned and emphasized than the orange APOCALYPSE NOW sunsets and helicopters and the soundtrack that largely comes straight off of the Songs That Movies Use As Shorthand For the Vietnam Era, Volume I 2-CD set.

But to be fair, "Down On the Street" by the Stooges and "Paranoid" by Black Sabbath are two heavily-featured songs that wouldn't be on the Robert Zemeckis version of this. And believe it or not alot of it was filmed on location in the actual country of Vietnam, unlike any Vietnam War movie I know of. Vogt-Roberts and cinematographer Larry Fong (3oo, SUPER 8)'s bright orange, yellow and red skies make it stand out visually from any other giant monster movie.
Monster-believer John Goodman (C.H.U.D.) and young scientist Corey Hawkins (Dr. Dre from STRAIGHT OUTTA COMPTON) rush to put together a mission to explore the uncharted South Pacific island of Skull before the military pullout. Their squad balloons into an impressive ensemble of mostly one-dimensional characters including tracker-for-hire Tom Hiddleston (WAR HORSE), "anti-war photographer" Brie Larson (GREENBERG), happy-to-have-more-war-to-fight leader of the military escorts Samuel L. Jackson (THE SPIRIT) and a whole bunch of soldiers such as Jason Mitchell (Eazy E from STRAIGHT OUTTA COMPTON), Shea Whigham (BAD LIEUTENANT: PORT OF CALL NEW ORLEANS) and Toby Kebbell (FANTASTIC FOUR), who also provided some of the mo-cap for Kong's face (having already played Koba in DAWN OF THE PLANET OF THE APES).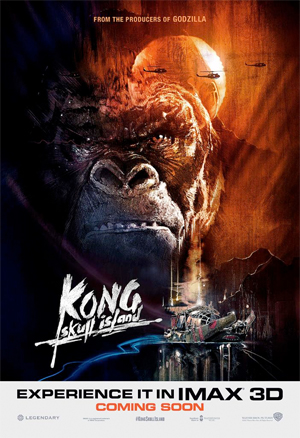 Before long their helicopters are swatted out of the sky by Kong. There are so damn many characters and it's kind of unclear which copters get totally destroyed, so I couldn't keep track of who died. All I know is I didn't notice any famous people missing.
The separated survivors make plans to escape while encountering other creatures on the island safari style. Some are vicious and some are just beautiful, like the huge water buffalo that looks like an anime forest god. Others I guess are in between, like the giant spider that CANNIBAL HOLOCAUSTs a guy by stepping right into his mouth. Kinda cool that a bug can just splatter a guy by accident like that. The tables have turned.
An odd touch: other than Mitchell, who keeps calling Kong a monkey, nobody seems to know how to describe Kong, and they repeatedly ask what he is. I guess this is an acknowledgment that they based Kong's body and movements more on the original stop motion puppet than on real animals. But I wondered if this was like how most zombie movies or TV shows never use the word zombie. Does this take place in a world where no one has seen gorillas before? I kept wanting to tell them guys, what it is is a giant gorilla. That is one thing I could've contributed to this mission.
The best character by far is John C. Reilly (WE NEED TO TALK ABOUT KEVIN) as a weirdo who has lived among the Natives (Skullese?) since crashing here during World War II – a dual reference to HELL IN THE PACIFIC and APOCALYPSE NOW. Reilly brings his trademark lovable knuckleheadedness to the proceedings and also carries a sword. He has a whole bunch of possibly improvised funny lines but is also the one character who successfully pulls off some heartstring-pulling business.
Well, maybe Whigham too. He's an actor I always like and he gets a more substantial part than I expected, especially for a movie where even the stars feel like they didn't have enough screen time to get very far. Jackson's character is not as nuanced, but he's fun to watch, chewing up the palm trees more than usual, and they let him repeat his most memorable line from JURASSIC PARK. That made me wonder if they ever considered trying to get Denzel to take the part so he'd be standing face to face with the title character and suddenly it would occur to everyone in the audience at the same time to yell "King Kong ain't got shit on me!"
In my opinion this King Kong ain't got shit on original King Kong or Peter Jackson King Kong in the soul or personality departments. It's kind of a shock when the movie remembers he should carry a lady around – I guess that's why they had to have an Academy Award winner on hand. I think Kong and Brie are just friends after she touches his nose, otherwise he would object, as I did, to Hiddleston's character Conrad (OH MY GOD IS IT A REFERENCE TO JOSEPH CONRAD THE AUTHOR OF HEART OF DARKNESS WHICH WAS THE BASIS OF APOCALYPSE NOW HOLY SHIT I JUST GOT THAT THIS CHANGES EVERYTHING I THINK IT IS A REFERENCE TO THE MOVIE APOCALYPSE NOW YOU GUYS) suddenly embracing her in manly guardianship when they haven't previously established that sort of relationship. Anyway, Kong fights a monster with her balled up in his hand, so the big suspense at the climax is about potential accidental squooshing.
I had fun with this movie and mostly because it delivers on the monstery shit. I think my favorite part is when Kong is chillin and kickin it VIP style in the water and is suddenly attacked by a giant squid that we had previously been aware of but forgotten about. There is some grappling and what not but soon Kong has torn off a tentacle and it's still alive wiggling around as he slurps it up like a noodle. Like a giant OLDBOY. That was awesome. Your move, Godzilla.
The script is credited to Dan Gilroy (NIGHTCRAWLER), Max Borenstein (GODZILLA) and Derek Connolly (MONSTER TRUCKS, fucking STAR WARS EPISODE IX!?), story by John Gatins (NEED FOR SPEED)… it takes a village, you know? But I like the monster mythology this word army came up with. Kong is literally the king of the island because he protects it from attackers. Okay, maybe he's the secretary of defense, I don't know, but he takes his responsibilities very seriously. The other monsters as well as the humans respect him because he keeps the trains running on time, which on this island means he kills the skeletal lizard monsters that crawl out of the hollow earth. His policy disagreement with the foreign visitors is their unlicensed use of seismic bombs which will have the environmental consequences of waking a dangerous monster known as "the big one." Basically it just creates an unnecessary pain in the ass for His Highness, and plus it's personal to him because years ago the big one murdered his parents. In that sense he's like Batman.
Everybody knows there's an after credits scene that teases GODZILLA VS. KONG, coming in 2020. A couple weird things about that:
1. A copyright on the credits themselves gives away a list of trademarked monsters that will be referenced in the tag. Nobody thought of putting that after?
2. The scene creates expectations for these characters to return to fight Godzilla, but if it takes place on the timeline of the 2014 GODZILLA wouldn't they all be 70+ years old? I hope so. It's gonna be GRUMPY OLD MEN with giant monsters.
GODZILLA was definitely channeling Spielberg and this one Coppola. I got a hunch for the next one they will capture Kong and haul him to New York City again but instead of climbing up the Empire State Building it will be a gritty cop procedural in the style of THE FRENCH CONNECTION. But I sure hope not because really they need to do the Kong for the '80s, the one that rips off the look and soundtrack of SCARFACE, with Skull Island standing in for Cuba and Kong comes here and builds an empire and can you imagine the pile of cocaine he would have?
Or if not that then MOTHRA as a DePalma style psychosexual thriller. Could be pretty good.
I'm not sure this monsterverse will get too much further if they don't come up with a flat out great one soon, but so far I'm enjoying them. I look forward to Kong banging Godzilla's head through the side of a skyscraper like Gino Felino throwing a pimp through a windshield.