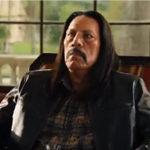 There are lots of funny things in MACHETE KILLS. For a while it coasts on enjoyably stupid jokes, like the ridiculous trailer for part 3 of the series that it opens with. Early on it has a little faux-serious melodrama, playing it almost straight when a clash with rogue soldiers, a Mexican drug cartel and an army in lucha libre masks leads to the death of Machete (Danny Trejo, DEATH WISH 4: THE CRACKDOWN, MARKED FOR DEATH)'s partner. I like the setup, with a redneck Arizona sheriff (William Sadler, DIE HARD 2) failing to hang Machete before he gets called in by the president (Charlie Sheen, NAVY SEALS, credited as Carlos Estevez) who offers him citizenship in exchange for doing a dangerous mission. I thought the joke of casting him was to have a guy as crazy as Sheen as the president, like wasn't Mickey Rourke the president in MASKED AND ANONYMOUS? It honestly didn't occur to me until seeing him on a White House set that his dad played the president in The West Wing (not to mention playing Kennedy). Anyway, the best part is the idea that this unsavory slasher/wife-and-daughter-fucker/assassin gets to sit in the White House and hear his offer.
Trejo's face is even more rugged than ever, if possible, and he doesn't have to joke around. He's fun to watch just being that same character, but now equipped with various high-tech variations on machetes to chop people up with. Robert Rodriguez (credited as sole director this time, and also with his name above the title, but only a co-story credit) once again fills the movie with a huge, unlikely cast, mostly playing colorful gimmicky characters: Mel Gibson (PAPARAZZI) as a weapon inventor/space cultist planning to blow up the world, Demian Bichir (2012 best actor nominee for A BETTER LIFE) as a revolutionary/terrorist/something, Amber Heard (DRIVE ANGRY) as a government agent undercover as a beauty queen, Walton Goggins/Cuba Gooding Jr./Lady Gaga/Antonio Banderas all playing the same assassin called El Camaleon, Vanessa Hudgens (SPRING BREAKERS) as a girl that's in one part, Sofia Vergara allowing Salma Hayek some dignity by stepping in to play the deadly Madam character with army of killer prostitutes (see also Lucy Liu in THE MAN WITH THE IRON FISTS, Zoe Bell in BAYTOWN OUTLAWS, etc.)
But you know what, I feel like we've seen the limits of the Lots of Celebrity Cameos technique. It was cool to see Cuba Gooding Jr. in there, he's real good in a couple of scenes. But if he was only available for the afternoon maybe you wait until another movie to work with Cuba Gooding Jr. Maybe you don't have him take his mask off and be somebody else who also has to leave because oh look at the time it's getting late. Rodriguez seems more passionate about lining those names up in trailers than actually giving them all something to do in the movie. The treatment of Goggins, Gooding Jr. and Banderas is shameful – none of them are in it long enough to get anywhere, and yet their too-small parts (plus Lady Gaga) add up to one pointless character. After all that buildup I don't even remember what happened to that guy.
I know these are different types of movies, but compare it to another one where Banderas had a small role with a large cast of big names, HAYWIRE. Ol' Antonio showed up for a little bit and so did Channing Tatum, Michael Douglas, Ewan McGregor, Michael Fassbender, Mathieu Kassovitz and Michael Fassbender, but all of them seemed like an organic part of the movie, not just something they figured out how to squeeze in just so they could say that person was in the movie. I know Rodriguez was excited about how much he got out of Johnny Depp filming quickly ten years ago, but at this point he's not getting much, he's just trying to show off "Hey Famous Person, in only 2 hours in my greenscreen room I can get your name on a movie poster!" It's starting to seem less like having a fun time and more like having a complete contempt for the audience, like we have no preference between an actual movie and a collection of brief clips of famous people fuckin around.
Don't you get it, Vern? Ha ha, it's meta, it's like those old grindhouse exploitation movies, like they played in the exploitation grindhouses. It's fun because it sounds more entertaining than it is! What a great postmodern way to be disappointed!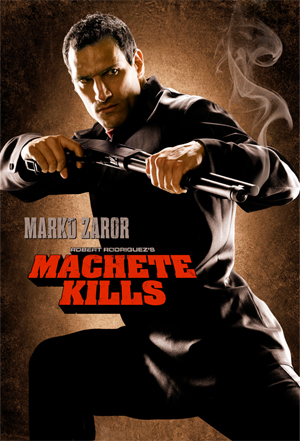 The coolest and most unexpected appearance in the movie is Marko Zaror, the great Chilean martial artist of KILTRO and MANDRILL (and UNDISPUTED III of course). He plays the bodyguard to Bichir's character and it seems like he's going to get the Scott Adkins in EXPENDABLES 2 treatment, but he's in it more than expected, gets to menace people and do some kicks and flips and stuff, the only real action in the movie. If anybody's gonna make an impression in this it's him, but he doesn't get a big credit like almost everybody else, he's just "Zaror" buried in the end credits. I know he and his director partner were inspired by Rodriguez and his book "Rebel Without a Crew" in making their own movies, so it's great that they got to work together.
(By the way, when Gibson refers to him by name I think he pronounces it something like "Zarr-er." I always thought it would be "Zuh-ROAR." Like some kind of space lion. I'm gonna have a hard time readjusting.)
Also Michelle Rodriguez, Jessica Alba and Tom Savini all return as their characters from the first one, so once again you have this movie supposedly based on the awesome character of Machete but with not much room for him to ever do anything. There's another point for HAYWIRE – all those guys were in it but it still was clear that Gina Carano was the main event. The problem is worse here than in MACHETE or ONCE UPON A TIME IN MEXICO because the characters that hogged those movies were more fun.
I can enjoy the cute Rodriguez-movie-references, like when cleavagy killer prostitute Alexa Vega makes extra long eye contact with Machete, and you wonder if it's because she recognizes him from doing all those SPY KIDS movies together back during her spy childhood. And did I hear another "El Cancion Del Mariachi" ringtone? I don't think we need to see the dick gun anymore, though. The Mariachi had it in his guitar case in DESPERADO, then the character Sex Machine actually used it in FROM DUSK TILL DAWN, now Vergara takes a turn calling it her "strap on." She also has boobs that shoot knives and a pair with mini-gatling gun nipples, and the opening credits have a silhouette of a missile firing from a vagina. So I fully expect a butt gun in his next movie.
The plot is full of crazy goofball shit and seems designed to feel like it was made up as they went along, no delete key allowed during the writing process. So Mel Gibson starts as the head of a big weapons firm, before long is wearing a silver cape doing a Marshall Applewhite impersonation. Bichir starts with a fun mega-performance as a sinister James Bond villain type, then has a split personality where he's sometimes an earnest good guy who wants the best for his people. It is briefly mentioned that immigrant workers are being abducted and used as space station slaves. There are double-crosses, clones and a corny EMPIRE STRIKES BACK referencing cliffhanger. At one point Mel Gibson is showing off his space shuttle while Machete is holding a beating heart in a glass case that if it stops is gonna set off a missile.
Of course I can enjoy some of those things, but the problem is Rodriguez obviously doesn't mean any of the plot to be taken even remotely seriously, and yet gives us way too much plot to keep track of. If you have long exposition scene after long exposition scene after long exposition scene to explain a plot that you and I know is not the point, then what is the point? What are we doing here? It's like BLACK DYNAMITE or AUSTIN POWERS with a more convoluted plot, way less style and only 10% as many jokes. Sadly, I was bored through most of this. One hour 49 minutes is pretty long for a fake trailer. I hope the real movie is better.
That's what I miss about Robert Rodriguez: he used to make actual movies. It was so much more fun when there was at least some small amount of sincerity involved in some aspect of the production. He worked so hard to establish himself and this great independent studio in Austin but since then he's spent more of his career just fuckin around than he has actually meaning it. Of course people lose their hunger as they get older and more successful, and I'm not one of those people who thinks Rodriguez peaked with EL MARIACHI. But isn't it sad that when he spent $7,000 just trying to make something that would pass in the Mexican DTV market it felt more like a real movie than this star-studded wide release?
Of course, so much of EL MARIACHI was based on limitations. Even his style of editing came out of having to change angles before the dialogue track got out of sync, because he recorded it on tape and it didn't play back at quite the same speed as the film. Now he can do literally anything (at least by his low standards of quality for digital effects) and it cripples him. I mean, maybe I'm wrong but in the movie this shot here: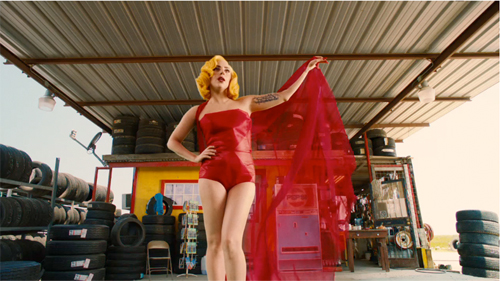 looked like a terrible green screen in front of a still photo. And isn't it sad to get to the point where it's too much trouble to shoot somebody in front of an actual gas station? There's something wrong there.
You guys know I'm not one of these anti-CGI zealots, but jesus Rodriguez. How dare you make decapitations and bisections seem so not-fun by making every one of them a sub-SyFy digital effect. It seemed revolutionary in ONCE UPON A TIME IN MEXICO when he was backed into a corner and realized how to use computers to fake a church getting shot up. But now he just uses it for everything he can, and doesn't even try to hide it. Didn't he have fun squirting blood around in FROM DUSK TILL DAWN? With this one he wouldn't even have to make it look as real. Wasn't there some point filming MACHETE KILLS where he thought you know what, for this one shot only, I would like to chop a head off a dummy or something?
Because if he did, I got a suggestion for what would've been a good shot to do it on: the one where a space gun kills Tom Savini. He wrote a scene where one of the great makeup effects geniuses of our time gets turned inside out, and decided to do that with a computer effect that might not've cut it in the first MORTAL KOMBAT movie. It's almost like he's purposely trying to underline how much he doesn't want to exert effort anymore. I'm not saying put yourself through medical experiments again. I'm just saying make it seem like you wanted to do a good job.
I hope some day Rodriguez starts making real movies again, not just SPY KIDS sequels for adults. If it wasn't horror movie season I'd go watch those MARIACHIs again to remind me of why I used to look forward to his movies. But I don't really think he has it in him anymore. I mean I kinda liked the first MACHETE and PLANET TERROR, but MACHETE KILLS proves he's used up that style. The last movie he made that seemed like he really meant it was SIN CITY 8 years ago, and of course that was a real movie hidden behind Halloween masks and standing in front of flat backdrops.
If I had any faith in him I'd be dying for him to make a vehicle for Mr. Zaror there, show him off to the people who don't know about MANDRILL. Imagine the Robert Rodriguez of the mid-'90s trying to make a vehicle for a guy like that! But now I'm sure it would be real winky-winky with obvious green screened backgrounds and there's be 15 other characters played by celebrities who would all have more screen time and be more important to the plot than the title character. Years ago Rodriguez's dream project was a biopic of Stevie Ray Vaughan. That doesn't sound like my bag, but I wish he would do it. It would be good for him to have a movie where he'd be a huge asshole not to pour his soul into it. I think he just sees filmmaking as a series of shortcuts and tricks now, not a form of expression.
Well, Rodriguez achieved his goal of making Trejo a name, because he gets way more roles in barely watchable DTV movies now, sometimes as the leading man. Rob Zombie could've done that, though (see: Sid Haig, Bill Moseley, Ken Foree). Clearly Rodriguez isn't gonna step up to give Trejo the authentic badass Charles Bronson type role he used to know he was meant for, so I hope someone else will.
Please excuse me while I pour a piss-warm Chango on the curb for the guy that directed DESPERADO.
This entry was posted on Monday, October 14th, 2013 at 12:52 pm and is filed under
Comedy/Laffs
,
Reviews
. You can follow any responses to this entry through the
RSS 2.0
feed. You can skip to the end and leave a response. Pinging is currently not allowed.