June 5, 1998
Truman Burbank (Jim Carrey, THE DEAD POOL, PINK CADILLAC) thinks he just enjoys a normal white picket fence type life mowing the lawn and saying hello to the neighbors and putting on a suit to go work at the insurance company and all that type of shit. He has no idea that his idyllic town of Seahaven is actually a set built on a soundstage so huge it can be seen from space, or that everyone around him, from the random cars that drive past him to his own wife Meryl (Laura Linney, ABSOLUTE POWER, MYSTIC RIVER, SULLY), are hired actors, in on the deception. Literally everything in his life is staged for his benefit.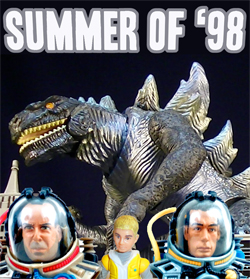 It sounds like a Twilight Zone premise, and it kind of is: there's an episode of the '80s incarnation of the show that's pretty similar. In "Special Service," written by J. Michael Straczynski (CHANGELING), David Naughton is shaving one morning when the bathroom mirror falls off the wall and he sees a camera behind it. A serviceman shows up and tries to make excuses but soon has to admit to him that his life is a popular TV show. He seems to be allowed to live in the regular world, though, and the people around him are just cool about keeping the secret until the cat's out of the bag, at which point he gets mobbed by screaming women. He also got to grow up normal before they started doing this to him five years ago.
Truman has it worse. He's the first human baby adopted by a corporation (and they say that like it's a milestone to be proud of). He was born live on television, and his whole life has been broadcast to millions of adoring fans worldwide. The movie lets us in on some of this right at the beginning, tells us The Truman Show is the smash hit creation of the reclusive beret-wearing genius Christof (Ed Harris, ABSOLUTE POWER), and then it throws us into Truman's artificial life during a crisis period when he keeps almost figuring it out. We watch his reactions to little hints that his entire existence is a lie, little slip-ups that puncture the illusion. A light (hand-labelled with the name of a star) falls from the sky and lands in the street right next to him. A technical problem causes his car radio to broadcast a voice that seems to be describing his movements.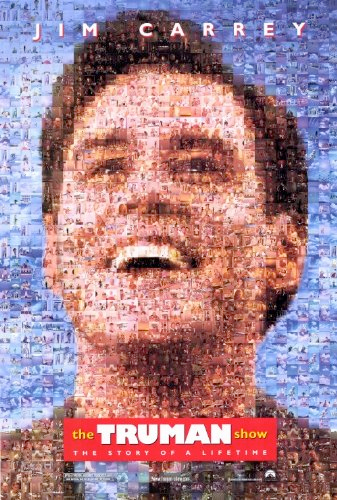 We watch Truman's "am I crazy?" befuddlement at these things and his skepticism as the production scrambles to cover them up (for example a radio broadcast mentions a damaged plane flying over Seahaven shedding parts).
As he becomes more suspicious, the limits of Christof's world become more apparent. Truman tests them by suddenly running into a random building that he usually passes. There are people walking around inside as if doing their business, but Truman sees that the elevator doors open to a room, not an elevator, right before he gets yanked out by security. Later Meryl, a nurse, tells him she's helping with surgery for the victims of a horrific elevator accident. The more everybody tries to cover things up the more paranoid it makes Truman because it becomes obvious that they're all in on it.
It's shot on film, but often with angles that imitate various hidden camera lenses and vantage points. There's an oppressive sense of surveillance, especially in a long shot from the distance following him in public as he's clearly trying to be anonymous. As in "Secret Service" there's a camera behind his bathroom mirror, and he puts on a little show for it, drawing on the surface with soap, doing funny voices, leaving Christof's crew (and us) wondering whether he's just being a dork or whether he's onto them.
Sometimes we see the home audience watching The Truman Show, discussing it. So we know that they too are getting to see the flashbacks. They explain the backstory to us, the movie audience, and act as "previously on The Truman Show" reminders for them, the TV audience. That's how we learn about the tragic drowning of his supposed father, which we later learn was staged to give him a fear of water so he'd stop trying to leave home.
It's more than halfway through, almost an hour in, when we start to see the actual behind-the-scenes operation of the show. Harry Shearer (arguably as his character from GODZILLA) interviews Christof in his own Watch What Happens/Talking Dead/Stanley-Tucci-in-HUNGER-GAMES type deal discussing the big plot twist on the show and hints about what's coming up. "Of course we all know how jealously you guard your privacy," the interviewer says, not seeming to notice the irony. Christof lives in the control room inside the artificial moon in the artificial sky, where some guys including Paul Giamatti (PAYCHECK) watch all the feeds, direct the show, sometimes communicate with or feed lines to the actors over headsets. They all seem to be very protective of him, cherishing him, except for his rights as a human being. Christof caresses the image of his face on a giant screen as he sleeps.
Some of the music is (very noticeably) by Philip Glass (POWAQQATSI), so it's a good joke when we see inside the control room and Glass himself is there watching the big screen and playing the keyboard live. The German composer Burkhard von Dallwitz (THE WAY BACK, Wolf Creek TV series) is credited for the score, but I didn't really pick up if Glass just did the stuff that is explicitly scoring the TV show or if they just kind of alternate between the two artists or if they worked together like Glass and Marco Beltrami did on FANTASTIC FOUR (2015) or what.
There's alot to wonder about how this show works. I'm especially curious about Truman's best pal Marlon (Noah Emmerich, WINDTALKERS), who miraculously shows up with a six-pack any time Truman needs cheering up or babysitting. Marlon has grown up with Truman, which probly explains why he seems like he might genuinely care about him. But how the fuck did they get child actors who wouldn't spoil this secret? This is some crazy child actor discipline far beyond any Fanning or Culkin. And it must really mess with his head to have spent his whole life doing this.
I sure hope they have accredited schools here with real teachers, because it doesn't seem fair to have actors sit in classes all day with Truman and not get a diploma out of it.
I'm willing to accept that the gigantic operation is somehow funded by the product placement (characters often recommend a specific brand to Truman, or talk about how much they love a kitchen tool they just bought, or hold their beer carefully so the label shows on camera) and some merchandising. But the popularity of the show seems a little overblown to me, at least when they're showing what seems to be a Truman Show themed bar where everyone watches together wearing Truman Show branded clothing. How could audiences become so addicted to something that goes out of its way to be routine and uneventful, where it's treated as an emergency when something unexpected happens?
I guess it made more sense in 1998 when live webcam experiments were new and the show Big Brother was a year away and we had more excuses to be curious about this kind of voyeurism. But The Truman Show is in a way the opposite of those things because it's not even intended to seem like real life. Instead it's an idealized late '50s, early '60s style small town America. I tell you, it took that generation a long time to stop being bitter about Leave It to Beaver selling them a bill of goods. Christof pitches the show as a form of escapism, a fantasy about the world as it should be, in his view a more sane world than the one outside the dome.
In the sense of predicting Big Brother and exploring reality television when that pretty much just meant MTV's The Real World, THE TRUMAN SHOW was a very current 1998 statement. But in retrospect it was entirely clueless as a media satire. Truman is an unwitting victim. He hasn't been given a choice, he's unaware and being lied to and exploited, his privacy is being violated. Everyone else in the world knows it's fake. In the actual reality TV that came to pass it's the exact opposite: people fight to get on it, yearning for fame, wanting to be seen by everyone, and if anyone's being tricked or manipulated it's the audience, by misleading editing or staged confrontations or just by promoting all the worst qualities of humans in the name of drama and eventful reunion specials.
And then of course there's the budget – The Truman Show is one of the most massive efforts in human history, requiring a structure they compare to The Great Wall of China. Reality tv is notorious as a method for networks to make a bunch of popular shows at a fraction of the cost of one actual show.
At the time, THE TRUMAN SHOW had the air of smart satire. If they were on the mark about anything, though, it must've been some extreme Japanese prank show that didn't yet exist and maybe got the idea from the movie.
But at the more humble task of coming up with a crazy, surreal scenario, building an interesting world for it to happen in and telling the story well, THE TRUMAN SHOW definitely comes through. I almost said "paranoid scenario," but I don't think that's quite what it is, since it never tells us to believe in the sugar-coated topping. It aligns us with the Truman Show viewers instead of Truman himself. Like them we watch and root for him to figure it out, to accomplish his dream of going somewhere new, to escape. It's like THX 1138 as painted by Normal Rockwell.
Even though we know the trick, it's exciting to see Christof's beautiful illusion crumble under the pressure of Truman's yearning. When he manages to hide from the cameras – disappearing from the movie for an invigorating privacy binge – reality is suspended. The moon turns into a spotlight. Daylight arrives abruptly in the middle of the night. The whole town becomes a search team, then they stand frozen in "first positions." It's like a cross between a sci-fi dystopia and the lights turning on while you're on a ride at Disneyland. The best is when the mast of Truman's sailboat pierces the horizon. He has come to the end.
At the end THAT MEANS SPOILER, when he's about to escape, I found it hard to believe that the cross section of viewers they're showing were so happy about it. Don't they realize that this show they've been obsessed with 24-7 for thirty plus years is about to suddenly end? I wondered. But a pair of security guards watching the show cheer for Truman, then get another piece of pizza, then ask "What else is on? Where's the TV Guide?" And that's pretty powerful. This massive effort, this unprecedented exploitation, all this and then two seconds after it ends everybody moves on to the next thing. Damn.
Other than its take on reality television and the photo mosaic movie poster, THE TRUMAN SHOW could easily be from well before or well after 1998. Because it takes place almost entirely on this soundstage designed to evoke early sixties suburban pleasantness it's devoid of dated references. There are no Third Eye Blind songs. But it is helpful to remember specifically when it was made, because this is exactly the point when Carrey seemed cemented as a comedy superstar and now was trying to be something more (a career trajectory everyone compared to Robin Williams).
I remember when ACE VENTURA came out and was a huge hit and I didn't see it because "wait a minute, the white guy from In Living Color?" And then I saw THE MASK and later I saw DUMB AND DUMBER and the world was so in love with him by then that to this very day he has evaded justice for BATMAN FOREVER, where his performance was so ground-breakingly terrible that I feel like I can still blame him even though everything else in the movie was garbage and there was no way anyone could've saved it other than by sending everyone home and saying sorry fellas, after we found out what you were doing we decided we're not in the Batman business anymore, it's just not worth it.
It was big news when Carrey did THE CABLE GUY because he got paid $20 million, a record at the time that made people openly ridicule the idea of him or any actor being worthy of that kind of pay. And then the movie was more dark and uncomfortable than his previous ones (and honestly a more successful satire of television obsession than this is) and it didn't do as well. I kinda think the darkness and the failure of the movie were both blown out of proportion because people were mad that he got paid so much. But he may have saved his career by saying "okay, fine. LIAR LIAR I guess. Whatever makes you people happy."
It's not like THE TRUMAN SHOW is CLEAN AND SOBER or something. He's playing a dork who has grown up in manufactured wholesomeness, so he still moves in goofy ways, does an exaggerated smile, hoists his butt up in the air while on all fours doing yardwork, has a forced chuckle when he says the same dumb jokes to people every day. But he's privately sad and lost and as he starts to suspect what's going on he unravels and gets a little scary. It is a dramatic performance, or at least the most serious he'd been since the 1992 TV movie DOING TIME ON MAPLE DRIVE. I think other actors could've worked in the role, but it would've been an entirely different character. Carrey makes him kind of this manchild play-acting as an adult. He doesn't know how to be a real grown up or husband because he's never been in the real world, never had a real relationship. He's uncomfortable in his skin, probly always felt like a phony but never in a million years could've guessed the reason why.
I also want to mention that Giamatti being in this pretty small but important role is very 1998 because the year before he'd been kind of an unexpected sensation as "Pig Vomit" in PRIVATE PARTS, so everybody wanted to hire him for everything and all the sudden this summer he was in this, DOCTOR DOLITTLE, SAVING PRIVATE RYAN and THE NEGOTIATOR.
It had been five years since Australian director Peter Weir (PICNIC AT HANGING ROCK) had directed FEARLESS and it would be another five before he came back with MASTER AND COMMANDER: THE FAR SIDE OF THE WORLD. He was nominated for best director at the Oscars and Golden Globes (Spielberg won for SAVING PRIVATE RYAN) and he won the BAFTA. Harris also got an Oscar nomination for best supporting actor (James Coburn won for AFFLICTION) and screenwriter Andrew Niccol (GATTACA, THE TERMINAL) for best original screenplay (SHAKESPEARE IN LOVE won).
I remember seeing the movie with a crowd that seemed disappointed it was "weird" and not exactly a comedy, but in general it didn't receive the same disrespect CABLE GUY did. It was well reviewed, including four stars from Roger Ebert, and opened at #1 considerably above A PERFECT MURDER. It made more than $200 million over its $60 million budget, making it an unusual kind of summer hit: the kind that has Philip Glass music.
.