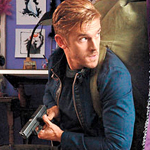 First I gotta give you that dreaded warning that more than the usual amount of fun in this one comes from not knowing what type of movie it's gonna be. Not like it's some crazy rollercoaster or mindblowing, rug-pulling shocker of a twist or anything, but it mixes up genres a little bit and I'm glad I didn't know where it was going. So you might want to do what I did and just know it's from the director and writer of YOU'RE NEXT and give it a shot. That worked well for me. But if you want to read my review beforehand anyway, be my guest.
Dan Stevens, who you know from playing the libidinous chandelier designer Lord Downington Abernathy on Downton Abbey, but who I know from playing the douchey soul-patched heroin trafficker in the other new movie I watched the day before this, plays a soldier called David Collins who shows up on Mrs. Peterson (Sheila Kelley)'s doorstep one day. He knew her son Caleb, who died in Afghanistan, says he promised to come check on the family for him and tell them he loved them right to the end. This brings up alot of emotions of course but she invites him in (like a fucking vampire) and he befriends her drinking, Henry-Winkler-esque husband Spencer (Leland Orser, SEVEN), her cool 20-year-old waitress daughter Anna (Maika Monroe) and her put-upon high school son Luke (Brendan Meyer, SPOOKY BUDDIES). So he ends up sticking around for a while.
There's a certain amount of wish fulfillment involved. He finds out what their problems are and uses his particular set of skills to help. For example he finds out which jock assholes have been harassing Luke, follows them to a bar, sets up a confrontation, humiliates and brutally assaults them. This is fun to watch, but it's messy, and the kid looks more disturbed than empowered by it. And every time we're tempted to like this David guy there keep being these shots where nobody's looking, the expression on his face turns cold and the retro synth score starts sounding creepy. Do you guys think composer Steve Moore knows something we don't?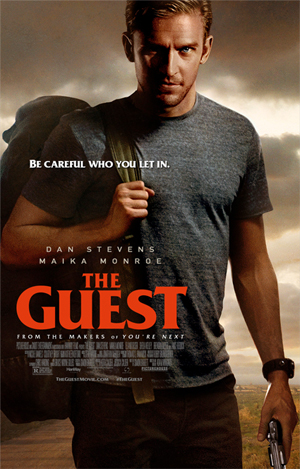 So it seems a little bit like THE STEPFATHER, a character-driven domestic suspense thriller. We can tell people are in danger, the daughter suspects something, starts uncovering David's secrets, causing more danger, and she has trouble hiding her suspicions from him as well as getting people to believe her. She's a likable heroine and, like in so many movies, has to wear an old timey uniform at the diner she works at. (Does anybody have a diner like that, where it's all women in dresses, near them? Let me know.) But then – and this is the kinda surprising part I didn' t want to give away – it opens up and brings in some action movie elements. It's not just a chase through the house with a kitchen knife.
I don't want to imply that it turns into a legit Van Damme movie or something, there are not big fiery explosions, motorcycle jumps or spin kicks, and it's an ACR between 3 and 4. Not bad action but not attention-grabbing. I bring this up not really as a complaint, it's not like it's trying to be COMMANDO. But I'm just saying you and I both know it would be even better if it full-on turned into COMMANDO. Don't expect it to.
What I really like is the grey area with this character. I figured he was evil from the beginning but also couldn't help but like him. He's sincere about trying to help this family, until he's not. The most interesting relationship is with Luke, who is smart enough to figure out everything and dumb enough to want to stay friends anyway. It's a good cast that really sells all this well. Stevens has rightfully gotten alot of hype for his performance, but let's also give credit to the family.
That poor mom, she misses her son and enjoys having a handsome, polite young man who looks like a condensed Paul Walker helping out with everything. Filling the hole left by her son's death and, sorry to say, her well-meaning husband's weinery inadequacy. She doesn't deserve to get mixed up in all this. All she did was answer the door.
A few other recognizable faces show up in small roles. Joel David Moore is in a couple scenes as a stoner friend. I like that he still does these indie movies after being in AVATAR. Ethan Embry is in there too. Note to Justified fans: I almost didn't recognize him out of context, but Jesse Luken (who played Boyd's long-suffering but trustworthy lieutenant Jimmy) shows up briefly just as some jock dude.
I don't know how deeply we're supposed to think about all this, but I believe it kind of comments on the idea of using force to get what we want, if not in real life than in our fantasies. The tough guy beating up bullies on behalf of the defenseless is a common scenario, often played for light-hearted laughs. It reminded me of that movie DRILLBIT TAYLOR, where picked-on nerds hire a washed up mercenary to defend them. David shows us how fun this is, but then he takes it too far. He seems to think he's being a great big brother figure when he gives the kid a knife and talks about burning down his enemy's houses. And it still doesn't even help – at least one of the injured bullies doesn't hesitate to toss Luke shit the very next time he sees him in class. I would've liked if Luke actually did stab or gut some kid in school. See how well that works out for him.
It's also worth examining what the movie says about soldiers. On one hand, it sort of promotes the stereotype of veterans as damaged goods. When David first shows up Dad doesn't want him to stay because he could have "the PTSD." And it turns out his instincts aren't entirely wrong. Somehow we need to draw a line between trying to do something about this serious mental health issue and unfairly assuming that every veteran suffers from it.
On the other hand David is like circa-FIRST BLOOD John Rambo. They turned him into this, and he can't turn it off. Or if Anna's snappy comment is correct, he was already a psycho and then they made him into this. Either way it wasn't his idea, so the movie's not entirely judging him. The question is also brought up: what if their son survived and came back wrong, wouldn't they want to help him? They discuss it in the context of PTSD, but later we're told that he was part of the same experiments as David. He could've come back and done shit like this, who knows. So can they have some sympathy for him?
I think David works as a symbol for the military in general: highly skilled and dedicated to a mission, just be real sure about that mission. A military solution is not always a good solution, and you are subject to mission creep, and to expanding hostilities. David keeps having to kill more and more loose threads. We admire and take advantage of what he's able to accomplish, so what culpability do we have when he gets out of line?
Something to think about I guess, if you like thinking about things. I think about different things alot. For example I wonder if they ever considered selling this to WWE Films to use as a THE MARINE sequel?
Like YOU'RE NEXT, THE MARINE 4: THE GUEST is not a new type of wheel or anything, but it's a good cast really selling a fresh and enjoyable mix of horror and action influences. I like it.