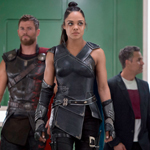 Recently some friends and I were choosing favorites between Marvel's three Chrises. It's a tough call because Evans (the Captain America one) has the best Marvel series in my opinion, plus he seems like a cool guy in real life and starred in SNOWPIERCER. But Pratt (the Star Lord one) is the funniest and most down-to-earth Chris, and he has the more irreverent Marvel series. I even like his hypermasculine hold-on-I-need-to-roll-up-my-sleeves-so-you-can-see-my-forearms turn in JURASSIC WORLD.
Still, I chose Hemsworth (the Thor one) as my favorite Chris, because here is the most potentially embarrassing of the major Marvel characters, and frankly their least memorable series, but they got this Australian guy I never heard of who looks like He-Man and still was able to fuel the entire first movie on the power of his charisma. I really realized I was a fan when he did Michael Mann's BLACKHAT. Not only is it a movie I really liked, but it was the first time in a while that one of these new guys displayed the type of manly magnetism that inspired me in the action movies of the '80s and '90s. I'm older than him but he made me want to grow up to slick my hair back and do hand stand pushups and read about philosophers.
So thank God his signature character Thor finally gets a movie worthy of his charms. Taika Waititi, the New Zealand writer-director best known for WHAT WE DO IN THE SHADOWS and the great HUNT FOR THE WILDERPEOPLE, completely reinvents the series as a colorful comedy much more in the vein (and sci-fi landcape) of GUARDIANS OF THE GALAXY than of the previous THORs. He quickly makes him funny, destroys his hammer, puts him on another planet and has cyborg Stan Lee cut his hair short. So it's different.
GUARDIANS VOL. 2 reminded me of pinball machines, THOR RAGNAROK reminds me of bombastic rock 'n roll album cover paintings. There are giant glowing demons, Hellish dungeons, valkyries attacking on pegasus-back and slow motion battles set to Led Zeppelin. But in his fight against horned personifications of death and apocalypse Thor (and asshole brother Loki, who has to be in all of them because people like the actor, Tom Hiddleston [WAR HORSE]) falls off the rainbow bridge or whatever and ends up on Sakaar, a planet of bright colors, garbage dumps and masked scavengers. One of them, a hard-drinking Asgardian expat played by CREED's Tessa Thompson, captures him and sells him to Jeff Goldblum (DEATH WISH) for gladiatorial combat.
Goldblum's character is called The Grandmaster but I'm pretty sure he's just Jeff Goldblum. He must've retired from acting so he could wear weird makeup, DJ for parties and make monsters fight each other. Honestly John Cusack should've looked into that possibility instead of doing so many DTV movies. And I think Nic Cage would really enjoy this lifestyle as well but I don't want to give him any ideas because we still need him here.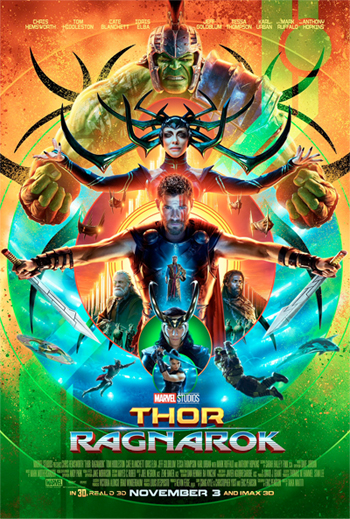 As we know from the trailers, Thor ends up fighting T.I. Hulk (Mark Ruffalo, WINDTALKERS) and then it becomes kind of a buddy movie where they bicker and try to escape together. Hulk has been trapped in his monster body for some time, and we get to see him talking in that form more than before, which is fun.
By the way, this all happens after Thor and Loki's previously undisclosed sister Hela (Cate Blanchett, HANNA) shows up in Asgard to claim the throne. She's an extremist and also the goddess of death so they gotta get back in time to stop her from conquering all the other realms like a big fuckin imperialist jerk. Blanchett has Zoe Bell as her stunt double and reportedly trained in capoeria to help with her movements, so the role is much more physical than, like, CAROL.
Thompson's fun and often drunk warrior Valkyrie (technically just called "Scrapper 142" in the movie) easily dwarfs any previous THOR supporting characters. This is, after all, the series that knew enough to cast the great Ray Stevenson and Idris Elba but not enough to give them better characters than Thor's Friend #3 and Guy Who Turns Sword So Thor Can Warp. This time they SPOILER unceremoniously kill off Stevenson and those other dudes almost as soon as they appear (it's unclear if Thor knows his sister horribly murdered his three life-long best friends). On the other hand they seem to realize the horrible mistake they made by giving Elba a character as useless as Heimdall, so they allow him to leave the sword-turning job and actually do a couple things.
For some directors, making a Marvel movie would be a sellout or a waste of their talents. And it will be sad if Waititi just becomes the THOR guy for ten years and doesn't get to do his own movies. But like with James Gunn and GUARDIANS, so far this feels like a victory for the little guy. He uses his own paints on the Marvel canvas. Rachel House, who was so funny as the antagonist in WILDERPEOPLE, plays a similarly bitter character working for Goldblum. Waititi himself plays a lovable new comic relief character named Korg, who seems straight out of one of the director's comedies except that he's a motion capture rock monster guy. Waititi even brought in Mark Mothersbaugh (regular composer for his most obvious influence, Wes Anderson) to provides excellent synth-infused music that, if I'm not mistaken, is the first stylistically distinctive score since the beginning of the Marvel Cinematic Galaxy Quest or whatever (MCGQow).
All Marvel movies have humor, but few have such dedication to finding bits like the awkwardness of making an evil speech to Thor while he's hanging from a chain and slowly rotating, or Heimdall's replacement Skurge (Karl Urban, CHRONICLES OF RIDDICK) trying to use the magic-transporter-sword-turning job to impress chicks. This is an all-out comedy, and I suppose that may annoy people because in retrospect it plays a little loose with the reality of the Marvel Universe. Hopefully nobody holds it to MAN OF STEEL standards of destruction accountability, because if so they're gonna have to be up in arms against the ending's ENDING SPOILERS OBVIOUSLY indication that taking five minutes to crowd a bunch of people onto a big space ship Noah's Ark style counts as saving everyone on Asgard. Nobody checked for stragglers or pets or anything, they just act like everyone is accounted for, and I for one say we take their word for it. Please don't complain, because if it becomes a thing they'll do a later chapter where some new character was left behind and wants revenge on Thor. Let's skip all that.
Honestly I'm a little surprised they make such a joke out of Thor bringing Loki back to earth after his attempt at conquering the planet in THE AVENGERS I do believe caused mass death. And come to think of it in the beginning of this one he brought Loki to New York and was spotted by fans and nobody made an issue of it. Memories are short I guess. They're all mad at The Vulture or somebody now.
* * *
I encounter people sometimes who use "Marvel movies," "comic book movies" or "super heroes" as short hand for "dumb mainstream bullshit that I would never watch because are you kidding me look at me look at how smart and cultured I am I don't even know what that is actually what are they on like part 37 or something I wouldn't know that's how completely separate my life is from the life of the people who watch that trash." Of course nobody has to like this stuff, but the specific disdain I'm describing is a joyless, elitist attitude that sometimes (not always) signifies somebody too insecure in their individuality to know they can be a unique person with interesting tastes and also enjoy some of the same shit that everybody else does. They don't have to be the guy that hates pizza and ice cream.
I've liked all the Marvel Studios movies at least a little bit, so obviously I don't think of them as lowest common denominator. They're a pretty high common denominator, in my opinion. I think of them as being kind of like Pixar – a group of artists who have together developed a type of storytelling with a specific tone and crowd-pleasing sensibility. Pixar is a "brand" and they stay within the confines of mainstream, all-ages computer animation, but their work has evolved and introduced new voices (Brad Bird wasn't even with them at the start!) and when people accuse them of not taking risks they are mistaken. It only seems that way because of the high success rate, and that applies to Marvel too. I never thought CAPTAIN AMERICA would work, much less corralling all their characters into THE AVENGERS, or having a talking raccoon. Obviously they knew what they were doing.
But most Marvel movies are sequels, and Pixar was best before they started down that path. Even now, most years those animators get to rebuild the world from the ground up, and Marvel doesn't. For all the fun of this interlinked universe and cast of characters, I can't deny that even as the movies get better and better there's a bit of a feeling of just being a very expensive TV show. Every summer I enjoy the new episode and wait for the next one. That's cool, but it's rare that I revisit one of these or obsess on it as an individual piece of art like I have TEXAS CHAINSAW MASSACRE 2, DAWN OF THE DEAD, FURY ROAD, T2, DARK KNIGHT, even REVENGE OF THE SITH, let alone a movie that's not part of a series.
Is it me? I'm sure there are people out there who connect to Marvel movies on a more personal level than I do. But none of them have made me shed actual tears, like more than one Pixar movie has. I don't often use them as analogies or parables for real life situations like I have STAR WARS, THE MATRIX, THEY LIVE, MAD MAX, THE GRANDMASTER or so many other great genre movies. So, as much as I like Marvel movies and don't sanction snobbery toward them, there is definitely a sense that yes, they are nothing less than, but also nothing more than, a well-manufactured product.
I have a feeling that may change with BLACK PANTHER, not just because it's a great director and subject but because its unique place as the blackest big budget event movie ever made gives it the potential to be a watershed moment in pop culture. I don't personally think RAGNAROK is the one, but it's not that far off either. It's interesting to see Waititi, whose father is Maori, bring in a theme of colonialism. It turns out Odin is ashamed of Asgard's violent history and has somewhat sanitized it. Hela thinks their conquering was awesome and wants to extend their rule to other realms. Does stopping this imperialism absolve Thor of his family's long-ago sins? Can they be conquerors anymore now that they are refugees? They realize now that people and culture are what matters, not land and power.
It doesn't matter that much to me that these ideas aren't explored in much detail. But they're in the "plot" part of the movie that's less memorable than the diversion. So to me it comes off as more of a neat idea of how to connect the fantasy to reality than a full-on subtext, much like the current politics that come up in WINTER SOLDIER and CIVIL WAR without ever feeling like the topic at hand.
But I think these movies get better the more distinctive voices like Waititi put their stamp on them, so they got me hooked.
This entry was posted on Thursday, November 9th, 2017 at 3:28 pm and is filed under
Comic strips/Super heroes
,
Reviews
. You can follow any responses to this entry through the
RSS 2.0
feed. You can skip to the end and leave a response. Pinging is currently not allowed.