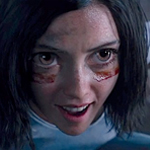 Man, we've been hearing about James Cameron doing this manga/anime adaptation since 2005, well before AVATAR. We're talking Obama's first year as a United States Senator, Christian Bale's first year as a Batman, three live action Spider-man actors ago, before the Marvel Cinematic Universe even started, when Chris Evans was still The Human Torch, George Lucas was still making Star Wars movies, Saddam Hussein was still alive, the word "sexting" was just invented, Youtube was just starting, and Twitter didn't exist yet. A long time ago.
So I can't say I was thrilled when, after that decade plus of hopes, Cameron announced "Just kidding, Robert Rodriguez is gonna direct it." Fresh off of SIN CITY 2. But also I wasn't stupid enough to scoff at it. Cameron co-wrote and produced the thing. The only other time he did that was STRANGE DAYS, and that turned out pretty good.
The ALITA: BATTLE ANGEL of the title is a female robot played by Rosa Salazar (BIRD BOX) found in a garbage dump by Dyson Ido (Christoph Waltz, THE LEGEND OF TARZAN), a kindly cybernetic doctor scouring for parts he can use. He repairs her himself and she doesn't remember who she is so he sort of treats her like his daughter as he teaches her about life in Iron City, 2563, after The Fall. She sees the good doctor operating his clinic for the disadvantaged, in one case repairing a guy's limbs in exchange for a bag of oranges (almost 100% for sure a reference to Steven Seagal's THE PATRIOT where he trades medical care for blackberry pie). But soon she figures out that at night he sneaks out with a giant hammer ax thing as a bounty hunter, which funds his do-gooding but also is kind of his Paul Kersey way of dealing with the murder of his daughter, who he originally made Alita's body for. And who was also named Alita. Our Alita seems to be an appropriate mixture of creeped-out and touched by this, though I think it's kinda weird that she's okay with keeping the name.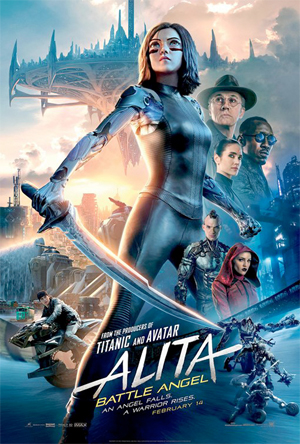 I guess there are bigger fish to fry when you have amnesia and mysteriously know the forgotten martial art of Panzer Kunst. Like Geena Davis in THE LONG KISS GOODNIGHT she keeps finding herself doing things that imply a past of highly skilled asskicking. Hmmm.
She meets a boy named Hugo (Keean Johnson). He's got kind of a babyface and seems slightly bland to me, but he can do a pretty good James Dean squint and he rides around on a one-wheeled motorcycle thing, so I get why she thinks he's cool. He teaches her to play a street version of the violent rollerblade sport Motorball, and she gets very competitive with his dickish friend Tanji (Jorge Lendeborg Jr., THE LAND, BUMBLEBEE).
All these threads are tied together by Chiren (Jennifer Connelly, PHENOMENA), Ido's ex-wife who left him after the death of their daughter. She's also a cybernetics genius, but she works for Nova, the scary CEO asshole of Zalem, the city that floats above them. The premise of this world is kinda similar to ELYSIUM: Zalem is where the elites live, and they dump their garbage on the losers below, who all work for "The Factory" above but aren't allowed up there and don't even know what it's like. We never see it either.
In the trailers we mostly saw the scenes in dark alleys or battle arenas, and it looked to me like a pretty generic dystopia. So I was impressed by the scene where Ido shows Alita around the streets of Iron City in the day time, and she's in awe of the place. Yeah, everybody's getting shat on by Zalem, but it's the life they know. They don't act like they live in Hell. They play games and music in the streets, they don't shy away from colorful clothes. I like that Alita doesn't always wear some sleek armor or bodysuit. Half the time she wears jeans and a blouse.
When they released that first trailer, I, like everybody, was bugged out by Alita's giant eyes. They have since been subtly improved (apparently through Cameron's suggestion of enlarging the pupils) and I'm sure I also just had to get used to them. By the time of seeing the movie I honestly think they're crucial to its appeal. Looking not quite human helps for all the scenes where she's reacting to seeing her face in the mirror for the first time, or tasting a food for the first time. And Alita is taking in the world with wide open eyes. Exaggeratedly large eyes add a heightened feeling of innocence that is perfect for this character – a cartooning trick that isn't usually possible in live action.
But I should put live action in quotes because this is one of those movies that's probly more animation than WHO FRAMED ROGER RABBIT, and it feels more like a cartoon than AVATAR. But whatever combo it is of stunt work, motion capture and animation, it makes for lots of exciting action scenes, including deadly street fights and brutal Motorball games. Stunt coordinator Garrett Warren has worked heavily in mocap (BEOWULF, AVATAR, THE ADVENTURES OF TINTIN, GODZILLA, TEENAGE MUTANT NINJA TURTLES) but also in straight ahead action (THE FIFTH COMMANDMENT, GREEN STREET HOOLIGANS 2, COLOMBIANA). The fight choreographer is Steven John Brown, who IMDb says was an uncredited choreographer on LOGAN, but otherwise his credits are for performing stunts. Salazar's double was Mickey Facchinello (Robin Wright's double in WONDER WOMAN) and her martial arts trainers were Bruce Lee's goddaughter Diana Lee Inosanto (THE SENSEI) and her husband Ron Balicki (choreographer of SINNERS AND SAINTS, FORCE OF EXECUTION and A GOOD MAN).
This is probly overstating it, but it's kinda nice to think that Rodriguez, like Alita, reawakened skills he forgot he ever had. I guess that means James Cameron came along and plucked his severed head out of the garbage. I still really like Rodriguez's early analog movies, especially DESPERADO, and I respect the way he experimented with digital cinematography and FX from ONCE UPON A TIME IN MEXICO to SIN CITY, set up his own independent studio, and always seems to do what he wants to do. But I think he has a much better eye for photographing real people and places than for designing things. And MACHETE KILLS was such an insulting pile of lazy "how little work can we get away with and still pretend it counts as a professional movie" bullshit that I was pretty much convinced he would never make a watchable movie again. So I'm so glad to see him doing one that clearly involved, like, time and thinking and hard work and stuff.
I don't love all these overly complicated cyborg designs. Poor Ed Skrein (DEADPOOL), playing the bounty hunter prick Zapan, has to sport a douchey metal soul patch goatee. But for the most part I like the look.
I'm positive that this is not as good of a movie as it would've been if Cameron had gone through with directing it. But I also think Rodriguez brings his energy to the many action scenes, and there are touches that clearly wouldn't be in there if it wasn't him. At the top of that list is the minor character played by Jeff Fahey (DARKMAN III: DIE, DARKMAN, DIE), showing up in a bar full of reprobates that bears a striking resemblance to the Titty Twister. And there's a nice little moment, more naturalistic than you might picture it when I describe it, where a busker with a robotic hand plays a double-necked acoustic guitar on the street. Yeah, Rodriguez likes to get some guitar playing in his movies. In fact, the credits make me think it might've been him playing that song.
There are a few pretty cool cameos, but I didn't recognize all of them. (Casting spoilers?) I didn't catch on that the briefly seen character Amok was Casper Van Dien (TARZAN AND THE LOST CITY). If I had, I would have stood up and applauded, or at least stayed seated and smiled. I did recognize Michelle Rodriguez's voice as a mocap character who does not share her appearance. Makes sense to have her in there since she was in both Rodriguez's MACHETE and Cameron's AVATAR. Yes, as I thought, Nova is an uncredited Edward Norton (THE 25TH HOUR). When I was told on Twitter that the great Marko Zaror (REDEEMER), who Rodriguez used in MACHETE KILLS and the From Dusk Till Dawn tv series, was in the movie "for about 12 frames," I assumed that was an exaggeration. Turns out that really was how long I saw his face in the bar scene. I guess his character is a Motorball player, but if he was shown playing I didn't recognize him.
I guess in that sense it is like MACHETE KILLS, because he filmed it at his studio and must've gotten some buddies to come over for an afternoon and shoot a few things. But the world of ALITA is so much more involved that those inserts don't stick out as much.
I had no idea Jackie Earle Haley (WATCHMEN) was playing the cruel cyborg Grewishka. I briefly wondered if it was Chuck Liddell. He's a burly head attached to a bunch of machinery, and an opponent worthy of hatred. But Vector (Mahershala Ali, PREDATORS) is the best of the villains, and it seems like Ali carries over a little bit of Don Shirley from GREEN BOOK into the performance. Vector runs the violent world of professional Motorball, which is some weird combination of rollerball, NASCAR, Survival Research Laboratories and gladiatorial combat. He also secretly employs the people who attack the players on the street and cut off their mechanical limbs for scraps. Arguably worse than the NFL.
One thing we learn about this world is that because almost everyone has implants of some kind, they can be hacked, and Nova has a habit of speaking to Chiren by commandeering Vector's body. You can tell because of the things he's saying but also because his eyes turn light blue. After the second time it happens there's a little scene where Vector is standing over a sink, rinsing his eyes with water, saying "I hate it when he does that," genuinely upset about it. Based on what I've read about Ali as an actor, I wonder if he might've suggested the scene. Whoever's idea it was, the movie could use more little moments like that, acknowledging that this cool sci-fi thing would really feel like a violation, giving us some sympathy for this scary character because of his physical discomfort and the way his boss degrades him.
Some of the other character moments I like are more sensational, like when Alita tries to literally give her heart to Hugo. To sell for scrap. I wouldn't say the love story is as all-in as TITANIC's or AVATAR's, but it has has some of Cameron's unabashed melodrama. In that sense it also fits into the modern subgenre of Y.A.-based young-love-while-battling-futuristic-authoritarianism sci-fi like HUNGER GAMES. (Salazar was in the DIVERGENT and MAZE RUNNER movies, by the way.) It reminds me more of those than the smaller category of American-live-action-adaptations-of-anime. Obviously it shares much with GHOST IN THE SHELL: a dead girl's brain brought back in an advanced robot body used for battle in a world where most people have machine parts and can be hacked from afar and she's trying to come to terms with her forgotten past. I think GHOST has a better look to it, but ALITA is more effective storytelling, and sidesteps the whitewashing issue by casting Latin leads. (Brownwashing?)
I like the way the script by Cameron and Laeta Kalogridis (PATHFINDER, SHUTTER ISLAND, TERMINATOR GENISYS [sic]) literalizes a young woman trying to find herself. Ido gives her the body he made for his daughter – I love its decorative engravings, like he lovingly made her out of china – and then when she finds a more advanced body in a crashed Martian space ship he refuses to install her in it, not wanting her to become a berserker. But it's her heritage – it called out to her, she is compatible with it. And sure, it takes her body being destroyed for him to accept that, but then he does, and the nano-technology of the suit adapts to her self image. She gets to be herself.
Of course it's bad that her heritage is combat, and that she can only learn about herself by getting in fights, but that's okay. We at home are more likely to imitate the self discovery it symbolizes than the literal act of cyborg violence.
If I have a biggest problem with the movie it's the feeling that it's only chapter 1 of a series that may or may not be continued. That makes it the first James Cameron movie that's not a self-contained story, and as it felt like it was about to end I kept optimistically hoping it was one of those fake endings he used to be known for. I've seen people describe it as setting up a sequel, but it's really more of a cliffhanger. The major conflict that's been set up in this movie is on the verge of being confronted. It's a cool ending, because it's a gloriously operatic shot teasing what needs to happen next, but it will be a bummer if that ends up being the entirety of the story.
Anyway it's a movie where (SPOILER FOR THE MOST BADASS PART) the heroine is fighting a guy at least 7 or 8 times her size and he chops off her lower body and one of her arms but (unlike Anakin Skywalker) she doesn't give up, she hops on one hand and impales his face on her fist and wins the fight. So I liked her. You might too.
P.S. I saw it in Real-D 3D, which was pretty cool at times but not as essential as I'd hoped for a James Cameron production.
P.P.S. In retrospect it's kind of funny how much of the advertising campaign is based around the part where Alita draws lines under her eyes. If I were to tell you what her war paint is made out of you'd think I was joking.