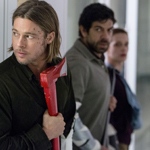 I don't want to say I'm a zombie fan. I mean, George Romero's first three LIVING DEAD movies are some of my all time favorite movies. RETURN OF THE LIVING DEAD is a classic. Fulci's ZOMBI 2 is pretty good.  I keep watching The Walking Dead. And there've been other ones I've enjoyed. But I mean, it goes without saying that this particular type of monster has gotten overexposed. I do not envy whichever poor bastard decides to do a book chronicling all the zombie movies, and has to watch every imagination-free piece of shit that's come along in the last ten years or so. Don't make any more zombie movies for a couple ten years, you guys. You wore 'em out. I'm sick of fuckin hearing about em.
But it's true, I do like a good one, and I was open to Brad Pitt's blockbuster-budgeted zombie epic because it's an approach that hasn't been tried before. Previous zombie movies are low budget and intimate (a good thing). In NIGHT OF THE LIVING DEAD Romero re-invented ghouls, but more importantly he came up with this dramatic situation with disagreeing strangers holed up in a farmhouse together. Even as he made the sequels and his budgets and ambition got bigger he centered his stories in confined locations: the mall, the underground military base, the gated community. A group of characters stranded somewhere during an apocalypse, waiting desperately for word from other parts of the world, hoping there's some place that's safe, or someone who knows what to do. But there never is. The status quo is never restored. This type of story started as a budget necessity but it became a dramatic strength. It's what the genre has always been about.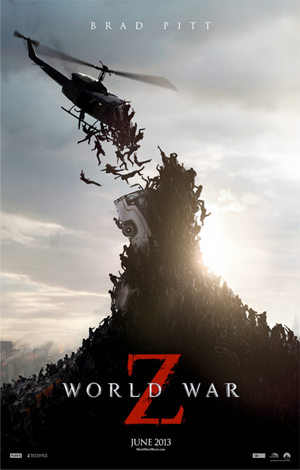 So it's weird to do a $200 million zombie movie with the hero traveling from the U.S. to South Korea to Israel to Wales seeing massive devastation and working on behalf of the U.N. to try to find a solution. But why not try it? See what happens. Well, what happens is a weird hybrid, a watchable mixed bag, a semi-enjoyable semi-failure. More of an interesting case than a good movie. But not bad.
The big ass budget allows us to see things we've never seen in a zombie movie before: overhead shots of mass chaos, crowds of thousands being overrun by zombies. Huge effects sequences (a zombie attack on a commercial jet leads to a hole blown in the side of the plane and people being sucked out, then the plane crashing). In the craziest scene (unfortunately burned in the trailer) a digital mob of jaw-snapping, hyper-active zombies pile on top of each other to build a ladder up a massive wall protecting Israel. That's something we couldn't've seen in the Romero movies, or the 28 DAYS LATER ones (yeah, I know, it's an infection not a resurrection – leave me alone) or The Walking Dead. And it's a weird fuckin idea, not something I would've thought of or expected to see before. I give 'em credit for that scene.
(Anybody ever read that Clive Barker short story "In the Hills, the Cities"? That would make a crazy fuckin movie. They could almost do it now.)
On the other hand, the budget forces us to not see things that we sort of need to see in a zombie movie, specifically blood and guts. Romero had so much in DAWN OF THE DEAD he had to forget about an R-rating and release it unrated. But with a budget like that WORLD WAR Z has to cut to below an R to have any chance of not losing gigantic amounts of corporate money, and ladies and gentleman here is your zombie movie where some material might be inappropriate for children but only if they're under 13.
I'm not saying they have to follow the zombie movie tradition of upping the ante on spilled intestines, but a massive worldwide catastrophe doesn't have the same impact when it's this clean. John McClane bled more in the first DIE HARD than the entire human race does in this apocalypse. The threat is carnivorous but the camera moves away from them every time they bite. It feels sanitized.
Romero's productions were independent, of course, made with his friends who made commercials together as The Latent Image. He and John Russo wrote it together, cast local stage actors and filmed in locations they had access to. WORLD WAR Z is produced by its star, Brad Pitt. Inspired by the book by Max Brooks, the script went through drafts by J. Michael Straczynski and Matthew Michael Carnahan, then when they'd shot the movie they decided it didn't work and hired Drew Goddard & Damon Lindelof to add new scenes at the beginning and ditch and replace the entire third act. And at some point Christopher McQuarrie did an uncredited pass too. Maybe others. They threw an army of experts at this thing.
(About the book: I know everybody loves it, but I couldn't finish it. You know I hate fake interviews in non-comedy fake documentaries, and to see that shit in book form is even worse. I just kept thinking "Cool idea. Get back to me when you write a story about it." So that's why I got no complaints about this as an adaptation. Some of you probly do.)
One weakness of alot of the modern zombie pictures, they don't have any memorable zombies. Maybe it's because they move fast, you don't get a chance to get a look at them and it's not like you're gonna get to sit and chat with them over lunch so you never feel like you know them. Here I guess I remember a couple zombies in the WHO lab but otherwise I can't remember any of them. They've got a traditional look but not particularly distinguished.
Maybe all the good zombies were in the part they cut out. According to this article the original last act had the plane landing safely in Moscow, where Pitt is drafted into a Russian army of zombie-hunters, leads a platoon in a huge battle in Red Square, discovers the zombies have a weakness for the cold and then escapes back to the U.S. where as it ends he plans to cross the country to track down his wife and get her back from a soldier who has claimed her as his own. Weird, but potentially epic. The finished film, ironically, makes things intimate, in a limited location, like the Romero movies. Pitt is at a World Health Organization lab and he has to get through hallways full of zombies to get access to a vault. It's the most effective part of the movie and the part that could've been done for under a million if they wanted to. In other words they decided the way to fix this movie was to abandon the whole reason to make it in the first place.
Results of big budget zombie movie experiment: negative
But I enjoyed watching it well enough. Pitt is good, and the drama of him having to be separated from his family to try to save everybody is effective. I really like the way it establishes the scarcity of space on this ship, the family's appreciation for it, and the threat of them (or others) losing their right to be there. It shows zombies as a disaster like in other movies but there's a little bit more of a system left in place, authorities trying to do something.
I also like his idea of how to beat the zombies, an idea that seems to make sense, that I haven't seen before, and that thankfully is left as a hopeful note instead of a solution. I know that's for sequel potential but it also follows Romero's no-restoring-the-status-quo rule. Pitt completes his mission and he returns to his family. His work here is done. He's a WWZ veteran. Let him have some shore leave.
Speaking of veterans, director Marc Forster is a veteran of QUANTUM OF SOLACE, and now it needs to be said: Mr. Forster, do not ever direct another movie that has an action scene in it. This is not your calling. You're fuckin up, pal. Some people just weren't meant to do some things. It's okay, just do one where people talk to each other. This movie does a great (I AM LEGEND-esque) setup of these people in their everyday routine when the shit goes down, it builds all this tension and then BAM! Something in traffic. They're following a truck. Something happens to them. Sounds exciting, whatever it is.
At times the camera operators seem to be acting like they think it's real zombies and it's more important to jump out of the way and not get bit than to do their fucking job of pointing the camera at the fucking thing that we're gonna pay money to watch. It's not the worst example of this type of filming, but it's bad enough to let the air out of most of the big action parts. I'm not surprised to read that part of the reason they ditched the entire last act of the movie that they spent millions of dollars on was that it took place at night and the way they shot it nobody knew what the fuck was going on. Maybe more studios should start doing that.
Anyway, I like what they're going for. I give 'em points for trying.
(Points have no cash value.)