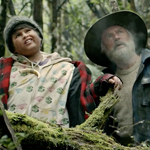 THE HUNT FOR THE WILDERPEOPLE is a sweet New Zealand comedy about a gruff, inarticulate woodsman and his goofball foster child on the run together in the wilderness. To give you an idea of their differing outdoor skill levels, Hec (Sam Neill, DAYBREAKERS) has a broken ankle, but still manages to wrestle and stab a large boar to death, while Ricky (Julian Dennison, PAPER PLANES) initially called the woods "that jungle."
The movie starts with child welfare services dumping Ricky off with Hec's wife Bella (Rima Te Wiata). Ricky apparently has a hell of a rap sheet (spitting, kicking things, throwing things) and he looks funny standing on this rugged Hoggett Hollow wearing his shiny hat and giant hoody with dollar sign and diamond print. He later gets a dog and names him after Tupac Shakur, who he explains to Hec is "a rapper and my best friend."
This is a movie where almost all of the characters are likable, and it's impressive how quickly it imprints them on us. For me I knew the movie had me during the scene where Aunt Bella improvises her own "Happy Birthday" song for Ricky's 13th and he un-self-consciously sings along: "Ricky Baker, ah ah / Ricky Baker, ah ah…"
Bella is not a woman you can fit in a box. She wears cat sweaters and talks lovingly about her toy animals, but is very good at hunting and butchering. At first you kind of laugh at her, then you want her to adopt you too.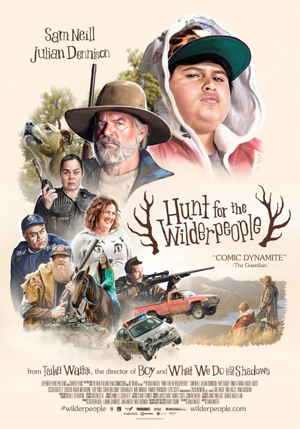 It's all laughs and goofiness on the surface, but an abrupt tragedy, presented without any sugar-coating, really stings. Somehow director Taika Waititi (of WHAT WE DO IN THE SHADOWS and the upcoming THOR movie) vividly captures the random cruelty of existence within just a few minutes of light comedy.
Ricky's naive overconfidence is lovable, and so is Hec's kneejerk distaste for such a person. I get a kick out of Ricky's quirks (like composing haikus all the time) but also Hec's uncomfortable reactions to said quirks, so it's like a feedback loop. It hurts when Hec bluntly tells Ricky it was Bella's idea to adopt him, not his, so it moves us when he starts to act otherwise. Hec is rough, restrained, and ultra-capable, Ricky is soft, prone to jibber-jabber and completely ridiculous. They have every reason to not get along, and for a while they don't.
I don't know if they realize this one thing they have in common: both are misunderstood. For some reason (possibly institutional racism) the child welfare officer Paula (the very funny Rachel House [WHALE RIDER, MOANA]) holds a grudge against Ricky and thinks he's a bad kid, but it's an impression of Hec as an unstable person snapped because of grief that makes them the subject of a manhunt. All he did was go help a kid who got lost in the woods and various parties have assumed sinister motives.
Like PRINCE AVALANCHE and THE KINGS OF SUMMER, this deals a little bit with the differences between rural and urban living, and that modern question of masculinity: how manly am I if I can't kill and eat a wild animal or make things out of wood or fix an engine or whatever? Is Ricky too domesticated if he is "ornamental," as Hec describes it (doesn't know how to contribute much on the farm), and hasn't really experienced the "gangsta" life he identifies with either? I think the movie sees this mostly as a cute generational disagreement, and offers the gentle, humane answer that people are people and should live however they want. This bushman and this teen are both pretty silly in their ways, and all the more relatable for it. Even the literally insane survivalist guy they meet (disguised as a bush, like Stanley Stupid) is a sweetheart, and the doofus hunters they're battling with are well-meaning (Ricky's weird babble led them to believe that Hec is a child molesting kidnapper).
Though Ricky has not lived the Thug Life, it's not like he's had it easy either, spending his childhood rejected from home after home, fearing the abuse that killed his best friend, and unfairly demonized as a troublemaker. There's also a specifically Kiwi cultural angle to it because he's Maori. When he meets another Maori teen and her dad (weird, friendly stoner characters) they see him as an outlaw folk hero, a Clyde without a Bonnie. They're so proud, and he needs that kind of support. It's good for him to feel just a taste of what it would be like to be somebody's Tupac.
With a goofy kid on the run in the wilderness, being chased by local police, there are obvious parallels to MOONRISE KINGDOM. But the story comes from a 1986 book called Wild Pork and Watercress by New Zealand author Barry Crump. Still, it's hard to imagine the dry humor, carefully static visual style and funny synth score existing without Wes Anderson having been there first. Luckily, this is the first time I've seen a movie that seemed Anderson-inspired without it being annoying.
I know plenty of people who were head-over-heels for Waititi's WHAT WE DO IN THE SHADOWS. I thought it was funny and clever, I liked it. But this is on a higher level to me. It's such a warm-hearted movie, taking a wad of grief and hurt and loneliness and wrapping it in enough bonding and friendship and humor to keep it locked in forever. Also the kid gets to do some crazy off-road truck driving. I loved this one.
This entry was posted on Wednesday, May 3rd, 2017 at 10:06 am and is filed under
Comedy/Laffs
,
Reviews
. You can follow any responses to this entry through the
RSS 2.0
feed. You can skip to the end and leave a response. Pinging is currently not allowed.