Twenty years ago when I was an enthusiastic but not that good internet movie reviewer I wrote a column called "I have seen the future of Badass pictures," because I had seen THE DAY OF THE BEAST (1995) and PERDITA DURANGO (1997), the second and third films of Spanish director Alex de la Iglesia. Although the director hasn't quite become a household name here in the intervening years, he has made many interesting films, of which I've reviewed 800 BULLETS (2002), FERPECT CRIME (2004) and THE LAST CIRCUS (2010). He's still going strong, for example I've heard good things about his recent TV show 30 Coins.
For the holidays I rewatched the Christmas-Eve-set THE DAY OF THE BEAST (it held up – I wrote about it a little bit on Letterboxd) and I'd been meaning to revisit PERDITA DURANGO for quite some time. Reviewing Javier Bardem's first English language movie, where he plays a human-sacrificing psycho who looks like this…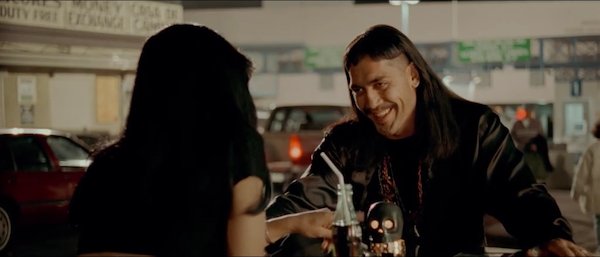 …as a followup to his more Oscar-baity turn in BEING THE RICARDOS is the sort of thing that amuses me, so I pulled the trigger.
PERDITA DURANGO is based on a 1992 book called 59° and Raining: The Story of Perdita Durango by Barry Gifford (who co-wrote the script with de la Iglesia and two others). It's part 3 in the Sailor and Lula series, part 1 being the basis of WILD AT HEART. (Isabella Rossellini played Perdita in David Lynch's movie.) (read the rest of this shit…)