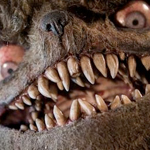 Krampus – the child-punishing anti-Santa Claus of Alpine folklore – is one of those things that a certain type of American nerd is a little too proud to know about. The same ones that make Cthulu jokes. But despite them it's a good idea for a Christmas monster movie, and I think this one is good enough to reclaim the old half goat, half demon's honor.
KRAMPUS came last year from director Michael Dougherty, the X2, SUPERMAN RETURNS and URBAN LEGENDS: BLOODY MARY writer who turned director with TRICK 'R TREAT, the DTV anthology that seems to be growing into a minor Halloween tradition. I remember that being pretty good, but I think I liked this better.

It's the story of a nice suburban family – Tom (Adam Scott, HELLRAISER: BLOODLINE), his wife Sarah (Toni Collette, xXx: THE RETURN OF XANDER CAGE), their teenage daughter Beth (Stefania LaVie Owen, THE LOVELY BONES), younger son Max (Emjay Anthony, CHEF) and Austrian grandma Omi (Krista Stadler) – welcoming Sarah's sister Linda (Allison Tolman, THE GIFT) and her family – husband Howard (David Koechner, HIT AND RUN) and kids Howie Jr. (Maverick Flack), Jordan (Queenie Samuel) and Stevie (Lolo Owen), not to mention the baby and the dog and mean Aunt Dorothy (Conchata Ferrell, CHAINS OF GOLD) – to stay over for Christmas. But there's tension and then a snow storm and then the weird shit starts happening. Eventually they're boarding up the windows like it's NIGHT OF THE LIVING DEAD, but this is more like fairy tale shit. All they can really do to keep trouble away is keep the fireplace hot.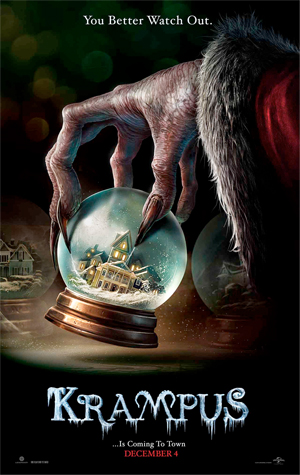 It's a good cast for a comedy, and it is kind of a comedy, but it has an interesting tone. Once things turn supernatural it's treated very seriously, other than involving killer gingerbread men and what not. For me it works. And it's artfully made, from the gorgeously spooky winter scenery to the dramatic shot of a phone going from 1% charge to black at the same moment the fire burns out.
There's a nice-looking animated sequence as Omi explains learning about Krampus as a child, but it's a good symbol for the movie's weaknesses. To have stop motion in the movie seems like a great idea, making the world of the movie even more stylized and tying it to classic TV Christmas specials. But not much actually happens in the sequence and you realize that if they hadn't wanted to show off the animation they commissioned then Omi could've told a more concise and effective story. (Also, I don't really buy this use of the grandma-is-from-the-old-country-so-she-understands-how-the-magical-shit-works cliche. I don't think there's really an old country that knows about this particular shit that happens here.)
But I'll put up with pacing issues when the gifts are this bountiful (you see how that works, I chose that particular wording because it is a Christmas movie). When it comes to holiday horror, I prefer for them to include as much of the traditions and symbols of that time of year as possible. Obviously the original BLACK CHRISTMAS is the better movie, but I appreciate that the underrated remake BLACK XMAS has way more decorations and eggnog and the killer baking people's skin like Christmas cookies. KRAMPUS does very well in this category.
It opens with Bing Crosby and quickly has grandma baking cookies with the Alistair Sim version of A CHRISTMAS CAROL on TV. There's an advent calendar opened throughout the movie. They have their childhood Christmas decorations, including Mom's angel that goes on the top of the tree. Linda wears an ugly reindeer sweater, but a realistically ugly one, not an exaggerated -for-irony-purposes one. Aunt Dorothy puts peppermint Schnappes in her cocoa. There's a gingerbread house, and Beth's stoner boyfriend (Leith Towers) has a bong that looks like a candy cane attached to a snowman head.
Max is the one who's really attached to Christmas traditions. He cares about rituals that his parents don't, specifically watching A Charlie Brown Christmas while wrapping presents. He wears a Rudolph hoodie and gets in a fight with another kid for saying Santa Claus is a marketing gimmick. Typing this out it sounds phony, but he seems very sincere, his little bow tie/sweater combo signal that he's a certain type of kid that wants to do his own thing, and it turns out to be mostly about nostalgia for him, wanting his family to be close like they were when he was little. But he does seem a little old for the part about writing a letter to Santa each year (him getting mad and tearing it up is what summons Krampus).
They also show the negative side of holidays. The opening credits play out over a slow motion sequence of a Black Friday style riot at a department store. That's supposed to be December 23rd, which makes no sense – what store waits until that close to Christmas for their big sale? But the movie's biggest strength is in the way it captures tensions between visiting family. At this age, the kids don't know how to make conversation with each other. Howard belittles Tom about not playing sports and having been an Eagle Scout. Linda complains about "fancy food," so Sarah gets mad and starts making comments about trailer parks. Instead of being impressed that she made them all creme brulee, they act like it's weird, and rather than eat the leftovers after the power goes out they consider themselves to be out of food. Linda is the more forgiving member of her family, and Lohman makes good use of those sympathetic eyes we know from season 1 of Fargo. But in private even she makes bitter comments about how much money her sister's family has, and mentions them being Democrats. Sarah has fancy wrapping paper, Linda uses newspaper.
Howard brags about his shotgun and his truck in a boorish way, though they later seem like they'll come in handy when the horror happens. That is definitely one argument for a more Republican lifestyle, if you believe there could be a magical killer Santa situation, you will be more prepared. (SPOILER: But not enough. Second SPOILER: Howard calls his SUV Lucinda and has occasion to cry her name in anguish to the heavens.)
Anyway, I could relate to some of these things.
This reminded me a little of SANTA'S SLAY, and it could work as a mean, violent Christmas horror like that. Instead it's PG-13 – the rating inspired by GREMLINS, remember – and it's more in the genuine Christmas spirit, with the family coming together through the ordeal. Before they know there's a demonic goatman after them they just think Beth is out in the snow and they need to get her. When Tom and Howard go looking for her together they actually start to get along, and it's kind of sweet. Linda and Sarah bond over memories of their mother. Initially when Howard is talking about his guns at dinner and says "A shepherd has to protect his flock," he seems like a dipshit. When Tommy later repeats it unironically to him it's a nice sign of respect between the two.
It takes a little time getting to the horror, but then it delivers. Weta Workshop provides the A+ effects, which seem to be mostly animatronic in nature. Krampus starts as a silhouetted beast howling and leaping from roof to roof as he stalks Beth, and only becomes cooler the more we get a look at him. But he doesn't do all the work. There are scary snowmen, and something moving around under the snow like holiday TREMORS. The second they let the fire go out an evil gingerbread man comes down the chimney on a chain (I can't believe that dumb kid Howie tried to eat it). Krampus brings to life some NIGHTMARE-BEFORE-CHRISTMAS-but-scarier type creatures, like the jack in the box monster that's so fucked up it causes Tom to say "Oh, come on!"
I talked to some people who saw it with actual kids, and claimed it didn't scare them. But I thought the climax, with Krampus and fire and a horde of the scariest "elves" of all time, was straight up nightmarish. At the very least it's a great looking, very atmospheric movie that finds the common ground between storybook holiday charm and creepy winter horror. And it has a great ending. I think I'll add this to the once-every-several-years Christmas rotation.