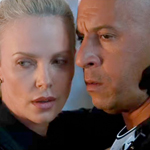 Here we are, number eight in the impossible series. The one that started as cheesy car exploitation with surprising heart, and evolved into… the FAST AND THE FURIOUS series. The one that, I am happy to say, is still the longest running movie series that I like every installment of. (Second place is still DEATH WISH. I am now aware that RESIDENT EVIL comes close, but I don't like the first one.)
That is not to say that it can sustain forever. But only because fossil fuels will eventually run out. Inevitably, there has been a slight downward arc in quality since the untoppable back-to-back peaking of FAST FIVE and FURIOUS 6, but part FATE is still an immensely entertaining chapter in the ongoing soap opera about friends who have been repeatedly swallowed and coughed up by the impossible, and filmmakers who have not yet run out of ways to go bigger and more ridiculous than last time. (Hint: car playing chicken with nuclear submarine.)
Ah, who am I fooling, there is no room for hints in this review. This is gonna be straight up SPOILERs throughout. I'll write it so it makes sense to those who will foolishly avoid the movie and just read this, but my recommendation is obviously to go see the movie first. I will not be pussyfooting around about surprises. We're gonna want to discuss them.
If you are reading this in the future and can't remember which one is part FATE, it's the one where Dom (Vin Diesel, BABYLON A.D.) is forced to turn against the others and work for new anarcho-hacker-super-terrorist villain Cipher (Charlize Theron, REINDEER GAMES) because she kidnapped his ex Elena (Elsa Pataky, GIVE 'EM HELL MALONE) and previously-unknown baby son. He kinda acts like a Terminator and doesn't reveal what's up to the others, but maybe an hour in it becomes clear that he's got something up his sleeve, working on some sort of plan. This is a fun new development for the series because
1. it gives Dom that Blade quality I love, that he's secretly steps ahead of everyone else and in control when it seems like he's licked. "All back of the bus and shit."
2. they get to do that gimmick where there are little flashbacks going back to earlier scenes to show us a new angle or new information so we realize what REALLY was going on there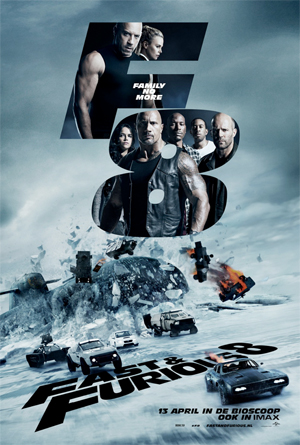 The primary theme this time: parenthood. Letty (Michelle Rodriguez, AVATAR) – who I think still only remembers her life post-part 4, but I'm not positive – broaches the topic with Dom. Then Dom learns that he already has a baby with his only-while-he-thought-Letty-was-dead-girlfriend Elena (Oh shit, Elena. It was nice knowing you). The trailers made us wonder what was the one thing that would make Dom turn his back on family. The answer is baby.
In retrospect there was some foreshadowing to that in the opening. After Dom wins a race he's immediately mobbed by children like he's Mr. T. This has never happened in any of the numerous street races throughout the eight films, but right at this moment Dom's biological clock is giving off clock pheromones that attract packs of youths, proving how good he is with them.
Meanwhile, you have Hobbes (D.T.R. Johnson, THE RUNDOWN) realizing it's more important to spend time with his daughter (Eden Estrella) than to do his job of going around the world being totally fucking awesome and kicking everybody's ass and being amazing and sweaty. The idea is introduced in an overly long comedy sequence about coaching a girl's soccer team.
(To be fair it's way better than the stretch of the otherwise impeccable FURIOUS 6 where he makes the snooty car salesman take his clothes off. But with all this and less macho barking of orders it tips just beyond Badass Juxtaposition to a softening of the character. He's now closer to the normal lovable Rock persona than the hardass Hobbes character, in my opinion. I'll live, but I feel a duty to point it out.)
Even the surprise-if-you-forgot-she-was-gonna-be-in-it cameo by Helen Mirren (SHADOWBOXER) ties in to this theme because she's the mother of Owen (Jason Statham, SAFE) and Deckard Shaw (Luke Evans, NO ONE LIVES) and gets them to do what she wants.
PARENTHOOD and BABY are of course an extension of the series' main theme of FAMILY (which they seem to mention more and more in each chapter, as if aware of a drinking game). They also delve further into that other recurring-since-part-1 theme REDEMPTION/FORGIVENESS. That one is beautifully philosophized upon in the excellent opening street race in Cuba in which Dom helps a babyfaced, never-mentioned-before cousin (Janmarco Santiago) by jerry-rigging his rusty junker (somehow known to be "the slowest car on the island") to use as a flaming rocket against the certified fastest car on the island. Dom defeats this criminal and cheater Raldo (Celestino Cornielle, Days of Our Lives) but chooses not to take his car, only his respect. This sort of Fight Brotherhood happens in other installments (in fact Dom was kind of the bad guy in part 1!) but here it reminds me of how The Shadow saves people and they become his agents who help him out in the future.
The opening is also very reminiscent of xXx: RETURN OF XANDER CAGE, in which Diesel is again living off the grid in an exotic locale where he's beloved for using his elite skills to help the little guy.
The forgiveness theme stretches our suspension of disbelief further than ever before with writer Chris Morgan's not-necessarily-incorrect decision to choose thrills over emotional truth by busting part 7 villain Deckard Shaw out of jail to work with the team. At first they hate him, but Hobbes quickly becomes his buddy and at the end not only does everybody apparently forgive him, but government agent Mr. Nobody (Kurt Russell, DEATH PROOF) seems to just let him go free!
Pros: It is fun to see them team up, and he gets to do lots of Jason Statham shit, jumping off walls and somersaulting and kicking people and what not. Very fun to watch despite some blurry camera shit.
Cons: Not only did they spend the entire last movie trying to avenge Deckard for murdering Han, he also opened that movie by massacring everybody in a hospital! But I guess being locked up for the period between the two movies is enough punishment?
Some of this is I think is supposed to be explained away with some convoluted, wonderfully seat-of-the-pants reconfiguring of the backstory so that (if I understood correctly) Owen Shaw in part 6 was actually doing the bidding of Cipher, just as Dom is here. I'm not sure I buy that because he sure didn't seem like he was acting against his will. And at any rate his shenanigans caused the death of Giselle (as well as Gina Carano's character, but she was evil). And, I mean, they drove a tank down the freeway, flattening random civilian cars just for fun! Dom didn't do shit like that.
I believe Cipher only has one scene outside of her control room superjet, and doesn't drive or fight, but that leaves something exciting for her return. (Also let's hope she wears some of her cool masks.) While far from one of the top ranking Theron characters and performances, I enjoyed seeing her act tough, deliver huge chunks of exposition and do some poor-man's-Wachowski philosophizing. She's sort of an all-knowing being. She quotes Dom's "I live life a quarter mile at a time" line at him – does this mean she's been spying on him since part 1, or that she has transcended her world of fiction to actually watch part 1 and quote it? I suppose it could be that he continues to say that line to this day and it's just not included in the movies. Or that the other street racers thought it was hilarious and it became a legendary story about him that everybody knew.
Anyway, like in PROMETHEUS, it's funny to see Theron start to panic at the end when it becomes clear that the gig is up. Theron has an Oscar and everything but I'm still not sure she gets enough credit for what she brings to characters like this. She even managed to liven up SNOW WHITE AND THE HUNTSMAN for a bit.
The team was sort of forced to work for the mysterious Mr. Nobody in part 7, and at this point they seem to be like a secret black ops car racing team with access to confiscated drug dealer cars and a tank. So I started to think of them as sort of being like GI JOE every time you see their multi-colored squad of vehicles racing into action.
About that action: The conventional wisdom probly goes that these absurd car spectacles cannot possibly continue to get bigger and over-the-top-er without losing us. And I admit that the set pieces in this one don't have the kind of awe-inspiring momentum and rhythm that Lin managed in the aforementioned FURIOUS 6 tank scene. But armies of cars being controlled remotely to drive off ledges, The Rock climbing on the side of a truck to redirect a sliding torpedo by hand, Tyrese surfing on a car door towed by a car across ice… if this sort of shit doesn't put a big dumb smile on your face then your face is really different from mine.
(Side note: I was amazed and impressed to learn how much of this was real car stunts, not FX. Even Dom jumping the submarine! Even the torpedo! Check out Thrillist's article about it.)
I think after part FIVE got them on board, part FATE might be where the critical establishment starts looking for the exits. This one's by F. Gary Gray (who previously directed Diesel in A MAN APART, Theron and Statham in THE ITALIAN JOB and The Rock in BE COOL), but I don't think I would've guessed it was someone new if I didn't know. Though they're mixing things up with Dom turning on the family and the weird Hobbes/Deckard bro-ship, it still feels awfully close to the formula established in the last few, minus the freshness or the crucial relations of Dom/Brian or Han/the audience. In fact they're sort of betraying that bond with their lax attitude toward Han's killer. Instead of making an argument for Deckard's redemption they just kind of assume you won't think about it. I mean… Deckard saves Dom's baby, so Dom shakes his hand. But shouldn't there at least be a long, unsure hesitation first? That should be a major dramatic moment. They act like it's not that big of a deal.
That said… he saved the baby! It would be hard not to enjoy Deckard's HARD BOILED homage, especially since I believe he brought that baby carrier with him onto the plane, and that it might be a specially designed tactical baby carrier, seeing as how he uses it as a shield. Also the uniting of the villains of 6 and 7 made for the first time I've ever heard a crowd (or myself) applaud a surprise cameo by Luke Evans.
Also, Riddick is a killer who we forgive. Maybe this is a Vin Diesel thing.
I kept feeling like there wasn't as much of that heart that we all love about these movies, but then something would come up. There's at least one great moment when Dom has turned the tables on Cipher and he and his car have returned to the team. Letty sees him – validating her having continued to believe in him (itself a favor returned for him believing in her when amnesia made her a bad guy two movies ago) – and there's a long shot of her gigantic, beaming smile through the driver's side window. FATE wins the battles, if not the whole war.
Where to next? They've re-established their L.A. backyard on a roof in New York City. They have a tentative new recruit – Mr. Nobody's lieutenant Little Nobody (Scott Eastwood, GRAN TORINO) – to fill the vacated white guy slot. Yes, it's a good idea to have a guy who looks exactly like Clint Eastwood in any movie, but clearly part 3's Sean Boswell (Lucas Black) should be the guy. This is not up for debate. Bring him back.
They probly need to change up the status quo, and I'm sure they will. They made a point of reminding us that we don't know who the hell Mr. Nobody is, which may mean some sort of revelation about that (before Paul Walker's death he was going to turn out to be the father O'Conner never met).
And now Dom will have to change diapers. The thing is, I actually do kinda think Dom could be a good dad if he abandoned all of his interests other than barbecues and praying. But I don't want to see a movie about that. I don't want him to have to create a special baby seat that won't be crushed in his various car endeavors. I don't want him to have to claim every movie that it's gonna be his last ride. I don't want him or Letty to have to stay home to babysit. And I wonder why they didn't do this before and work the timeline out so that somehow Bow Wow in part 3 was his son. But it will be funny if we get to see a fat, drooling baby leaping in slow motion from one moving vehicle to another. That might be worth it.
I think right now the best thing we can hope for is for Justin Lin to come back with an idea of how to reinvigorate the series one or two or three last times. Until then, I would like to congratulate the universe on the existence of this great series.
Links to my previous reviews:
THE FAST AND THE FURIOUS
THE FAST AND THE FURIOUS less obnoxious tenth anniversary review
2 FAST 2 FURIOUS
FAST AND FURIOUS ORIGINS: HAN aka BETTER LUCK TOMORROW
THE FAST AND THE FURIOUS: TOKYO DRIFT
FAST AND FURIOUS
FAST FIVE
FURIOUS 6
FURIOUS 7