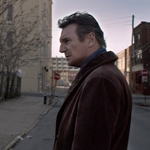 Sometimes a man just has to walk among the tombstones, you know? Stroll within the grave markers. Saunter betwixt the memorials. Seagal did it in PISTOL WHIPPED and now my man Liam Neeson (THE DEAD POOL) is taking a turn. He's doing it in a mystery thriller based on book #10 in a series by Lawrence Block. The movie version is written and directed by Scott Frank, the guy that wrote OUT OF SIGHT, so it's more about capturing that crime novel feel than being another Neeson vehicle like UNKNOWN or NON-STOP. That said, he is allowed to be awesome, and there are some scuffles.
Admittedly the opening scene is better than anything else in the movie. It's a flashback to 1991, but has a '70s feel. Stringy-haired, racial-slur-using asshole police detective Matthew Scudder (Neeson) walks into an empty bar where cops get free drinks. And this is how you know he sucks: the bartender greets him by name, and he doesn't even say hi or look at him. He just knocks on the counter and then sits down at a booth with his back to him. Fuck you, man! I guarantee you this prick doesn't tip either.
But when we see what Scudder's usual is, it says something. The bartender brings him two shots and a mug of coffee. He downs the first shot and starts sipping the coffee as he reads his newspaper. And I gotta be honest, that seems like a pretty appealing morning routine, in some ways.
Then some guys come in, argue with the bartender and shoot him, so groggy-ass Scudder stumbles out after them, chases them down and shoots the shit out of them. It's been a while since I've seen an opening as badass as Scudder dangling his gun and sloppily strutting away from one of the bodies as the title comes up. But instead of cocky wah wahs and horns we get eerie strings, like we should be scared of what he just did, not impressed.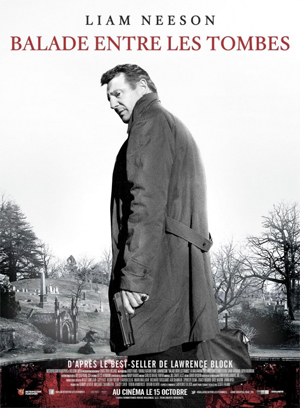 The events of this prologue are mentioned a few times later in the movie, and there is some mystery around them that I'm sure would be compelling if I hadn't seen the god damn trailer, which matter-of-factly opens with the information that is deliberately withheld until real late in the movie. Thanks alot fellas. (And for that other thing you gave away that happens in that other part that would've been pretty shocking I bet if I wasn't waiting for it.)
The Scudder of the main story is a repudiation of the cool, hard boiled Scudder of the prologue. Now he's sober, better groomed and I'm gonna go ahead and optimistically assume less racist. Now when we see him at a diner he eats actual food (even a green salad if I'm not mistaken!), talks to the staff and knows their names. He's no longer a cop – by choice – he works as an unlicensed detective who "does favors" for people. He's lonely and sad but safer to have on the streets. Unless he sees you following him and you're not a kid, in which case he's gonna punch you in the nose like you deserve, dumbass. What did you think he was gonna do.
I like how important his sobriety is to the story. The case is brought to him by Howie (Eric Nelsen) Peter (Boyd Holbrook), a recovering junkie kid he knows from A.A. Howie brings him to his brother Kenny (Dan Stevens from THE GUEST, but looking like Wes Bentley in this one instead of like Josh Lucas), whose wife was kidnapped by some guys in a van and then murdered even after a ransom was paid. Scudder figures out that he's in the drug trade because Howie waits outside – to be true to A.A. he can't associate with people like his own brother.
It's a good, classical detective story. He figures out more than he's being told, he doesn't want to work with a drug trafficker so he says no, but thinking about the victims pulls him in. I like the way Scott cuts in shots of what happened as Scudder talks to witnesses or makes deductions. Not Avid farts, but quick compared to the deliberate pacing of the rest, an illustration of Scudder's detective brain working, finding the puzzle pieces he'll have to put together.
All the while, Scudder does not backslide. He keeps going to meetings throughout the movie, and a recital of the 12 steps is played over a climactic scene like it's some badass Sun Tzu quotes or something.
Like so many of the greats, Scudder is not up on the new technology. He doesn't want a cell phone (don't worry, he gets to talk tough to bad guys over land lines) and still researches on microfiche. So he needs a savvy young sidekick, right? It's a corny convention but I like T.J. (Brian "Astro" Bradley, EARTH TO ECHO), the homeless, detective-novel-loving kid he meets in the computer lab at the library. He's one of those kids who the adult meets and then sort of doesn't want him around but he follows him around and is pushy enough that eventually he forces himself into a sidekick role. He helps Scudder, but he's not a genius computer hacker or something, he's just a regular kid with a basic knowledge of web browsing.
I like their friendship. Scudder is an older guy that fucked up everything with his peer group, so now most of the people he talks to are troubled young people rejected by society. He can related and might be able to help, so he's nice to them, though not always friendly.
By the way, this is not that important, but did anybody else wonder what the deal was when the librarian told T.J. he made a mess in the restroom? Does this mean he wiped shit all over the place? Or left needles and puddles of blood laying around? It must've been pretty extreme for her to bring it up. Based on that one comment shouldn't Scudder be more concerned about having this kid around?
Morbid serial killer shit is not my favorite type of entertainment, but it definitely can work, and this is a good example of that. Even though I know this is fiction I think being a period piece subconsciously makes it seem like true crime to me, as if they're setting it in 1999 because that's when this happened. Taking place in the past dredges up those memories of uneasy times gone by, like before they caught The Green River Killer, Jeffrey Dahmer, Ted Bundy. Now that I think about it that's kind of a thing, isn't it? Anti-nostalgia. Movies like ZODIAC and SUMMER OF SAM that instead of making you treasure the good old days try to flip them over and show you all the creepy bugs crawling around underneath.
These kidnappers are sick weirdos, not easy to comprehend, good villains for a mystery because you're anxious to figure them out but won't be given the comfort of some logical explanation for it all.
There's a moment that really creeped me out, one that uses the cinematic language in a fucked up way, but it acts so casual about it it almost gets away with seeming like an accident. In the scene, the two messed up fuckers are casing a potential victim when suddenly they see her young daughter. They stop and watch her cross in front of their van as the soundtrack plays "Atlantis" by Donovan. Other reviews that have mentioned this seem distracted by the fact that the song was used in GOODFELLAS. Fine, but what's terrifying about it is how it employs the movie shorthand for love at first sight – music swells over slow motion shot of person passing, looking the other direction – on this little girl that they would like to torture and then cut into pieces.
Jesus Scudder, you better find these guys.
In substance I don't believe A WALK AMONG THE TOMBSTONES is that much different from a '90s serial killer thriller that might star Ashley Judd or Morgan Freeman. But it distinguishes itself with taste. It's willing to be slow and quiet, it takes its sweet time between edits, it communicates more visually than through jibber jabber, the score by rookie composer Carlos Rafael Rivera is simple and creepy instead of the usual manipulative bombast.
And man, what a treasure we have in Neeson(s). A great actor with an excellent body of work (fucking SCHINDLER'S LIST!) and even a peppering of genre credits (he's god damn DARKMAN!) now suddenly and unexpectedly reborn as the late-period-Bronson of the 2000s. I hope he continues with an endless series of TAKENs and NON-STOPs but gets to throw us a THE GREY or a TOMBSTONES every now and again. The ones that are tough as nails (maybe moreso than his straight up action thrillers) but more emotional, less dumb. They offer him more acting challenges to keep him interested, but don't skimp on parts where he gets to stand unarmed talking fearlessly to a guy pointing a weapon at him.
Also, let's get Scott Frank directing more, if he wants. I'm sure on video this will do better than THE LOOKOUT did. And at least we get to see it, unlike the Hoke Moseley pilot he shot this year but didn't get picked up.
Moviegoers, get ready to rock among the tombstones! Scudder is no dudder! –outlawvern.com