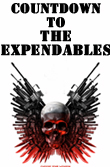 THE ITALIAN JOB circa 2003 is a standard issue studio ensemble heist movie, and a really enjoyable one. The director of FRIDAY and the writers of DEEP BLUE SEA put together a good group of likable actors to play the team of expert thieves, they came up with some clever gimmicks for an elaborate heist, and they executed it well with good pacing, light humor, a sense of fun but also a reasonable enough sense of danger. So it's closer to OCEAN'S 11 where they obviously know what they're doing but have to put in some elbow grease than OCEAN'S PART 13 where they seem to have super powers and can do absolutely anything at a moment's notice with no trouble at all.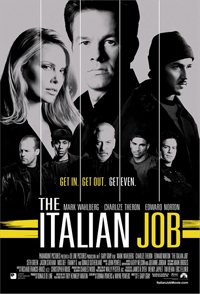 I can't explain the premise without spoiling the opening heist sequence, so if you haven't seen it then, as the devil worshippers like to say, do as thou wilt. Donald Sutherland is pulling O.L.J. (One Last Job) with his team in Venice. He's handing the reins over to his planning protegee Mark Wahlberg. But Edward Norton (movie Hulk #2) betrays them and takes off with the gold. So to my surprise Norton is the bad guy who they're trying to steal from in most of the movie. You don't get to see it too often, but he's real good at playing an asshole. I have no guesses as to why. I would also like to note that he has a mustache in this movie. And I like that he's just called "Steve." No big villain name, just Steve.
There are different ways to structure a heist picture. You can just throw us into the job without us knowing how it's gonna go down, so we have to watch and learn. Or of course you can show the whole planning and preparation, the recruiting of the team and equipment, the casing-of-joints and dry runs, setting up expectations and suspense for the audience. THE ITALIAN JOB remake goes for the good ol' Best of Both Worlds approach, starting with a job in progress, then doing the preparation for a second heist followed by a monkeywrench that causes them to change the plan so that now we are partially but not fully in the dark about what they'll do. This is one of those classic structures where if you execute it well it probly won't matter that we've seen this type of thing before. Surprise us if you can but mostly just play the tune well, keep the rhythm section tight and don't go overboard on the solos or the between-songs stage banter.
The team includes Wahlberg (planner and troubleshooter – kind of like Parker I guess), Jason Statham (getaway driver), Seth Green (nerdy computer genius), Mos Def (demolitions expert), and Charlize Theron (daughter of Donald Sutherland who cracks safes for police and security firms but is convinced to become a crook to get revenge on that asshole with the mustache).
They all get little goofy flashback backstories to explain/simplify their characters. For example Wahlberg started stealing as a little kid when he made a plan to steal from the school bully. Kinda dumb, but kinda funny. The only real groaner for me is some cutesy dialogue where Sutherland and later Wahlberg have an abbreviation for what "fine" stands for. If you say you're fine it really means freaked out, something something. I would not want to be on a team led by a guy who makes up corny shit like that.
This team leans a little heavy on the eccentric nerds, having only Wahlberg and Statham to balance out Green and Def. But it works. Def is doing his usual mumbly nerd character, but a much less annoying version than in 16 BLOCKS. I thought he was funny in the scene where he couldn't stop staring at Wahlberg's Boo Yaa Tribe sized explosives supplier.
A reoccuring joke with the Seth Green character is that supposedly he invented Napster but his roommate stole it from him while he was asleep. I think the dude who invented Napster in real life has a cameo as himself in a flashback. You know how people love those computer programmer cameos. I guess that's gonna be one of those references that won't make a whole lot of sense if any future generations still watch this movie. Napster was an early file sharing program that really popularized and profited from music piracy, but got shut down because of updated copyright legislation I think? I guess I don't totally know what it was either. If you are reading this in the future and don't know what "Napster" means then I guess look it up on Wikipedia. If you are reading this in the future and don't know what "Wikipedia" means then I don't know what to tell you, but thank you for still reading my old timey reviews even after I'm sure new reviewing technology has been invented. Also I gotta say I'm surprised that the remake of THE ITALIAN JOB is still being studied in the future. Have you considered maybe taking a look at something more historically important like STONE COLD or BLADE? But I enjoyed it so I'm not gonna complain. Good for you digging into those academic nooks and crannies. I'm proud of you guys.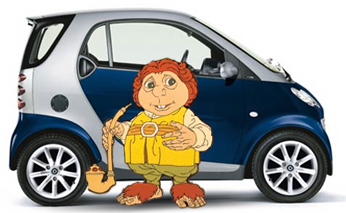 The most memorable gimmick of course is the fleet of Mini Coopers that are used in the robbery. They're chosen for their size, because they can drive indoors, on sidewalks or in sewers, but they look much cooler than today's Hobbit Cars. They still have to soup up the Coopers to handle the amount of gold they're gonna be carrying, so that excuses any of the unrealistic stunts they pull off with them.
Although in a supporting role Statham's character Handsome Rob is pretty close to a prototypical Statham action movie hero, minus the martial arts. Like his characters in DEATH RACE, the three TRANSPORTERS and the two CRANKS, his expertise is driving. He's also a lady's man (no hints at him being gay like in the TRANSPORTERs) which relates to THE EXPENDABLES, at least in the draft of the script I read.
In the opening "Italian Job" that the title refers to Handsome Rob gets to do the getaway driving. But since it's Venice he has to drive a boat instead of a car. They got all your favorite car crashes in there, except with boats. I'm surprised they didn't knock over a fruit raft or crash into two scuba divers carrying a sheet of glass. Green is impressed by Handsome Rob's boat skills and compares him to Don Johnson.
But in the movie's main heist I have to say Handsome Rob gets sort of disrespected. Here is this highly skilled getaway driver, sort of a Kowalski type folk hero and sex symbol due to a multi-state police chase he did just for fun… but his part in this job is the same as everybody else. He drives a Mini Cooper, but so do Wahlberg and Theron. We know Theron can drive one of those things like crazy because she owns one and likes to tear through traffic and do high speed parallel parking maneuvers while going to and from work. And Wahlberg can do it just because he's a renaissance man, shitty rapper turned underwear model turned Academy Award nominated actor. Everybody else gets to do their own individual thing, but poor Handsome Rob has to share the glory of driving sideways in a sewer pipe with two better looking, more award winning actors.
(By the way, I'm surprised they were able to practice driving in the L.A. river basin. You'd think somebody would keep an eye on that thing for trespassers, especially after T2.)
I've always wondered about those specialties anyway. In these type of movies they have the computer expert, I'm sure he's always gonna be needed for getting past alarms and security cameras. But the explosives guy? I don't know. They have Charlize to get into the safe. You'd think sometimes they'd plan a more subtle robbery where they don't gotta blow anything up. And then what's he gonna do? Is he gonna be offended that he doesn't get to do anything? Is he gonna try to talk you into some unnecessary explosion just so he can get his cut? Or with this guy you never know, he might just be all mopey and try to guilt you into cutting him in just for being a team member, even if he sits that one out. I don't know what the protocol is. Maybe there's some kind of agreement in place.
F. Gary Gray has never been a great director, but he's usually a pretty good one. This might be his best other than FRIDAY. All the action with cars and helicopter chases and everything is pretty clear and exciting. I noticed some quick cuts that were used in an interesting way instead of a distracting one. There are a couple unimportant details thrown on for spice but they go by real quick, no lingering, just exactly as long as you need to see them. One example is when Mos Def is setting off some explosions on Hollywood Boulevard, there's a shot of a dude dressed as Spider-man making a run for it. A little later there's a badass-walking-away-from-explosion shot for Franky G (a secondary Italian Job team member, like Cappadonna in Wu-Tang Clan) but it's real quick instead of the usual simmering slo-mo, as if to admit that this isn't very important but Gray wanted to take a second to include it.
The only reason I never watched this before was because I never got around to watching the original. I'll still have to do that, but I'm glad I gave in and watched this. This is good mainstream Hollywood entertainment. I'd like to see more like this.