BLITZ went straight to video here in the States, so I kinda expected a lesser Jason Statham action effort like CHAOS. Turns out it's not an action movie really, it's a gritty police drama adapted from a book by Ken Bruen. I'm not familiar with Bruen's works. Turns out I have a copy of this book Bust that he co-wrote and Hardcase Crime put it out, but I haven't read it yet. But I got a buddy that swears by Bruen. I guess Statham's character Brant and some of the others are in 7 different books by him. This is book 4.
Brant is one of these Dirty Harry cops that's really a good guy but he gets in alot of trouble for the ol' brutality. In the opening scene some kids try to break into his car, so he beats them with a hockey stick. Doesn't go over well with the press or the bosses, though. Meanwhile a serial killer (Aidan Gillen from 12 ROUNDS and some TV show) is assassinating cops. He's an attention seeking, "Riddle me this" type like the Zodiac or John Malkovich in IN THE LINE OF FIRE. He commits these shocking crimes in broad daylight, thinks he's real fuckin cool in his track jacket and sunglasses, starts calling some reporter saying to call him "Blitz," as in blitzkrieg.
So Brant gets put on the case. 'Cause if he's gonna cross a line it might as well be on this motherfucker.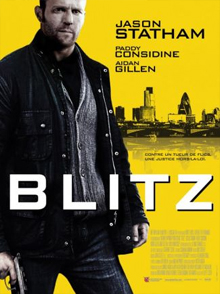 But it's not a Statham vehicle. It's kind of an ensemble, with a couple of subplots. There's Roberts (Mark Rylance), who's taking a leave 'cause his wife just died. There's the ex-junkie gal Falls (Zawe Ashton) that's trying to help a neighborhood kid who might've beat somebody to death. The best and most prominent storyline is about the relationship between Brant and Porter Nash (Paddy Considine), an outsider to the department put in charge of the investigation.
The boys aren't happy about Nash being in charge, and they don't exactly roll out the red carpet, by which I mean they draw grafitti of him sucking dicks. Male dicks. At first I thought he was supposed to be an uptight bureaucrat and that's why they hate him, but it turns out he's openly gay, and gets openly harassed about it. Brant is supposed to be a homophobe, but also he knows his cop shit. So although he doesn't stick up for Nash at all he does come to him privately, tells him he respects him and has a good talk with him about his darkest secrets and what makes him tick. But falls asleep during the talk.
Brant and Nash's partnership is alot like Clint and Tyne Daley in THE ENFORCER – Brant says some horrible shit, but shows respect through his actions. If he becomes more enlightened he won't admit it. Nash doesn't seem desperate for his approval, but obviously appreciates that he gets it. I really like Considine in this movie. He does play some kind of "gayness," holding himself differently from the other cops, but it's neither a lispy stereotype or the "you'd never guess he was gay" opposite route.
Gillen is also great as Blitz. He's a good Gemini type character, not all the way into comic book super villainy, but believable in his arrogant assertion that he's more dangerous than other criminals. And completely fucked in the head. After one murder he sits on the couch watching a game show, guessing the answers while the corpse is still bleeding next to him on the floor.
Ultimately there's not anything very original about BLITZ, and it's the type of cop story they used to call "fascist"-  it manufactures a situation where the best thing for cops to do is to murder somebody and lie about what happened. On the other hand the whole situation was caused by Brant beating on a guy a long time ago, so maybe it's saying something about the endless cycle of violence and what not.
I heard how things ended in the book and it sounds better than what they did here. But the execution makes it good, the feel of it. It's the characters, the setting, the procedure, the little details, the gallows humor. It's a real scummy view of London, full of junkie snitches, crooked cops and kids who beat immigrants to death for fun. It feels more realistic than most cop movies, or more novelistic. Or more like Homicide: Life On the Street. But British.
Looking over some of the other reviews it seems like alot of people thought it was supposed to be THE TRANSPORTER and that it was a mistake to put, like, other characters and events in the movie that weren't about Statham. It definitely feels like one of those things where alot of stuff from the book is missing (especially in the Falls storyline) but I think Statham is a good tough guy actor who's capable of doing his thing in a more complex tapestry of a movie where there's detective work and no vehicles going off jumps. He's allowed to do other types of movies occasionally, in my opinion.
The director is named Elliott Lester, the writer is Nathan Parker, who wrote MOON. The music is some kind of electro business that I think might be "dubstep" now that I know dubstep doesn't sound like dub. At first I was a little thrown off by the music, I always figure a crime movie works better with music that could come from the '70s or earlier. But that's just my personal prejudice, and their lasery computery sounds eventually won me over.
I would like to see more of these, but I don't think that's the plan seeing as how they sort of, uh, get rid of one of the main characters from the series. Still, much better than CHAOS.