For God's sake don't take this as high praise, but TRANSFORMERS: AGE OF EXTINCTION is the most legitimate movie in the TRANSFORMABLES saga so far. Not too legit to quit while they're ahead, but competent in ways the others weren't, and overall much less annoying. The downside: less crazy. Michael Bay has earned an expectation of escalating preposterousness and headscratching whatthefuck moments in each chapter, but this time he verges on tasteful, at least by the standards of his filmography. Only mild racism, no leg humping, only one scene with a hero threatening an old lady with a baseball bat. Robot hyenas with fur and a trigger happy fat Transformer with the voice of John Goodman seem kinda tame after the robot baby factory on the moon, Robot Heaven and peeing and farting robots of previous chapters. And we've gotten acclimated to the robot beards. He's gotta go further than this if he wants to shock us.
And guess how he did it? I cannot fucking believe I'm typing this, but Michael Bay – the George Washington of the cinematic movement that forced me to invent the Action Comprehensibility Ratings system – has made a movie with genuine action clarity.
The robot designs are still ugly and overly complicated, but for the first time in the series they are clearly shaped like humans. They have strong silhouettes, I always know which body part is which. They even have different colors and shapes to be pretty easily distinguishable from each other. Most crucially, the scenes are not over-edited like most Bay movies. The camera stays back, holds on one thing long enough for the human eye to register it. Hell, it even bothers to linger, and the spinning is relatively under control.
The few bits of human on human fisticuffs are a little too close for my tastes, but we've all seen way worse all the time. There are some good action scenes, with nice slo-mo money shots like the one where three (if I remember right, maybe it was two) Transformers flip and transform and catch the main human characters in their hands in mid-air. There's also a very good climactic robot kill which involves a robot being impaled and puking before having his head bisected by a novelty oversized sword.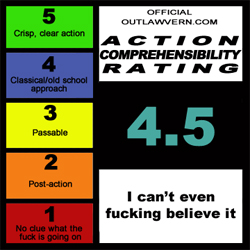 Holy shit, I'm doing it. I'm giving it a 4.5. And an argument could be made for higher. I could be holding back just out of fear of the world exploding if I gave the boogie man of action filmatism a perfect rating. But congratulations to Michael Bay for his best action scenes that do not make MTV Movie Award winning entertainment out of the bombing of Pearl Harbor. For comparison, the first TRANSFORMERS woulda got a 1 if the ACR existed back then.
IMPORTANT FORMAT NOTE: I saw this in 3D Fake Imax, and it's shot partly for that format so it's possible that some of it is cropped and not as good on regular shaped screens.
The one major factor holding the action back is the larger context. I don't know if they accidentally showed Peter Jackson's extended cut or something, but the version of the movie I saw was way too long to sustain this little substance and variation. I like a good long summer blockbuster, but this is sure as shit no ALIENS (or, let's face it, ALIEN 3) and it definitely would've worked way better if it was concise and to the point. I saw it at a matinee but by the time the very long end battle scene even started I was way past ready to go home. I would even go so far as to say I was kinda enjoying this movie for a while, but I was exhausted and bored by the end… even though it had robots fighting other robots while riding on robot dinosaurs! It is a shame that the joy of such a sequence only occurs to me in retrospect. That's a failure.
I wonder if they ever tried test screening it with just an entire hour lifted out of the middle? I'd be surprised if it didn't go over way better that way.
I saw this as kinda like three episodes of the world's most expensive TV show, and the first one is a decent pilot. Mark Wahlberg is introduced as the new main character, and even though Shia LaBeouf was still likable at the time of the first TRANSFORMERS this is clearly a huge upgrade. Wahlberg plays a down-on-his-luck repairman and wannabe inventor/roboticist in "Texas, USA" who buys an old beat up semi truck and figures out that it's actually the comatose Autobot Party Leader Optimus Prime (Peter Cullen).
I think it's actually a good sequel concept: since their last battle, the Transformers have all been killed or gone into hiding, because the government sees them as a danger and is trying to wipe them out. The head of the CIA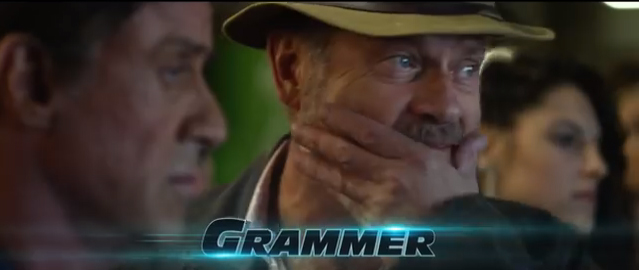 (Grammer) is leading the purge, but secretly working with a Decepticon "asset" named Lockup (it's like working with the Mujahadeen or the Contras). And they've also been selling the robot parts that they gather to Stanley Tucci's tech company, who are trying to copy Transformers technology to sell to the military as well as civilians. I mean, that's actually a logical idea about what would happen in the world set up in the previous movies. You don't expect logical in a TRANSFORMERS.
Previous TRANSFORMERSes and Bay movies in general are worshipful of the skills, heroism, machismo, and weaponry of the U.S. military. This one takes a left turn, completely abandons the special military unit run by Tyrese and friends and replaces them with these dirty black ops dudes, who are the bad guys. It does briefly continue the portrayal of Obama's administration as a bunch of pansy bureaucrats, having a Chief of Staff (Thomas Lennon) who's scared of Grammer and makes it clear that the president has no clue what he's up to.
Episode 1 has some corniness with Wahlberg and his Daisy-Dukes-with-the-pockets-hanging-out-wearing teenage daughter Tessa (Nicola Peltz), but not as bad as previous Shia stuff. Remarkably for Bay, most of the comedy in this portion is confined to a specific comic relief character played by comedian T.J. Miller, and he's actually pretty funny and likable.
But then (SPOILER) he gets fried by robo-flames in a kind of unintentionally funny "my foot is stuck!" incident. I didn't see that coming and it's actually kind of a bummer, I wouldn't have minded him sticking around. It's like Bay was really trying to improve his movies by snuffing this guy out early. He'd seen the comedy spewed out by every character in all his other movies and assumed this one was gonna be just as grating.
Episode 2 probly starts around the time when the battle-scarred, flat-nosed-semi Optimus morphs back into the shiny flame-painted leviathan from the other movies (a huge fuck you to fans of the cartoon, a nerd explained to me) and then "gets the band back together" mostly with Autobots we never saw before: Goodman's Fat Transformer, Ken Watanabe as Samurai Transformer (yep), and Jason Statham Transformer (John DiMaggio), and they flip around and jibber jabber, making sure we remember why these movies suck so bad. Weirdly, Optimus Prime, who used to seem like a wholesome John Wayne type of good guy outside of battle, is kind of a lunatic in this one, yelling alot and bragging that he's gonna break his vow to never kill a human.
This middle episode has kind of a MISSION: IMPOSSIBLE deal where Wahlberg and the Autobots have to break into Tucci's company. He gets captured and Grammer is dirty enough to threaten to kill the daughter if he doesn't tell where Optimus is. It's weird that he would never tell, and also that they're even asking, because the answer is "right outside," and then the Autobots attack the building.
Well, the dumb human sonofabitches have Megatron's severed head wired up in the lab and they're trying to make a new robot called "Galvatron" that's based on Optimus Prime but it gets infected with the late Decepticon president's robochlorians and Megatron is reborn (now with the original cartoon voice Frank Welker, the nerd explains to me, as an apology for the earlier fuck you with the truck). And it occurs to me now that I'm explaining too much of the plot but you know what, when I did that for part 2 it was actually to challenge myself and see if I could do it. In this one it's mostly pretty clear what the plot is! So congratulations I guess to SCREAM 3 writer Ehren Kruger.
Later in episode 2 Wahlberg has less to do and Tucci's character, previously an evil asshole, becomes reluctant good guy and comic relief. Hey, assholes can be redeemed, says Bay. This happens in Shanghai, where Bay filmed with the cooperation of the human rights abusing government, for business purposes. There's also some scenes in Hong Kong, where apparently Michael Wong from ROYAL WARRIORS plays the chief of police, but I didn't notice him. These scenes are partly redeemed by Li Bingbing (DETECTIVE DEE AND THE MYSTERY OF THE PHANTOM FLAME, STEVEN SEAGAL'S DRAGON SQUAD), who plays one of Tucci's business partners, but seems like his bodyguard, which is more fun anyway. There's a little part where a random guy on an elevator does some punching. I thought it might be a cameo for a martial arts star I couldn't quite recognize, turned out it was amateur boxing champ and Olympic gold medalist Zou Shiming.
And then I guess episode 3 is better than episode 2 because it would be the fighting on dinosaurs stuff, and I appreciate that the movie ends with Optimus flying into space threatening to kill God. That was pretty good. I coulda used more of that kinda shit.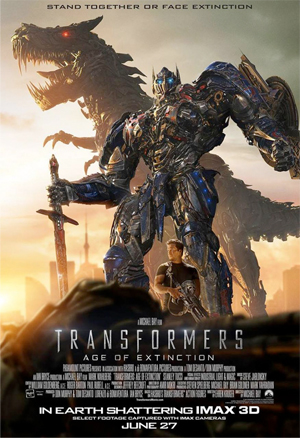 Over the years my relationship with Michael Bay movies has changed. When I first saw ARMAGEDDON, and then realized what it was that made me not like THE ROCK as much as everybody else, that shit really offended me. I was more hot-headed then but also the attack on basic cinematic language was a new and shocking crime that most people didn't seem to have a problem with. Even in movie buff circles, at least the ones I communicated with at the time, most people thought I was an idiot for caring about this stuff, and that come on dude what did you expect hamlet it's just an action movie it's supposed to be badly made love it or leave it.
All these years later I still hate that disorienting editing style and the influence it continues to have. But after the People of Nerdiness community turned on Bay for transgressions against robo-canon the floodgates were opened and it became more normal to hate Michael Bay and notice how confusing his editing is. So it's hard to get as upset about it, there's no reason to turn on the air raid sirens, it's just a thing now. And maybe I've grown as a person and what not. And now all the sudden Bay has improved in that one aspect.
I don't believe in the concept of "hate watching," but I do have a thing these days where I'm genuinely excited to see what Bay will come up with next even though I know I won't like it. I mostly don't enjoy them in the ways intended, but I do enjoy analyzing them. He is an artist, and judging by what he has expressed in his art he's a total douche. The personality that comes through is that of a crazy asshole, so it's hard for me to like, but easy to be fascinated by. Michael Bay: The Auteur You Love To Hate.
That's why despite being technically better and not as dumb as the other TRANSFORMERSes this one is a little bit disappointing. You want to see what kind of insane shit that toxic brain of his can spew out. You want to see humvees gleefully crushing shantytowns, cadavers bouncing on the freeway, random cutaways to dogs fucking, wrecking ball testicles, etc. Maybe he should only make part 2s.
There is less emphasis on crazy shit this time, but there's some, so let's discuss it.
First of all, the opening scene has a herd of dinosaurs fleeing from flying saucers and getting covered in metal. That's straight up elementary school playground awesome. The weird part is that they set aside this explanation of the Transformosaurs for later, but then after 2 hours when it comes up again they have a completely different explanation, those dinosaur robots come from some "legendary warriors" that were locked up on a space ship for some reason until Optimus freed them and beat them up to prove he should be their leader. If there was some connection between this and the prehistoric prologue I must've missed it during one of my two piss breaks. Sorry for too much information just tellin it like it is friends.
And of course there's the treatment of the ladies. Bingbing and Sophia Myles (as a corporate scientist with a conscience?) are okay in their supporting roles, but the female lead, Tessa, is a younger looking version of the human Bratz dolls that former Playboy Video Centerfold director Bay specializes in. The Bay Girls. Her treatment is double condescending because she's both presented as a sex object and as the subject of constant "cover up" comments by her overprotective dad. This is a Bay motif: dads who threaten to kill boys for wanting to fuck their daughters, and in this case I do believe you're supposed to relate to the dad while also wanting to fuck the daughter yourself. Or maybe this is his version of the "something for the kids, something for the parents" approach, just the kids are supposed to get boners and the dads are supposed to get upset. In one shot Bay's camera sensually ogles Tessa's ass and peeks up her shorts while her dad is complaining about them being too short. Have/eat cake.
Peltz is a more natural actress than Megan Fox was in the first one, but the character makes Fox's buxom mechanic seem like a great hero for young girls. Tessa's arc is all about letting her dad and her boyfriend save her, and about her dad accepting that she can "take care of him" too… by which she means bring him dinner and beer while he's working in the garage. During the action scenes she almost gets them killed by being too scared to continue, and her big climactic achievement is just to put a hook on something. Dad's other major character growth is to learn to transfer protection responsibility into the trust of her boyfriend.
(That Optimus keeps calling the three of them "this family" and assigns Autobots to protect them made me worry about the boyfriend. They're too young to be making life decisions and shit, and that will be one awkward breakup if it happens. Can you stay friends with the Autobots if you ditch the girl? Do you have to worry about Bumblee coming after you? It brings up alot of questions.)
One of the most puzzling elements is right at the beginning. Near-dead Optimus chose to hide inside a closed movie theater. It's an ornate palace from the '30s, now dilapidated and trashed. The moviegoing experience, Bay seems to be saying, is in the Age of Extinction. Wahlberg and Miller talk nostalgically about having gone to this theater growing up, and it seems like Bay must be lamenting the loss of this beautiful theater. How could he not? But maybe he's not, because he's also making dismissive jokes about it. The owner (Richard Riehle, EXECUTIVE DECISION) tries to claim the old projectors are digital and Imax, which is laughed off, because who would want 35 mm projectors?
Riehle's character name drops EL DORODO and blames the theater's death on today's crappy sequels and remakes. And the AGE OF EXTINCTION audience knowingly chuckles. Or not knowingly, because I don't know what this meta comment is supposed to mean. I've seen many interpretations and none of them seem like a definite answer. Part 2 I believe had a more subtle joke where John Turturro's g-string-wearing, robot-pee-smelling character complains that a story needs to have a beginning, middle and end, but this one is more clearly meant to be picked up on by the audience, like that part with the grave digger in JASON LIVES:
Is it a SHARKNADO type "ha ha, we're in on the joke, we know this is dumb, so it doesn't count as bad"? Is it a cruel "ha ha, this is the fourth time you dipshits paid for this crap"? Or what about a "ha ha, this old man is out of touch, he doesn't like awesome movies like we do"? Maybe even a "it's not my fault, Hollywood will only let me do this kinda stuff, they got mad when I did PEARL HARBOR"?
What is it saying? There's no way to really know. You're just supposed to recognize that it's some kind of meta joke and give a little chuckle to show that you're in on whatever it is.
So to me the end result of AGE OF EXTINCTION is similar to PAIN AND GAIN: no matter how much Bay grows, he's still gonna have the same brain. I give him credit for technical improvement. He admirably addressed his two most obvious problems by creating comprehensible action scenes and at least toning down his preference for constant, terrible comedy. And yet he still ends up with a stupid movie, bad overall pacing and muddled ideas.
So I guess what I would like to see from Bay next is a movie with this type of care put into the action scenes, but with no jokes at all, and yet with the unleashed tastelessness of BAD BOYS 2, the preposterous cartoonishness of REVENGE OF THE FALLEN, and a little shorter running time. And more dinosaurs might be good. I don't know.
Ah hell, he should just do what he wants. Who cares. As long as nobody holds these up as the standard for summer entertainment I'm happy to scratch my head at them once every couple of years.
My other TRANSFORMERS reviews:
TRANSFORMERS: THE MOVIE (with BAD BOYS 2)
TRANSFORMERS: REVENGE OF THE FALLEN
TRANSFORMERS: DARK OF THE MOON
This entry was posted on Thursday, July 3rd, 2014 at 12:47 pm and is filed under
Action
,
Reviews
,
Science Fiction and Space Shit
. You can follow any responses to this entry through the
RSS 2.0
feed. You can skip to the end and leave a response. Pinging is currently not allowed.