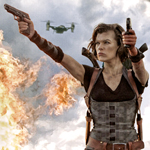 Paul W.S. Anderson stays in the director's chair for the fifth one, RESIDENT EVIL: RETRIBUTION. This one starts at the end of the action scene that starts right where AFTERLIFE left off. Then it shows us that scene in reverse, then regular, and narrator Alice (Milla Jovovich, ULTRAVIOLET) tries to summarize the convoluted events of parts 1, 2, 3 and 4. And then they remake the remake of DAWN OF THE DEAD, showing Alice as a suburban mom just going about her business when the zombie outbreak explodes into her life.
That's the fun of this series: the unpredictable patchwork of set pieces and gimmicks, often playing with expectations, making it seem like the story (like a video game?) is starting over and everything is different, but things usually turn out to have a pretty good explanation.
Okay, the explanation is always clones. Clones are the reason Michelle Rodriguez and Oded Fehr, whose characters died in previous chapters, are suddenly back as different people. Multiple different people. For a while it seems like Rodriguez came back to the series after a ten year absence just for a comically brief cameo where she gives Alice a ride and then crashes 30 seconds later. Then Alice is killed by a zombie.
BUT NOT SO FAST! Alice wakes up as if this was a dream. This is our Alice now, the original Alice. She's been captured by Agent-Smith-ripoff/Umbrella Corp CEO Wesker (Shawn Roberts, Degrassi: The Next Generation), who gives her her powers back and says he's gonna need her to go ahead and save the human race from the ever growing menace of zombies and disease and crazy sadomasochistic giants and inside out dogs and ghoulish cannibal birds and the rest of the products he personally oversaw the creation of at his dumb company, especially the little girl A.I. called The Red Queen (Megan Charpentier from MAMA, but voiced by Ave Merson-O'Brian) who is around again and has gone rogue. By the way, boycott Umbrella Corp, in my opinion. I ain't gonna play Raccoon City.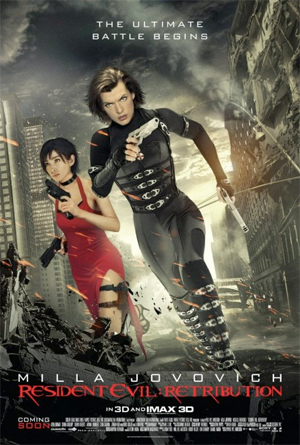 Also there's a team of elite soldiers coming to help Alice. And furthermore, those suburbs and some of the other locations we've been seeing, like Tokyo, New York and Moscow, are not what they seem. They're actually little TRUMAN SHOW style sections of fake town, all located nearby, and stocked with clones for testing purposes.
Alice goes into the suburb simulation, where she ends up encountering Becky (Aryana Engineer, ORPHAN), the daughter of the suburban Alice clone. Naturally she protects her, then realizes she thinks she's Mommy.
They also meet the rescue team, which includes her old friend, NBA star Luther West (Boris Kodjoe, STARSHIP TROOPERS 3: MARAUDER), as well as one of those great "this random new person must be from the video game" characters they love to throw at us in this series, Ada Wong (Li Bingbing from DETECTIVE DEE AND THE MYSTERY OF THE PHANTOM FLAME, but voiced by Sally Cahill from THE VIRGIN SUICIDES). She kicks ass wearing a sleeveless red dress split on one side, not that much different from what Alice wore in part 1, except she has heels instead of boots. And by the way Alice has graduated to a reinforced black catsuit with Blade-like buckles across the mid-section.
Anyway, they have a shootout with the cops in the backyard, and the cops include clones of their friends, including Michelle Rodriguez. But later they run into the other Michelle Rodriguez I mentioned before, the car crash one, and she's just a regular lady who hates guns.
Jill Valentine (Sienna Guillory, THE LAST MINUTE), the tubetop cop from part 2, has returned, but she's a bad guy because she has one of those brain control spider devices on her chest. It turns out this was actually set up in the cliffhanger of the last one, but I didn't recognize her with a different outfit and hair color.
At first I thought this chapter was a step down from AFTERLIFE, but all the stuff about the simulation towns and clones is alot of fun, and there are some crazy looking zombies on motorcycles, and there's snowmobiles and a submarine under ice that might've inspired THE F8 OF THE FURIOUS. But what made me fall in love with this one was an out of the blue transcendent moment. First, there's a scene where Becky gets left behind, and Alice risks herself to go back and rescue the kid. In fact she pulls the kid out of a gooey cocoon thing, so it becomes very clear that they're trying to give Alice a Newt to turn her into Ripley. Kinda made me roll my eyes a little.
But then there's a more Matrixy scene that's very effective, where they go into a gigantic hangar where they see thousands of lifeless clones hanging from a machine, running along a track like clothes at the dry cleaner. Instead of treating it strictly as a shocking revelation, the scene is about Alice's horror at a child having to see this. The kid is looking at them and crying – "Mommy, what is that?" and then "Mommy, is that you?" and finally "You're not Mommy, are you?"
And Alice says "I am now," grabbing the kid and flying away on a grappling hook cable, avoiding a monster attack. What could be better for an icon of women in action movies than to basically yell "I take responsibility for this child!" as a war cry? It's a beautiful mix of badass and sensitive. In only a few minutes, RETRIBUTION goes from blatant ripoff of ALIENS to a moment of genuine greatness.
I must confess I liked this moment so much that when I described it to somebody in detail I teared up a little. So that's where I'm at five movies into this series that I wrote off ever since not liking the first one.
And the thing is, we don't even know that the mother Alice is really Becky's mother. It seems much more likely to me that they're just clones assigned those roles for this particular test scenario. The girl could even be a young Alice clone. It seems like adult Alice would notice that, but not necessarily in a RESIDENT EVIL movie.
But my point is that Alice isn't programmed to be this kid's mother. Or is she? Becky doesn't seem like it, but she's deaf, and our Alice knows how to talk to her in American Sign Language.
So, as easy as it is to call these movies dumb, they are smart in a certain way. They do leave you with things to chew on. Also they leave you with another great cliffhanger: our heroes (and villains) are on the roof of the White House with all kinds of weaponry, and surrounded by what must be millions of zombies and monsters, ready to fight for the fate of the human race.
I'm leaving to see THE FINAL CHAPTER now, so I'll let you know how it wraps things up. I hope they can solve this with legislation, but I'm not holding my breath.