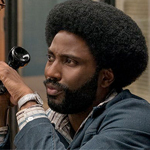 BLACKkKLANSMAN is the new Spike Lee joint, and it seems like it's getting way more attention than at least the last decade of his jointography. I don't remember half this much interest in CHI-RAQ, OLDBOY, RED HOOK SUMMER or MIRACLE AT ST. ANNA, and even I haven't gotten around to DA SWEET BLOOD OF JESUS yet.
I believe there are a couple reasons for the commotion on this one:
1) It's produced by GET OUT's Jordan Peele
2) and also Blumhouse, who know how to market a low budget movie
3) it's based on the true story of a black cop who infiltrated the Ku Klux Klan, which is a good hook
and most importantly
4) the fucking walking disaster who currently soils the White House and entire country with every moronically capitalized word that comes out of his dumb asshole fingers has somehow managed to make the god damn KKK actually relevant in 2018. Confidential to Trump: You are the worst American who ever lived and whole families will line up to shit on your grave every 4th of July. Fuck you forever. Even if you gave Spike Lee a boost.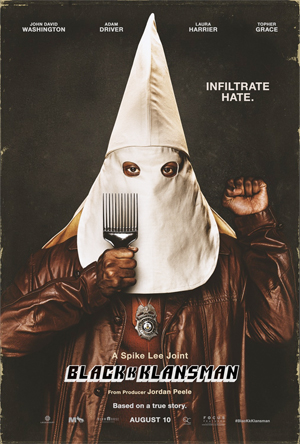 John David Washington (LOVE BEATS RHYMES), a young actor whose voice occasionally makes you say "Oh yeah, that is Denzel's son!," plays Ron Stallworth, a rookie cop who is the first black member of the Colorado Springs Police Department, circa 1979. He's an odd character: he talks with a nasally voice, emphasizes the 'h' in his 'wh's, but also proudly wears an afro and cool polyester and leather and walks with a certain swagger. There's a little bit of a trickster quality to him, a dry humor about entering a situation where his very presence will cause waves with a bunch of assholes, and instead of treading lightly he takes the opposite tact, and acts like he doesn't notice. Yet he is serious about being a cop, pushes to go undercover, and enthusiastically accepts the first assignment they offer: to wear a wire at a speaking event for the civil rights organizer formerly known as Stokely Carmichael (Corey Hawkins, forever Dr. Dre from STRAIGHT OUTTA COMPTON).
That's the most interesting conflict in the movie. He's breaking barriers as "the Jackie Robinson of the Colorado Springs Police Department," but is that just making him a sellout, an enemy to his own community? It's a question also asked in Bill Duke's true story undercover officer TV movie JOHNNIE MAE GIBSON: FBI. Here it's asked more forcefully, but answered with more ambiguity than I'd expect – Lee doesn't moralize against his protagonist like, say, the TV executive at the center of BAMBOOZLED. I'm guessing the director agrees more with Patrice (Laura Harrier – how did I not recognize her as Liz from SPIDER-MAN: HOMECOMING?), the Black Student Union president who Ron dates after first meeting her while wearing a wire. That's definitely a violation, but it's also clear that Ron is a well-meaning person trying to interject himself into situations where he can talk some sense or cool some jets. For example when his bosses flip out hearing talk of arming up for a revolution on the recordings he assures them that in the room it seemed like just talk.
Of course, his white counterpart will say something similar after talking to Klan members, not knowing that they really are planning a bombing.
As you've seen in the trailer, one day on a whim Ron calls a phone number from a classified ad for the KKK, gives his real name, pretends to be a bigot. And then he sends a white cop, Flip Zimmerman (Adam Driver, LINCOLN) to be white Ron Stallworth in person. Ron makes the phone calls, including to Grand Wizard David Duke (Topher Grace, PREDATORS), while Flip does all the tense undercover stuff: ingratiating himself with bad people, with the main guy Walter (Ryan Eggold, THE DISAPPEARANCE OF ELEANOR RIGBY: THEM) trusting him while there's the scary jealous guy Felix (Jasper Pääkkönen, Vikings) who is always really suspicious of him and trying to prove they can't trust him (in FAST AND THE FURIOUS terms, he's the Vince).
Sometimes when I see people playing bigots in movies I think about how horrible that must feel, how difficult it must be to get into the mind of that character, to talk like that at all – it must be even weirder when you're doing it for Spike Lee! The movie gets pretty repetitive because it's standard undercover investigation tropes without much criminal activity, just a group of assholes saying horrible things. I remember Lee refused to watch DJANGO UNCHAINED because he said "slavery was not a spaghetti western," and that makes sense, and I can see why this is different because it's the same kind of degrading talk but it's just some white morons talking shit, you don't have to see black actors playing being subjugated by them. But I like DJANGO because we get the cinematic release and wish fulfillment of seeing him stand up against that and get his badass revenge.
Ron does save Flip's ass through bravery and quick thinking at one point, but mostly he sits in the car listening to people say the n-word. The movie doesn't make it clear why he even kept talking to them on the phone after they knew Flip's voice in person.
Patrice says at one point that it's impossible to make a change from inside the system, and the movie doesn't exactly refute that. But there's a scene where they work together to bust a racist, abusive cop, and it's a satisfying gotcha kinda moment but it feels weirdly uncynical and full of shit for Spike Lee, and sure enough it's a cinematic invention. With DJANGO we all understand that it's not what really happened, it's how we wish things could've turned for people who went through what Django went through, just like we wish some basterds could've blown away Hitler. But this scene, I think, most people will accept as real, as a comforting bed time story that people will do the right thing in the end.
To be fair, it is used as kind of a false happy ending followed by disappointment. Any progress they make in the KKK investigation seems to be derailed by a lack of support from the top.
The hopeful part is that even if they didn't fix the system, the specific individuals of this police force seem to have benefited from knowing Ron, and they're all buddies at the end. I like his attempt to educate them in small ways, by insisting on correct word usage: they can't call suspects "toads," they have to call him Kwame Ture because he changed it from Stokely Carmichael, also he argues with Patrice about whether all cops are "pigs." Most of these people have never been forced to stop and think about his point of view until they met him.
And it's notable I think that Lee, who used such anti-semitic stereotypes in MO' BETTER BLUES, deals with a co-protagonist beginning to care more about his Jewish heritage in solidarity with Ron. This apparently does not come from the true story.
On most of Lee's movies he's the only screenwriter – for this one he and Kevin Willmott (C.S.A.: THE CONFEDERATE STATES OF AMERICA, CHI-RAQ) rewrote a spec script by Charlie Wachtel & David Rabinowitz, which they based on the book and their own interviews with Stallworth. I got my guesses which parts Spike contributed. For starters: that extra 'k' in the middle of the title. I bet he wrote that 'k' (unless it was a legal thing forced by Ted V. Mikels' THE BLACK KLANSMAN [1966]).
As a Spike Lee fan, my favorite parts are all the "oh yeah, Spike came up with this one" parts, even the ones I don't get. Like, I don't know why one of the opening scenes is Alec Baldwin (MIAMI BLUES) spouting white supremacist nonsense for an old timey instructional film, angrily yelling and starting over as he screws up takes. Maybe Spike wanted to cast him because he played Trump on SNL. Maybe he just thought "that Alec Baldwin is a blowhard, I'm gonna get him to say a bunch of racist shit." I don't know.
Most of the cultural references seem like the work of Spike. For example, Ron and Patrice discuss blaxploitation films (I agree with her, CLEOPATRA JONES is the best). She doesn't like "pigs" but at least she chooses SHAFT over SUPER FLY because she prefers a private eye to a pimp. When Ron talks about Carmichael's name change, a cop brings up "that draft dodger Muhammad Ali" and it sounds just like when Pino brings up Louis Farrakhan in DO THE RIGHT THING. I used to think that was kinda forced but especially in the age of social media and Fox News you see that all the time, guys who have their little fixations that they will bring up the second they see a window. This guy loves a good chance to complain about Ali.
There's a scene where the KKK members watch BIRTH OF A NATION and enjoy it like it's TALLADEGA NIGHTS or some shit. To be honest I didn't really buy this part. I totally believe these idiots all talk during movies, but I'm not sure they'd be saying some of this stuff. Nevertheless, there's a charm to knowing that film history buff was like "well, I put GONE WITH THE WIND at the beginning, I gotta comment on BIRTH OF A NATION here."
One of the most effective only-Spike-would-do-this scenes is the speech by Kwame Ture. Hawkins delivers the shit out of it and Lee doesn't abbreviate – he has the entire speech, with the faces of the black and beautiful listeners he describes floating into frame, listening, absorbing, sort of like the young women watching Meryl Streep leave the courthouse in THE POST.
Oh shit, but what about the unexpected appearance of (UNEXPECTED APPEARANCE SPOILER) Harry Belafonte (THE WORLD, THE FLESH AND THE DEVIL) telling a true story about a lynching? And then holding up photos? I had heard there was a scene intercutting people chanting "white power" and "black power" and I thought "ooh, that sounds like a really dumb false equivalency there," but the context of the scene is that the "white power" people are preaching a fictional genetic superiority while the "black power" people are talking about standing up to an actual history of violent oppression.
Still, definitely the one that got me most was the end – SPOILER I GUESS? – when he cuts to real footage from the Charlottesville rally, Trump and Duke talking about it, and graphic footage of the car and witnesses on the scene talking about it shortly afterwards. And then he gives us a long silence where I and my fellow audiences members somehow managed to not sob out loud, let alone breathe or swallow.
(They were less respectful once the credits started. CAN'T YOU HEAR THAT PRINCE IS SINGING?)
In the story of the film, these Klansmen and neo-confederates, once exalted in epic cinema, had been reduced to yahoos, Elmore Leonard b-villains at best, and that's after dramatic license. They even have Paul Walter Hauser as an even more ridiculous dumbass than his fake security expert in I, TONYA. Apparently the David Duke stuff – the membership card, the security detail, the Polaroid – all comes from the book, but the bombing plot (in which they SPOILER only blow themselves up anyway) didn't really happen. Ron and the team mostly just stop cross burnings, and then they get taken off the case.
So it is confounding, shocking, appalling that forty years later those yahoos are the president, the advisers, the speech writers, the social media stars, the Fox News personalities, the young people given many platforms to openly spout this horse shit in public, to identify as anti-anti-fascist and anti-black lives mattering, to band together with torches and sticks and chant about Jews and beat up and murder some of the normal reasonable kind people who say hold on, fuck you, not in this civilization. It's a gut punch. The use of that footage almost seems like a cheap shot, but it's also a way of saying "Let's not fall too far into the comfort of this movie, here is documentary proof that it didn't work." Sometimes Lee likes to launch you back into the real world at the end and ask you to make a difference. "WAKE UP!" or "I am Malcolm X!" This one is less inspirational but very potent.
To be honest I'm almost offended by how many claims I've seen that this is Lee's best, or one of his best. I think the majority of his movies are more stylish and more uniquely his, and I really can't imagine what would possess anyone to prefer this to DO THE RIGHT THING, which gives us characters that we actually want to spend time with and handles types of racism that more of us will encounter and have to learn how to defeat. But I understand that people are getting pumped up by the timeliness of a movie about this stuff, and anyway it doesn't have to be a director's best movie ever to be worth your time. I liked BLACKkKLANSMAN.
I wonder if Blumhouse is gonna make this a whole series now like THE PURGE and INSIDIOUS and shit