I think SAFE is easily one of Jason Statham's best starring vehicles so far. It's a less cartoonish tone than the TRANSPORTERs (and obviously the fuckin CRANKs) but still firmly planted in the world of action movies, where one guy if he's tough enough can use his brains, fists and guns to take on two warring gangs and a corrupt police force. So it's probly somewhere in between THE MECHANIC and BLITZ on the seriousness charts, but a little more fun than either of them.
I don't know if it's clear – I'm not talking about the Julianne Moore one, I'm talking about the Jason Statham one.

Statham's character Luke Wright is more of an everyman than he usually plays, because he's totally down on his luck. In a way he's the anti-Transporter. He does drive a couple times, but only stolen cars, and he doesn't make it far without getting a bunch of bullets through his windows. He doesn't have a nice car like Frank Transporter, in fact he doesn't have a car at all, or much of anything else. He's homeless. He doesn't wear a suave suit, he wears a stained sweatshirt and even when he uses a credit card stolen from a Russian gangster to buy nicer clothes he keeps his ratty worn out tennis shoes (probly on account of an incident earlier in the movie caused by his nicest pair of kicks). I think this is significant. He's a guy that doesn't need luxury, maybe thinks he doesn't deserve it, only uses it as a disguise, and even then only as much as he needs.
As he's building himself back up for revenge it was easy to notice that this character has some Parker-esque qualities. Man, I hope that movie is good.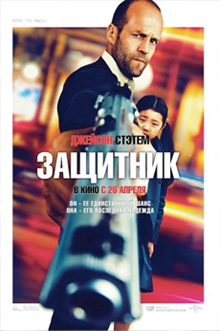 He does try to protect an Asian girl like the Transporter did, but not because he was hired to. He does it because as he's about to commit suicide he sees her being chased by the same assholes that murdered his wife 'cause he owed them money. A sign from God. Her name is Mei and she's a math prodigy who has some very valuable numbers memorized, so she's a human McMuffin.
SAFE is written and directed by Boaz Yakin. That's the guy that was a writer on the Dolph version of THE PUNISHER, then THE ROOKIE, then in 1994 became a director with the excellent FRESH. Since then he hasn't really done the type of movies I've been interested in seeing (he directed A PRICE ABOVE RUBIES, REMEMBER THE TITANS, UPTOWN GIRLS…) other than having a part in writing FROM DUSK TILL DAWN 2 and producing the HOSTELs. But I always thought he was good, so I had my fingers crossed for his return to action movies.
I'm not superstitious, but maybe the finger crossing helped. This is a movie that shows the sure hand of a director trying to do something interesting without completely violating the expectations of an action movie. Honoring the traditions but putting a little bit of a spin on them. It has a good use of a flashback structure, beginning with the crucial intersection of Luke and Mei's lives, then bumping back to show how they got there, but catching up early on so we can continue in the present tense without any confusion. It has alot of what I think of as "propulsive stortyelling" – scenes that give you only the information you need and then cut immediately to the next thing you need instead of lingering. For example, Luke is first introduced in a cage about to fight, cut to him being chewed out by the other fighter's wife as he tries to apologize for putting him in a coma. (Later it does have some fighting, so I was okay with it goofing on me at this point.)
IMDB lists UNDISPUTED II's J.J. "Loco" Perry as one of the fight choreographers, but I swear the movie listed him only as stunt coordinator and somebody else whose name I forgot got a full screen "action choreographed by" credit. The action scenes do involve alot of handheld cameras, but in my opinion they're well done and qualify as action, not post-action. Despite some chaos you can always see Statham's moves and his hits, you know what he's doing to the guy.
My favorite bits of action are the shootouts that make artful use of a limited perspective. There are two scenes where the camera is inside a car being attacked and the shooters can only be seen in the rear-view and side mirrors. I thought that was a clever alternative to the shakycam we hate, a way of putting you in the confusion of battle but still showing you something.
That's in line with the style of other non-action scenes where certain things are left deliberately unshown. He gets interrogated by cops and you only see them from the shoulders down (they don't have that Peanuts "wuh-wahhh-wuh-WUUUUHHhhh" type talking), he comes home to find his wife dead surrounded by Russian gangsters, and you only see him looking in a doorway and curling his fists in that way Statham often does that looks so cool. You never see his wife, or even blood. You don't have to.
It's kind of funny how you keep finding out more about Luke's background. I was willing to accept that he could handle himself because he was a cage fighter, but then we find out another thing he used to do, and another. It kind of builds from him trying to stay out of trouble to going full on OUT FOR JUSTICE on some guys, and he has a great way of putting together a formidable team to back him up when he makes his move on the safe in a bid to make him and the girl safe. Oh shit, I think I just realized something about the title. It is possible that it has a double meaning. Probly not.
James Hong is in the movie. You expect a bunch of balloons to fall down and congratulate him on his 1,000th sleazy Asian mafia kingpin role. There are alot of good faces in the supporting cast, guys that look like they've been knocked around by life and remain standing. The only one I could place was Igor Jijikine, the scary lookin Russian from the opening of KINGDOM OF THE CRYSTAL SKULL and from Seagal's DRIVEN TO KILL. I mean, I had to look up his name, but I knew it was the same guy. I noticed Danny Hoch in the credits, that's the performance artist who did that movie WHITE BOYS, but I didn't recognize him in the movie. Maybe if he'd done a freestyle.
The mayor is played by Chris Sarandon, and there's another guy that looked similar to him, causing a momentary confusion for me that was enjoyable. I thought for a second they were telling me that the mayor was previously part of an elite hit squad. That would've been pretty good.
I like the score, especially during the end credits. It sounds very old school and hard-hitting, without a cute retro or tongue in cheekness about it. I was really surprised when I checked the credits and it was Wes Anderson's chum Mark Mothersbaugh.
I did feel SAFE was guilty of one major action movie sin: during the climactic showdown it has the characters putting their guns down Mad Dog style so they can use their fists, then doesn't have the fight. They make a joke out of it, but I don't think the joke is as good as the fight would've been. It's not a dealbreaker, though. And not as painful as the championship ring in THE MECHANIC being merely a clue and not the promise of a good fight that I read it as.
As I'm writing this I realize that Statham has a whole bunch of movies that I don't consider great but that I enjoyed watching: DEATH RACE, THE MECHANIC, KILLER ELITE, the pretty good ensembles like ITALIAN JOB and BANK JOB. My favorite movie where he's the star is TRANSPORTER 2, which is weird because I didn't really like the other two very much, but that one was just so joyfully ridiculous. Even in his dull or annoying movies I always like him. Career-wise, not quality-wise, he's the closest thing we have to a modern Bronson, Stallone, Schwarzenegger or whatever, a brand name for endless supplies of theatrically released action movies. There are plenty of people who will go see the new Statham movie and not even have to know what it's about. And we don't care that he's always playing basically the same guy.
Does Statham have a DEATH WISH, a FIRST BLOOD, a TERMINATOR/CONAN/PREDATOR on his filmography to make him worthy of that status? Nope. But it could happen. SAFE isn't on that level, but it's a good one. It gives me faith that his best movies aren't behind him.