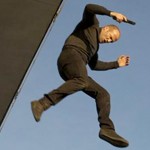 Jason Statham returns as Arthur Bishop, his character from the 2011 Simon West film THE MECHANIC. He is not the type of mechanic who might help out his driving characters in THE TRANSPORTER, THE ITALIAN JOB, DEATH RACE and FURIOUS 7. He's the type that is a euphemism for an assassin-for-hire, as seen in the original THE MECHANIC starring Charles Bronson and Jan Michael Vincent.
Having faked his death at the end of the first one, we find Bishop living an appealing lifestyle in Rio de Janeiro. (Do the people of Rio ever get tired of Hollywood helicopters swooping around that Jesus statue?) He's now known as Otto Santos and he lives on a nice houseboat where he sits and enjoys his espresso and reconstituted vinyl collection.
But one day a woman comes up to him, knows who he is, says her employer wants him to kill three people. Arthur "Otto 'The Mechanic' Santos" Bishop is no chump, though, so he fights her and her henchmen, escapes in spectacular (though blatantly green-screeny) fashion, and gets ready for a fight. There's almost a running joke about how many stashes he has around. When he self destructs his boat he goes right to a shipping container with guns and passports. When he resurfaces at his old hut on a picturesque beach in Thailand there's another stash under the floorboards. I bet if you dropped him off at any random spot in the North Pole it would turn out he hid some guns under the ice there years ago.
I have a couple of questions about these caches, though. Does he go around refreshing them all the time, or does he ever get to them and find out that the laptop there has an old operating system that doesn't work with the software he needs? Also, does he have records and turntables stashed around too, or does he have to re-buy all the good ones every time he blows up his shit?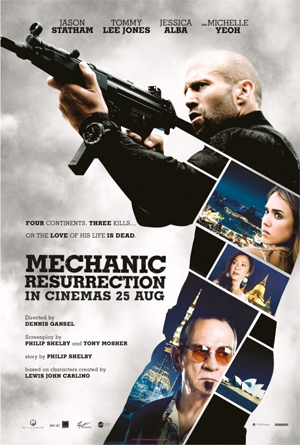 Anyway, the place in Thailand is, I assume, one of dozens of safe houses he has. This one is maintained by his old friend Mei (the one and only Michelle Yeoh). You assume, and probly hope, that she's an old assassin or asset of some kind, but she's actually someone who is loyal to him because he helped her get out of an abusive relationship long ago. It's still good sequel shit, though, because it's cool to see the implied backstories of the friends he has all over the world. And I don't think she's a damsel in distress. She's a respected friend who pushes against his reluctance to help Gina (Jessica Alba, MACHETE), another woman in a bad situation. As in THE EXPENDABLES, Statham finds himself embodying the male fantasy of being the badass dude who confronts a woman-beater.
Gina turns out to be mixed up in this too, forced to find Bishop for that same guy that's trying to hire him. She has an action hero backstory of her own: she's a disillusioned former special ops soldier who runs a shelter for sex trafficking escapees in Cambodia. (I'm not sure why she couldn't have been the badass dude who confronts the woman-beater, then, but whatever.) The two of them do the ol' pretending-to-be-a-couple-to-blend-in-but-they-start-falling-for-each-other routine. Alba's acting and screen presence have improved over the years, and the chemistry works, but this section maybe goes on a little longer than it should before we get to the real novelty of a MECHANIC movie, when he finally gives in and accepts three assassination missions.
I guess it makes sense that he's called a mechanic (or allegedly called one, since they don't ever call him one in this movie), because to do this job he needs the skills of a ride-pimper on a reality show. He has to have incredible problem solving creativity, has to obtain the right materials and use his scientific know-how to prepare all the tools he'll need to execute his complex plans. We see him mixing, molding, disguising weapons, disguising himself, taking on new identities. He has to assassinate a guy in a prison, a guy in a penthouse, a guy in a bunker. He has to infiltrate, gain trust, escape, climb, rappel, dive (Statham's trademark), and make it all look like an accident. And meanwhile he has to figure out a way to outsmart and defeat the people making him do it.
One of the guys he's supposed to kill is Max Adams (Tommy Lee Jones, UNDER SIEGE). It's about as small of a role as I assumed before I saw the trailer that made it look like he was a co-star, but he seems to be having fun playing a dumb asshole with a soul patch and round glasses. The main villain is Craine (Sam Hazeldine, THE RAVEN, THE BROTHERS GRIMSBY), who we learn goes way back with Bishop, but he's not the type of villain that's gonna have a cool fight against the hero, nor is he the kind of villain that you remember something he said or could pick out in a lineup by the time the end credits are over. To be fair, I don't remember who the villains were in either of the other THE MECHANICs either.
I wonder if he ever misses being Otto Santos? It seems like it was pretty cool being Otto Santos.
There's not a huge difference between The Mechanic and The Transporter or some of Statham's other characters, but I don't have a problem with that. I love Statham's more adventurous movies (BLITZ, SAFE, REDEMPTION, WILD CARD), but there's also a place for these ones where he's no more or less than an ultimate specimen of hyper-capable masculinity, a dude who can fight or kill anyone and confidently escape from any corner he's ever trapped in. A man who is macho but with a code, rough but smooth. Some of the men watch it kinda wishing they could be him, and some of the women watch it pretty happy that he hasn't pulled his diving suit up yet as he walks to the end of the dock. (Alba's body receives more ogling, though. When she's underwater the camera provides a clearer, more thorough look at her than we get of any action thing that happens in either MECHANIC movie.)
Bishop is also very worldly. In this movie he travels between Brazil, Thailand, Malaysia, Australia, Bulgaria and Cambodia. And he always knows where to go, who to talk to, what to do. At one point he knows to use a product I didn't know was real: shark repellent cream. That would make a really good swag item for this movie. But the fact that they hype up an island surrounded by sharks and then never show any sharks shows you that they are not here to give us their 100%.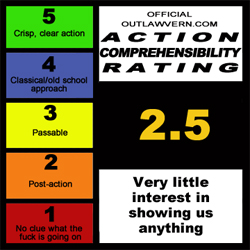 In this case they means director Dennis Gansel (GIRLS ON TOP, BEFORE THE FALL, WE ARE THE NIGHT) and writers Philip Shelby (author of Covert-One: The Cassandra Compact with Robert Ludlum), Tony Mosher and Brian Pittman. Second unit director was Vic Armstrong (TOTAL RECALL, DOUBLE IMPACT, THE PHANTOM), fight coordinator was J.J. Perry (UNDISPUTED II, HAYWIRE), but Allan Poppleton (Statham's stunt double in KILLER ELITE and THE EXPENDABLES 2) is also credited for both of those jobs. I don't know anything about him, but unfortunately the action scenes, being shot in the close up, not-always-sure-what-exactly-I'm-looking-at-here style of part 1, don't display the signature energy of the other two legends.
I like the original Charles Bronson THE MECHANIC and I also liked the Statham version. My complaints of the first Statham one were the crappiness of the action scenes and one weird violation of the action movie code where they established that a character had a ring from a martial arts championship, then only used it as a clue to the mystery and not to set up a duel. For part 2 the action scenes are probly even worse, but there's not as egregious of a failed setup. Unless you count having Michelle Yeoh in the movie as a non-combatant. Also I thought I saw a rack of samurai swords in the bad guy's boat that were never used, but most people wouldn't notice that. I am hypersensitive about decorative sword setups. That's just how I am.
This was a highly anticipated movie for me. I like going to see a mid-budget late August action star vehicle, as do the rest of the moderately sized crowd at the matinee on Friday. THE MECHANIC: RESURRECTION delivers an enjoyable enough character and story to fulfill the requirements, but it should be better. The story, minus the mentorship/betrayal aspect of the first one, is a little weaker, and it doesn't really raise the level of absurdity to try to top the first one, like THE TRANSPORTER 2 or (even though I'm not a fan of it) CRANK 2 did. None of this would matter if they simply improved on the crappy post-action of the first one, but it's not that kind of party. During fights we rarely see Statham's whole body in frame, and he even headbutts a guy when we can only see his chin and below. It's bullshit. We need to have action sequences again, movie makers. Didn't you get the memo? I believe it was signed JOHN WICK. I know you guys can get on board. I believe in you. Let's try to get this straightened out before THE MECHANIC LIVES AGAIN.