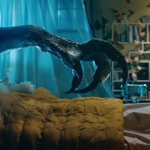 This is weird, there's a JURASSIC PARK sequel that came out 2 1/2 months ago and I didn't get around to seeing it until this weekend, when it's down to two showings a day. I think I saw all the other ones opening day or weekend. But maybe it was a smart move on this one because it benefits from the lowered expectations of everyone telling me it was trash.
In JURASSIC WORLD, you remember, they reopened the dinosaur park and the dinosaurs reattacked the new park and there was a new guy named Owen Grady (Chris Pratt, WEINERS) who was real macho and always trying to show off the size of his forearms. And he trains raptors and has a contentious bickery love with an uptight lady who works at the park named Claire Dearing (Bryce Dallas Howard, TERMINATOR SALVATION).
In FALLEN KINGDOM, the dinos are still loose on abandoned Isla Nubar, where a volcano is about to erupt. Claire is now a dinosaur rights activist trying to convince the government to act to save these endangered dinosaurs. She's contacted by Eli Mills (Rafe Spall, GREEN STREET HOOLIGANS), who runs the estate of John Hammond's dying partner Lockwood (James Cromwell, SPECIES II; also played Howard's father in SPIDER-MAN 3) and wants to fund the rescue mission. But he especially wants to find Blue, the most intelligent raptor, and knows that Owen is the only person who could track her.
Also along for the ride are two new dinosaur activist characters, Dr. Zia Rodriguez (Daniella Pineda, NEWLYWEDS) and Franklin Webb (Justice Smith, PAPER TOWNS). Zia calls herself a "paleo-veterinarian" and knows how to do a blood transfusion from a t-rex to a raptor even though this is her first time seeing dinosaurs. But it's kinda cool to have a scientist character who's a tough lady with hipster glasses and tattoos. Franklin is the computer expert but Smith, who is so cool as Books, the main character on the great Netflix show The Get Down, is not well-served by the comic relief of being nerdy and scared all the time. Though he does a pretty funny high pitched scream.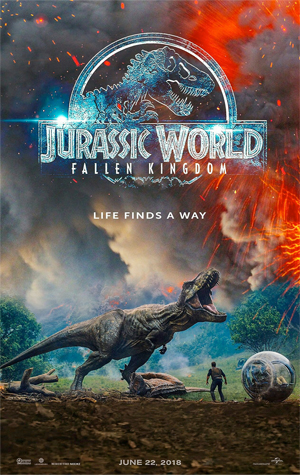 I still wish they called this THE LOST PARK: JURASSIC WORLD. And it does kind of rehash some of the ideas of THE LOST WORLD: JURASSIC PARK, with lead characters from the last one reluctantly returning to the park for a dinosaur rescue mission, and then when they get there there are a bunch of macho asshole hunter dicks driving around who don't respect the animals at all and brutalize them and really want to take them for nefarious, capitalistic, extremely stupid purposes, and then they get loose on the mainland.
Also the title they went with is really misleading because I thought it was a new section of the park that's themed after that Denzel Washington movie FALLEN. That's what it sounds like, right? But it's not.
Mills's villainous scheme is to auction off the dinosaurs to international villains. That includes a new creation, the "Indoraptor," which uses DNA from JURASSIC WORLD's man-made species the Indomitus Rex and combines it with Blue's raptor DNA, recommended for military applications. I guess that will be the thing now, they introduce a new fake dinosaur in each sequel. In my opinion they've been overhyping this prototype, though, because nobody should pay millions of dollars for the ultimate genetically engineered predator only to find that a couple people can repeatedly hide behind a statue without it hearing, smelling or sensing them, and then for it to chase after them and keep stumbling and just missing them. Like, it happens fifteen or more times within a 15 minute period. It gets outrun by a little girl. They're supposed to use this thing in wars? This super-monster is a total lemon.
I seem to have liked JURASSIC WORLD more than most, but I don't remember it that well. I do recall complaints about Claire running around the island in heels. Trevorrow was accused of sexism but ironically it was Howard who insisted that was how her character felt most comfortable. The joke they make about it here is subtle: the first time we see her, the shot starts on her pumps. But on the island she wears boots. Sell out.
Last time I appreciated that Pratt was playing a type of masculinity that's kind of out of fashion. Macho and covered in grease and always working on engines and shit. This time he's introduced building himself a house and he has kind of an Indy/Marion contentious reunion with Claire, but for the most part is kind of generic action hero. I guess it's cool that they give him the series' first long-take-where-he-runs-across-a-room-punching-a-series-of-dudes. Reminded me of TEMPLE OF DOOM or something.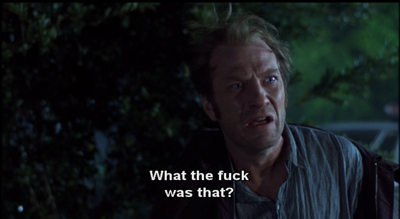 Like JURASSIC WORLD, this was written by Derek Connolly & Colin Trevorrow, though Trevorrow did not direct because he was busy doing THE BOOK OF HENRY and the STAR WARS EPISODE XI that he would be fired from. Instead it's directed by J.A. Bayona (THE ORPHANAGE, THE IMPOSSIBLE, A MONSTER CALLS). There are some well directed sequences, mostly in the first section of total dino mayhem as the mercenaries, led by not-even-trying-to-hide-that-he's-evil Wheatley (Ted Levine, THE MANGLER, THE HILLS HAVE EYES) turn on the activists and the thunder lizards stampede away from natural disaster. Maybe the cleverest is when Owen has been shot by a tranquilizer dart and can barely move as a triceratops drags a big, super-detailed-cg tongue over his face. Then he WOLF OF WALL STREETs his almost-paralyzed body away from slow moving molten lava.
The most intense one is where Claire and Franklin drive the plexiglass bubble vehicle off a cliff into water and Owen heroically swims down and has to try a bunch of shit to get them out while dinosaurs and globs of hot lava drip from above.
But there's an inordinate amount of the movie taking place at the Lockwood mansion, which does have an underground dinosaur cloning lab, but still feels a little dull and small time for a fuckin JURASSIC PARK movie. And I honestly have no idea if Lockwood is a character who was ever mentioned before. I assumed that he must've been in JURASSIC WORLD and I forgot about him, but apparently not.
As you've seen in the trailers, Jeff Goldblum's Ian Malcolm returns for a brief guest appearance at a hearing basically gloating that he was right and the dinosaurs are super fucking dangerous and this is crazy man. And then another hearing that they have afterwards for him to reiterate the gloating. It's kinda cool that he comes back but honestly not that cool because the last time we saw him in part 2 he was a fuckin rockstar who wears a leather jacket and sunglasses and people ask for his autograph on the subway because of his book about chaos theory. And/or his dinosaur encounter. Now he's just an old guy.
There is one and only one way they could've knocked this scene out of the park, and that's if during the testimony he turned to the spectators to make eye contact with his daughter Kelly (Vanessa Lee Chester, now 34) and she's wearing an Olympic gold medal for gymnastics. None of the previous JURASSIC kids return, but there's a subplot about Lockwood's granddaughter Maisie (first timer Isabella Sermon). She's arguably not as silly as the other kid characters in the series, but she's the only one who's kept separate from the heroes for most of the movie, so she seems gratuitous until they find her hiding in a vent like Newt.
I definitely gotta rank this as the stupidest of the JURASSIC PARK series, and my second least favorite after part three-claw-slashes. That said, there's enough good pulpy stuff that I had a big dumb grin on my face on several occasions. The transparently evil villains make the eaten-off-the-toilet lawyer from part 1 seem subtle and true to life, but at least it makes it more fun when the dinosaurs get loose. I enjoyed motherfuckers getting pieces munched off and thrown around and particularly a scene (COOL PART SPOILER) where the guy with the thick skull runs around a room full of rich assholes ramming them and you can't always see where he is but you see people flying out of the crowd like they're being fired out of a cannon.
I didn't so much enjoy the Ryan-Reynolds-meets-Dane-Cook smarminess of Mills, or Toby Jones (THE MIST), but Levine is always a good bad guy, and they go the extra mile by having him call Zia a "nasty woman," so when he reaches his inevitable Death By Poor Decision (he SPOILER goes into the Indoraptor cage for a trophy tooth) we can imagine him wearing a MAGA hat. I noticed another dig at Trump during a news report about "the Isla Nubar Crisis." The scroll says "U.S. President questions existence of dinosaurs in the first place." We're in a sad moment where it pulls you out of a movie if they refer to a president who sounds competent (see MISSION: IMPOSSIBLE – FALLOUT). Here they go extra-extra-extra-extra sub-moronic to make it seem almost as dumb as something you saw the real one tweet while you were waiting for the movie to start.
Definitely my favorite thing about this movie is that there is now a continuing dinosaur character, and she's shown the respect of two major action moments. I was very happy to see Blue get to jump away from an explosion, though it could've been better with slow motion. Thankfully she gets that treatment and then some in the SPOILER glorious Indoraptor coup de grace when they fall through glass together and spin around and the heavy is triple-impaled on a triceratops skull.
It's fair to say that this is not at all worthy of the series started by Steven Spielberg. It's also fair to say that it's fun to watch extremely detailed digital dinosaurs chew people up and get involved in increasingly ridiculous situations. If you, like me, enjoy JAWS sequels, you may have the capacity to appreciate this one.
Miscellaneous SPOILER notes:
They keep drawing out a big reveal of who Maisie's dead mother was, which had me scratching my head because who could it possibly be that would be relevant – the little girl from part 1? The little girl who gets attacked in the opening of part 2? Well, it turns out Maisie is actually a clone of Lockwood's daughter who died too young. Which I suppose makes sense for this world, but the awkward way it comes out makes it seem laughable. Anyway, the way she climbs around the building maybe she was engineered for parkour.
The Indoraptor is trained so that you can signal it with a high pitched frequency to attack whatever you're pointing a laser sight at. And then they're trapped on a glass roof and Claire defeats it by intentionally targeting Owen and then he kind of matadors it to fall through the glass. Which was cool but why didn't she think of just aiming the target in the distance? Wouldn't that be a safer bet?
The delightfully ludicrous climax involves the moral decision of whether to let the dinosaurs die from a gas leak or just release them into human civilization. I thought it was really funny that this could be done by pressing a big red button that says something about "PRESS IN EMERGENCY." Basically they have an emergency dinosaur release button!
So, I kinda loved the ending. Hey, you're a clone, and you let the dinosaurs out, so you're our daughter now. Let's go for a drive. And I especially like that Owen tries to convince his BDF Blue to get in a cage and she considers it but decides nah. I imagine she'll travel from town to town helping people like The Incredible Hulk.
And now they've set up a sequel that might owe a story credit to the Dinosaurs Attack! trading cards. They better go all the way on that one.
This entry was posted on Monday, August 6th, 2018 at 11:05 am and is filed under
Monster
,
Reviews
,
Science Fiction and Space Shit
. You can follow any responses to this entry through the
RSS 2.0
feed. You can skip to the end and leave a response. Pinging is currently not allowed.