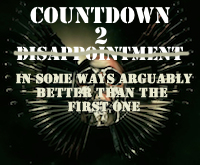 THE EXPENDABLES 2 is a sequel to THE EXPENDABLES. It is the second one. And all that that implies.
Like part 1 it has an incredible cast of action stars that you never thought could all be in a movie together, making a movie that is not worthy of all of them being together but does get by on the strength of, you know… those guys are all in it.
The fun opening action scene seems to have a better understanding than part 1 of how to generate excitement. It almost gives the team members thrilling first appearances, except that their battle gear and some quick cuts makes it a little difficult to recognize some of their faces. But they storm into a hostage situation in a convoy of battle vehicles covered in different action attachments (bulldozer, battering ram, detachable motorcycle) and stenciled sayings – "KNOCK KNOCK," "COMING SOON," "BAD ATTITUDE". That's great action hero swagger. These guys like to cover their vehicles with flare, so Barney's sea plane now has Santa Claus painted on the front. (He also has a particular taste for tacky biker shit, so even when he loans somebody a pen it's covered in chrome skulls and snakes and shit.)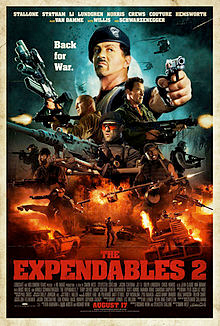 It's a well-rounded battle involving driving, shooting, blowing up a helicopter, getting on foot, ziplining, help from a sniper, getting on jet skis, escaping in the Expendaplane, and also suspense about who the hostage is, since he has a bag over his head. The action isn't as clear as I'd like (don't worry, I'll whine about the closeups in Jet Li's fight scene later) but they almost entirely ditch the shakycam of part 1 and it's all shot better than I've come to expect from director Simon West (CON AIR, THE MECHANIC). So him being the director was not the death sentence I thought it was when they announced it. (Still shoulda got somebody great, though. And somebody who's good at rewrites.)
Then the skull and guns logo slams on the screen. One complaint, one that I've made before: it doesn't explode. How hard is it to know that thing should've exploded? Do your research, guys.
It's a while before we get to the villain of the piece, played by Jean-Claude Van Damme, who famously and wisely turned down part 1 to star in a way better DTV movie and also edit a movie he directed that never came out. Van Damme's parts are the highlight of the movie, so good for him. Who would've thought that Oscar nominated writer Stallone would ever get a credibility boost by putting JCVD in his movie?
There are some ways that the sequel doesn't seem as desperate to prove its relevance to stupid young people as the first one did. Part 1 had some kind of shitty modern metal bullshit music in it, this one sticks to oldies. Mostly classic rock but even a little old time rock 'n roll like PREDATOR or RED SCORPION. (Pretty good themes by Brian Tyler, too. I didn't notice the Frank Stallone song.)
I've read alot about how the tone of the movie is improved, but I don't think so. I prefer part 1's sincerity. By far the sequel's biggest weakness is the shockingly terrible sense of humor.
The majority of the jokes are only jokes in the EPIC MOVIE sense of the word – they remind you that there is another movie. Get it? Or in the sense of SCREAM 3 when they had Carrie Fisher in the movie and somebody said she looked like Princess Leia. Only afterwards did it occur to me that I should've been thrilled to see Schwarzenegger in action again. But I think the part where he and Bruce use a Smart Car as a little disposable transportation device is the only one where he doesn't just seem like an uncle or grandpa making embarrassingly bad jokes. It's not that he's too old to cut it – I don't think he is at all – it's just that he's not even playing a character, not even a cipher, he's a wink in a Hawaiian shirt. I was in The Terminator. Get it? I was still in the Terminator. Guys, Terminator?
I mean, he appears out of nowhere to save everybody, he's driving a ridiculous vehicle, it should be a great applause moment but instead he says "I'm back!" Okay, to be fair the crowd did laugh and applaud, but I just heard a groaning trombone in my head. I wish at least one character would hate Trench for saying weird things that make no sense. "Back from where? He wasn't here earlier. What the hell is this guy talking about?"
I hate this not just because it's amazing that adults would purposely put jokes that terrible in a professional movie that they planned to release, but also because it seems like they're second-guessing themselves so much that they made a big action movie aimed more at the people who think action movies are a joke than people who love them. If you sort of remember the most famous movies these guys were in, but don't respect them enough to want to see them do a movie like that again, then have we got some mild laughs for you to briefly enjoy and then forget about.
I strongly disagree with the idea that "self-awareness" is a good thing in this movie. What if TERMINATOR, COMMANDO and PREDATOR were mostly Arnold making little jokes about CONAN? Why can't we just, like, have a movie instead? People who want this must think that the great action movies would be better if the leads turned to the camera and assured them "I know, I know, this part is ridiculous! I'm in on the joke!" Fuck that. It's so condescending. Like Craig Baxley or Rowdy Herrington thought they were making docudramas. Absurdity is not a crime and it always works better without announcing itself. These truths I hold to be self evident or whatever.
There's not a strong structure to the movie – it's mostly two big action sections with some talking and scattered skirmishes in the middle. So I guess I don't need structure to my review, I'll just list the people who are in it alphabetically.
ADKINS, SCOTT
Although not the mainstream showcase he deserves, Adkins gets a good evil henchman role as Van Damme's sadistic right hand man. I knew going in that his fight with Statham was shot in one day without rehearsal. Sure enough it's not very good and, like many fights here, shot too close up and too dark. Still, I was happy that he got a few of his spinning kicks in, and a memorable death (on loan from RAIDERS OF THE LOST ARK). Also, as one of the two badasses in the movie that they don't expect the audience to know from other movies, he gets a bit of a character to play. He's not just saying "I was in Special Forces. A ninja. Undisputed, too."

BRUCE
doesn't get a huge amount of screen time, but does get guilted into joining in the action, and runs around firing a gun. The best thing is that once he does that he loosens up and gets to be old fashioned wisecracking Bruce instead of modern stoic Bruce. A little bit, at least.
COUTURE, RANDY
I guess some people don't like Randy Couture in movies. I can't relate. He has this real life tough guy appearance with decent, regular guy personality that's just so different from movie stars and so refreshing to me. He hasn't had a great role yet but I definitely see the potential in that episode of The Unit and that role in the Bruce Willis DTV thing, SET UP or whatever it was. Maybe he could get David Mamet to write the Toll Road spin-off.
It's been bugging me seeing these articles and polls about "Who is the most badass Expendable?" and the scientifically correct answer (UFC Hall of Famer Randy Couture) never even seems to make it into the top five. I mean I understand, he doesn't have the action movie credentials of the others, and there are different ways to quantify "most badass Expnedable" than just "which one could fight all of the other guys for real in a row and make all of them cry." But still, it gets at me. It seems like it should be acknowledged. Would you like to see what happened when an actual heavyweight champion boxer (not an actor playing one) fought a late-career Couture two years ago?
I knew Couture's character Toll Road wasn't gonna get that much play in the movie, so I rented a DVD set of UFC 45 & 46, with the main event of 46 being Couture defending his light heavyweight belt from Vitor Belfort.
I watched the fights during the day leading up to seeing EXPENDABLES 2, and there were some good ones. Highlights include Phil Baroni hugging winner Evan Tanner despite having lost merely due to a miscommunication with the ref, Joe Rogan's embarrassed commentary about the first ever UFC bench clearing brawl after Cabbage Correira exhibited poor sportsmanship toward Tank Abbot, and B.J. Penn's upset of seemingly unbeatable champ Matt Hughes (this was in 46, in 45 Rogan had trouble coming up with any reason at all why Penn might have a shot). Also, Penn – right after choking one of the strongest fighters ever into submission – crying and dropping to his knees after they strap the belt on him. I love that savagery-followed-by-sensitivity dynamic.
I saved the main event for after EXPENDABLES 2, but if you know your UFC history you'll know what a mistake that was. In the first few seconds of the first round Belfort accidentally slices Couture's eyelid with a punch, the doctor stops the bout and Couture loses the belt without even getting to fight.
So I'll give this to EXPENDABLES 2: it's a better display of Randy's talents than Couture vs. Belfort II.
Unfortunately, Couture's skills as a fighter are not used in the movie. As far as I can remember he doesn't even fight anybody, except with guns. He's mostly an extra, but despite not being a real actor he's the only one besides Willis and Crews who knows how to deliver a joke. They also have him reading a book with glasses on the plane again, like in part 1. And we find out that his chosen last meal would be "cereal."
CREWS, TERRY
Basically the same as in part 1 except he doesn't get any moments as memorable as when he was firing that ridiculous gun.
HEMSWORTH, LIAM
A kid from Twilight or one of those types of movies. I know there was some concern about introducing a young pretty boy into the cast, possibly just so they could say "HEMSWORTH" in the advertising and make it seem like his brother Thor is in the movie. (I'm surprised they didn't also do some "LIAM" ones so we'd think Detective John Taken was in it.)
Well, Hemsworth is fine as their talented young associate who has already earned their respect, mainly through his battle skills but also I'm sure by sharing the team's love for thick sweaters with giant, hideous collars. Surprisingly the character is not used for generation gap jokes, just as a reminder to the team of the choice they once had to stay in the game or leave and get married and shit. If he's also in there to try to sell tickets to young girls then it's funny that (SPOILER SPOILER SPOILER) the little guy quickly becomes the only expended Expendable to date (END OF SPOILER END OF SPOILER END OF SPOILER).
But he shows an eagerness and physical prowess that the old guys can't keep up with, and is likable enough that they don't hate him for it. The one part where he doesn't cut it is when he gets the movie's Serious Monologue About Some Shit That Happened During the War. Not that he did a terrible job, but I remembered that Mickey Rourke's was the highlight of part 1, and this kid (like most actors) can't even come close.
LI, JET
I really can't blame Jet for calling it a night early in the movie, and floating away to an uncertain destiny on his parachute with glowing Expendables logo. American movies have never known what to do with Jet, especially this series. He does get one fight scene where he beats up a bunch of guys, but they shoot him from his waist to not quite the top of his head – who the fuck thinks that's how to photograph a guy kicking? The best illustration of West not understanding martial arts scenes is the punchline at the end, when Jet casually tosses away the pan that he was using as a weapon. West doesn't even pull back for this, a body language joke.
Also keep in mind that Jet is wearing the bullet proof vest and shit for his entire appearance in this one, further obscuring his movements and poses. They don't show off his fighting and then they make him say a joke in English, not his strong suit. (But it is one of the few jokes in the movie I thought was funny.)
LUNDGREN, DOLPH
Dolph in this movie is interesting because he's playing more of a character than most everybody else, but also they decided to work in his actual educational background, talking about his master's degree in chemical engineering. So he's a socially clumsy crazy person who is always rejected by women (see, he's playing a character) but also kind of a genius. He's pretty funny in the movie, especially compared to most of the other people here. I don't remember him doing any karate, though. Maybe I forgot about it.
Note: in one scene he's wearing a Darth Vader t-shirt, I think because Gunnar was a good guy who became a bad guy and then became a good guy again right before he died. (but then wasn't dead anymore.)
NORRIS, CHUCK
His part would be pretty cool if it wasn't referencing anything. He's the mysterious loner with ridiculous, unexplained killing powers. He makes a funny brag about himself that would be great IF it wasn't a joke about "get it, this is what they do on the internet, these 'Chuck Norris facts,' we're in on the joke everybody, we like the blogging or what have you." And it's even more muddled by the complication that it is probly also meant as a reference to Stallone's COBRA, since Barney for no logical reason is upset by hearing about the defeat of a cobra. (There are also maybe 4 or 5 references to Norris being a "lone wolf," an acknowledgment that LONE WOLF MCQUADE is one of Norris's only good movies, or at least that it's hard to work the phrase "Invasion USA" into dialogue.)
But the worst thing about Norris's part is that every time he appears they play the familiar theme from THE GOOD, THE BAD AND THE UGLY. I guess it's supposed to mean "he's a cowboy, remember, the old westerns?" but it keeps reminding me how much Chuck Norris is not even fucking close to being Clint Eastwood.
(incidentally, that would also be terrible to keep playing that theme if it was Clint Eastwood. I don't know what they were thinking.)
Norris's actual performance is fine though and he did get to do one of his impossible out of frame kicks.
FACT: Chuck Norris has refused to do any press for the movie since they cut out his monologue about the importance of bringing back witch trials.
ROURKE, MICKEY
He's not in this one and that's the big thing missing. In part 1 he poured his weird fucking soul into his scenes and that gave the whole thing alot of personality and heart that the rest of it didn't earn. Nobody in this movie is taking the emotions as seriously as he did or being as fearlessly themselves. Unless Arnold telling shitty jokes counts, but I prefer Mickey smoking a Gandalf pipe, crying about past traumas and painting a guitar so he can destroy it.
SCHWARZENEGGER, ARNOLD
Apparently he'll be back.
STALLONE, SYLVESTER
I prefer quiet, regretful Stallone like in the Rambo series. Probly his highlight here is the funeral scene, where he gets emotional then switches to badass mode to say "Track 'em, find 'em, kill 'em." (Maybe that line will be remembered well enough that he'll say it as a reference in a different movie.)
But I kind of like him as this bumbling goofball. He stumbles around women, like Rocky, but in more of a jokey way. He's trying to show that these elite warriors are also regular awkward, bickering people, which would be cool if we got more of the elite warrior stuff first.
STATHAM, JASON
This seemed to be less his movie than the first one, but he does get a pretty decent fight in a church while wearing a priest's robe. It seems unfair that he gets to say "I now pronounce you man and knife" while Schwarzenegger only gets to re-use old lines. He's still p-whipped by the girl who left him for a woman-beater in part 1, but it doesn't really go anywhere.
VAN DAMME, JEAN-CLAUDE
Although his screen time is limited, JCVD's Jean Vilain is the highlight of the movie, and the primary improvement over part 1. Part 1 had a great Eric Roberts with Stone Cold Steve Austin and Gary Daniels as henchmen and there was also that dictator guy. But this is a more classical action movie approach to have the central villain be a better fighter than our heroes in addition to having an evil plan. While part 1 had some murky secret-war-to-overthrow-a-dictator business this has a more clearcut evil: they dishonorably murdered an Expendable, stole dangerous weapons, and force innocent people to work themselves to death in a mine.
Van Damme also gets some of the movie's best weirdness when he (sort of) explains the significance of his team's goat tattoos, and then keeps calling our heroes sheep, as if he considers sheep to be the opposite of goats. This also sets up the Bad Guys Identifiable By Tattoo thing, an old classic.
They shoulda let Van Damme fight a couple different guys on the team (that's one thing part 1 has over this – a wide variety of match-ups). But at least his fight with Stallone is a highlight of the movie. He's having fun being menacing and he gets some good (I think fake though) kicks in.
YU, NAN
You know, from DIAMOND DOGS. Like with Hemsworth I don't really see the point of bringing in fresh meat when there's not enough time to enjoy the steak, but I still enjoyed Yu as pouty-faced Maggie. They not only need her for her expertise with a particular safe and piece of equipment but for her very female-ness: the citizens of a village only point their guns away from the Expies when they see there's a woman with them. Then she has an unexpected fucked-up side when she casually reveals that she carries surgical tools and is an expert in some kind of horrible (off screen) torture/interrogation.
* * *
But, you know. It's like the first one. Should be way better, still enjoyed it on first viewing. Some of the internet requests Stallone took were positive developments. Please, everybody complain about the references in your reviews so they won't do them in part 3. And then let's keep our fingers crossed that they don't just keep making references but also make a bunch of jokes about how bad they are. "What are you gonna do, say 'I'll be back' again?" etc.
Yes, we remember you guys were in those movies. That's why we came. If you have time could you make a new movie like that?