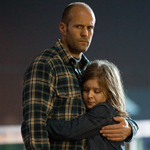 HOMEFRONT is a Jason Statham vehicle with an interesting pedigree: screenplay by Sylvester Stallone (Academy Award nominated writer of ROCKY), meth manufacturing villain played by James Franco (Academy Award nominated lead for 127 HOURS), James Franco's girlfriend played by Winona Ryder (Academy Award nominee for LITTLE WOMEN and THE AGE OF INNOCENCE). Unfortunately the weak link is director Gary Fleder (CableACE Award winner for an episode of Tales From the Crypt), who's just the guy who did KISS THE GIRLS and RUNAWAY JURY and stuff like that. He's not terrible but also not the type of strong director that could shoot a bullseye with a simple story like this.
This is the second movie in a row where Statham starts out wearing a long hair wig. This time it's because he's a DEA agent undercover in a biker gang. He busts the kingpin Danny T (Chuck Zito), whose son gets shot to death by other cops. Danny and his gang want to kill the shit out of him for this so he has to shave his hair. Also he either goes into witness protection or just retires and moves to a small town somewhere in Louisiana.
His name is Phil Broker. Not alot of movie badasses named Phil. Respect for that. The name actually comes from the novel it's based on by Chuck Logan, and there are several other books about Phil Broker. From the summary of the book it sounds like the movie is pretty similar except that in the book part of the reason he's hiding out is because he foiled a terrorist plot in the previous book. So this might be a rare case where the action movie is more down to earth than the book version. A reverse EXIT WOUNDS.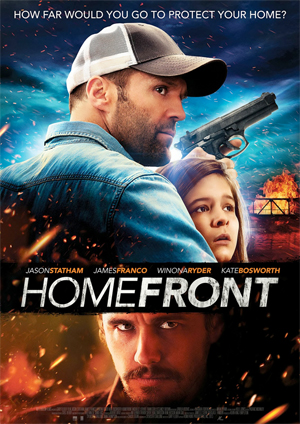 The premise of this movie is cool because the conflict starts with a dumb little thing and snowballs into a war. Phil's daughter Maddy (Izabela Vidovic) gets picked on by a fat bully kid on the school playground, and since she's Jason Statham's daughter she knows a few moves and puts the prick down with a bloody nose (see also: Seagal's niece in UNDER SIEGE 2).
In most stories that's a funny moment when a female surprises a male with fighting skills. For example I just reviewed GREEN STREET 3 and that has a part where a guy is sexually harassing a female bartender so she twists his arm and makes him beg for mercy. Ha ha. Here the initial enjoyment of a bully getting his due is overshadowed by how much trouble it causes. Phil has to come into the school where the bully kid's parents (Kate Bosworth and Marcus Hester) flip out on him and he ends up doing almost the same thing his daughter did – he pins the father to the ground by his neck, humiliating him in front of all the teachers, his wife, his son and the sheriff (Clancy Brown).
It's that satisfying action star vehicle formula where people just cannot seem to figure out that they're dealing with fucking Jason Statham here. They think they can push him around or send some thugs after him at the gas station or whatever, but he is always gonna be Jason Statham, who if he gets pushed is gonna Jason Statham them for sure. They should know better.
The mother, Cassie, is fucking furious about her husband looking like a pussy in front of everybody. She just won't let it go. She goes to her crazy brother Gator (Franco) and begs him to go "mess with" Phil to get him back. So this turns into a WALKING TALL type situation where everybody's harassing Phil and trying to scare him out of town and he has to keep violently defending himself, but also trying to hide from his daughter that anything's wrong. Of course, Gator finds out about Phil's secret past and tries to leverage that to his advantage.
Learn from Phil's mistake, you guys: when you go into hiding don't keep a file that shows photos of you in disguise with your fake name and a detailed account of what you did that people want to kill you for. I know it's supposed to be good to be organized and keep records and everything, but this particular one is just not worth the risk.
In a way it's like FIRST BLOOD, it's a clash between egos that escalates out of control. But in that story both Rambo and Teasle are too stubborn to back down. In HOMEFRONT, Phil takes some advice to swallow his pride and go apologize even though it's clearly the other party that should be apologizing to him. And he even smooths things over between the kids to the point that the bully is laughing and having a good time at Maddy's birthday party. But, you know… fuckin Gator, man. Once you get him started…
It's good to see Ryder in movies again. Now she's playing damaged but likable characters instead of the smartest girl in the room, but she's good at that too. And I didn't really think about it until after the movie, but it's cool that Franco gets to have a lady friend that's from a previous generation of teen star instead of a younger one (like in SPRING BREAKERS). She's only 7 years older than him, but you know how it is in movies, the men almost always have women that are way younger than them.
Cassie questions how Broker could afford the new truck he has, and that had me wondering too. Even if he gets some kind of allowance for being in witness protection it seems like he should have a job so as not to cause suspicion. But if he does have a job it seems to be carpentry, and his only gig is him and his friend Teedo (Omar Benson Miller from Fleder's THE EXPRESS) fixing his own stairs.
Have you noticed how alot of action heroes have some friend who is basically a saint, who gives them all the information they need about everyone in town and are 100% selfless and loyal to them all the time and (SPOILER) also sacrifice themselves to save their pal? In this one it's especially odd because he's new in town and I don't think they ever say Teedo is his old war buddy or anything like that. They must've met recently and they're blood brothers for life. Hats off to Teedo. There could be no Phil Brokers without a few Teedos.
In this one Statham doesn't even bother with his subdued accent, his International Statham. It's weird that the locals are suspicious of him and outsiders in general but nobody ever comments on the accent. I guess the baseball hat fools 'em, like Clark Kent's glasses. Or maybe his accent is supposed to be a metaphor for an American accent.
Anyway, this is a good one, but unfortunately the action scenes are presented in the standard shitty way we're all becoming resigned to. Shaky camera and fast cuts that generally work against the flow of the action instead of with it. Not the worst post-action you ever saw, because sometimes you're able to see a cool move from Statham, but it clearly could've been better. I think that's the danger of a trend like this. Not long ago an undistinguished director would've shot all the action straight and if anything a little too bland. Now they feel like they gotta copy how other people are doing it these days, and that's dangerous. Turns into a mess.
I noticed UNDISPUTED II fight choreographer J.J. Perry on the credits, but I guess he was stunt coordinator and not necessarily choreographer. IMDb doesn't say who did that.
Despite the obvious weakness in action scenes I liked this movie quite a bit. It's pretty much humorless, but I always like Stallone sincerity. There's a surprising amount of humanity in it. None of the main characters are 100% bad guys. The Boz gives a great performance as an obnoxious, hateful bitch, but by the end of the movie I felt sorry for her. Not just in a pathetic way, because of her drug addiction. She also lightens up about the feud she started and realizes that it's gone too far. She's messed up but redeemable. This is actually the second time I've been surprised by Kate Bosworth in an actiony b-movie. Last time was THE WARRIOR'S WAY. If she keeps this up she could become one of my top Bozzes. Not #1 of course but up there near the top.
I was hoping Franco would go mega in this one. That seems like it would be the reason to sign on as the villain in a Jason Statham movie, especially a villain named Gator. But Franco takes the less obvious route of treating it very seriously and creating a character that's scary but in some ways sympathetic. He has some dimension to him. When we first see him, his sister begging him to go harass Phil for her, he actually seems like the most reasonable member of the family.
He tries to calm her down. She comes to him for drugs, but he hesitates to give them to her, and sometimes refuses to. He mentions that he stopped using and that she could too. Before all the shit is gonna go down at the climax of the movie, when he's making a big move with some bikers he can't trust (led by Frank Grillo from WARRIOR and THE GREY), he falls off the wagon. So he has some vulnerability.
His nephew, the Boz's son, who starts the entire conflict by shoving Maddie on the playground and stealing her hat, is a good example of the movie's respect for its characters. The first time we see him clearly it's a close up of his hateful bully smirk, the last shot of him is a closeup of him crying as he hears his mom and uncle arguing about drugs on the porch.
A weird thing about the movie's history: Statham has said in interviews that it was originally written as a Rambo sequel. So Stallone rewrote the Phil Broker book to be about John Rambo, then went back to Phil Broker. It's a pretty interesting idea, actually, to have Rambo living in an American town and running into problems with the locals. I don't think there are many locals who wouldn't end up regretting that. Also, if Rambo was living in some small town they could have a scene where he enters some kind of eating contest. You know about his training.
Statham is the most reliable action hero we have in mainstream western movies, so I wish we could consistently hook him up with directors who take the action parts seriously and have the proper skills to do a good job. A movie like this with fight scenes as good as the ones in the first TRANSPORTER would rate highly in my book. Until then this is in the upper half of his starring vehicles. A classic recipe with a little extra flavor. Just not quite the right temperature.