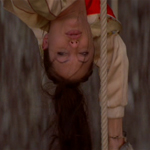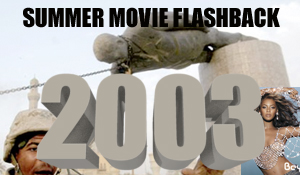 As you know I am a scholar of the Big Summer Popcorn Movie, or whatever you want to call it. And I not only like to review the new ones but I like to look back at the old ones and figure out what's what. We're getting to the end of the summer movie season (which I consider to be May through August) but now that I've finished The Super-Kumite I think it's time to start a new summer movie project. Fuck you, September. You don't scare me.
This is what I'm gonna do. For each summer from 2003 until last year I'm gonna pick two movies to review: one that I never saw before, one that I'm revisiting. And as you can see I'm starting with THE CRADLE OF LIFE as the one I never saw before.
release date: July 25, 2003
It turns out I dig these LARA CROFT TOMB RAIDER movies. Maybe if I'd seen them at the time, on the big screen, as if they were gonna compete with the A-list summer blockbuster type movies, I would've been more critical of them. But ignoring them for ten years and then deciding to watch them out of curiosity really pays off I think. Sometimes you gotta let these things age in the cellar for a while.
Angelina Jolie returns as Lara, the British heiress and treasure-hunting adventurer with an expertise in acrobatics, occult history, sharpshooting, horse riding, motorcycling, parachuting, stickfighting, scuba diving, and everything else that exists. She's a great pulpy character because they never get lazy about trying to show new ways that she's awesome. She's introduced showing up late to where boatloads of rival treasure-hunters have gathered for a potential windfall. She's on a jet ski, and she intentionally splashes her crew, just to fuck with them. Also she does a flip.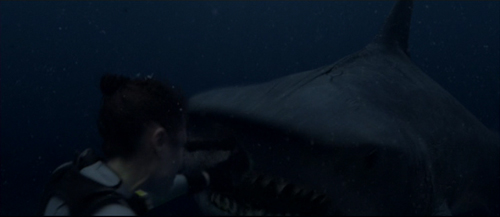 And you see that there? It's kinda dark but it's to prove to you that this is a movie where the heroine punches a shark in the nose. That would be cool on its own, but it's actually way better: she cut herself on purpose so the blood would attract the shark and she could ride him to the surface to escape a flooded, collapsing underground temple. That's the kind of shit this lady does. She practices sharpshooting while riding a horse. She uses the Great Wall of China as a motorcycling shortcut. She fights Simon Yam first with her hands tied, then on top of an army of terra cotta warriors, then showing off her British military rifle tricks. She rappels down a cliff upside down while shooting at people. She jerryrigs a video phone in rural China. She jumps off the International Finance Center with a flying squirrel suit. She wears a cool jacket with a lion embroidered on the back. In my opinion she is ahead of her time.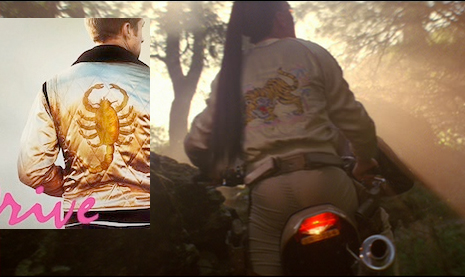 I mean, this lady is awesome. I think there were some other feats worth mentioning, I lost my notes. I think she parkoured onto a helicopter or something like that. And you know how the Bond movies have the Bond Girls? Lara Croft has her boys, and they had a perfect record for predicting future marquee names. The male lead in part 1 was Daniel Craig five years before CASINO ROYALE. The male lead in part 2 is Gerard Butler three years before 300. She even treats them like Bond treats women. In this one she has sex with the guy and then leaves him handcuffed to the bed. And (END SPOILER) she has to cap his ass at the end when he gets greedy. Even though she loves him.
Both Craig and Butler play untrustworthy backstabbing ex-lovers and rival adventurers. This guy, Terry, she gets released from a Kazakhstani maximum security prison. We first see him hanging from the ceiling in his cell, doing pushups (push downs?). MI6 has enlisted them to find Pandora's Box before Nobel Prize winning scientist/notorious global terrorist Reiss (Cieran Hinds from Rome) does, because he wants to sell its contents as a weapon. So they're fighting with him and a Chinese crime boss (Yam) over a glowing orb and a medallion and a bunch of shit like that. You know, they gotta read old books and figure out riddles and little puzzles and what not which leads to other things which leads to the treasure. The whole INDIANA JONES deal.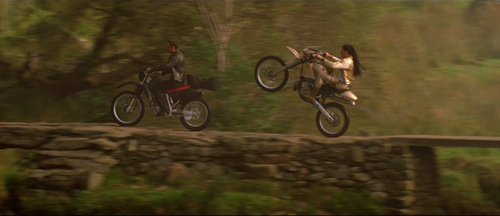 Maybe my favorite pulpy aspect is she has implied backstories with maybe a half dozen supporting characters. She has friends all over the world. When she lands in rural China there's a family who know her, love her, and keep two motorcycles for her (nice ones color coordinated to her and Terry's jackets, by the way). When she goes to Africa she calls up an old friend (Djimon Honsou) while he's driving. Her instructions for where to meet her are to keep driving straight – then she drops into his car on a parachute.
Whenever Lara is a stuntperson seen from the distance you can identify her from that long ponytail she has. I kept noticing this and then it's used to great effect at the climax when Reiss hangs her down over a pit, forcing her to get the Box for him. The ponytail dips into the liquid around the Box and burns off, confirming that yes, that shit is acid. Using her iconic features to establish danger is great visual storytelling.
This one is directed by Jan de Bont, who got on alot of radars for directing SPEED (he's also a hero for cinematographing DIE HARD) but almost immediately pissed away most of that goodwill. I'll give him credit on this one, though. He took the goofy vibe Simon West had going in the first one and improved on it. He treats it just deadpan enough, shoots it nice, gets in some pretty good action, including lots of practical stunts. For example he lovingly lingers on footage of stunt people actually doing that jump off the skyscraper in Hong Kong, then parachuting onto a real boat (in fact, it looks like Jolie and Butler actually get lowered on for the landing, not greenscreened).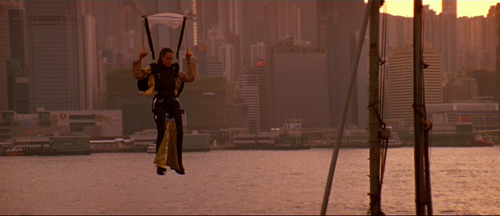 Also I like the odd opening where we celebrate a wedding with a nice Greek family before it's ruined by the earthquake that opens up the metaphorical Pandora's Box of access to the literal Pandora's Box.
THE CRADLE OF LIFE already feels kinda old, but in a good way, because it feels pretty organic compared to most movies now. Like in the first one there's some CGI monsters toward the end, but they're over with pretty quick, and the climax is between humans face-to-face.
It's weird to think that Jolie was still married to Billy Bob Thornton while filming this. It was also around that time that she adopted a baby from Cambodia, having become invested in that country's humanitarian crisis after filming there on the first LARA CROFT.
The sequel didn't do as well as the first one, but well enough that they considered a part 3. Jolie said she was happy with this one and didn't want to do another. Too bad, because if there was a third one I'd be excitedly looking forward to its tenth anniversary so I could check it out.