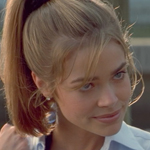 WILD THINGS is the ultimate Sharon-Stone-meets-Brian-DePalma '90s erotic thriller on swamp gas. It's legitimately sleazy and provocative, but also clever and funny and audacious. It has a really game cast with grown ups played by men who are former young hotshots aging into respected veterans, and teens played by young women who were on a roll at the time but never got their proper due. And it's usually grim and serious director John McNaughton (HENRY: PORTRAIT OF A SERIAL KILLER, NORMAL LIFE) taking a rare dive into slick, multiplex-worthy entertainment.
I've never been to Florida, and when I finally go there, let's face it, I'll probly just go to Disney World. So my impression of the place comes from Charles Willeford novels, Miami Vice, and the storied misadventures of Florida Man. From that perspective, WILD THINGS seems like a perfect mythical charting of the frontier that would soon bring us the election of George W. Bush. For the opening credits, helicopter shots survey the land from the swamps to the ritzy coastal town of Blue Bay, a collection of estates, country clubs and future Mar-a-Lago members where people wear white and tropical prints and the school counselor and his girlfriend both drive Benzes. (read the rest of this shit…)
VERN has a new action-horror novel out called WORM ON A HOOK! He has been reviewing movies since 1999 and is the author of the film criticism books Seagalogy: A Study of the Ass-Kicking Films of Steven Seagal and Yippee Ki-Yay Moviegoer!: Writings on Bruce Willis, Badass Cinema and Other Important Topics as well as the crime novel Niketown.