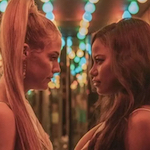 ZOLA tells a wild road trip story that, I feel, doesn't amount to much, but it's worth it for the ride, and for the telling. The big hook is that it's based on the 2015 "now iconic series of viral, uproarious tweets" (source: A24films.com), something that's not only emphasized in the marketing, but noted on screen at the beginning. The official onscreen title is @zola (which is actually the Twitter handle of some wedding company, not author/protagonist A'Ziah "Zola" King), the main characters are often looking at their phones and monotonously speaking aloud their texts to each other, and there's a notification sound heard frequently throughout the movie – I was never really sure if it was meant to be diegetic or not. Admittedly all that sounds stupid, but when it comes down to it this is really just "based on a true story." Not even entirely based on a true story told in an unusual medium, because a Rolling Stone article about the whole affair…
Zola Tells All: The Real Story Behind the Greatest Stripper Saga Ever Tweeted
…is also credited as source material.
The story is about Zola (Taylour Paige, MA RAINEY'S BLACK BOTTOM, soon to be in the TOXIC AVENGER remake), a Hooters waitress and sometimes stripper, agreeing to take a road trip to Florida to get some money dancing with a crazy white girl she just met named, in the movie version, Stefani (Riley Keough, MAGIC MIKE, MAD MAX: FURY ROAD). Turns out this bitch (get used to it, that's what they call each other, both lovingly and not so much) is also planning for them both to turn tricks when they get there, and things get out of hand. It's a true crime story, but not of a crime normally considered significant enough to get a movie, even including the two most harrowing parts, which were fictional. But that kind of makes it cooler.
The 148-tweet thread caught people's attention because it was a peek into a world many of us have no experience of: the specifics of working as a stripper, getting gigs, how the money works, and then being around this other world of Backpage, johns, rival pimps, all played sort of as an awkward social situation. In her and the movie's telling, Zola doesn't want to be a part of the prostitution, but she's clearly familiar with it, and tries not to judge too much. Initially just wanting to go home, she's disgusted how little money X (Colman Domingo, IF BEALE STREET COULD TALK), her "roommate" who "takes care of me," is charging for her, so she makes her a better Backpage profile and accidentally becomes co-pimp, with great success.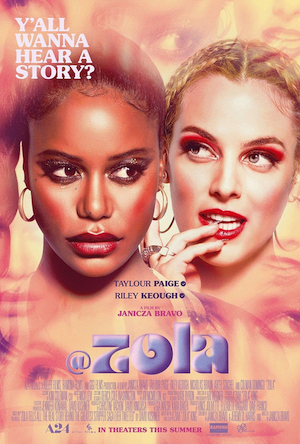 And here was this young woman who experienced it, telling us about it like she's our friend who has just got to tell us about her crazy weekend, writing about these things so bluntly, knowing when she'll get a reaction out of us, acting like she doesn't. (Kind of like how in the movie the camera hovers over bathroom stalls as the two squat over toilets and piss, real casual like we're used to that being part of the story.)
The other thing about the real Zola is that she's a good storyteller, and a good writer. She has skills specific to her original medium: the timing of when to end a tweet, the economy of fitting each piece into a tweet, the dramatic breaks in posting that clearly left people in suspense when she initially posted it. But also she just knows how to tell it, how to make it lurid, how to make us laugh, how to make it relatable to more universal experiences, and all of that translates well to movie format. She paints such vivid pictures of these people that when you see them in the movie you can judge whether or not they really captured the essence of the characters.
I think they especially did in the case of "Derrek" (Nicholas Braun, RED STATE), Stefani's dim-witted boyfriend, who spends much of the trip alone in a shitty hotel room leaving loving voicemails wondering where his girlfriend is. He's the dumbest, most pathetic and also most innocent character in the movie (though he gets mad and outs her as a prostitute on her Facebook page). In the Rolling Stone article, author David Kushner describes how "Zola could feel her eyes welling up with tears. She was afraid what might happen next, but for some reason also couldn't help but laugh," when Rudy (the real life X) told the real boyfriend he would "kill your manhood" by making him "watch your girl go on all these calls." That kinda describes the vibe of the character in the movie, who you feel horrible for but also you laugh as he tries to distract himself by watching Youtube videos of dudes doing sub-JACKASS stunts and says he's going to "make movies like this" some day.
Zola herself does play a little different to me, in a good way. Paige is good, at times talking straight to us like in the tweets, using the original text, bringing life to the attitude, the initial bonding and quick regret. We see the discomfort on her face, not hidden, but unnoticed by her traveling companions. In the article Kushner uses the phrase "eyed her dubiously" twice.
But Paige also has to add an extra layer to Zola, not having a distance from the story like when she tells it later, or the bravado of recounting it to show off. Sometimes we see cracks in her armor, sitting in the backseat of the car, looking out the window, trying to hide that she feels the weight of the danger they've faced.
Not for nothing, Paige also had to dance. She started as a dancer (as in "went to a ballet academy, was a student of Debbie Allen, was a Laker Girl and a featured dancer in HIGH SCHOOL MUSICAL 3 and an Usher video" type dancer) so it makes sense that she's good at this, but it still must've required some specialized training for all the butt shaking and upside down pole spinning she does. I swear on the entire series of Parker novels that I have zero experience with strip clubs, but this seems to be of a more normal style and not the fanciful productions that were also impressive in HUSTLERS.
Of course Keough also has to dance, and she has the showiest role in the movie – the energy, the manipulative crying, the love declarations of questionable sincerity. She uses what I guess we now call a "blaccent" (please inform me if there's a better term), and though the racial dynamics here are never explicitly addressed there are uncomfortable moments. At one point the camera stares out the car window at a Confederate flag flapping in the wind as they approach it and then pass it.
Domingo also has a tricky role. I'm not sure the occasional switching of accents (representing Zola's uncertainty about his nationality?) quite works for me, but he does a good job of alternating between funny and genuinely menacing. Sometimes he kind of comes off like the dad on a family vacation – driving, setting the agenda, wearing colorful shirts and shades, smiling at everyone's ridiculousness. So you feel kind of happy when he feigns reasonableness, like acknowledging Zola's contributions and giving her cash. But you never forget that he's doing no work, taking the money, and one or both of these women to do things against their will. He's a bastard.
I would like to note that Domingo is a playwright, a Tony-winning Broadway performer, has directed three episodes of Fear the Walking Dead (which he's a star of), and played four different characters on Nash Bridges, two on Law & Order, two on Law & Order: Criminal Intent and one on Law & Order: Trial by Jury. That's a real working actor right there so I'll be happy for him if roles like this one and the recent CANDYMAN finally break him through to another level. I do think he's reached "can only play one character per show" level for sure.
Wikipedia tipped me off to a piece by Ludwig Hurtado of The Face arguing that ZOLA is the latest in a genre called "Tampa-core" – movies that have "all the violence and drama of a classic western movie" but are "shot and written like a coming-of-age indie film." Hurtado elaborates that they are "explicitly not Miami" but instead "will feature the exterior of a motel, strip club or the occasional Publix. There's almost always at least one white character with a blaccent. But what's central to a Tampa-core film is the way it operates as a hyper-stylised vision of Florida. It's as if the narrator's time in Florida is being recalled in a haze of nostalgia." His examples are all A24 releases: THE FLORIDA PROJECT, MOONLIGHT, WAVES, and of course "the canonical example of the genre," SPRING BREAKERS.
"The vibe is Girls Gone Wild if Girls Gone Wild had premiered at Sundance," he says.
I'm sold, and I like it. I wonder if WILD THINGS has enough of the attitude to be considered Tampa-core adjacent, despite being in a different part of Florida and a much more '90s visual style. If not, that's fine, I can take no for an answer on that one, but I would also like to propose that Jonathan Hensleigh's THE PUNISHER (2004) starring Thomas Jane be officially considered a precursor to the genre. It has the violence, it has the narration (but not nostalgic), it has the coming-of-age in the sense that he becomes a vigilante after his entire bloodline is massacred by the mob at a family reunion, and it's filmed and set in Tampa.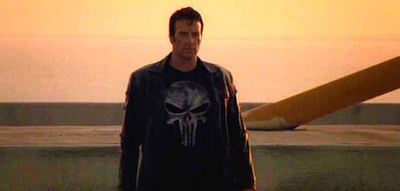 Okay, it probly has nothing else in common with the films in question, but it's important to me because even 17 years later whenever people complain about this quite solid version of THE PUNISHER they bring up that it takes place in Tampa, as if not being the 44 trillionth movie to take place in New York or L.A. is inherently a flaw. If the movie becomes associated with a genre named after Tampa they'll be forced to find a new talking point and I can finally live in peace. In regards to this one extremely niche issue.
ZOLA is directed by Janicza Bravo (LEMON, two episodes of Atlanta), co-writing with Jeremy O. Harris (whose play Slave Play is currently nominated for 12 Tony Awards). Bravo and cinematographer Ari Wegner (IN FABRIC) give it a beautifully sun-drenched cinema-verite (Tampa-core) kind of look, made playful with occasional storytelling gimmicks and interludes (lip-syncing Megos in the car, an obscenity-laced dressing room prayer by trans performer Ts Madison, a revisionist retelling of the events supposedly based on a Reddit thread by Stefani). Composer Mica Levi (UNDER THE SKIN) provides fairy tale harp and music box tunes between trap and dance hall beats and love songs by the '60s girl group the Clickettes (a.k.a. the Jaynetts, the Poppies or the Patty Cakes). It's a compelling stylistic exercise, and I'm sure we'll see interesting things from Bravo in the future, hopefully starring Thomas Jane.
P.S. Here's a fake (?) trailer for an unauthorized version from 2015 starring Saturday Night Live's Ego Nwodim

and an adaptation made mostly with stock photos?
So this is kind of like how there was the Lifetime version of THE BLING RING before the Sofia Coppola one
This entry was posted on Tuesday, September 21st, 2021 at 6:55 am and is filed under
Comedy/Laffs
,
Crime
,
Reviews
. You can follow any responses to this entry through the
RSS 2.0
feed. You can skip to the end and leave a response. Pinging is currently not allowed.