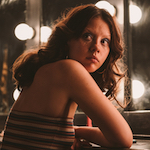 X is the new horror picture from writer/director Ti West, his first movie since the 2016 western IN A VALLEY OF VIOLENCE. The fastest way I know to describe it is "what if THE TEXAS CHAIN SAW MASSACRE was BOOGIE NIGHTS?" It takes place in 1979 and it's about a group of people from Houston who decide to make their first porno movie, and rent a small house on a remote farm to film it. In the process, their strong sexual content, graphic nudity, drug use and language is met with strong bloody violence and gore.
That's from the actual MPAA rating, but it's misleading. Though X is hardly tame, it doesn't strike me as particularly extreme either. You gotta say this in hushed tones in these parts, but this is West's first collaboration with A24, and I would consider him one of the pioneers of the style of 21st century slow burn horror that has become one of that company's trademarks. I enjoyed his movies THE HOUSE OF THE DEVIL and THE INNKEEPERS, from 2009 and 2011, before A24 existed. This is in a similar vein, but being a slasher movie it's a little more generous in its pay off, so I enjoyed it too.
The porno-movie-within-the-horror-movie is called THE FARMER'S DAUGHTERS, and it's the latest money-making scheme dreamed up by Wayne Gilroy (Martin Henderson, WINDTALKERS, THE RING, SMOKIN' ACES, BATTLE IN SEATTLE), a strutting, sleazy but charming cowboy who has recently left his wife for the troubled but determined young dancer Maxine Minx (Mia Goth, A CURE FOR WELLNESS, SUSPIRIA, HIGH LIFE).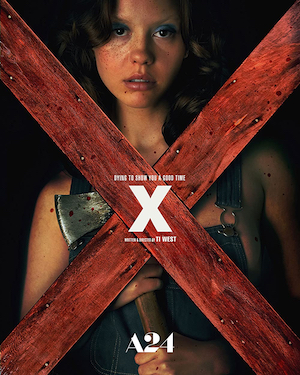 Also starring in the movie(s) will be Maxine's co-worker, the blond diva Bobby-Lynne (Brittany Snow, PROM NIGHT, BUSHWICK) and her sometimes boyfriend, Vietnam vet and Black Dynamite lookalike contest runner-up Jackson Hole (Scott Mescudi, a.k.a. Kid Cudi). The director will be R.J. (Owen Campbell, SUPER DARK TIMES), who has brought along his shy girlfriend Lorraine (Jenna Ortega, THE BABYSITTER: KILLER QUEEN, SCREAM [2022]) to operate the boom mic. She doesn't seem comfortable there, and her presence annoys the others.
It gets worrisome pretty much the moment they arrive. Wayne goes to say hello to the property owner, Howard (Stephen Ure, MORTAL ENGINES), who at first forgets he ever talked to Wayne and pulls a shotgun on him. Then he remembers and shows them the guest house, but makes some judgmental comments and warns them not to bother his wife Pearl. Lorraine figures out that Wayne didn't tell Howard what they plan to do in there – this could get awkward.
By accident, or maybe subconsciously, many of the slasher movies of the '70s and '80s had a sex = death theme. Michael Myers, Jason Voorhees and their army of imitators killed so many young people in the process of enjoying themselves that some interpreted the subgenre as conservative anti-drug-and-sex PSAs. Don't get it on or the boogie man will get you. X has fun playing against that tradition – it portrays pornography not as seedy or immoral, but as an act of creativity and liberation. In the old days people who were critical of horror might've compared it to porn as an insult; West seems to compare porn to horror as a compliment. These characters see adult movies as an accessible path to money, celebrity or a directing career just as so many beginning filmmakers outside of Hollywood tried to do with horror.
Though the best of the indie horror directors knew the genre was a way to break in, they weren't just mercenaries. They were genuinely trying to make great movies, and some of them succeeded and made NIGHT OF THE LIVING DEAD, THE TEXAS CHAIN SAW MASSACRE, HALLOWEEN, THE EVIL DEAD, etc. RJ is trying to do the same thing. He thinks he can make something more artistic than most porn. Elevated porn, if you will. He envisions "avant garde" editing (which I'm sure he pictures much like the editing of X itself). Of course, based on what we see him filming he's deluding himself that this is more than just flimsy excuses for fuckin. And maybe West is joking about his own movie maybe having delusions of grandeur.
Still, it's refreshing how much the movie seems to like its pornographer protagonists. It doesn't seem to blame them when their presence sets off Pearl, Howard's confused and lonely wife, who I believe is supposed to be around 80 years old. The horror of Pearl is more discomfort than threat. At first she's watching them, then she invites Maxine in for tea, says some weird things, makes some kind of pass at her, tries to hide her when Howard gets home. Then she peeps on her while she's filming her sex scene. Oh, and then climbs in bed with her while she's sleeping. Not appropriate.
The sleaziness comes not from the young people having sex with each other, but the unwelcome intrusion of this older generation. Howard and Pearl's aged bodies are exaggeratedly repulsive, getting some gross-out mileage from Pearl's horniness and (SPOILER?) a real show stopper where Maxine has to hide under their bed while granny and gramps are knocking boots. It's easy to see as ageist, except we also pity Pearl having such trouble fulfilling her desires. So this is a happy scene too. Good for her. Until not getting what she wants leads to the aforementioned strong bloody violence.
Some have seen a homophobic trope in Pearl pining for Maxine, which is fair. But I think there's some other subtext here that comes from the fact that (CASTING SPOILER) Mia Goth is playing both characters. I didn't pick up on that right away, but a "why does she sound like Winona Ryder in the old lady makeup in EDWARD SCISSORHANDS?" moment helped me figure out Pearl was played by a much younger actress. And then I had a strong suspicion in the moment when Maxine is filming her sex scene and Pearl is watching through the window. West explicitly compares them by cutting from Maxine looking over her naked shoulder to Pearl (with her wrinkled flesh) in the same pose.
Unless it's the SUSPIRIA remake you don't cast one actress as those two characters just for the hell of it. It's gonna be a pain in the ass so you gotta have a reason for it to be worth it. I think the reason is to underline a feeling I already got anyway – this is not as much about the fear of Pearl as the fear of becoming Pearl. Maybe when a kid watches it it's about old people, but for many of us it's about getting old. West isn't much younger than me, so I know he feels it. And the movie is all about the paths we take or don't take. Maxine has left a life she didn't like and is trying to create a new one. Pearl and Howard have lived a life more like the one Maxine left, and Pearl at least seems to regret it. Maxine is looking at the future she fears, and Pearl is looking at the youth she's angry she's lost, or never had.
There are some well executed shock and suspense scenes. There's a gimmick I would describe as "Chekov's unloaded gun" – Maxine knows there's a gun in Wayne's glove compartment, but doesn't know that he said it's unloaded. There's some very effective use of relatable pain (bare foot injury) to make us wince. And the first kill works very hard to mine our discomfort with combining sex and violence. That one's got some bite to it.
One of the things that was obviously gonna appeal to me is that West has paid homage to THE TEXAS CHAIN SAW MASSACRE in a totally different way than, say, Rob Zombie. He has the group of young urbanites causing tension with the residents of a rural area, of course. And the old scary house with the cracked paint. A scene where police wave them past a cow exploded in the road by a semi sort of crosses part 1's roadkill and cemetery with part 2 and 3's body pit crime scenes.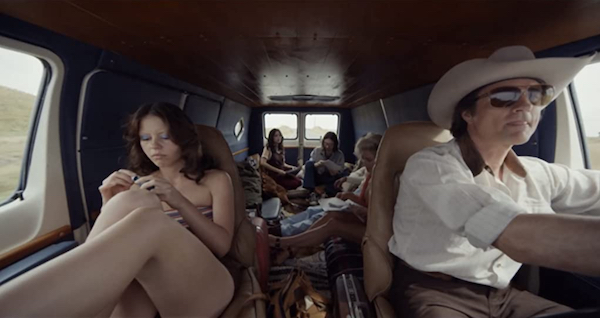 But mostly you think of TCSM from things like the interior shorts of them inside a van (even if they did them differently), or the couple of shots that West and director of photography Eliot Rockett (who shot West's previous horror movies, as well as FRANKENFISH) seem to have based directly on TCSM's shots from inside the house looking at Kirk on the porch through the screen door. Also looking into the house through the door. It's shot digitally but they found processes to imitate 16mm and 35mm looks and what struck me is that it specifically looks like TCSM a couple restorations ago!
But he's also playing with slasher traditions that developed later, as you sort of have to now. He both uses and subverts the Final Girl structure. (MORE SPOILERS COMING UP.) According to any variation of "the rules" we've ever heard, Lorraine has got to be the heroine because she's the innocent one who's more prudish (earning her the nickname "Church Mouse") and more attuned to what's going on, the outsider who's only helping with the porno under pressure from her boyfriend and questions it (not to mention we just saw the same actress star in SCREAM). I love the twist that she decides she wants to do a sex scene too, drawing out RJ's hypocrisy when he's upset by it. Some might argue that her sexuality dooms her, but it doesn't play like it's her downfall. It's treated as a way of taking charge of her life and doing what she wants to.
She is doomed though. She seems like she's gonna get away and suddenly gets shot dead, leaving Maxine as the Final Girl. Maxine, the burlesque performer turned porn actress, the lapsed preacher's daughter runaway, who snorts cocaine at the beginning and end of the movie. And she's our hero. It's not ironic. We like her. Movies can do that now. I respect that.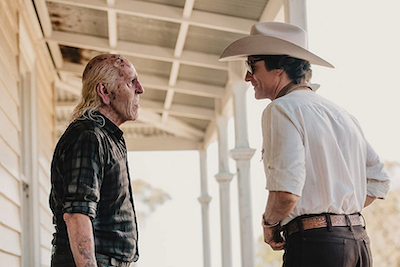 The whole (small) cast is really great, but I particularly want to single out Martin Henderson as Wayne. I wondered who he was and had no clue it was this actor I previously thought of as the kind of bland dreamy white guy from TORQUE. The obvious comparison here is Matthew McConaughey (TEXAS CHAINSAW MASSACRE: THE NEXT GENERATION), but he also seemed to me like a character who could've been played by Sonny Carl Davis, who I know from the Austin indies THE WHOLE SHOOTIN' MATCH (1978), FAST MONEY (1981) and LAST NIGHT AT THE ALAMO (1983). At any rate, he seems like an authentic man of '79 transported to this movie in '22.
Goth is also impressive even before recognizing the dual role. Within the Maxine character there's already a duality between her regular, vulnerable self without makeup and the persona she takes on around others. She starts the movie looking into the dressing room mirror at the burlesque club, promising herself she'll be a star. She has a distinct marking around one eye that she sometimes covers with makeup, so I at first mistook it to mean Wayne was beating her, then took it as a representation of the troubled life she's running from. Only near the end did I understand that it's freckles or a birthmark, not a scrape, but it's used to identify her as having rejected a very different life related to the one that Howard and Pearl live. So it's all thematic.
A couple more notes about what X is and isn't. It does not feel too grim or joyless. It has many laughs. It uses "Don't Fear the Reaper," which to me is as much of a horror tradition as showing NIGHT OF THE LIVING DEAD on a TV or naming a character after a famous director. (The other needle drops are more original, including some good ol' Loretta Lynn.) It is not about grief or trauma, either literally or figuratively! And I don't remember it having much of anything that I had to roll my eyes at and forgive.
I think it's a pretty good mix of thematic business and straight up horror jam, but not a perfect one. It goes far enough into exploitation that I have some hope it will shake the "serious horror movie" stigma that sets off a certain segment of horror fans like throwing a live cow into an alligator pit, but I think it could go further. I think by the end we've earned a couple more rotations over the top that we don't end up getting. But I liked it. It's a good one.
P.S.
SPECIAL BONUS SPOILER ZONE:
There seem to be alot of little details in this movie that might be illuminated by further viewings. For example I picked up on a couple of porn-esque sex jokes, such as their vehicle being a work van labelled "Plow Service," and I'm sure there are others. I think they might also make a joke out of prophesying the manner of everyone's deaths?
I know they did with two of them. Bobby-Lynne is introduced exiting the burlesque club through a mural parodying the Coppertone logo, with an alligator pulling down a woman's bikini bottoms. At the time of course it never would've occurred to me there was gonna be a gator in the movie, and that she would be killed by it, but I should've known that's what a friend was talking about when he compared it to EATEN ALIVE. Similarly, after filming the first sex scene Wayne says THE FARMER'S DAUGHTERS is gonna make people's eyeballs pop out of their skulls, and of course that's kinda how he ends up going out. I'm sure some people guessed that when they heard the line, but I didn't, so I wonder if I missed any others. Were any other deaths called out beforehand?
If you stay after the credits there's a preview for a very stylistically different movie called PEARL, taking place in the same house but in 1919 and starring Goth as the young version of Pearl. I think I probly would've assumed it was an odd GRINDHOUSE style fake trailer joke if I hadn't read that West already shot a prequel back-to-back with this one. I'm excited to see it, though the cleaner digital photography and old timey fonts seemed cheesier than X. Hopefully they'll get it looking good. I read that West is basing each movie on a different era and genre of film, so that one is inspired by Douglas Sirk melodramas (!), and he wants to do a third one taking place after X and playing off of the VHS era. One could assume that means FRIDAY THE 13TH and shit, but I'd love if it means putting Maxine into something more like the ANGEL series.