Did you know that Prachya Pinkaew, the director of ONG BAK and CHOCOLATE, was making an English language movie starring Djimon Hounsou and Kevin Bacon? I didn't either until a screener wound up in my hands. It's yet another weird, internationally produced DTV action movie from Millennium Films. (This is an early heads-up review – it comes out May 17th on DVD.)
Hounsou plays Curtie Church, a mercenary hired to take out some sex traffickers in Bangkok to avenge the death of a guy (who played a similar character in THE MARINE 2)'s daughter. Turns out Church being manipulated to start a war between two gangs, so he gets caught in the middle. A young girl from the brothel follows him to his bell tower hideout. To protect his mission he gags her and ties her to a pole, only to eventually (you better sit down and swallow all liquids first, this will surprise you) soften up and start trying to help her out.

There are alot of cool things about this character. Of course he's got the ol' heart of gold, but you gotta dig to get to it more than with some movie heroes. He's gruff and doesn't talk much and doesn't mind manhandling the girl to protect his own ass. And obviously he's an elite warrior, a one-man-army, that's why they can feel confident hiring just one of him. He does some bombings, some close range gun battles, some hand-to-hand and a whole lot of sniping.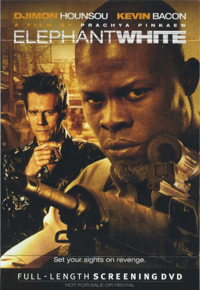 I think maybe he has some kind of hypnotic powers over people too because I can't figure out why they never think to look for him in the bell tower where all his bullets keep coming from.
Hounsou is great for this type of role. Physically he's intimidating and comes off appropriately unfriendly. I'm not sure if he'd have the charisma to play a more funny, lovable type of action hero, but he's born to play mysterious, scary badasses of this type. I hope he gets some more action vehicles like this instead of just having to play the exotic sidekick or villain. (Maybe Millennium could put him in LIMITS OF CONTROL 2: BURMA RISING). He's interesting to watch going through the procedures, setting up his attacks, preparing his weapons. The belltower is between the brothel and a Buddhist temple, a constant reminder of his sins, etc. But it's also handy because when he needs to hammer pieces of a rifle together he syncs up with the monks hitting their bells so nobody will hear him.
Bacon plays Church's old CIA contact who's now a sleazy arms dealer. His character is credited as "Jimmy the Brit," which blows my theory that he was doing an Australian accent. But I'll chalk that up to my own ignorance and not Bacon's lack of success. I admire Bacon as an actor who seems willing to give any role his full efforts. This isn't one of his top roles ever but it's pretty awesome to see him playing a type of character that's usually played by a nobody in a Millennium production. And he's obviously having fun.
Like other Pinkaew movies (and Thai cinema in general) it wears its heart on its sleeve. Not only does it have alot of Buddhist spiritual elements, but it ends with text about what a bad problem sex trafficking is. I wonder if RAMBO (part 4) got the idea from Thai cinema to combine violent action with outrage about real world atrocities? They all seem to combine fun action with long scenes of crying. There's also an elephant in here, as the title implies. It's not featured as prominently as in the Tony Jaa movies and I think it's CGI, and also I don't really understand what its significance is, but one of the gangsters has a white elephant. If you're into that.
Come to think of it I'm not sure why it's ELEPHANT WHITE and not WHITE ELEPHANT. Maybe there should be a comma in there: ELEPHANT, WHITE?
With its interesting leads, Bangkok locations and weird touches, ELEPHANT WHITE is worth watching for DTV action fans. But it's bad news too if all the makers of amazing Thai action movies are gonna want to branch out into movies like this. It will kill their reputation and their unique qualities like Hollywood did to John Woo and his generation's. Pinkaew does bring a distinct flavor to it, but what's the point of him and his incredibly talented stunt crews making movies that don't try to live up to the standards of the ones they make for Thai audiences? Unless you can get Kevin Bacon to fall off a building, bounce off various ledges and hit the ground in one non-CGI shot then I don't think this is your true calling, Mr. Pinkaew. Do you want to be HARD BOILED or BROKEN ARROW?
To be fair the action scenes are better than in some movies, but they're not at all what anybody would want from the director of ONG BAK. Nobody's gonna use the word "spectacular" for any of these scenes. The best one is just a shootout where his gun is so powerful that it sends everybody he hits flying through the air. That's a fun scene but it's not the side-of-the-building fight in CHOCOLATE or the market chase in ONG BAK or the continous-shot stairway battle in TOM YUM GOONG/THE PROTECTOR/GIVE ME BACK MY ELEPHANT. If making English language movies means leaving behind the incredible drive, skills, fearlessness and oneupmanship that led to those scenes then fuck English language. He can speak complete gibberish if he wants. I hope he got a bit of money for this one and now can go back and try to somehow top what he did in CHOCOLATE.