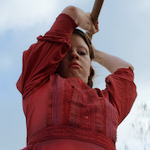 It seems like a fluke that PEARL even exists. It's director Ti West's prequel to his previous movie X, which was a hit for A24 earlier this year. It came so fast because he thought of the idea during a pandemic delay for the first movie, wrote it real fast and built it in as a back-to-back shoot.
X was of course a '70s set TEXAS CHAIN SAW MASSACRE homage about a very old couple taking out some of their issues on the young people who rented their barn to film a porn movie. One of its novelties was realizing somewhere in the middle that Mia Goth (SUSPIRIA remake), who plays the wannabe starlet protagonist Maxine, is also playing the lusty elderly villain Pearl. So in this one she return as a young Pearl in 1918, and as the central character. You don't see that every day.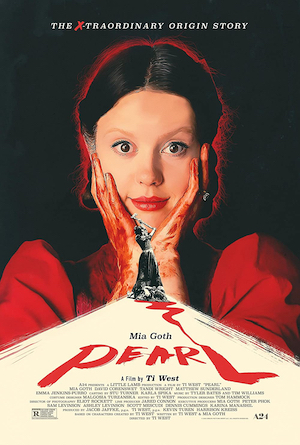 PEARL doesn't seem like a very commercial movie to me, because #1 it's not really focused on scares, and #2 it's done in a retro style inspired by the films of Douglas Sirk. But it's doing well for its slim budget, and these days you gotta appreciate a small movie like it even getting attention. It's a darkly tragicomic (but not really jokey) character study built almost entirely on the foundation of how fun it is to watch Goth play this character. I say "almost" so as not to discredit West's success in navigating the line of how much quasi-old timey trappings (melodramatic acting styles, saturated colors, big orchestral score [by Tyler Bates and Tim Williams], iris transitions, imaginary musical numbers) is enough to be winky but not overly broad. It's a low budget movie and the (I assume) digital photography obviously can't match some lush studio classic from the golden age of Hollywood, but his imitation gets the idea across without being embarrassing.
Reigning over it all is Goth as Pearl, a button-nosed, starry-eyed farm girl who has a great relationship with her animals, but not so much with her harsh immigrant mother (Tandi Wright, LOVE AND MONSTERS) and paralyzed father (Matthew Sunderland, THE NIGHTINGALE). Actually, no, on second thought, not with the animals either. She tells the cow Charlie about her dreams and kisses him on the nose, but others meet the end of her ax. She's a pretty troubled young lady.
It's all so archly archaic, but much of it is timeless. Pearl feels empty and broken in ways she doesn't understand, she escapes into a fantasy world ("the pictures") and sees no possibility of a new life other than a type of fame that drops in your lap. When that doesn't happen she doesn't know how to process it other than ugly crying and slaughter.
It's a towering performance by Goth on many different levels, but the showstopper is (spoilers) a monologue that I would like to compare and contrast to the one from FIRST BLOOD. You know, that's a story about a damaged guy we root for and relate to, he's gotten here through enormous stubbornness, but also being backed into a corner. And part of his super-warrior persona is suppressing any human emotions his situation may produce. But after keeping it all in through all that mayhem he comes face to face with his father figure Trautman and the dam bursts. He lets loose everything he's feeling and thinking about, he blubbers, he becomes completely vulnerable.
Pearl has a moment like that, though the situation is different. She's killed more people (fewer animals?) than Rambo, but she was barely holding it together much of the time – trying to maintain a Judy-Garland-on-screen facade, with varied success. Still, when her sister in law Mitsy (Emma Jenkins-Purro) offers an ear to her, Pearl breaks open with too much honesty, admitting her fears that something is very wrong with her, then confessing her affair, then some murders. Mitsy did not know what she was getting herself into. Uh, okay, well… thanks Pearl, gotta go.
It's not overly comical and yet it absolutely plays off of the humor of a character as messy and unhinged as Pearl also being adorable. She's a disaster, but she's our disaster. I don't know what it is, I don't feel like I'm a messy person, but the older I get the more I like these messy characters as a hyperbolic depiction of relatable problems. I for sure wouldn't do just about anything that Pearl does, but I watch her trying and horribly failing to keep her shit together and I think yeah, it's like that sometimes. You can do it, Pearl.
Okay, it's disconcerting when her delightful cornfield dance with a creepy scarecrow leads to her voraciously humping the thing. But that's not what stuck in my mind later whenever she wore the top hat she took as a souvenir – instead I thought of Pearl in a top hat as the Pearl she wants to be, Pearl the entertainer. The Pearl who, would you believe, was a humble farm girl, daughter of immigrants, before she was discovered here in this very town? That's who the Pearl in the top hat is. Not the Pearl who got stuck on the farm for 90 years or so.
I just love that she has a relationship with the alligator from X (or that alligator's mother). She talks to her. Tells her goodbye when she thinks she'll be leaving for Hollywood. Feeds her other animals and a head or two. Calls her Theda.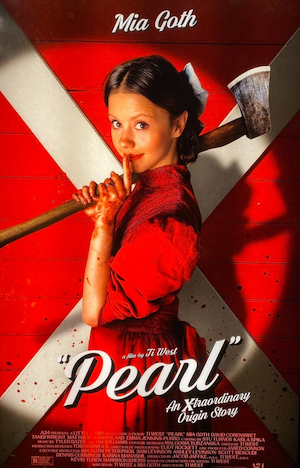 I saw PEARL and started writing about it on its opening weekend a couple weeks ago, but took my time so I could finish the summer of '92 series first. During those weeks I've been happy to see the movie (and especially Goth, who by the way shares a writing credit with West) stay in the conversation as much as they've stayed in my head. This is a simpler movie than X, but it sunk into me deeper, it turns out. I'm not sure I would've said so right after seeing it, but now I know I like it better than X.
A big surprise was reading that Martin Scorsese saw and loved PEARL – even said he lost sleep over it! I bet Ti West never saw that coming. Makes sense that Scorsese would like the homage to another era of filmmaking, but it amused me at first that he found it so scary. Then it occurred to me that yeah, of course it would hit harder if you've spent your life as a movie director, with the fates of many Pearls in your hands. We'll know it really fucked with him if he starts casting all unknowns for now on.
Although I never would've thought Scorsese would go see a Ti West movie and rave about it, it actually had occurred to me that the movie has some parallels to THE KING OF COMEDY. It can be 2022, it can be 1982, it can be 1918 – this dream of fame is always gonna mess with people.
Of course we know from the post credits scene and elsewhere that West, Goth and A24 will continue the series with MAXXXINE, a sequel about Goth's other X character, set in 1985. This one has not shot yet, so it will take longer. Hopefully they can shoot it in the real Hollywood, not New Zealand, if that's the best way to capture that sleazy '80s Hollywood Boulevard feel. (Maybe it's not.) I think I said this in the X review, but I still hope it's kinda like the ANGEL movies.
I will, however, miss Pearl, and would like to point out that we have a 50-some year gap here with no explanation of how or why Howard (played briefly by Alistair Sewell [THE POWER OF THE DOG] in this one) got on board with Pearl's activities once he returned from the war. You'd think that would put a strain on the marriage, but he's still there covering for her in the '70s. Should the X-verse continue after MAXXXINE, how 'bout something like a HOUSE OF PEARL – black and white Universal style gothic horror set in the '30s? That seems like it could be cool.
But they don't need my ideas, they obviously know what they're doing. I look forward to seeing what it is.