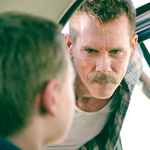 After seeing SPIDERMAN'S HOMECOMING I wanted to link to my review from director Jon Watts' great 2015 movie COP CAR, but for the life of me I couldn't find one. I swore I remembered writing about it, though, so I searched through old notebooks and sure enough I found the handwritten review that I apparently did between THE LAST CIRCUS and CHEERLEADER CAMP. I must've been saving it for after Halloween and then forgot about it. So consider this a previously unreleased review from the vault.
COP CAR is an original, expertly crafted thriller that had me from the very start. Which, come to think of it, is a kid saying "Weiner." Two young boys (James Freedson-Jackson [Jessica Jones] and Hays Wellford [INDEPENDENCE DAY: RESURGENCE]) have apparently run away from their home in a small farming community in Colorado. They're walking across a field, playing with sticks, talking about the type of shit that little boys think they know everything about: barb wire fences, snakes, arrowheads. It's the rare case of movie kids who seem like documentary subjects. They're not too precocious or romanticized, they're just dumb boys, like some of us used to be. Not comically dumb, just regular dumb. They do dumb boy stuff. Nobody knows why.
And suddenly they come across something weird – the titleistical vehicle, parked in the middle of nowhere. They react in various stupid ways: paranoid that it's looking for them. Throwing a rock as a distraction. Daring each other to touch it. Getting inside and pretending to be in a high speed chase.
Then they find the keys. (read the rest of this shit…)