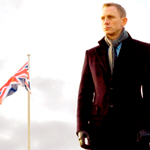 Daniel Craig has returned as Ian Fleming's 007 James Bond on the occasion of the 50th anniversary… not of the first book by Ian Fleming, or of the first movie adaptation (the 1954 TV version of CASINO ROYALE) but of the first theatrical movie DR. NO. Don't hate me for this, but to be frankly honest I'm kind of tired of hearing about these movies these last few weeks. I mean, they're fun, I like most of the ones I've seen, but I guess having not really grown up on them like alot of boys do I just don't have that connection to them and don't know how to flip for them. I'm not trying to rain on your piss or whatever the saying is, I just want to mention this so you'll know why I'm so off the mark in not agreeing with the conventional wisdom that this is an especially great 007 picture. To me it just seems like another Daniel Craig James Bond, but that's good enough. I like it.

The director is Sam Mendes, more of a nominated-for-Oscars director than you'd think would do a Bond, but also not some visionary genius. I guess similar to Marc Forster, who did the last one. Mendes doesn't reinvent the series or transcend it or nothing. And I didn't feel like it was deeper than the others. He's just a dude who makes okay movies who grew up on James Bond and is now making a James Bond movie. The script is by Neal Purvis & Robert Wade (writing these since THE WORLD IS NOT ENOUGH) and John Logan (THE AVIATOR, HUGO, GLADIATOR, BATS).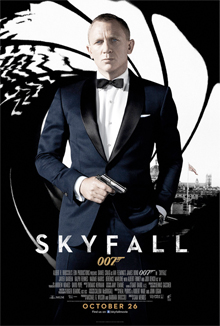 There's a couple major themes. One is about Bond's boss M (Dame Judi Dench from CHRONICLES OF RIDDICK) and her responsibility to her agents. She cares about them, but has to coldly make calls that prioritize the success of a mission over their safety. It's obviously her job and her duty, but that doesn't feel good if you're James Bond and you just got shot in the chest and fell off a fuckin bridge and you're pretty sure if she would've just zipped it you would've personally beat up that guy and taken the device and everyone would be safe, including you. Later, M and the city of London are terrorized by a former agent (Javier Bardem) who had an even worse experience working for M and takes it more personally than Bond does. He didn't get workman's comp so he blows up some buildings instead.
The other theme is this idea of quitting and moving on. Bond could've kept playing dead, living on a beach, drinking all day and night except when he's busy fucking some beautiful exotic mermaid lady who rescued him (judging from the excellent-as-usual opening credits music video). It seems to be a good lifestyle worth sticking with, but his sense of duty brings him back to the ol' secret agenting. I guess that makes him different from the movie version of Batman, who's always trying to be happy enough to quit. Bond seems happier when he's working. In fairness to Batman, Bond is still able to drink and fuck while working, so it's not all that different, there's just more gunfights and jumping off moving vehicles when he works, to keep the blood flowing.
(SPOILERING PARENTHETICAL COMMENT: I think ultimately Bond decides he likes being Bond and we're left feeling like future installments will be more upbeat, less broody. That way Craig can pun it up, people will stop liking the movies again and then he'll be able to quit renewing his contract and go back to that beach in real life.)
They make this kind of a comeback story for Bond. He returns a little fucked up and fails all his tests. So we know he's in the field while not at his freshest. Maybe his "death" is a symbol for the MGM bankruptcy and how people were saying there might not even be another James Bond movie, but now he's back and yes he is a terrible shot and unshaven and drinks constantly (so does everybody else, though) and it's implied that he also has problems with some other drug (opium I bet) and there's probly a part they cut out where a beautiful woman is disappointed by his lackluster lovemaking… but don't worry he'll go out there and start shooting better and get a woman to shave him and make some jokes and it'll be okay everybody, let's all calm down.
I gotta confess mild disappointment with Bardem's villain, a fake blond gay stereotype who weakly echoes DARK KNIGHT's Joker when he purposely gets captured as part of his master plan, and then when he dresses as a cop. Bond plays along by doing a total Batman move in one part, jumping up and hanging onto the bottom of an elevator. Good one.
I think they try not to be homophobic with the way Bond responds to Bardem's super villainous sexual harassment. In older movies and even some newer ones the hero would either be disgusted by the gayness or would make various emasculating comments, calling him a bitch or something. Bond takes a different approach, so I respect that. But it's still a caricature. I don't know, I'm not really offended by it, and he's kinda funny at times, but having seen Bardem in NO COUNTRY FOR OLD MEN and even PERDITA DURANGO I know he could be way scarier than this.
The supporting cast is good. Dench obviously knows how to play the tough love boss lady. Albert Finney shows up as Alfred or whatever. I also really liked Naomie Harris, who's sort of the new Bond Girl because she's his partner in the field, although he doesn't do her. I believe he has two trysts, both quick and mostly off screen and with characters we don't know much about. In one case he just walks into a lady's shower uninvited and she knows what to do. This fuckin guy, jeez.
Thankfully they abandoned the BOURNE style post-action of QUANTUM OF SOLACE, so I could tell what was going on in the enjoyably over-the-top action scenes. I noticed that the second unit director for QUANTUM was the same one from BOURNE SUPREMACY, BOURNE ULTIMATUM and GREEN ZONE, so that's kinda his style. For this one the second unit director is Alexander Witte, who actually worked on the less shaky pre-Greengrass BOURNE IDENTITY, plus CASINO ROYALE and other movies with solid action: SPEED, THE ITALIAN JOB, THE TOWN, FAST FIVE (specifically the train heist). On the other hand he worked on BLACK HAWK DOWN and GLADIATOR, so he might've started the entire post-action movement by action, I don't know. It's possible.
I won't give away the details of the crazy multi-vehicle conflict of the opening chase, but it's good shit. I will remind everybody for the millionth time that Bond Girl Michelle Yeoh jumped a motorcycle onto a moving train for real in SUPERCOP, but Bond Boy's sloppier way of doing it is also cool.
One aspect I was excited about, they got Roger Deakins, the great director of photographing that does all the Coen Brothers movies. I don't think most people would notice a difference, but there's some nice looking shots, especially in the last section of the movie, which takes place in a rural area, at night, lit only by flames.
My favorite thing about these movies is Daniel Craig, and the way they glorify everything about him: his swagger, his stoicism, his fighting skills, his confidence, his attracting of women. In this one he even has dominion over beasts, able to have a drink without being stung by the scorpion on his hand, or to use an angry komodo dragon as a stepping stool. He's so cool he's like the white man's answer to Shaft. I've already established that I'm not the guy to ask, but personally he's my favorite Bond. They'll have some big shoes to fill when he fakes his death.