or NOTHING'S WORTH THIS SHIT
I think NORMAL LIFE is a good movie, but I'd sympathize with somebody for hating it. It's a true crime story about a husband and wife bankrobbing team, but mostly it's about their fucked up relationship, and it's like it drags you into the whole mess when you watch it. It's about as pleasant and fun as you'd expect from the director of HENRY: PORTRAIT OF A SERIAL KILLER if you didn't know he'd go on to direct WILD THINGS.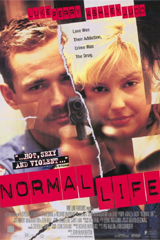 Luke Perry plays Chris Anderson, who first meets Pam (Ashley Judd) in a bar when he's a rookie cop and she's in the middle of a screaming breakup with a boyfriend. Buddy, you gotta learn to read these signs. They're there to give you direction, but they're useless if you ignore them. This movie illustrates better than just about anything that just being hot isn't enough. Pam is pretty much the worst, most manic girlfriend on record. One of the few times she's at peace is laying looking at the stars and talking about her obsession with black holes. But then Chris laughs, "Man, you are so crazy!" and two seconds later she's bawling and making a mad dash for the Jeep to try to run him over, like he pulled a knife on her or something. My friends, you don't want to spend the rest of your life on a floor made of eggshells. Don't be a Chris Anderson.
You can't even say he likes her for the sex. She just lays there emotionlessly and when he tells her he wants her to cum too she yells at him like he's some abuser. But of course he's convinced he loves her and he wants to save her, so what does he do? He marries her. Okay, yeah. I don't see how that could backfire. Problem solved.
Well, let's just say being recognized as a couple by the state doesn't turn them into the Huxtables. They fight over money. He finds her naked cutting herself with a knife. When he's not home she tends to spend her time laying around in her underwear lustily fondling a gun. That kind of stuff. When his parents come to visit she won't talk to them and then locks herself in the bathroom listening to loud music on headphones and screaming. He gets fired for not going along with the corrupt cop culture, comes home and she made dinner only for herself, and doesn't seem to understand why this bothers him. She shows up late to his dad's funeral wearing a Walkman and rollerblades. I'll say it again: nothing's worth this shit. It's great if somebody wants to take care of somebody who has problems, but I recommend volunteering at a soup kitchen or joining some big brother program where you bring mentally challenged kids to a basketball game or something like that. It's better for your soul, not to mention your life expectancy.
But there must be some way to make her happy and peaceful. Hey, I know – buy her a puppy! That'll fix her! She names him "Chaos."
Judd is so convincing as this crazy bitch that I'm still scared of her today. And I like that they don't waste your time with a backstory of how she got so screwed up. In fact they don't spend much time showing her using drugs, they just show the results. And Chris keeps trying to remain calm and be there for her. And you want him to turn around and run.
Then the movie switches gears dramatically when he decides to get out of debt by robbing banks. Until now you kind of felt sorry for the poor sucker, but now you realize okay, the reason he likes this psycho is because he's worse than she is. The first robbery sequence is brilliantly intercut with Pam talking to her therapy group in rehab. Pam seems sane for one of the first times in the movie and talks about how lucky she is to have Chris because "he's my rock." Cut to him putting on a bulletproof vest and fake beard. Nope, she's probly not gonna be able to straighten her life out, is what the montage tells us.
When Pam finds out about the robberies and goes with him for the first time it's pretty funny. She's standing there with her unconvincing wig and sunglasses and the smile on her face is priceless. She loves this shit. As they're leaving she sprays the ceiling with bullets for extra style points.
So of course when he has enough money to leave it behind and own a used bookstore she disapproves. A dog named Chaos is not enough, she needs the real thing. "Normal life" scares the shit out of her.
Of course, this doesn't end well (SPOILER) and it has a very realistic feel to it. There's a great police chase that avoids feeling like Hollywood bullshit, with guns popping instead of banging. I tried to look up the true story this is based on and I couldn't find anything real detailed, but I wasn't surprised to find out that the messy violence in the end was all pretty much how it really went down. Maybe that's why this whole thing feels so morbid, it's adapted from reality.
Judd is perfectly horrible, this is a really good performance. And I think Perry is good too, although it's hard to mentally separate the poor guy from that TV show he was on. He plays a similar brooding character but with a mustache, because he's a cop. Because of his career it's easy to think of as stunt casting, but I think he does well, it works, even with a little bit of 90210 distraction.
There aren't many other actors with much screen time, but I like Tom Towles's appearance as his dad, who coughs through the whole wedding and looks like he's about to have a massive heart attack. It seems at first like it's because he knows what a mistake his son is making, but actually I guess he's just really sick.
Man, whatever happened to John McNaughton? I guess he just does TV now, but I bet he has more good movies in him. This one was made for cable, but it's better than alot of theatrical movies, fitting really well in the "true crime with the names changed but you know who I'm talking about" mold of HENRY.
When this came out there were complaints from two sides of the story – the family of Jill Erickson, who said the character of Pam was not an accurate portrayal, and the family of a prison guard killed by Jim Erickson in his escape, who rightfully didn't want to see that asshole glorified. Maybe there's something sick about wanting to watch these types of stories, but I can't deny my fascination with them. Sometimes crazy shit goes down, and you think "how the fuck did that happen?" and you can't help but want to know more of the story. (This one I guess was so interesting it not only got a John McNaughton movie but also a network TV movie starring Bruce Campbell and Lori Laughlin.)
Anyway, it's good to see that McNaughton lightened up a couple years later and made the dark but hilarious WILD THINGS. But if you're willing to submerge yourself in the muck this is a good one too.