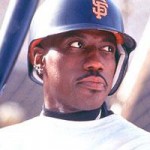 Man I tell you, I wish it was possible for lightning to strike 3 times in the same spot. It would be useful for many things including meteorological research and movie trilogies. But it's not possible. Never happened. Not once. Only once has it hit the same exact place twice. And that place was the exact spot where Blade was standing at the time. Both times.
What I'm saying obviously is that BLADE III – and I will not call it BLADE TRINITY because what the hell kind of name for Blade III is BLADE TRINITY – is no BLADE or BLADE II. And there are many reasons why. The most immediate thing you notice: it just doesn't look as good. Steve Norrington and Guillermo Del Toro were both so careful and artful. BLADE felt so exact and carefully composed, II was so spooky atmospheric with shiny gold tinted edges. III (directed by the guy Dave Goyer who wrote all the other ones but only directed the small indy drama ZIG ZAG) tries hard to imitate some of both of those looks. It has the same cinematagraphist as the last one, and I mean it's not an ugly movie. But you can tell it's not quite real. Not it's own look, not quite capturing the previous looks. I think I read this was more expensive than the others but to me it feels cheaper. Almost like a really damn impressive TV version of the Blade universe. But not quite the real Blade universe.
And then you notice the villains. Parker Posey is real cool as a bitchy vampire ex-girlfriend of a young wisecracking white dude who saves Blade from the FBI (long story). But her crew are just not up to BLADE standards. In the first one the vampires were all exotic and interesting looking, plus Donal Logue. The second one raised the bar, making the villains weirder, scarier and more sympathetic. Here you just got a couple cheeseballs, one of them a big wrestler guy with bad hair. Like Tyler Mane in X-MAN but not as appealing. They work out of some fancy hipster office building, like they are the well paid staff of some smarmy vampire magazine. I don't really understand what they are doing there, but there are lots of good catwalks to tumble from and windows to break through.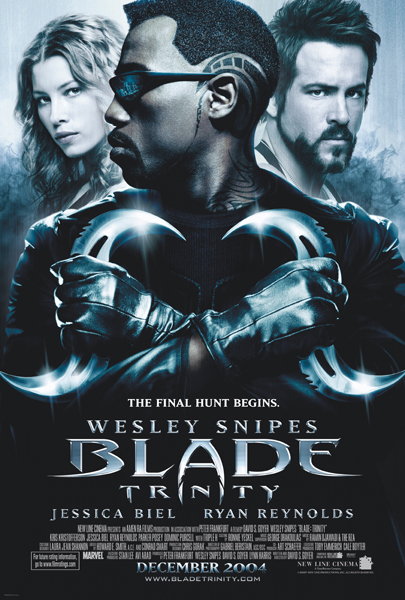 The lead villain is Dracula, the first vampire, dug up from a Pyramid in the Syrian desert (nobody checked there before). He's a morphing monster version of Dracula with an ancient warrior type human form. You know, some bland muscle guy with a necklace and armor on one arm. He looks like he could be some guy from Hercules or Xena. From some angles he actually looks a little bit like Bela Lugosi, but other than that it's a strike out. Not much in the way of charisma or presence. Again, seems like TV. Good TV, but still TV. And we're not in the TV business here, Goyer. This is the silver fucking screen. If you can't take the heat get out of the boiler room.
I guess the problem is, this seems like the BLADE II you would've thought they would've made, before they made BLADE II and surpassed all our expectations. One of the reasons why BLADE II is such a god damn masterpiece is because it captured most of what was great about the original but put the characters in a whole different situation. The first one he's running a three person operation underground in a city, fighting against a vampire masterplan. So what do you do for the second one, you transport him across the planet to Europe, where he has to side with a team of highly trained vampire soldiers to fight off a new more monstrous mutant type of vampire. That's a totally different story and it doesn't even take place in the human world at all – almost every character in the movie is a vampire.
So shit, where do you go from there? How do you make it exciting after that? Well Goyer came up with a pretty brilliant idea, which was to skip forward 15 years to an apocalyptic future world where the vampires have won. The world is entirely run by vampires, and Blade is the lone rebel fighting back, like Omega Man or Planet of the Apes or The Ten Commandments. (Well, maybe not The Ten Commandments. I haven't seen that one in a long time.)
The only problem is, Goyer didn't use this brilliant idea, he just talked about it in magazines and instead went with a less risky brilliant idea: to put Blade back in the human world and have him outed. In the human world people don't know about vampires, so what are they gonna think about this weirdo in the leather jacket who carries a sword, walks around in broad daylight shooting at people, even beats and murders cops who secretly work with the vampires? Well it turns out the FBI have been after him because he's left a pretty long and windy trail of non-vampire corpses. This is great turning Blade into an outlaw, making him fight against the authorities and not just the vampires. And it's very exciting when he gets captured and interogated and even checked out by a psychiatrist who makes the mistake of asking him about his relationship with his mother. (And the whole theater went, "Oooooooooohhh!")
This is great, right? A great way to spin the series in a completely different direction? Yeah, for about 5 minutes, but then you find out all the cops and the psychiatrist and everybody are actually the familiars, the vampire's bitches, and we're back to square one. He's just fighting vampires again. The completely new direction was a false alarm. (Don't get me wrong, I appreciate this subversive/uncomfortably realistic theme in the BLADE pictures that authority figures are lackeys to the bloodsuckers. I just think after BLADE II you got no choice but to try to raise the bar even higher.)
Then Blade teams up with these kids called the Nightstalkers, which is mainly Hannibal King (aforementioned white dude who saved him) and Whistler's "out of wedlock" daughter Abigail (who I would say is from the remake of TEXAS CHAIN SAW MASSACRE but fortunately that møvie does not exist and will never be thought of or mentioned again). And that's fun but I seem to remember an elite team of special ops vampires called The Blood Pack who he teamed up with last time, and they were more interesting as characters and as a storyline because of the tension and because they turned on him, etc. The Nightstalkers as backup was Whistler's plan, and then they convince Blade to follow their plan for stopping the vampire menace once and for all. That's great but what about one thing, what about Blade's plan? It's Blade that executes their plan and kick's Dracula's ass, but I couldn't help but think that this movie is not giving Blade enough credit. Blade is always on top of things. Remember when his sidekick Scud betrayed him, but it turned out he knew all along Scud was betraying him and had a bomb implanted in him? That's Blade, man. We're talking about a guy who specially designs his sword to take off the hand of anybody else who touches it. Blade is prepared, he can handle shit. That's what he does, handle shit. He doesn't need some blind computer genius to give him a plan. Come on now. Especially if you're really going to make this the last Blade movie, you can't chump him like this, you bastards.
And what about Whistler! What about fucking Whistler? I don't know about out in the red states but in the circles I run, the Kris Kristofferson mentor/sidekick character is considered one of the pantheon. One of the greats. He always grunts out funny lines, calling Ron Perlman a "nipple head" or busting through a wall with two machine guns and asking "Catch you fuckers at a bad time?" But in this one, where his part is much smaller, he doesn't get the chance. He seems sick and he rushes out a bunch of exposition and then he gets one good line to go out on but that's it. Fortunately the Hannibal King character has a lot of funny lines to pick up the slack but at the same time you're thinking, who is this kid, this fucking bearded muscle kid, who is he to overshadow fucking Whistler?
That's the bad news. Here's the good news. Despite all this, this is still an enjoyable movie. Not a bonafide god damn masterpiece like the other two. But an enjoyable fizzle out of the greatest trilogy since Lord of the Rings and/or The Godfather. The Alien 3 of the series, maybe. I don't know.
Because even when you take away all the great style, when the casting department starts phoning it in, when you make the storytelling a little sloppier… all you're doing is fucking up the movie. But standing there in the middle of the movie, looking real fuckin cool, you still got Wesley Snipes and the character of Blade. Wesley Snipes is Blade. He has such conviction and such dedication to Blade, that even as the whole movie around him seems a little on the crappy side, he is completely unaffected. You look at him in awe. Because Wesley knows how Blade looks and talks and walks and stands and poses and fights. He could walk on to the set of some sitcom and he would still be Blade, standing there.
When Blade is surrounded by cops and knows he can't get away, he doesn't say anything. He's samurai Blade. He holds onto his sheathed sword, considering it, but then sits down and holds out his sword in a samurai pose of surrender.
When Blade is shackled in an interogation room, he still looks imposing. He doesn't offer much for the humans questioning him and seems more occupied with studying the room around him, figuring out what to do. (Too bad we never find out what he would've done. Because you fucking know he would've escaped.)
And I mean, he looks like the same exact Blade. Same haircut, sunglasses, coat, armor, posture. THe costume is a little altered and the biggest change is the color red. Now his coat has red on the inside, a nice touch for fighting Dracula. And he wears a long sleeved red shirt under his coat. I don't know how exactly but somehow the red shirt makes him look like even more of a bad motherfucker. Not sure how to explain it. Somebody should look into this.
So any problems in the movie, they aren't Blade's fault. They are an injustice against Blade. Blade is clearly doing his part. David Goyer fucks some things up, but that can't stop Blade. Blade lives on.
Man, I love Blade. America, I love Blade.
I got a few questions though. In BLADE II, the reapers were an artificially created mutant strain of vampires. So why does Dracula, the original vampire, have the same kind of mouth as the reapers? And why, in some article I read, do they claim that they were careful not to make the monsters in this one look like the reapers? There are only a couple monsters in this and they are not very impressive but their most memorable features are splitting mouths like the reapers.
Also, wouldn't it suck to be a vampire? (not a pun) I realized as Blade was killing them that they have too many god damned vulnerabilities. I mean they really gotta work hard to kill Blade and his young companions. All Blade has to do is cut them with silver or expose them to sunlight, they die instantly. If they cut a human, the human still has to bleed to death. Of course, most vampires across the world probaly don't ever encounter the Daywalker. If they're smart, they won't push it by coming up with some master plan or "vampire final solution" so they can be left the fuck alone.
What's worse though is being a driver for the Nightstalkers. No fucking respect. In this movie there's a young african-american gentlemen who shows up out of nowhere to pick up Blade and the kids. And you can read into it that Blade trusted him partly because he was a brother and because he chose to bump some beats while defying the po-po. But then they get in the car, Blade asks them who they are, Hannibal introduces himself and the girl. No mention of the driver at all. And soon after, he dies.
Come to think of it, we never get to find out anything about any of Blade's black friends. I always wonder what happened to that guy in the first one, had that little shop where he used to hook up Blade with garlic. Blade has moved on to more powerful sedatives, but I'm sure they're still friends. You saw the way they gave each other a pound. I bet Blade misses that dude more than ever now that he's hanging out with these wisecracking white kids.
Anyway. The fights and action scenes in BLADE II seemed like a big step up from BLADE and the best job I'd ever seen of real SUPER-POWERED fighting. Remember Blade getting swung around and his head breaks through a cement column? The action this time isn't as amazing but they do alot of fun new stuff, like a car chase (welcome back, Blade-mobile) and I really like the scene where Blade chases Dracula through an apartment building, and Dracula just runs through walls and jumps through ceilings and (fucking asshole) steals some lady's baby.
There is also a whole lot of funny lines, almost all of them given to Hannibal King, who is sort of a Jason Lee type with muscles and guns. I realize this guy is the formula wisecracking character but somehow he sells pretty much all of them. While being tortured for information, he reveals that Blade is "working on a new formula for flavor crystals," a pretty good moment. You gotta be skeptical about some white dude muscling in on Blade's territory, but when he's introduced wearing a sticker that says "Hello, my name is FUCK YOU," it's a good icebreaker.
One thing I've noticed about people in the vampire slaying business, they're rescuing each other all the time. Whistler rescued Blade from the vampire library in part 1, Blade saved Whistler from a water tank in the opening of part 2, the Nighstalkers rescue Blade from the FBI headquarters in part 3 and later Blade and Abigail rescue Hannibal King from his interrogation/wisecracking session. In part 1 though it was just an example of Blade's tremendous resources. Here he is railroad-spiked into a pole and surrounded by enemies, and he starts laughing. They get confused, why is he laughing? The camera moves in to reveal Blade's earpiece which explains how he knows that Whistler is about to bust through the wall with that "catch you fuckers" line I mentioned before. Even when he's nailed to a pole, he is not backed into a corner.
This time it's Hannibal King that gets to laugh off his tormentor when he's seemingly at a dead end. He knows Blade and Abigail are coming to save him and he starts to brag about it. They use this to set up a little joke, but it still didn't get past this BLADE afficianado that Goyer is, consciously or not, tipping the movie a little bit toward the white dude. And this is a problem.
Now, who knows how true this is, but many articles have claimed that Snipes and Goyer got into a fist fight on the set and from then on Goyer travelled with a biker gang entourage. There are also claims of tension between Ryan Reynolds (who plays Hannibal King) and Snipes. Goyer has been telling web sights for months that he might make a spin-off about the Nightstalkers, that Ryan Reynolds is the greatest guy in the history of the world, that this would probaly be the last Blade movie, that they'd shot an ending where Blade dies and hadn't decided whether or not to use it. Snipes supposedly wrote a letter to New Line Cinema complaining about the movie and its advertising focusing on the new white kids and not as much on Blade. And Ryan Reynolds who plays Hannibal King told Entertainment Weekly "I've never met Wesley Snipes, I've only met Blade."
My guess is that Snipes, heavily into character as Blade, sensed the movie going away from his character, causing him to resent this goofball the same way Blade does. And causing him to get angry at Goyer. Which caused Goyer to get angry at him and move the movie even more away from being the triumphant last Blade movie and in the direction of being the episode of Growing Pains (or whichever show it was) that sets up Just the Ten of Us.
Blade is still the main character but he definitely has to share the spotlight with these Nightstalkers. And they're fine, I got no problem with them, but they just aren't Blade. I'm sure if they really make a spin-off about them I will watch it, and there's a good chance I'll like it. But the whole time I'll be thinking yeah, these guys are cool. But they're not fucking Blade. Not even close. I mean Whistler is better than these guys, and they didn't make a Whistler movie.
And since SPOILER SPOILER SPOILER Whistler moves on to the big anti-vampire garage in the sky in this one, it doesn't really make sense that we're NOT focusing on Blade. We've always had Blade and his support team, now the support team is dead, so let's see what Blade does on his own. The loner. Not the superstar graciously sharing the spotlight with the newcomers. Maybe David S. Goyer doesn't get along with Blade anymore, but the rest of us do. So give us a fucking break, Goyer.
I still enjoyed watching it though. And I'm thankful that it's not a total disaster. 4 more years of Bush and an unwatchable Blade III – what would be the point? I would've tossed myself off the nearest bridge.
UNNECCESSARY APPENDIX: WHY BLADE IS SO FUCKING BADASS
STOIC AS A MOTHERFUCKER. He doesn't talk much or betray much emotion. If he smiles, his enemies know they got a problem.
BUT SAYS "MOTHERFUCKER" ALOT. When he does talk he makes it count. Short and sweet. Often including the word motherfucker. Example: "Motherfuckers always tryin to ice skate uphill."
SWAGGER. Definitely knows how to swagger, strut, taunt, and menace. EXTREMELY good at walking cool in slow motion (probaly one of the top 2 or 3 slo-mo walkers in the history of motion pictures.)
THE MOTHERFUCKER CAN FIGHT. He takes on all kinds of vampires, cops and super powered monsters in hand to hand combat, sword fights, shootouts, etc. Always wins. Usually without much hassle. But when it's a tough fight he's willing to go all the way, getting tossed through walls, cement pillars, etc. Skilled in many different weapons. Without #4, #3 could actually make him LESS badass. But he has #4 so don't worry about it.
THE MOTHERFUCKER CAN MOVE. Maybe the main thing that makes him stand out, the guy is elegant. His martial arts moves, the way he holds his sword, the way he walks. Even when he's not moving it's perfect – the super hero poses, the gargoyle crouches, the samurai meditation. He also has the best posture of all super heroes.
ICONIC LOOK. The guy barely ever changes. Keeps the same flat top haircut (with a slight lowering over the years) and head tattoos, black leather jacket, armored vest, black pants, sword on the back. Doesn't change into different outfits all the time. The costume slightly changes in different movies, but it's always basically the same. When you see him you don't have to get used to some new look or something. It's the exact same guy. The Daywalker.
THE WAY OF THE SAMURAI. He may be a black vampire slayer in the city but he is also kind of a samurai, the way he holds his sword, does little rituals, has a shrine to his mother and is indebted to the master who saved him.
TRUE TO HIS HERITAGE THOUGH. He keeps his blackness but without fitting some jive ass stereotype. He never has to mention he's black (the Will Smith syndrome) or use dated slang terms. But he knows how to give a brother a pound, his chosen martial art is capoeria (a Brazilian style) and has no problem taking care of white supremacist vampires (or whitulas).