HUGO is the new "picture" from Martin Scorsese (GOODFELLAS). Like HAPPY FEET TWO it's in 3D and like THE MUPPETS it's a nostalgic revival of bygone popular entertainment and involves visiting a long-since-given-up former legend and getting him to reluctantly think about the old days. But in this case it's the work of early cinema pioneer George Melies. So the history lesson seems more appropriate here. I wasn't convinced that we needed to be reminded what the Muppets are, but when it's silent film, yeah, maybe explain some of that shit, Scorsy. (I don't feel comfortable calling him 'Marty,' so I use 'Scorsy.')

HUGO is about a little boy (Asa Butterfield) who secretly lives inside the walls of a Paris train station. I guess in a way it's like THE PEOPLE UNDER THE STAIRS because he's the despised underclass who got stuck in that situation due to  a cruel adult (Ray Winstone), and he's kind of afraid to come out. But he's not mutated or anything, he's an adorable moppet with a little sweater and jacket and everything.
In a way it's also kind of like one of Scorsese's earlier films, BAD. But it's the train station instead of a subway station and when he goes around committing petty crimes it's stealing food and mechanical parts, not rollerskating, spraypainting "BAD" on the wall and removing the vents. Instead of trying to assert himself as a man by telling Wesley Snipes to lay off he's trying to come to an understanding about the death of his father by convincing Ben Kingsley to dream again. And instead of part of it being in black and white all of it is in 3D.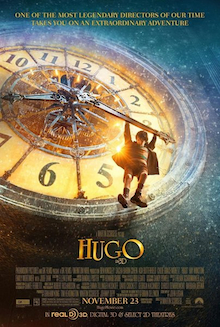 His name is Hugo though, that is why it is called HUGO, it's his name.
The movie is based on a children's book I guess, and the trailers kinda reminded me of that "Lemony Snickets" deal, or a HARRY POTTER or something. But you should know there's no magical business in this at all. There is an automaton but he's not alive, it's not that kind of party. It's not magical in the "abracadabra" sense, only in the "whimsical" sense and in the "good" sense. It's about a bunch of sad and lonely people whose lives intersect in a way that ultimately makes them better. And it's about movies.
Scorsese – I don't know if you guys know this – likes movies alot. He probly grew up in a bedroom full of lunchboxes and dolls of "the Movies" so this is his love letter to them. Hugo misses his pops and one of the things he remembers fondly is watching movies with him, just like you guys remember your dad bringing you to see DIE HARD or PREDATOR or whatever, but unfortunately he probly died before those movies ever came out and had to settle for seeing silent films. He meets this girl played by the girl who played "Hit Girl" in KICK-ASS. (They all speak with British accents, a metaphor for speaking in French.) She loves books and thinks they take her away on adventures but she's never seen a movie so he's like "Oh jesus, this is gonna blow your mind" and he peer pressures her into recreational movie use. I doubt she ever read a book again.
But the story is about how he gets caught stealing by this old shopkeeper (Kingsley) named Papa George who takes Hugo's notebook with the plans for the automaton that he's been trying to repair. Now this might be a SPOILER 'cause I didn't know this going in, but he finds out that Papa George is actually George fucking Melies, whose "rocket shooting into the eyeball of the man on the moon" you've seen before and Hugo has only heard about from his dad, who was blown away by it. But Papa George was crushed by whatever happened between then and now and refuses to even talk about it. And Hugo feels he has to get him to in order to come to terms with his dad's death. So it's kinda crazy, that's his goal. Not to find some treasure or destroy a magic rock or something.
What I liked best about this movie is the way each of the characters has some "broken" part to them that they're trying to fix. It's not just the kid and the old man, it's also the train station security dude (ice skater turned Borat Sacha Baron Cohen) who has every possibility of just being a broad slapstick villain. In fact, in his first scene he gets hooked on the side of a train, dragging him and getting him whacked in the balls, and I was worried that maybe they were wasting Cohen's talents. But then we start to get this subplot about his character's crush on a woman that works in the station (Emily Mortimer) and his self-consciousness about a leg injury he got in the war. So even though he's trying to catch Hugo and bring him to the orphanage like a dogcatcher bringing a stray to the pound he's also a character you want to see everything turn out well for in the end. Or at least I did.
Alot of the people doing 3D movies these days are obviously just doing what they're told or trying to follow a trend and don't actually give a shit enough to learn how to get real 3D cameras and use them well. Scorsy isn't one of those guys, he's a true believer who recognizes this as a legitimate filmatistical tool, so he puts actual elbow grease into it. This is in the higher bracket of live action 3D I've seen. The opening actually looks like a (partly) live action version of a Robert Zemeckis mocap movie. Subtract points for not extending much out into the audience (I don't care what anybody says, that's what 3D is for), but he knows the proper way to move the camera through and around environments, with layers of objects in the foreground and background. He takes you on a ride through secret tunnels, giant clock gears, up ladders, over rooftops and smokestacks.
Some of the style and the setting made me think a little bit of Jean-Pierre Jeunet, and wonder why he hasn't done a 3D movie yet. Then I came home and read that he was doing a 3D movie. We're not used to Scorsy doing family movies or 3D or stylized digital worlds or movies that take place in France, but he definitely has his personality in here. I like how preachy he gets about film. He throws in some film preservation propaganda, some early cinema history lessons, some archival screenings. He uses 3D as a parallel to the novelty of the first movies. He shows us the legendary story of the people thinking they were gonna get run over by the train in THE GREAT TRAIN ROBBERY, and later gives us an out of control train coming out at modern audiences in 3D. Also he shows us the Harold Lloyd clock stunt and then the same thing happens to the kid.
I wondered if Scorsese was gonna have the balls to convert the Melies films into 3D, and sure enough he does it. And when he does it feels exactly right. The layers work well with the types of flat cut out sets and props Melies created, and also if the movies were shown flat in the middle of a 3D movie it would make them seem… well, flat and unimpressive. For them to be popping out of the screen while the characters watch it on screen doesn't make literal sense, but it gives us a symbol for how exciting it looked to them.
HUGO is no GOODFELLAS, but yes, it's good, fellas. Oh wait, am I not Gene Shalit? I forgot.