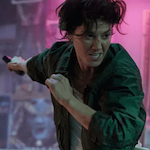 KATE is the straight-to-Netflix Mary Elizabeth Winstead action movie produced by David Leitch and Chad Stahelski's company 87North (formerly 87Eleven). As you'd expect from that pedigree, it has excellent action scenes, with JOHN WICK fight coordinator Jonathan Eusebio acting as second unit director and stunt coordinator. He did BIRDS OF PREY too, so I gotta wonder if Winstead asked, "You got any more of those JOHN WICKs laying around?"
The screenplay is credited to Umair Aleem (whose only previous credit is EXTRACTION – no, not that one – the Bruce Willis/Kellan Lutz/Gina Carano one), and the story is admittedly more standard than a JOHN WICK or a NOBODY. Elite assassin wanting to retire, yes, but none of the fanciful stuff. Working with her handler Varrick (Woody Harrelson, DOC HOLLYWOOD), who trained her since she was orphaned, Winstead's titular character adeptly infiltrates, beats up, parkours and rooftop snipes whoever they send her after (which seems to mean Yakuza bosses, since she seems to live and work out of Japan). The first hit we see is successful, but she has to kill the guy in front of his daughter, which upsets her so much she decides she's retiring after wrapping up the job. The second one we see she misses, making it much more exciting because we get to see her leap and somersault across buildings to get a second shot and then improvise an escape, stealing some dude's ridiculously pimped out pink and yellow ride for a SPEED RACER/2 FAST 2 FURIOUS neon-blur car chase.
She's not losing her touch – she has radiation poisoning. You fuckin knew she shouldn't have hooked up with the guy from Haunting of Hill House (Michiel Huisman, BLACK BOOK) at the hotel. A doctor tells her she's got about a day, so she steals a bunch of stimulants and flees, intent on fighting/threatening/interrogating her way up the Yakuza totem pole to terminate whoever ordered it. I don't want to spoil her fun but I wonder if she considered just letting it go, buying the most expensive bottle of liquor she can find, maybe running a bath and putting on some records? I just feel like that might be a better last day than trying to stab and headshot a bunch of guys like she's in THE RAID. I don't know. Maybe I'm getting old.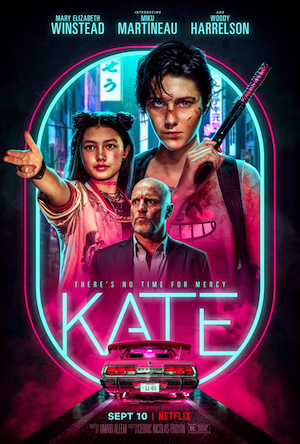 A life of tragedy and violence has hardened her emotionally, and empathy doesn't come that easy to her, which is the beauty of these type of characters. It's gonna come, she just doesn't want to admit it. Cryin' macho. What I like about this format is we get the excitement of the action movie thrills (and there are some graphic stabbings, let me tell you) but also get to be proud of this character for starting to think better of it. Like in NOBODY, there's a scene where she goes to avenge a motherfucker and then learns more context, sees them as human and shows mercy and/or pity.
When she decides to kidnap Ani (Miku Patricia Martineau), the very same teen she recently orphaned, she drags her around by the arm, yells at her, stuffs a sock in her mouth (presumably not one fresh out of the laundry) and leaves her taped to a public restroom toilet. Rude. She's holding her hostage to get to her uncle Kijima (Jun Kunimura, HARD BOILED, GODZILLA: FINAL WARS, UNFORGIVEN remake, MANHUNT) for ordering her death. But when Kijima's right hand man Renji (Tadanobu Asano, ZATOICHI '03, MORTAL KOMBAT '21) tries to kill the kid for a power play, Kate has the common courtesy to save her and, after being followed around by her for a while, agrees to work with her.
I'm a sucker for the grumpy badass taking care of a kid stories (LONE WOLF AND CUB, KIKUJIRO, LOGAN, GRAN TORINO, The Mandalorian, THE MARKSMAN). But I'm a little sensitive about how many movies seem to believe that a childless life is an empty waste and only through last minute parenting can you find any type of fulfillment. Especially when they do that to women. Ripley, Sarah Connor and Beatrix Kiddo are incredible mother characters, but in lesser movies (which is 99% of movies) it starts to seem like "Oh, I get it, you can't picture anything meaningful for women to do with their lives besides raise kids."
So I was relieved that, contrary to some reports, this is not about that. It seemed more like a big sister or aunt relationship to me – someone who can support her, having been through similar experiences, but isn't gonna raise her. And there's no sense of "You're gonna come live with me now," since she's dying.
Kate ends up in a t-shirt with a Totorro-ish cartoon face on it, covered in blood, an example of how this movie cheekily contrasts cutesy/girl things with blood and bullets, something that Harley Quinn and other characters have done well, but that has quickly becoming a cliche. I think part of the reason it works here, though, is that it's not really Kate's personality, it's something Ani gives her, and she goes from an awkward oh jesus, you want me to put this shit on? face to an I make this look good attitude. (Also, because it's Japan we accept that when your shirt is too bloody you buy a new one from a vending machine.)
A criticism I've heard (mostly pre-seeing-the-movie) is do we really need to see a white woman in Japan killing a bunch of Asian people? Fair enough, and if that's a problem for you I won't try to talk you out of it. But I saw a couple people saying the only reason to set it in Japan was to have cool looking locations and homages to Yakuza movies – as if those aren't good reasons! Okay, you watch the version where she's in the usual New York or L.A. (or Vancouver) fighting the usual Italian or Russian mobsters, no GHOST-IN-THE-SHELL-looking cities, no Japanese cast, no Japanese pop music soundtrack. See if you like that better. I'll keep this one.
(An argument could be made that it should've been set in Thailand, where most of it seems to have been filmed. One of the stunt coordinators is Seng Kawee, who did ONG BAK and BORN TO FIGHT and many American productions that film in Thailand like RAMBO, STREET FIGHTER: THE LEGEND OF CHUN LI, THE MARINE 2, THE SCORPION KING 3: BATTLE FOR REDEMPTION, ONLY GOD FORGIVES, THE MAN WITH THE IRON FISTS 2, MECHANIC: RESURRECTION, HARD TARGET 2, TRIPLE THREAT, EXTRACTION [yes, that one this time] and DA 5 BLOODS.)
Furthermore, this is a MAJOR SPOILER, but this is not a movie where Asians are the bad guys. Kate has been raised as a killer by one of the only two white men in the movie who, we learn, is responsible for the death of her family. (And it's a "I'm going to kill them and then take their kid" situation not a "I feel bad about it so it's my responsibility to take care of her" one.) There's a sense of overkill as she plows through low level gangsters she believes have wronged her, she learns in fact it's the white man who poisoned her (would've seen that coming if she'd seen SOLO) and teams with the Yakuza boss against him.
The action is plentiful, in varied locations, using a variety of weapons, never feeling rote, always intense. She gets backed into a whole lot of corners and has to improves ways to get out. The fights are full of those little touches that add personality, like when a guy has her by the hair and she has a knife so she escapes by slicing off a chunk of her hair and a bunch of the guy's fingers and then the shorter hair turns out to look cool on her.
Or the scene where she has a brutal champagne-glass-stems vs. scissors duel with Jojima (Miyavi, KONG: SKULL ISLAND) and Ani gets ahold of a gun but spends so long trying to figure out how the fuck to load it that she can't intervene, and then when she finally does she accidentally shoots Kate instead of Jojima. (I'm sure I would do even worse!) Hats off to this scene also for the first time I've ever seen the ol' "ends the fight by conking him over the head with a vase or something" supplemented with a graphic shot of a meaty head wound. There's also some violence Kate's not involved in. I like that an old timer is called a "samurai" mockingly and then he proceeds to perform an awesome samurai style beheading.
It's fun to watch Winstead fighting, grimacing, strutting around with blood on her and white sunglasses the kid gave her. She has skills, but her biggest strength is taking a multitude of shellackings and repeatedly, if just barely, getting back up. She's a McClane, after all. And as with Willis or Eastwood the best part is the vulnerability shining through the cracks of that cockiness. There's a genuine sense that she has some things in common with Ani, and the goal becomes preventing Ani from becoming her replacement. I like this relationship because the kid has the same well-earned fuck-you attitude toward the world that she does, and for a while they insult and disrespect each other and really mean it and we get we're they're coming from. And we know this is just setting the stage for an eventual bond as they realize they both have the whole world against them and might as well each get to have one person on their side.
The director is Cedric Nicolas-Troyan, who was the effects supervisor and second unit director on SNOW WHITE AND THE HUNTSMAN, then graduated to director for THE HUNTSMAN: WINTER'S WAR, which I have not seen. Seems to be a good craftsman, at the very least. I'll watch for his next movie, but most of all I hope Winstead gets to do more stylish mid-budget asskickers. If she makes 'em, I promise I'll watch 'em.
* * *
Trivia: one of Winstead's additional photography stunt doubles was Athena Perample, the Queen zombie from ARMY OF THE DEAD.