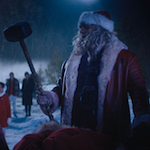 When I first heard that the trusted manufacturers of sturdy action cinema at 87North Productions were making a Santa Claus movie, I misunderstood. I pictured sort of a BAD SANTA meets DIE HARD – a serious action movie where it's some deadbeat mall Santa who's in the wrong place at the wrong time and has to save the day, hopefully using a velvet sack's worth of seasonally themed methods.
So when I realized that the Santa Claus played by David Harbour (BROKEBACK MOUNTAIN) in VIOLENT NIGHT is the actual Santa Claus, having his Christmas Eve deliveries interrupted by hostage takers and using "Christmas magic" to fight back, I was disappointed at first. Sounded corny, I thought.
I was wrong. I want to apologize to Santa. VIOLENT NIGHT is an admirable and solid take on a type of movie I treasure: the genre mash-up that knows it's ludicrous to combine these particular types of movies but moves forward trying to deliver on both genres as well as the unique opportunities offered by their combination. So it has the trappings of a DIE HARD/UNDER SIEGE scenario (ruthless mastermind, elite mercenary force, carefully planned heist, hero mixed up in it by mistake, shocking deaths of innocent people, bad guys picked off one-by-one with stolen or improvised weapons) but also a heartwarming holiday tale (little girl wavering in her belief in Santa, family having trouble getting along, lessons about selflessness). It's a comedy, but not a spoof. It tries to deliver faithfully on the mission of each genre.
It begins, like BAD SANTA, with its Santa at a bar, drinking away the pain. Or drinking on top of the pain. But like I said, this is the real Santa. He worries that modern kids are mindless, materialistic consumers and thinks he might hang it up after this year. But when he drops through one of the many chimneys in the remote and sprawling Lightstone family estate, and stops to enjoy some 1938 brandy with his cookie, he hears gunshots, and the reindeer get scared and abandon him. So, like John McClane, he's stuck in another part of the building while the hostage situation is going on.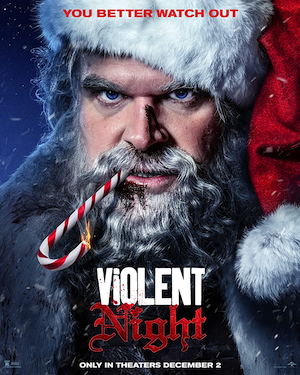 Before all that we meet bumbling dad Jason Lightstone (Alex Hassell, THE TRAGEDY OF MACBETH), who looks straight out of a Hallmark movie. He's convinced his estranged wife Linda (Alexis Louder, who was great in COPSHOP last year) to come with him and his daughter Trudy (Leah Brady) for Christmas with his rich asshole family. His sister Alva (Edi Patterson, KNIVES OUT), her rising action star boyfriend Morgan Steel (Cam Gigandet, NEVER BACK DOWN, PANDORUM, PRIEST, IN THE BLOOD, THE MAGNIFICENT SEVEN, WITHOUT REMORSE) and her douchebag livestreamer son Bert (Alexander Elliot, The Hardy Boys) are trying to kiss the ass of ballbusting Lightstone matriarch Gertrude (Beverly D'Angelo, EVERY WHICH WAY BUT LOOSE) in hopes of inheriting the business, and are confused that Jason and his family aren't.
Since we know the DIE-HARD-on-a-_____ format we know that the cold stares of the Christmas party catering staff mean they're soldiers in disguise. And that's nice because it gives them holiday-themed outfits along with their code names. The most notable are the hulking Gingerbread (Andre Eriksen, DRAGONHEART: BATTLE FOR THE HEARTFIRE), the sadistic Krampus (Brendan Fletcher, FREDDY VS. JASON, GINGER SNAPS 2, THE REVENANT, BRAVEN) and Candy Cane (Mitra Suri, "Bus Passenger," SHAZAM!), whose look I think is meant to invoke Katya from DIE HARD WITH A VENGEANCE. (There are also some white-camo soldiers on snowmobiles like in DIE HARD 2.) John Leguizamo graduates from being a henchman in DIE HARD 2 (and grunt in EXECUTIVE DECISION) to lead villain, using the code name "Scrooge" and later revealing that he does in fact hate Christmas. (SPOILER: He does not end up getting the time to change like Scrooge or the Grinch.)
At first Santa doesn't want to get involved, but Tinsel (Phong Giang, THE PROTEGE) spots him by the tree, assumes he's just some guy dressed as Santa, and tries to bring him to where the other hostages are. Santa defends himself in brutal hard-R fashion and though he never gets a "Just how badass is he?" speech he has the equivalent of a military background (his now-regretted days as a hammer-wielding viking warrior). The second unit director/stunt coordinator is Jonathan "Jojo" Eusebio, who did BIRDS OF PREY and KATE and was fight coordinator for all the JOHN WICK movies. I think some of the action here is shot closer and darker than I prefer, but it always has that 87Eleven variety and inventiveness, plus good storytelling. Example: when Santa contemplates jumping out the window there's a shot look down to show that it's too far down, and we see an icicle-shaped decoration down there. Later he knocks Tinsel out the same window and then finds him impaled on that.
When I watch Christmas horror movies I appreciate the ones that go out of their way to use holiday-themed gimmicks in the deaths (see: BLACK X-MAS, SANTA'S SLAY). VIOLENT NIGHT's action definitely gets high points in that department. Christmas lights and tinsel are used for strangulation, ornaments are used for stabbing, a star-shaped tree-topper impales an eye, he sucks on a candy cane and stabs with it once it's sharp. The bad guys also get in on the festivities, using Grandma's nutcrackers as torture devices. Santa powers are also used for action purposes: pulling presents out of his magic bag hoping to find one that works as a weapon, using his enchanted "Naughty List" scroll to get the names of the mercenaries, and I won't give away how he kills Scrooge, but it's about the funniest only-Santa-could-do-it idea possible. And perhaps those concerned about "the War on Christmas" will be happy that there is a Nativity scene prominently featured in the movie. (Somebody's head is bashed in with the baby Jesus statue.)
In a particularly inspired nod to another Christmas movie, there's a great scene where Trudy builds HOME-ALONE-inspired boobytraps that prove to be much more grievously effective than Kevin McAllister's. The only thing funnier than setting such heinous bodily mutilations to Dominic Lewis (BULLET TRAIN)'s wacky comical orchestrations is the pitch-perfect saccharine innocence of Trudy telling Santa "I made booby traps like in the movie. It was SO funny!"
But the scene where I truly had to nod my head in respect is the one where Santa does self-surgery on a wound and seals it using wrapping supplies. Okay, they know what they're doing.
It's a good use of Harbour, taking advantage of that grumpy lovable guy thing he does so well, and letting him have a Santa belly but be burly (and tatted up) – outmatched, but believably capable in the fights. I guess they cut most of the one-liners in the script because he didn't like doing them, but he makes up for it by finding organic ways of working "ho ho ho" into different types of laughter.
Santa has a funny unfrozen-caveman side to him (he calls machine guns "gizmos" a couple times) that goes along well with the idea that he's this reformed barbarian forced to dip back into his old sins. So even though he's Santa Claus he works as the grouch whose gruff exterior is cracked by a sweet little girl believing in him and needing his help.
The script is by Pat Casey & Josh Miller, writers of the DORM DAZE and SONIC THE HEDGEHOG movies, but I know of them from the podcast The Best Movies Never Made, so I'm happy to now have seen one of their movies and enjoyed it. The director is Tommy Wirkola (KILL BULJO, DEAD SNOW). I guess it's time I finally watch his movies WHAT HAPPENED TO MONDAY (because I always like Noomi Rapace joints and that has multiple Noomis) and HANSEL & GRETEL: WITCH HUNTERS (which is also kind of an absurd genre combo, from the sounds of it).
P.S. Since I've seen Harbour be self-deprecating about his 2019 HELLBOY movie on this press tour I want to stand up for that one. You gotta accept that it's not trying to be the Del Toro movies – it's less magical, more rowdy, more in the vein of 2000s CG-driven studio b-movies of the Milla Jovovich variety. And admittedly Harbour's makeup doesn't look nearly as good as Perlman's. But if you can get over that it might just win you over like it did me. It's funny, it has a ton of good monsters, it's honestly more like the comic books, where Hellboy is not some secret MEN IN BLACK dude, but just a demon who people don't have a problem with walking around. And yes, Jovovich gets to play a fun villainess.
This entry was posted on Monday, December 12th, 2022 at 7:14 am and is filed under
Reviews
,
Action
,
Comedy/Laffs
,
Fantasy/Swords
. You can follow any responses to this entry through the
RSS 2.0
feed. You can skip to the end and leave a response. Pinging is currently not allowed.