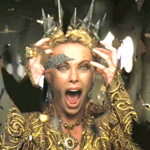 In the story of Snow White, if you remember, the huntsman is the guy who the evil queen sends to bring Snow White out into the woods and murder her. He's gonna do it, 'cause work is work, but then he looks at her and falls in love with her beauty or is touched by her innocence or what have you and he just doesn't have the stomach to, you know, cut open her stomach. (If she was ugly this would be a shorter tale). The Queen wants to know for sure the girl is dead but probly thinks it would be rude to make this guy haul back the whole body, so as a compromise she asks him to bring back some organs  (lungs and liver in the original, heart in the Disney version) so he carves up a pig and brings her impostor parts.
In this new movie-fication of the story the huntsman (Chris THOR Hemsworth) has to go find Snow White (Kristen PANIC ROOM Stewart) in the woods and bring the heart back to the Queen (Charlize Theron) because she needs it to magically stay young forever. He doesn't know who the girl is and there's not much tension like he's really gonna kill her, he just doesn't do it and then they travel on one of those slow, boring fantasy journeys occasionally enlivened by monster appearances. No pigs are harmed.

It's not like "this is the story, but through the point of view of the huntsman." It's just a variation on the same story but now the huntsman is in most of it. Even in the beginning part before he shows up he's the narrator, he gets to say "once upon a time." I don't know who he's supposed to be telling this story to. Is he talking to us? How does he know about us?
The Queen has a gong hanging on her wall that's her magic mirror, she thinks it even turns into the shape of a reflective guy who talks to her (a cool effect). In one shot we see her brother watching and she's talking to nobody, implying that it's all in her head, she's crazy. Except she's not: she really has an army of mirror people, she can morph into a bunch of crows, etc. Maybe this is the loophole to explain why a magic mirror would tell her she was not as "fair" as Snow White even though she looks like Charlize Theron. Yeah, she has magic powers and all that but this one aspect, the talking mirror man, is just a manifestation of her low self esteem.
She does have alot of wrinkles that she has to keep down through magic means. She can devour people's life force and stuff. She didn't know the Dorian Gray trick, I guess. In one part she bathes in white paint, but maybe it's supposed to be milk. Maybe coconut milk. I don't know if animal milk would be that perfectly white back then. I'm pretty sure this was before Louis Pasteur.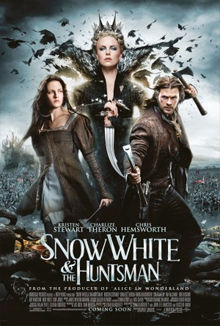 Charlize has the most fun. She doesn't make it into a joke or anything but she's going pretty mega and does a scene where she just writhes around on the ground for a long time.
Snow does run into the seven dwarfs (sic), who are played by Ian McShane, Bob Hoskins, Toby Jones, Eddie Marsan, Ray Winstone, Nick Frost, and two other guys I didn't recognize (Johnny Harris and Brian Gleeson). It's a very impressive special effect, except pretty distressing because seven little people actors had to get their faces covered so that famous people could take the credit. "Hey buddy, we like your size and all but we're gonna go with somebody else for the head."
The dwarves help out and even make an anti-whistling joke (get it? "Whistle While You Work." These aren't your great grandfather's seven dwarves!) but she doesn't stay at their house. You dumb motherfuckers, don't you know she'll wash your dishes and do your laundry for you, and generally make everybody happier? You're not taking proper advantage of the situation.
Oh well, I guess this is not that Snow White, and she doesn't sing to birds and animals. It almost seems like she's going to. There's a part where she comes to a land of fairies and all kinds of badgers and squirrels and turtles and shit come around, but they don't land on her hands and she just smiles, doesn't warble. She does have a life-long relationship with some birds who seem to point her in the directions she should go, and at first it seems weird considering the lifespan of birds, but later it turns out there are little sprite guys inside the birds controlling them, and they probly live as long as a Snow White I guess.
The twist here is that Snow White is some kind of ecological chosen one. She can talk to animals and calm down a rampaging tree monster in much the same way as Riddick calms a dog monster. She's so in tune with nature, in fact, that she makes the entire forest re-enact her favorite scene from PRINCESS MONONOKE, where a big deer god comes out and inspires awe but then gets shot with an arrow.
I think they make a point of trying to make her character active and not the passive, squeaky, singing housekeeper from the Disney version. They mention in the beginning how she was known for her tenacity or something, I don't know. When she's escaping from imprisonment she crawls down a sewer and dives off a waterfall without hesitation. Then in the middle part she does more moping but at the end she does a big BRAVEHEART speech. "WHO WILL GO WITH ME? WHO WILL BE MY BROTHER!?" "AAAAYYYYYEEEE!!!" Even though none of them saw that cool dive she did they follow her and luckily have armor that fits her little girl body.
Hemsworth plays a good tough guy, but they don't give him much of a character to play, which might explain why Tom Hardy, Johnny Depp, Viggo Mortensen and Hugh Jackman all turned it down before the producers or somebody said "hey, what was that movie I just saw? THOR. I guess him." They're working on a sequel, where we will be excited to find out what further adventures in huntsmanship he has. If he has two axes we'll recognize him as probly the same character.
Without caring about the characters this is a pretty boring movie.I probly made a mistake choosing the extended cut. It would be nice, though, if more fantasy movies looked as good as this. The cinematography is beautiful, with deep colors and contrasts but different from that Narnia type of look. Also some nice uses of darkness and light, such as the night time sword fight with flames in the background. The special effects are excellent, especially the tree troll guy, who looks like somebody Hellboy would know. But I think it's a gorilla inside a motion capture suit.
So we've had new versions of ALICE IN WONDERLAND and SNOW WHITE where the title characters are the chosen one and lead an army into a battle against evil at the end. I guess next will be CINDERELLA, PETER PAN, maybe LADY AND THE TRAMP. I figure the lady is probly the chosen one and the tramp is the huntsman in that one. Also Dumbo and Bambi will look good in armor.
This might sound tasteless but hear me out. They gotta do a Jesus movie like this. Maybe the sword fights would go against what we think of Jesus, but you gotta consider new angles for getting the young people interested. It could work. Think about it, Hollywood.
This entry was posted on Wednesday, September 12th, 2012 at 1:16 am and is filed under
Fantasy/Swords
,
Reviews
. You can follow any responses to this entry through the
RSS 2.0
feed. You can skip to the end and leave a response. Pinging is currently not allowed.