Every now and then I write a more-in-depth-than-usual study of a movie I consider important and influential in the evolution of Badass Cinema, a movie I believe most fans of the genre would love and all should see and have an opinion on. I call this series THE LOOSE CANON.
* * *
In 1980, a violent samurai movie called SHOGUN ASSASSIN hit American shores. It is the story of Lone Wolf, an assassin trying to avenge the murder of his wife by the Shogun he used to work for. He travels Japan by foot pushing a babycart that  carries a number of weapons and his son Daigoro – who also narrates the movie – and eventually kills the Shogun's brother. With its weird tone and garish violence, and coming right at the beginning of the decade when Americans became obsessed with Japanese traditions like karate and ninjas, the movie took on a legendary status in pop culture that lasts to this day. Its dialogue and primitive synthesizer score were heavily sampled on the seminal 1995 hip hop album Liquid Swords by GZA, and also heard in KILL BILL VOLUME 2 as little Bebe's chosen bed time movie.
The one problem with SHOGUN ASSASSIN: it's an insultingly dumbed down bastardization of two excellent 1972 Japanese films, LONE WOLF AND CUB: SWORD OF VENGEANCE and LONE WOLF AND CUB: BABYCART AT THE RIVER STYX (the first two installments in a six movie series).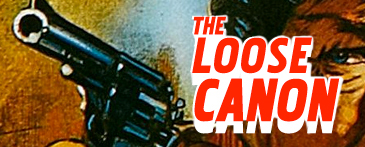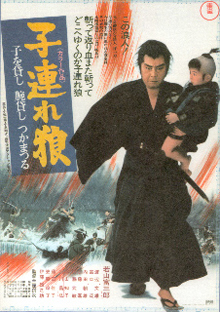 SWORD OF VENGEANCE introduces us to Ogami Itto, the Shogun's executioner, just as he's about to do his job of murdering a little kid. The kid was recently named the lord of his clan and the Shogun doesn't like the idea, so he's ordered the little guy to commit seppuku. I'm not sure the kid is old enough to have had that talk, you know? So that means Ogami's gonna stand there and when the kid doesn't do it he's gonna chop off his head.
It's a whole big ritual with the young lord's subjects there in their fancy robes, bowing. They're also crying and protesting, but nobody's gonna stand up and try to stop it. That's the broken system we're dealing with, here. Well then, maybe our hero Ogami Itto will have to be the one to do it. Your loyalty can only go so far before you become disillusioned and have to make a decision t–
nope, never mind, he just swung the sword down and we heard a "whack." Cut to title screen and badass theme music as Ogami is superimposed pushing a wooden babycart down a white path between fire and water, a visual representation of the rest of his life.
As the movie proper begins, Ogami and little Daigoro are living as "demons" and assassins for hire. Through flashbacks we learn how it happened: he got set up. The Yagyu Clan, who are ninjas, were jealous of Ogami and wanted his post as the Shogun's executioner. I'm not sure why you would want that, because this poor guy had to build a huge shrine to all the people he's executed, and his wife has nightmares about their spirits coming after her. But these Yagyu take advantage of unrest over the death of the young lord to turn people against Ogami and frame him for having blasphemous anti-Shogun tablets in his shrine.
Executing little kid: legal. Tablet with Shogun's symbol in your death shrine: punishable by death. (I mean, in the U.S. you'd probly get interviewed by the Secret Service, but that's about it.)
In a way this is kind of like a samurai DEATH WISH. He deals with the murder of his wife by going out and killing other unrelated people. But it's much more complex than that righteous vigilante indignation because, remember, the movie opened with our hero chopping a little boy's head off. You can never shake that feeling that he brought this down on himself with his own evil deeds.
I don't care if it's before Nuremberg, "just doing my job" doesn't cut it for this one. He knows it, so he decides to "abandon my samurai life and become a true demon, bound by no rules" and "follow a road of blood and corpses as an assassin in the world of killing without remorse." But no matter what he claims he's clearly working from a strong code of honor. Before he was an upstanding citizen doing some evil shit sometimes when the Shogun demanded it, now he's an evil demon assassin for hire who can't help but do good and honorable things sometimes.
So now Ogami Itto travels the world with a sign advertising "Child and Expertise For Hire." Sure enough the child is needed by a woman who breast feeds him because her own child was killed and she's so traumatized by it she thinks other people's babies are hers. Unfortunately there aren't too many of those along Blood and Corpses Avenue, so he's really gonna need to find someone who needs his expertise.
His first onscreen clients are two samurai willing to die for the cause of hiring him. A group of men suspect he's the legendary former Second to the Shogunate, so they send two to attack him. If they can kill him then obviously he's not Ogami Itto, he's some chump. If he kills them he really is Ogami Itto, so they should hire him. Well, obviously he is Ogami Itto, so he kills them. While sitting down. With his back turned.
So he's hired to go to a remote bath village taken over by rapist bullies – basically the ancient Japanese equivalent of a biker gang. They're a bunch of outlaw ronin with prices on their heads, terrorizing the poor outcasts who used to take refuge in this place.
The ways Itto fucks with these creeps demonstrates an excellent laid back style of badass. He acts like just some slightly overweight dude who has come to relax at the bath and doesn't even notice that a bunch of maniacs keep threatening him. He really pisses off a guy by not flinching when a handful of small daggers are thrown at him and stick into the wall right next to his head. He's accused of "mocking my dirks." He actually dozes off while a dude is swinging a sword next to his head to challenge him. It's kinda like Bruce Lee eating those chips while infiltrating THE BIG BOSS's mansion: an extreme illustration of I'm not even remotely scared of you dipshits.
A weirder demonstration of fearlessness happens when the ronin threaten to kill a prostitute if he won't have sex with her in front of them. She says she'd rather die until Ogami stands up and takes his robe off. Alot of the Japanese films have these violent sexual things that bum me out, for example in the otherwise great Karate Forever trilogy Sonny Chiba's character rapes a woman and she later falls in love with him. And he's the hero. And it's a biography of a real guy that was Chiba's teacher. This isn't that bad, because it turns out she only turned him down as a suicide attempt. She changes her mind because she's incredibly moved that a samurai is willing to give up his dignity to save her life.
Anyway, I bring this up because the bad guys are making fun of him for giving in to their threats, but they shut up when the prostitute points something out to them: "If you were scared out of your mind, begging for mercy, could you make love right then and there?" In other words Ogami Itto is a badass because he can get a boner at swordpoint.
So the last part of the movie is just this slow burn showdown between the assholes and this suspiciously badass father-and-son combo in their midst. The leader of the outlaws even thinks Ogami looks familiar, but can't figure out why until they're going to execute one of their hostages and one victim's ogamu (chanting) juxtaposed with the mention of a Second makes his mind click that holy shit, that's where I've seen that motherfucker, that' s Ogami Itto, the Shogun's Second! The look of terror on his face is classic. He knows it's too late. They're all gonna die, in the sort of head-chopping, blood-geysering massacre that this series became known for.
Ogami Itto is highly skilled. Even arch-nemesis Retsudo, leader of the Yagyu clan, fears his technique for sword-fighting in water. He's clever, winning a duel with his eyes to the sun by blinding his opponent using a mirror. He's well-equipped, having a powerful sword made for battle on horseback and a babycart pimped out with hidden knives and metal shielding that can deflect bullets. I like when he kills somebody and then announces the technique he used, like when he slices through both calves on a guy and says "Suiouryu Horse-Slaying Technique."
He always protects Daigoro physically, but doesn't seem too worried about his mental health. He's allowed to see the carnage. In one scene, after Ogami beheads a guy, Daigoro smiles. But he still seems more cute than evil. He just roots for his dad to win, I think.
During the massacre, one of the ronin says, "Why you… it's intolerable!" Kind of an understatement, I think.
When it's all over, Lone Wolf and Cub just leaves. The prostitute, excited that he really is the legendary assassin, tries to follow. He threatens to cut the rope bridge, so she lets him go. His legend has only grown, and even if this had been the only movie we'd know he kept going around having other adventures.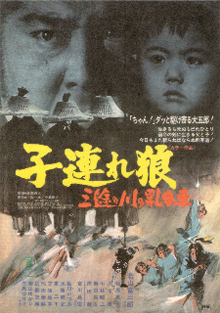 But we don't have to imagine that, because we have BABY CART AT THE RIVER STYX. In the opening moments of the first LONE WOLF AND CUB sequel, Daigoro watches, mildly interested, as his pops has a duel that ends in one guy's head bisected, another guy impaled. As the head-split guy dies he says that the Yagyu clan have spread across Japan and Ogami Itto will never escape. BAM – cut to title and theme music.
That's how you start a sequel. Our hero is still a bad motherfucker, but threats are rising, welcome to part 2, please allow this awesome music to pump you up.
Ogami Itto is still traveling around as a hired killer. He's being spied on by the shinobis (cool hat-wearing ninjas) of the Kurokawa spy clan, on behalf of the ol' Shadow Yagyu. They're getting desperate, so they go to Sayaka, leader of the all-female Akashi Yagyu ninjas. To prove they're up to the task they challenge the Kurokawa's best man to leave the room, and as the poor sucker tries they slice off his ear, fingers and limbs and then stab him while he's down.
By now Ogami has a well-established system. "When one wishes to hire the assassin Lone Wolf and Cub," we hear in voiceover, "one places amulets of evil at religious sanctuaries alongside major roadways. When Itto sees these amulets he leaves road signs to let his whereabouts be known. By following the signs one can meet Itto."
The narrator does just that, but when Ogami shows up of course he could be any single father who travels along major roadways looking for amulets of evil at religious sanctuaries. They ask him if he can prove his identity. Still sitting down on the ground, he throws his sword into another room and into the wall. Blood spurts out, the sword slowly slides down, slicing the wall, and then a body falls through. He didn't do it for show, though – he just heard some asshole ninja sneaking up on him. "This does not concern you," he says. "But does it answer your question?"
His mission – laid out spy movie style – basically has to do with corporate espionage and protection of intellectual property. The clan depends on sales of a unique indigo dye, and they fear that a disillusioned farmer plans to give the secret to the Shogun. The farmer will be transported by the Hidari Brothers, a.k.a. the Gods of Death, three deadly shinobis with giant hats and trademark weapons (claw, flying mace, metal fist). Ogami has to get past the brothers to kill the farmer.
As far as we know Lone Wolf and Cub doesn't have a Q or a Morgan Freeman, he must have to make his equipment himself. Whatever he does he's managed to soup up the babycart even more. Now it has retractable blade wheels, handles that can be pulled off and combined into a bladed staff, and also it's seaworthy. It survives a shipwreck and a fire.
We've learned that Lone Wolf and Cub likes to act casual while getting into violent confrontations, often not even bothering to stand up during a duel. In this one there's a classic scene where he pushes the baby cart along a path, and along the way women pretending to go about their daily business suddenly leap out to attack him. He dispatches them and then keeps walking, as if nothing happened. The weirdest thing in this movie is when one of the ninja girls admits defeat by leaping up out of her dress and then quickly scurrying away backwards. Not sure what that's about. Also in this scene Daigoro actually takes part in murder, happily pushing a button that causes a knife to pop out of the cart and stab a woman.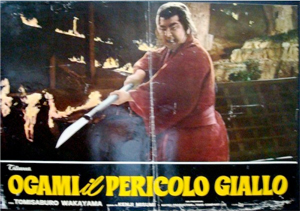 The kid is no dummy, he knows how to survive. There's a great section where Ogami is badly wounded, laid up for days in a small temple. Daigoro is smart enough to go out and find him water and berries and things, and take care of him.
But Daigoro obviously can't defend himself too well against adults yet, and some of them decide to use him to get to his dad, abducting him and hanging him over a well. Revealing a mathematical side to his ever-more-impressive badass talents, Ogami gets Daigoro to drop a sandal into the well so that he can hear how long the fall is and calculate how long he can let him fall before stepping on the rope.
Our man makes it onto the boat where the Hidari Brothers are coming into town. There he gets to do another lazy-warrior-feat, sitting sleepy-eyed as a guy throws a knife his way, then tossing it right back into its holder on the hilt of the man's sword. He escapes a boat fire (long story) and provides this installment's uncomfortable sexual moment when he tears off Sayaka's clothes as if planning to rape her but he's actually using body warmth to stop her, himself and Daigoro from freezing to death like all those people from the Titanic.
The shit finally goes down in the opposite of the ocean: a desert. The Hidaris prove their worth when the claw guy suddenly punches the ground and makes the desert bleed. That would be cool if he murdered a desert, but it turns out there are ambushers hidden in spiderholes, and he sensed it. After they massacre all the attackers I'll be damned, it's Ogami Itto's boy just standing there pointing over the horizon where his dad is posed, ready for a fight.
That Ogami would let Daigoro stand by himself so soon after a  kidnapping either shows his confidence in resolving those types of situations or his understanding that the Hidaris aren't gonna harm a child. As bad as they are they do have some traces of a code, and are clearly impressed by him as a warrior. "So you've come after all," one says, smiling with admiration. "It's remarkable that you escaped from the burning ship."
The final Lone Wolf and Cub vs. Gods of Death battle lives up to its potential and includes one Hall of Fame worthy death scene. One of the brothers has his neck gently sliced in such a way that it slowly sprays a mist of blood, creating a sound he calls "The Whispering of Wintry Wind." He always dreamed of making this cut on someone, but never did. When he drops and falls down a dune he actually rolls over the hilt of a sword and it props him up for a second as he flips over. I don't know how they did that or if they knew how much authenticity it was adding. But then his neck explodes.
Itto's target is planning to give the secret of the indigo dye to the shogun, which will destroy the clan's ability to make a living. But I'm a pro-labor guy so I feel kind of weird about it, he's a farmer that got mistreated, it sounds like. Well, whatever the morality of it is, Itto announces "I am the assassin Lone Wolf and Cub… at your service!" and then chops off his head.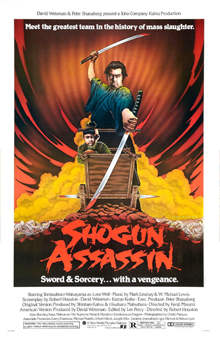 In SHOGUN ASSASSIN, he's not the assassin Lone Wolf and Cub, he's not even Ogami Itto. They just call him Lone Wolf. He speaks English now, voiced by Lamont Johnson, a veteran director of TV and movies like THE GROUNDSTAR CONSPIRACY and SPACEHUNTER: ADVENTURES IN THE FORBIDDEN ZONE, who took the gig in order to re-up his health insurance from the Screen Actor's Guild. Among the other voices he encounters are Sandra Bernhard in her first film, 3 years before KING OF COMEDY.
This version takes the 83 minute SWORD OF VENGEANCE and 81 minute RIVER STYX and combines them into one 86 minute film. Since both of the original movies are great, mathematically this means almost half of the good stuff is missing. It uses 12 minutes of the first film to establish a dumbed down version of his origins. Gone entirely is the execution of the young lord that originally started off the saga. Now "Lone Wolf" is "the Shogun's Decapitator," but the Shogun is "infected by demons" so he has ninjas attack the Lone Wolf family household.
The Shogun is never shown in the real movies, and I guess you gotta have a super villain, so the American producers called Retsudo the Shogun. For some reason the ruler of the empire is just a ratty looking old man walking around freely in public. The traitor with the secret of the indigo is no longer a traitor with a secret about indigo, now he's just "the Shogun's brother," and that's why Lone Wolf is trying to kill him. They say he's a lord who tortures people so you won't have to feel torn about his assassination. Don't worry everybody, he's a bad guy.
One of SWORD OF VENGEANCE's most memorable scenes is the one where Itto decides to bring Daigoro along on his demonic quest rather than kill him. He lets the boy make a decision he couldn't possibly comprehend by having him come to either a ball (to be with his mother, dead) or his sword (to come with papa, killing people). In the original version Itto is saddened by his son's choice of the sword. If he were to die and be with his mother he'd be at peace, instead he's chosen a life of violence and danger, the demon's path. It's a tragedy. That's too complex an emotion for SHOGUN ASSASSIN, so they change it to "Your mother will be happy."
Part of what's great about these stories is the amount of historical detail. They're based on a comic book series by writer Kazuo Koike and artist Goseki Kojima, who are also credited with writing both movies. The comics and the original versions of the movies are heavily researched and play almost like samurai procedurals, not just because of the feuds between clans that are left out of the dubbed version, but also the little details. The ronin can tell that Itto was somebody important because he has a better sword than them, one designed for battle on horseback; Lone Wolf just has a "mystic blade." Itto at first made his persecutors believe he was honorable because he wore a traditional white death robe to his execution, but then they realized he was wearing the symbol of the Shogun, considered an insult; no mention of this in SHOGUN ASSASSIN, too complicated.
I don't think respect between enemies would be too difficult a concept for Americans, but apparently the producers thought it would be. When Itto catches up with the Hidari brothers, instead of acknowledging admiration of his escape from the burning ship they just give him a generic threat: "So, we have a reunion. Now we will show you Masters of Death!" The more these touches are taken out, the more of the beauty of LONE WOLF AND CUB is chipped away. We lose the interesting world they take place in, the complex relationships between the characters, even the pure action movie joy of a hero so badass his opponents have to tip their hat to him. Sure, the dubbed version is bloody fun, but the original had all that while also being smart, atmospheric, nuanced.
Ogami Itto is a screen badass in the YOJIMBO or Man With No Name mold – a guy who rarely talks, even when prompted, and is much more scary for it. Quiet, of course, is terrifying to hacky American producers, so they wrote reams of narration in the point-of-view of older-but-still-a-kid Daigoro, and had the producer's son awkwardly read it throughout the movie. So now it's not a story of a mysterious samurai traveling and battling with his toddler in tow. Now it's a story a kid tells us about his dad.
On one of SHOGUN ASSASSIN's DVD and Blu-Ray commentary tracks, Asian film scholar Ric Meyers says he thinks SHOGUN's Moog score by Mark Lindsay and W. Michael Lewis is better than the original orchestral ones by Hideaki Sakurai, in part because the originals had many scenes without music. I have to respectfully disagree with that horse shit. The quiet sections, of course, were not an accident. In particular, the scene in RIVER STYX where Itto is wounded and little Daigoro goes to find food and water plays ten times better with the wind blowing than with sentimental keyboards.
As for the scenes that do have music, I have a hard time imagining why anybody would think it was lacking. While I would definitely enjoy the crude synthesizer sound of SHOGUN on a more appropriate '80s action movie, it's a disgrace to use it in place of Sakurai's ingenious music which combines traditional Japanese textures with ominous horror movie sounds, weird experimental free jazz type tangents and hints of blaxploitation swagger.
I mean, you let me know which one of these (very good) songs you think is a more badass theme for a period samurai epic:
or
These are some of the many small reasons why SHOGUN ASSASSIN is not as good as LONE WOLF AND CUB. But I think for the biggest one we have to go back to the beginning. By lopping off the execution of the young lord you don't just lose a ballsy and extremely unsettling opening, and you don't just lose a perfect illustration of the world our anti-hero has left behind. You lose the whole meaning of the character. When he was the Shogun's Executioner he was a respected, high ranking member of society. He was doing exactly what he was supposed to be doing. But what he was doing was terrible. It haunted his wife, and then it got her killed. Now he's the reverse. He's a feared outcast, wandering around, breaking the rules, considering himself to be a demon. But more often then not he is doing the honorable thing, and fighting for the right side.
In the real version of this story, Ogami Itto is a man atoning for past sins. He's willingly made his life a living hell, an endless, aimless war, to try to make up for what he's done. He's not just a guy that got attacked by an evil wizard.
* * *
Who is responsible for this? Two people who have attended the Oscars. The credited "director" for the American version is Robert Houston, the same one who played Bobby, the surviving son in the original THE HILLS HAVE EYES (and part II). Houston continued to direct TV and movies after this and won an Academy Award for best documentary short subject for his film MIGHTY TIMES: THE CHILDREN'S MARCH (2004). The producer who had the idea and brought the project to Houston was David Weisman, a former assistant to Otto Preminger, Andy Warhol protegee and co-director of CIAO! MANHATTAN. He later was nominated for an Oscar for producing KISS OF THE SPIDER WOMAN. His brother Sam Weisman produced D2: THE MIGHTY DUCKS.
On the DVD commentary for SHOGUN ASSASSIN, Weisman proudly explains, "We eviscerated from part 2 all of the side stories that were sort of indigenous to Japanese culture. Explanation of the Yagyu – who this is, but we call him the Shogun, in fact he's the ninja leader, the ninja clan leader called the Yagyu – I don't quite understand what it's about, it's very Japanese."
Weisman describes his job as finding out "how to take this series and make it palatable to the American audience." He complains of an English dub of part 4, BABY CART IN PERIL, that someone else did a few years before SHOGUN ASSASSIN: "It's just a straight dub, there was no sense of play, they didn't try to make it more than it was. We tried to make it much more than it was. We tried to make it into sword and sorcery. We tried to make it into something that could compete with CONAN." (He mentions this alot, thought SHOGUN ASSASSIN came out 2 years before CONAN THE BARBARIAN.)
Weisman seems to think his version is better for American audiences, who he thinks prefer their movies to be "brain dead":
"Well, the story essentially is not that different from the original Japanese part 2, except it had a number of cultural digressions. They would sit around and talk about problems that the clan was having with a dye. They were dye makers, right? And they made this blue dye and somebody was coming along with purple dye, or something, and… ugh. So we just got rid of all that and simplified it. Whatever it is, it's the ninjas are causing trouble, so let's really keep it brain dead."
I don't really mind that the brain dead version exists. It's an interesting example of crass Americanization, Hollywood producers finding great Japanese cinema and thinking it's like a mineral or something that they have to process into a different product. They seem entirely unaware of how great the original thing was or how badly and disrespectfully they treated it. The results are an odd chapter in the history of exploitation cinema that left a notable mark on pop culture.
What's unfortunate is how these versions have replaced the originals for many people. I can't believe how many times I've met a fan of SHOGUN ASSASSIN who didn't know about LONE WOLF AND CUB and couldn't be convinced to watch it. Even some big time movie nerds, who can be such purists about a director's original vision and changes from comic book source material, who even get mad that Disney made English dubs of the Miyazaki movies so that kids can watch them, are down with SHOGUN ASSASSIN. They use the nostalgia excuse, that they grew up with it dubbed and heavily edited and rescored and dumbed down and they just prefer a much shorter, stupider experience with a small child mumbling monotonously over some of the scenes. And that's fine.
But there are consequences to that version's popularity. As of this writing AnimEigo (the company that owns American rights to both versions) have not released the original series on Blu-Ray, but they've done a 5-film English-dub-only SHOGUN ASSASSIN box set. Five films, you ask? Yes, the third film was once released dubbed as SHOGUN ASSASSIN 2: LIGHTNING SWORDS OF DEATH, so now they included that and then made new dubs for the other films and call them SHOGUN ASSASSIN sequels as well. It would've been easier and cheaper to just release them subtitled. They spent more money in order to make them worse.
[Happy update: Years later Criterion released a definitive box set of the whole series, with SHOGUN ASSASSIN appropriately included as a bonus feature.]
But, like Ogami Itto surviving the burning ship, the LONE WOLF AND CUB series has survived SHOGUN ASSASSIN. By all means, enjoy the dumbed down version if you're into that sort of thing. But when you're ready to stop fuckin around and see some great samurai movies, watch LONE WOLF AND CUB. Even if it kills you you'll express admiration for the skill in which it did you in.
This entry was posted on Wednesday, July 25th, 2012 at 1:35 pm and is filed under
Action
,
Comic strips/Super heroes
,
Reviews
. You can follow any responses to this entry through the
RSS 2.0
feed. You can skip to the end and leave a response. Pinging is currently not allowed.