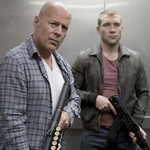 A GOOD DAY TO DIE HARD is directed by John Moore. His previous films are BEHIND ENEMY LINES, FLIGHT OF THE PHOENIX, THE OMEN REMAKE, and MAX PAYNE. Not great. The screenplay is solely credited to Skip Woods. His entire previous filmography is THURSDAY, SWORDFISH, HITMAN, X-MEN ORIGINS: WOLVERINE and THE A-TEAM. So… this is what happens.
I love DIE HARD like I love air, and nothing is as good as it. But I'm easier on the sequels than most people. I feel like we made an agreement as soon as we were okay with The Same Shit Happening To the Same Guy Twice that we would accept increasing levels of absurdity in order to continue our relationship with John McClane. I kinda hold the sequels separate from the original in my mind. They're not untouchable, but I enjoy watching them.
I always loved part 2, as trashy as it is in rehashing the formula of the first one but with Renny Harlin excessiveness. And I always loved part 3 even though it stretches the credibility more than before. It's a well made movie, lots of great shit in there to make up for any shortcomings. An exciting movie every time I watch it. I was real worried about part 4, and ended up relieved. There's way more to forgive than in the others (oh jesus the Kevin Smith scene), but McClane is still cool and Justin Long is actually kinda funny and there are some well put together action sequences like the fight with Maggie Q and the stuff with the parkour guy. Lesser, but fun.
This is the first one that I actually didn't like. This is not a good DIE HARD movie or a good non-DIE HARD movie. It has moments, that's the best I can say for it. I tried to like it.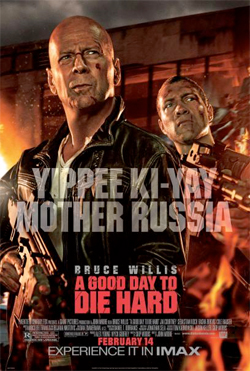 The story has John McClane, still NYPD, finding out that his estranged son John Jr. (Jai Courtney) is on trial for murder in Moscow. He goes there to see if he can help, but gets there just in time to see an attack on the courthouse, and his son and another prisoner driving off. They're being shot at, but he thinks they're escaping. So he steals a truck and goes on a massive car chase, destroying millions of dollars worth of property, probly maiming dozens of innocent people, getting into massive car wrecks and having rockets shot at him. And this is where my heart sunk. Not because of the complete lack of motivation for this huge set piece – it's not clear what he thinks is going on, or why he thinks what he's doing will help, or how he even knows where to drive in Moscow. That's dumb, but that's not the problem. The problem is that one that we action fans always face now, the one that makes us hesitant to watch modern action movies, because we don't know if they're gonna be interested in showing any action.
Yes, I'm afraid the greatest American action movie of all time now has a sequel that's a post-action movie. They spent a long time on this traffic sequence and used practical stunts and you can imagine them looking at the dailies and shitting themselves when they saw that none of their footage was useable. But the truth is this was not incompetence. The action scenes in MAX PAYNE aren't like this. This style was a deliberate choice. A deliberate, befuddling, terrible choice.
I've written this rant a thousand times already, and a couple times just now that I mercifully deleted so you wouldn't have to read it all. We're all sick of seeing it and complaining about it. This should be a great sequence, instead it's McClane and McClane Jr. and Russian Bad Guy all in different vehicles in different places with no visual information to tell us where they are in relationship to each other, and even when it's just showing them inside the car driving the camera has to pan and zoom and shake for no reason other than to prevent any sort of visual information from being communicated to the audience to tell a story and create entertainment.
I think there might even be a new innovation in destroying the language of action cinema here. He keeps doing these wide shots like establishing shots, except nothing is established because it lasts for about half a second and is zooming either in or out really fast. Let's call those "disestablishing shots."
I guess I took it for granted after Len Wiseman did some good action scenes in part 4 that nobody on earth was low enough to squoosh the chase scene from THE ROCK onto the one from QUANTUM OF SOLACE and try to pass it off as a DIE HARD. Somewhere in the middle of this scene I threw in the towel, and knew the best I could hope for the rest of the movie would be some good parts here or there, which is all I got. As far as I can remember there weren't any completely solid action sequences. The last one is probly the closest to good. You're not gonna want to hear this, but the best action bits are matrixy slo-mo shots of CGI McClane jumping off of things.
If the action was shot well it might be a fun movie, but the story is a big problem too. A big part of the joy in any DIE HARD movie or DIE HARD rip off is the master plan that the villains come up with, right? Here the plan is they kidnapped this prisoner, and they want him to get a file so he can't smear some other guy.
There's that section of every DIE HARD movie where the villains are going through the steps – getting through levels of security, moving equipment to where it needs to be, sending in people in disguises, talking to the authorities to mislead them, whatever. In A GOOD DAY TO DIE HARD that section is… they're going to the place where the file is. The place is Chernobyl, but so what? They wear protective suits for a while, and you can't tell who's who. Then they're in a room with some crates. Not that exciting.
There are a few twists that make it more interesting, but not enough more interesting. This is not a villainous plot worthy of John McClane's reluctant heroism. Maybe that's why his boy does most of the work, and why they wrap things up 34 minutes faster than in the original.
I should also note that the heroism is not all that reluctant anymore. He's kind of stuck, he doesn't really have a choice, but he seems excited for the challenge. I don't hate that as much as I'm sure alot of people will. They're trying to have the character evolve, and show that he has an awareness of all these incidents that he's been involved in, and how he's reacted to them. And because of that he's able to be proud of his son being a CIA agent (spoiler?) and encourage him and have his back. The McClanes talking about emotions is actually better than most of the parts where they're shooting at people. Too bad it's not consistent. John makes fun of his son's injuries, doesn't seem to give a shit about it. It would be better if he cared.
They talk about his tendency to improvise plans, as if it's his preferred style and not just his circumstances. But his improvising here is never as desperate as tying a firehose around his waist. In fact, he knows he can jump out of anything and not bother with that, he'll be fine. And he's easily equipped with a large arsenal. He doesn't have to be as resourceful.
They're trying to make it a DIE HARD movie by having them both get beaten to shit and covered in blood and keep going. McClane probly takes his most ever damage in this installment (2 car wrecks, multiple window crashes, falling out a building, falling out a helicopter, I don't remember what else) but all injuries are cosmetic. He should be permanently disabled in the next one.
Jai Courtney is pretty good. He's a credible badass and believably unamused by his dad, but not in a whiny way. And then they start to bond so there's not too much bickering. I like that manly men are starting to be in movies again, and when you consider Justin Long in part 4 (and for that matter Erika Eleniak and Morris Chestnut in the two UNDER SIEGEs) it's kind of refreshing to see a sidekick who's supposed to be formidable. On the other hand maybe it's a misjudgment, because his size really shows how small Bruce is, and his constant presence makes it feel like a team movie, not a John McClane movie. The only part where McClane got to do DIE HARD shit on his own was that truck chase where you couldn't see what was going on anyway. Jeez, if they do make a part 6 I hope they let him be by himself again. As it is it's starting to be hard to recognize him as McClane and not some other Bruce character.
Back when LIVE FREE OR DIE HARD was on the way and we found out it was gonna be a PG-13 I personally made a big stink about it. This one is rated-R (although I understand it's been cut down in the UK). But to be honest I don't think it's much harsher than the PG-13 one. Probly a little more blood. He does (for some reason) say the famous catch phrase, motherfucker and all. (Afterwards he should mutter, "That's just a thing I like to say sometimes when this kinda thing happens.") I don't remember other cursing. And I noticed that a tame bit of gratuitous sexiness that's in the trailer, where the woman on the motorcycle is switching clothes and you see her underwear, was trimmed in the actual movie. That's kind weird. What's weirder is that the way those scenes are edited in the trailer, with the classical music and everything, is much more cinematic than how they present them in the opening of the actual movie. The trailer editors did a better job.
I am a positive individual so I gotta say that there are a few things in this movie that I genuinely did like. The main one is conceptual. I like that part 4 was all about Lucy McClane, so now John Jr. gets part 5. Near the beginning Mary Elizabeth Winstead cameos as Lucy, dropping her dad off at the airport, and you see that they're very close now. So it reminds us that he made up with his daughter in the last one and now his goal is to make up with his son, who he hasn't seen in years, and who will only call him "John" most of the time.
There's even a fatherhood motif. It's silly, but I like it. McClane confesses to the Russian billionaire they're trying to protect that he worked too much and was never there for his son. The billionaire sounds like he has similar problems, but later we see that his daughter is fanatically dedicated to him. But from the look on her face it seems like she wants to jump his bones. It's hard to tell what's going on there actually but it probly fits in somehow.
In the one really good villain scene, Alik (Rash Bukvic from TAKEN and LARGO WINCH) does a goofy little tap dance as he kicks the guns away from the handcuffed McClanes, and he jokes that he could've been a dancer. "But nobody supported me." It seems like he's trying to be funny but telling the truth. If only his dad would've understood him and encouraged him he'd maybe be touring with a ballet company instead of shooting at our guys. Maybe he'd even be the John McClane type who has to save the day when separatists try to kidnap the Russian premiere during Swan Lake. Come on, dads. Man up!
I actually thought Bukvic was gonna pan out to be a decent DIE HARD villain. He has a good presence and in that scene he's really funny, for some reason snacking on a carrot during his first face-to-face with John McClane. Unfortunately we don't really see that much personality after that or find out anything more about him. It's just that one scene where they seem to care about him as a character.
There's a pretty good scene before the shit hits the fan where John is in a taxi, talking to the driver. It's got some funny moments and it's a human scene, it reminds me of the first two DIE HARDS where he's arrived in a different city and talks with a driver. I didn't think about it until later that this scene also might be sort of an in-joke as they discuss Frank Sinatra, who played Leland in the movie of The Detective, which of course No One Lasts Forever (and by extension DIE HARD) was a sequel to. He was the original John McClane.
I'm glad I at least got some little moments to appreciate there, but it's not enough. And now we're stuck with either the series going out on this sour note, or risking more installments that could very well be as bad or worse. I would like to see them do one more that makes a satisfying ending to the series. I think they should wait a while so that Bruce is significantly older. By then McTiernan will be a free man and maybe he'd be interested in directing. It should be more down to earth and he should be alone and isolated in his last battle. Like a ROCKY BALBOA for the John McClane character. Maybe a little GRAN TORINO. Because if you think about it he actually does have one piece of unfinished business.
DIE HARD was all about his family, how he'd fucked it up and was trying to repair things. In the sequels he blew it even more and got divorced. But in the 21st Century Not-As-Good series so far he's rebuilt his relationships with Lucy and John Jr. Now it's only logical that the series end with him patching things up with Holly. They don't have to get back together, and probly shouldn't. But he should make peace with her, and the family should be together at the end (hopefully not at his funeral), and that's that.
If they can't get McT, here's plan B. Holly is on vacation in Thailand with her new husband, or maybe she's making a deal there for Nakatomi, or whoever she works for now. It has to be Thailand because if it's not McT it has to be some of the crazy fuckers who made ONG BAK and BORN TO FIGHT and all those movies. No Hollywood people allowed on set. Dudes in Bruce Willis masks getting knocked off trucks for real. Stunt people getting shot through the air by real explosions. Total insanity. And John Jr. is in a coma or something for most of the movie so McClane is on his own.
Also, come on man, Al Powell cameo please. They can have a barbecue together or something. Let's do this.
But not until you're ready to do it right. Let's all try to learn from what happened in Russia.