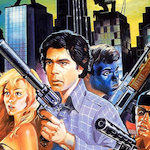 SIEGE (previously released in the U.S. as SELF DEFENSE) is a 1983 Canadian exploitation film brought to my attention thanks to the new release on Blu-Ray and DVD from Severin Films. It seems more inspired by ASSAULT ON PRECINCT 13 than any other movie, and it's not a wall-to-wall scorcher like that, but I liked it because it's quick and raw and has some really unique elements.
Down south in the U.S that year, heroic movie cops were being forced to break the rules to stop perverted rapists (10 TO MIDNIGHT, SUDDEN IMPACT) and kids were turning into serial killers because they witnessed gay sex (SLEEPAWAY CAMP). By contrast, SIEGE paints a picture of a Halifax gay bar and their low income neighbors being terrorized by the violent bigots in a right wing militia. The chaos starts with a police strike, where officers on the picket line egg on onlookers as they roar around in their cars whoo-hooing and doing donuts. Reporters speculate that the rowdiness will snowball from there. Sure enough a group of thugs choose this time to enter the club and announce a "New Order" they want to impose on Nova Scotia.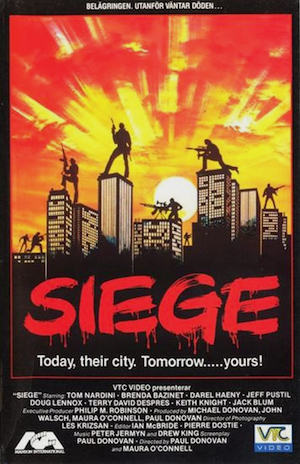 They go down the stairs and through the beaded curtain while repeatedly hitting their clubs and bats against their palms, which struck me as very phony tough guy posturing (I put that on the movie, not the characters), but I like that after they walk in they pause, as if taken aback by the underwhelming sight of just some men and women hanging around having drinks with people of the same gender. Probly not the shocking display of excess they were primed for. Maybe the music is less country and more disco than at their hangouts, but otherwise similar. This is just a bar.
They zero in on the bartender (Dug Rotstein, also the casting director, later director of 3 episodes of Maniac Mansion) to spew homophobic slurs and threats at. When it's clear these guys are a real danger he pulls out a small gun, but they knock it out of his hand and attack him – almost sodomizing him – and accidentally cause his death. This is very hard to watch, both because it's upsetting what's happening and because it's kind of awkward how little anyone seems tempted to stand up to them. It gets worse (on both counts) when their leader Cabe (Doug Lennox, POLICE ACADEMY 1 and 3, TC 2000, X-MEN) shows up and decides the solution is to execute everyone in the bar.
Only one guy, Daniel (Terry-David Despres) manages to escape, and they chase him through the streets, into a building, out a window. He knocks on a door at a small housing project (it looks like an overgrown motor home) and thank god the guy that answers the door not only lets him in, but senses that the guys who knock on the door next are lying about him having just killed someone. Even before they get frustrated and call him a "homo."
Maybe I spaced out during the set up or something, but I didn't really understand who exactly these people are, what their set up is here. I thought about rewinding, but I kinda liked the mystery of it. The tough guy who answered the door is Horatio (Tom Nardini, CAT BALLOU, AFRICA: TEXAS STYLE, THE DEVIL'S 8). He seems to be dating Barbara (Brenda Bazinet, "The Haunted Mask" episodes of Goosebumps), or maybe previously was, but she's pissed at him in part for rationing her cigarettes to help her quit. Also in the apartment are a blind guy they have to bring back to the school for the blind (Keith Knight, MY BLOODY VALENTINE, CLASS OF 1984) and his friend who reminds me of young Keith Gordon (Jack Blum, HAPPY BIRTHDAY TO ME, SNAKE EATER II: THE DRUG BUSTER, writer of two episodes of the Once a Thief tv series) who doesn't seem like he's blind but does have a very useful talent for listening to the walls and identifying what's happening anywhere in the building. Also they're being visited by Chester, who lives in a neighboring apartment which he can access through the bathroom mirror (like in CANDYMAN) or going through the skylights onto the roof.
Horatio is cooking everybody burgers on a portable grill, so maybe it's an indoor barbecue, I don't know. The point is, this is a better than average crew to seek sanctuary with. Horatio immediately goes into "Fuck these guys" mode, and it's clear he will have this endangered stranger's back unconditionally. Chester not only brings Horatio a rifle during the struggle at the door, but is apparently some kind of militant with a keen interest in bomb-making and improvised blow torches and stuff. Oh, and archery!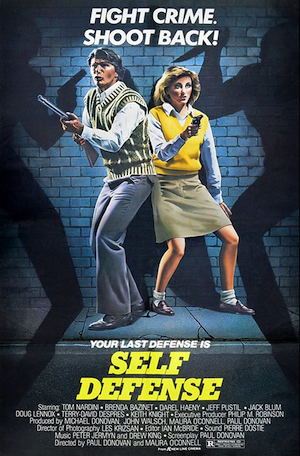 Horatio is definitely the coolest character – he just has a solid vibe about him, and he's down for the cause – but Chester is the most interesting, because he's some kind of lunatic and he doesn't really make a big deal about it now that it's coming in handy. Or not. There's a scene where he says he has two hollow points left and Barbara says, "Don't you have a whole box?"
Horatio and Chester exchange looks before Horatio is the one to explain, "Chester shot 'em at the police station on the first night of the strike." Chester's shrug and unembarrassed half-smile are a great acting moment that easily make up for any of the other actor's stiff ones. (And for the record I'm with Barbara in thinking "jesus christ these guys.")
ASSAULT ON PRECINCT 13 is a masterpiece, so it has much more style and drive to it, but held to normal exploitation standards, SIEGE is a standout. I like the gloomy, dirty look of it, the primitive synth soundtrack by Peter Jermyn (sound editor for SCANNERS) and Drew King (music editor for IRON EAGLE II), and the badass booby traps. These Canadians are not fucking around. In front of or behind the cameras.
This is the second film for co-director and writer Paul Donovan, who swears on the commentary track (with huge fan Jason Eisener) that he was more just trying to come up with a commercial concept than make a statement. He says his previous film SOUTH PACIFIC 1942 was terrible, but the financiers were impressed that he at least finished it, so they were open to his next idea. He followed this with DEFCON-4 and NORMAN'S AWESOME EXPERIENCE and later created the weird sci-fi show Lexx. SIEGE was also the first release from Salter Street Films, Donovan's production company with his brother Paul. Decades later they produced Michael Moore's The Awful Truth, BOWLING FOR COLUMBINE and FAHRENHEIT 9/11, plus JACOB TWO TWO MEETS THE HOODED FANG starring Gary Busey, Ice-T and Miranda Richardson.
In '88 Donovan directed a TV documentary called THE SQUAMISH FIVE, about a Canadian militant group who bombed substations, factories and porn stores in the name of environmental, anti-nuke and feminist causes. (They intended it as sabotage, not murder, but ended up injuring a bunch of people, as bombs tend to do.) They were arrested in January of '83 and surely in the news, so I wonder if that was an influence on the character of Chester?
The strike aspect was inspired by an actual Halifax police strike that lasted 53 days in 1981. When the walkout happened, hundreds gathered by the police station, got real drunk, started doing donuts and breaking windows of nearby buildings as the police looked on.
Similar to when the Seattle Police temporarily abandoned one of their precincts, allowing the creation of the jokingly-named "Capitol Hill Autonomous Zone," later renamed the "Capitol Hill Occupied Protest," the Halifax cops must've been hoping for such chaos, if not encouraging it. "You see what happens when we're not here?" Like a protection racket. That's sure how one of the striking officers makes it sound in a CTV article looking back at it 35 years later:
"After the initial display that was shown on the corner, people doing doughnuts, bonfires, and so on, I don't have the numbers, but I think things were quieter than they typically were," Perrott added. "That's when we realized we were in trouble at that point."

As the dust settled, and the streets grew quiet, union members felt whatever leverage they might have had was slipping away.
At least they did it for the cause of higher wages instead of SPD's cause of wanting to gas and beat the shit out of anybody they want to without being criticized. But both are shitty.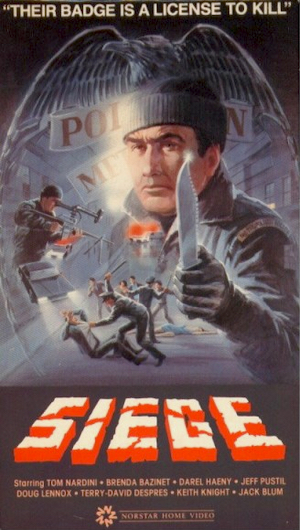 In the movie the lack of police is part of the threat – the building is being attacked, and there's no one to call for help. But in case you're worried this makes it copaganda, ENDING SPOILER THIS PARAGRAPH ONLY there's a little bit at the end where one of the attackers survives and goes back to his job… as a cop. I want to call it a twist ending but honestly I kind of thought from the beginning these guys were probly cops. So it's more of a confirmation ending. (Also the VHS cover shown at the right makes it apparent.)
Co-director Maura O'Connell doesn't have any other directing credits, but she produced various movies for Donovan and co-wrote one called GEORGE'S ISLAND. Wikipedia says she's an Irish singer and actress known for her contemporary interpretations of Irish folk songs, strongly influenced by American country music, but I'm pretty sure that's a different lady. Would be cool, though.
The Blu-Ray includes both the 84 minute theatrical cut and an extended 93 minute version. I only watched the short one and on the commentary Donovan says that's what he considers the real movie. They had to add 9 minutes of prologue to make it long enough for the Japanese video market. Maybe that version explains who the heroes are better, but I like the way we just get thrust into it.
The definitive Canadian genre sight Canuxploitation describes SIEGE well in their review: "Few Canadian films are as unrelentingly gripping as Siege, a lightning-paced shocker that somehow manages to be both incredibly sleazy and charmingly benevolent at the same time… playing off both the fear of lawlessness and the all-too Canadian preoccupation with giving too much authority to those in power."
They see the movie's antifa message of communities uniting to fight off the bigots as very Canadian. So hats off to you Canadians with your glowing hearts and your land strong and free. I gotta get a passport.