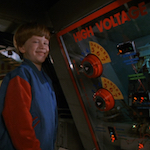 On the 4th of July weekend in 1991, a whole lot of people went to see part 2s. #1 at the box office was the brand new game-changing action masterpiece TERMINATOR 2: JUDGMENT DAY. #2 was the previous week's big new release, NAKED GUN 2 1/2: THE SMELL OF FEAR. And then down a couple slots at #5 was the only movie released against T2, Universal's PG-13 rated kiddy comedy sequel PROBLEM CHILD 2.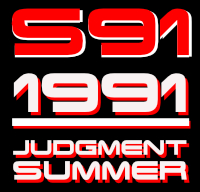 P2 would go on to gross an okay $25 million and be #54 at the year's box office, above such part 2s as FX2, HOUSE PARTY 2, THE NEVERENDING STORY II: THE NEXT CHAPTER, AN AMERICAN TAIL: FIEVEL GOES WEST, HIGHLANDER II: THE QUICKENING, MANNEQUIN: ON THE MOVE, KICKBOXER 2: THE ROAD BACK and BEASTMASTER 2: THROUGH THE PORTAL OF TIME. If there's one movie on that list that's worse than PROBLEM CHILD 2 it's MANNEQUIN: ON THE MOVE, and I'm not so sure about that.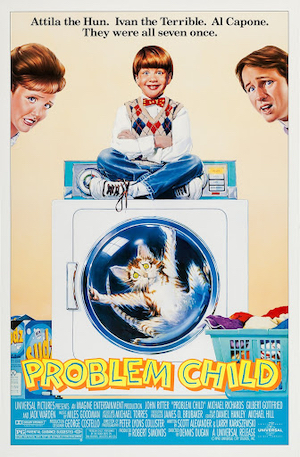 I did see PROBLEM CHILD back in the day, but I really didn't remember much, and decided I needed to revisit if before part 2 to have any idea how well they sequelized it. The first film was released less than a year earlier, on July 27, 1990, and was actually a huge hit, making back more than 7 times its budget. It was the feature directing debut of Dennis Dugan, the former child actor who had played Mr. T's streetwise teen pal in THE TOUGHEST MAN IN THE WORLD. Now Dugan is known for directing Adam Sandler movies (HAPPY GILMORE, BIG DADDY, YOU DON'T MESS WITH THE ZOHAN, GROWN UPS 1-2, JUST GO WITH IT, JACK AND JILL), but at that time he had only directed episodes of Hunter, Wiseguy and Moonlighting.
Written by Scott Alexander & Larry Karaszewski (their first produced script), PROBLEM CHILD is basically a THE BAD SEED type evil child movie played as a cute family movie – a black comedy response to the popularity of movies like PARENTHOOD and UNCLE BUCK. Newcomer Michael Oliver stars as Junior, an obnoxious little shitbag orphan who precociously narrates the story of how he terrorized a series of parents and then all the nuns and kids at an orphanage until they managed to pawn him off on an unsuspecting couple, kind-hearted Ben Healy Jr. (John Ritter right before IT) and his vain, superficial wife Flo (Amy Yasbeck, HOUSE II: THE SECOND STORY), who agrees to adopt because "being a parent is power."
Gilbert Gottfried, on quite a run after BEVERLY HILLS COP II, HOT TO TROT, NEVER ON TUESDAY and THE ADVENTURES OF FORD FAIRLANE, plays the guy in charge of adoptions, distractingly called Mr. Peabody. Why not Bullwinkle?
I wasn't necessarily expecting to say this, but some of the first movie is kind of funny, especially at the beginning. The Universal logo is followed by a dark and stormy night, like a classic horror movie, and Junior jollily narrates, "Nice night to be born, huh? Apparently my birth is not considered a blessed event!" For a while he's content to torment all the nuns and other orphans, until he realizes that seeming likable could help him find adoptive parents. His solution is to start wearing a bow tie, an idea he gets from seeing a news report about Martin "The Bow Tie Killer" Beck (Michael Richards in his followup to UHF, before Seinfeld had really caught on) and his 34 victims.
Junior sees the serial killer on trial and says, "Gee, what a good lookin guy!" He's so impressed that he starts sending him fan letters in prison. Beck misunderstands and believes he's corresponding with a fellow convict named J.R. who really gets him.
Ben is the son and employee of domineering sporting goods store owner/mayoral candidate Big Ben (Jack Warden, THE WHITE BUFFALO). Big Ben is an asshole, but I like that when he first sees Junior acting up he says, "I hope you kept the damn receipt!"
In order to establish that it's fun what a bad kid Junior is, the movie plays "Bad to the Bone" by George Thorogood and the Destroyers. Specifically it plays after Junior slides into home plate at his little league game, still holding the bat, ramming the catcher's balls with it, and chanting "Touch – down! Touch – down!" Of course the song had already been used in CHRISTINE (plus SLAYGROUND, THE COLOR OF MONEY, LETHAL WEAPON, BULL DURHAM, TALK RADIO, and episodes of Who's the Boss and Married… With Children), but James Cameron always says that he specifically used it in T2 as an homage to PROBLEM CHILD [citation needed].
There's all kinds of peeing, farting, cats thrown in faces, and a parrot calling John Ritter a dickhead. But I honestly believe there is also some cleverness in this script. Just funny lines here and there, like when Junior is narrating and says, "Those are Roy's kids. They're sharin a brain. The one on the end has it today." Sometimes it does a good job of making you hate the other characters more than Junior, and wanting this little fucker to let chaos reign.
Ritter is very good, as he always was, though Ben's sincerity here sometimes makes him seem more pathetic than sympathetic. Like, how could he grow to actually like this kid (unless he's gonna acknowledge that something went wrong psychologically to make him this way and that he deserves help)? Ben becomes more relatable after the Bow Tie Killer kidnaps his wife and kid and he decides to just forget about them. But then he finds a drawing Junior did of him, decides the kid actually likes him and goes to save him through the medium of a wacky car chase.
The movie ends with a pig farting in Flo's face. I can't say I respect that artistic choice, but I do respect that it's only about 75 minutes long. The end credits have a horrible title song by the Beach Boys, who even did a video for it.
And that brings us to PROBLEM CHILD 2, released July 3, 1991. According to screenwriters Alexander & Karaszewski, the studio wanted to replace them, but they also wanted to start filming before Oliver grew too much, so it was easier just to keep them. (The poor kid is a little taller in the sequel, his bowl cut is a little shorter, and he seems a little more overconfident about his joke delivery, despite much weaker material.) In response to all the reviews saying that the first film was tasteless, they tried to make the sequel way more tasteless. But not in a good way, in my opinion.
Dugan was replaced with another rookie feature director, Brian Levant, whose television credits included writing for Happy Days and directing for The New Leave It to Beaver, Married… with Children and Charles in Charge. Yeah, that sounds about right.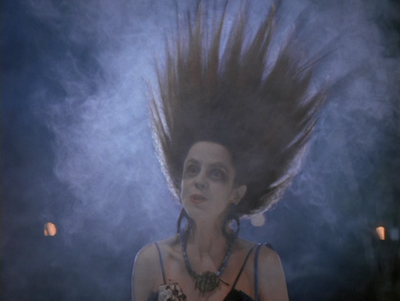 In this exciting second chapter, Ben has left Flo, and and he and Junior move across the country to a town called Mortville, which happens to be "the divorcee capital of the world." There are very few men, so all the female neighbors (more than a dozen) lust after him and bring him pastries. This is very upsetting to Junior, who wants his dad for himself, so he scares away various dating prospects by electrifying the doorbell, dumping his enormous collection of roaches into the salad, etc. Also he films his babysitter having sex and somehow projects it onto the house for the whole neighborhood to watch. The soundtrack repeatedly uses the "Bad to the Bone" riff to represent totally awesome mischief at hand.
Gottfried returns as Mr. Peabody, who somehow switched to being a school principal and coincidentally works at Junior's new school. He's so horrified to see him that he assumes he's a hallucination, so Junior proves he's real by farting. (?) Other bodily function fun includes a dog peeing on the floor, Junior peeing into a lemonade pitcher, about a dozen people projectile vomiting all over each other at a carnival, the dog taking a shit about seven times as large as himself, and then right before the credits he takes a smaller but still enormous one and the bad guy lady is grossed out by it.
They pull a LOOK WHO'S TALKING TOO by introducing a new female problem child named Trixie (Ivyann Schwan, PARENTHOOD [both the movie and the TV series]). She similarly causes havoc so Junior is her rival and they actually make the kid say "The bitch must die" as he stalks her in a restroom. (Then she tries to blow him up with an M-80 but he throws it in the toilet and they run and then a teacher played by James Tolkan from BACK TO THE FUTURE has the shits real bad and runs to the toilet and gets his ass exploded and seems relieved by it but later we see him casually wearing diapers.)
There's a particularly awful rich neighbor named LaWanda (Laraine Newman, INVADERS FROM MARS) who is trying to make Ben "hubby #7," and maybe it's destiny because she for some reason keeps framed photos of her six ex-husbands and they're all Ritter in different get ups. (Maybe this is some kind of THE SHINING thing?) Ben gets engaged to her because he thinks Junior needs a mother, but he ends up bonding with the angelic school nurse (Yasbeck playing a different character than in part 1) because her daughter is Trixie so they both know what it's like to be a nice person with no control over a hateful little shitbird kid going around playing Looney Tunes tricks on people.
There are not many redeeming qualities in this sequel but I managed to find two little lines that kinda amused me. In the scene where Junior ruins LaWanda's dinner with roaches Big Ben asks, "What in the hell is in this salad?" and LaWanda, not having caught on that they're eating bugs, proudly says, "It's blue cheese."
Then there's a part where Junior tries to hypnotize a dog to hate LaWanda but instead it becomes frozen stiff, and Junior says, "Nippy's lost his spunk!"
Oh, here's another one in my notes. Junior steals blood from a dog with rabies to sabotage LaWanda's marital blood test. So there's a part where she's being dragged away yelling, "You cannot do this to me! I am rich! I am powerful! I do not have rabies!"
Maybe you had to be there. But being there might not do the trick either.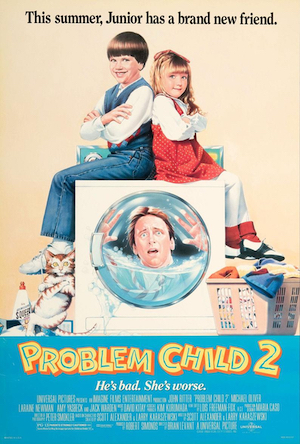 Part 2 was followed by the made-for-TV PROBLEM CHILD 3: JUNIOR IN LOVE (1995) and an animated series that lasted from '93 to '94. Apparently Ben (not voiced by Ritter) is now the sheriff. Gottfried is the only cast member to return either for part 3 or the cartoon.
Oliver didn't continue acting for long – he did guest spots on a couple TV shows (Amen, The Munsters Today, Drexell's Class, Platypus Man) but his only other movie part was in the 1995 DTV movie DILLINGER AND CAPONE. He did not play Dillinger or Capone.
Eric Edwards, who plays a bully named Murph, was next in CANDYMAN and later played Pearl in BLADE.
Ritter and Yasbeck fell in love on the first film, had a daughter together, and were married from 1999 until Ritter's death in 2003.
Levant followed PROBLEM CHILD 2 with BEETHOVEN, the hit dog movie, so he was able to keep directing. Next he had THE FLINTSTONES, JINGLE ALL THE WAY, THE FLINTSTONES IN VIVA ROCK VEGAS, SNOW DOGS, ARE WE THERE YET? and THE SPY NEXT DOOR all in a row before returning to his roots with the unwanted part 2 A CHRISTMAS STORY 2.
As you probly know, the biggest legacy of PROBLEM CHILD and PROBLEM CHILD 2 is that it established screenwriters Alexander & Karaszweski and gave them the motive for their best movie. The stigma of having written such hated movies famously led to their next one being ED WOOD, Tim Burton's excellent biopic of the supposed "worst director of all time." Though they have occasionally returned to broad family comedies (THAT DARN CAT, AGENT CODY BANKS) they're better known for their outsider biopics: THE PEOPLE VS. LARRY FLYNT, MAN ON THE MOON, BIG EYES, DOLEMITE IS MY NAME. They also did the pretty good Stephen King adaptation 1408 (an evil fuckin room), the GOOSEBUMPS movie and the excellent limited series American Crime Story: The People vs. O.J. Simpson.
I'm not asking for this or anything, but I think PROBLEM CHILD would actually be a good candidate for a remake. I honestly think there's something there where if tuned properly it could be pretty fuckin funny. But I think that neither Dennis Dugan or Brian Levant are directors who are into careful tuning of anything. So all they would need to do would be to write a new screenplay and then find a really great director who is willing to do a remake of PROBLEM CHILD and then convince the world that they would be interested in seeing a remake of PROBLEM CHILD. Should be easy, Hollywood. Get 'r done.