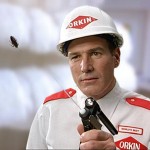 THE EXTERMINATOR is a crude but enjoyable vigilante action movie from 1980. It's kind of in the vein of ROLLING THUNDER but closer to the quality level of THE PARK IS MINE. Robert Ginty plays a troubled Vietnam vet whose best friend (Steve James, more on him later) gets paralyzed by a gang so he kills them in revenge, then decides to declare himself The Exterminator and go murder various criminals. Now that I think about it this is actually in the vein of THE PUNISHER (either version), but it came before those movies.
You know this movie means business when the very first shot is the main character being tossed through the air by a huge explosion. There's not even a studio logo before that, that is the very first shot. It starts out with a gruesome battle in Vietnam that explains why a dude would be troubled enough to become The Exterminator. There's a very realistic and disturbing beheading in this scene. Stan Winston was one of the effects guys. It's one of those action movie paradoxes because on one hand these things are what torments the main character, they are what cause him to go crazy and what he flashes back to when he's murdering criminals. But on the other hand we think they are awesome. We want to see explosions and beheadings. As viewers, what's worst for him is best for us. We are cruel gods.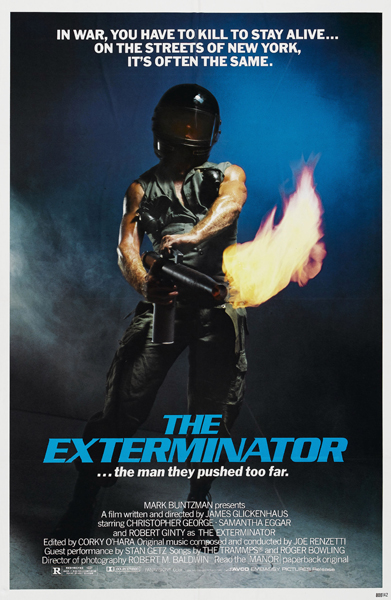 (Not so, by the way, in most horror movies. In horror movies if they're working you are hoping the person gets away. I mean how many beloved horror movies can you think of that show very little violence? HALLOWEEN, TEXAS CHAIN SAW, and many earlier classics. There are many. But an action movie is not an action movie if it doesn't show the action. That makes it a drama. I don't know why these "torture porn" people aren't up in arms about action movies. I guess we'll have to wait until they start making good ones again, then they'll go after them.)
Once he becomes a vigilante, The Exterminator goes on a pretty good rampage. He puts a mafia don through a meat grinder. He kills a chicken hawk senator (chicken hawk as in pedophile, not as in warmongerer who avoided military service, although I bet he's that too). He kills a doberman with an electric kitchen knife (but in self defense). I'm not really sure if the movie wants you to think he's a hero or that he's a nutball, probaly a little of both. They also keep switching to the story of the cop who's trying to catch him (Christopher George). I liked that because it's good to have a hero in his '50s and because in one scene he plugs a hot dog into the wall so he can cook it at his desk. That's a technique you see in real life but not in too many movies.
Also this cop is dating a doctor (Samantha Eggar) and that relationship gets a surprising amount of screen time. He even gets laid at the hospital. Way to go, Detective. And this sets up his first encounter with the Exterminator. He sees the Exterminator getting into an elevator, they make eye contact, and the Exterminator tells him his fly is down. A few moments later he realizes who it was he just saw. He later catches up to him but man that would be sad for him if that was the only time they came face-to-face. "Yeah, I could've caught him, but I didn't realize it was him. And he told me my fly was down."
That could be an alternate title for the movie too: THE EXTERMINATOR TOLD ME MY FLY WAS DOWN.
I think this Exterminator guy is flawed, and not just because of all these murders. I think we know right away because of how him and his friend Steve James handle some assholes stealing beers from their workplace. See, these two work at the docks. They catch some WARRIORS type gangsters drinking some beers from a shipment and they confront them. This is admirable because we've already seen how the boss gave Steve James a raise but wishes he could afford more. He's not doing too well financially because the mob takes too big a cut of his money.
But in the process of stopping these guys from stealing a couple beers they end up destroying a couple pallets of beers! They knock a bunch of them over and Steve bodyslams a guy on top of a stack of them. Ultimately I think they end up costing the company way more money than if they just let it go. That might even be symbolic of what happens later, he's cutting off people's noses to spite crime's face, or something.
These gangsters are mean. They're called The Ghetto Ghouls and they have a flashy hot rod with flames and their logo painted on it. They're some cold-blooded dudes but then you see their "clubhouse" where they bring girls and dance to "Disco Inferno." Are you kidding me? You guys are still listening to mainstream disco in 1980? And we're supposed to be afraid of you? I know The Warriors listened to some pretty bad music, but Disco Inferno? No way they've would've listened to that.
I also question The Exterminator's relationship with Steve James's wife. It seems like he thinks he does a real good job of looking out for her, but he really doesn't. For example, at the beginning of the movie Steve gets attacked, and he's in the hospital, and then the Exterminator goes to the wife and tells her that her husband was mugged and he may never walk again. You can only interpret that he went to the hospital and waited around for hours to get the diagnosis from the doctors, and only then did he go tell the wife.
Then near the end of the movie he goes one step further. Steve is still paralyzed at the hospital. They communicate through blinking, Steve gives his permission to pull the plug and put him out of his misery. The Exterminator does it, then goes to the wife and tells her. Motherfucker, include the wife in all matters of euthanasia. It's called etiquette, Exterminator. Come on. Be more courteous next time.
I said I'd get back to Steve James, so here I am. I don't know if you're familiar with this guy, but he's a good badass actor who never really got his due. He's known for playing a sidekick for Michael Dudikoff and Chuck Norris. And I just learned from IMDb that he was a Baseball Fury in THE WARRIORS. He had a small appearance in TO LIVE AND DIE IN L.A., and you might remember him as Kung Fu Joe if you saw I'M GONNA GIT YOU SUCKA. He died in 1993 so he never got enough chances at starring roles. Unfortunately THE EXTERMINATOR was the one that started him on that career trajectory. He gets to kick ass in the Vietnam scene and the fight over the beer, but after that he spends the whole movie in a hospital bed, where he is so miserable he decides he wants to die. Too bad.
THE EXTERMINATOR is not a good movie. It's not smart about vigilantism, and it's crudely put together. But damn, for some reason I liked it. It's sleazy enough and has enough weird little touches (the hot dog, the fly undone, the cynical ending) that it's very enjoyable. Bravo.