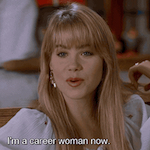 June 7, 1991
Of the other Summer of '91 movies so far, DON'T TELL MOM THE BABYSITTER'S DEAD is most similar to SWITCH. It's not nearly as high concept or fantastical, but it's another comedy about a woman (in this case not a man trapped in a woman's body, but an actual teenage girl) pretending to be an adult in order to work a fancy office job. I think I saw it back in the day but I had no memory of it, and the title and cover with the babysitter's dead feet sticking out of the lawn had me thinking it was a dark comedy. I was even thinking "Oh shit, Christina Applegate now stars in Dead To Me, which also involves lying about a death and hiding a dead body." But that's not really much of a factor here.
(P.S. – She's absolutely great on that show.)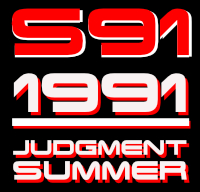 The titular mom (Concetta Tomei, Max Headroom) goes on vacation to Australia with her boyfriend, and right when she's leaving reveals to her five kids that she hired the titular elderly babysitter (Eda Reiss Merin, THE BLACK CAULDRON) to stay with them. I guess it's a long trip, but this is two 17 year old high school graduates, a 14 year old, a 13 year old and an 11 year old – do they really need a full time paid supervisor? In '91 no, of course not, you just give the kids a key and pizza money. So I guess this movie was ahead of its time.
The kids are, respectively, lead character Swell (a weird nickname for Sue Ellen) (Applegate, on her 4th season of Married… with Children), her stoner twin brother Kenny (Keith Coogan, TOY SOLDIERS), Tiger-Beat-looking Zach (Christopher Pettiet, at that time playing teenage Jesse James on The Young Riders), goth-adjacent Melissa (Michael Myers' niece Danielle Harris, in a bigger role than in CITY SLICKERS) and TV-obsessed Walter, (Robert Hy Gorman, the son in SOMETIMES THEY COME BACK, which is a TV movie, so Walter may have seen it).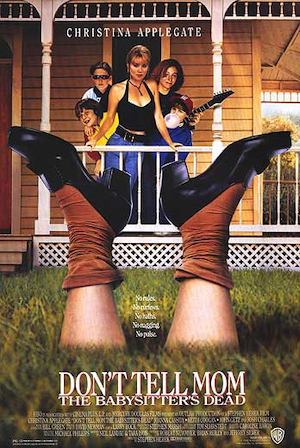 The babysitter, Mrs. Sturak, turns out to be a big jerk. She forces poor Melissa – who likes Doc Martens and skeleton decorations – to wear a puffy white dress and a giant bow, saying, "Time for little girls to dress like little girls. Sugar and spice!" When Swell decides to tell Mrs. Sturak off she finds her dead of natural causes, and the kids follow the titular information withholding procedure so they can have a fun summer of freedom without Mom on their ass. They drop the body off at the morgue in a trunk and there are no further complications with that. It's just a plot device to set up the kids being on their own. (Like they would've been in the real world where a Mom wouldn't hire a babysitter for a bunch of teenagers.)
You'd think then it would be about all the wild stuff they do without adult oversight – and reviews at the time all compared it to HOME ALONE, as if it was – but they don't do that much more than make a mess of the house. The story is mostly about Swell realizing she has to get a job to pay for their food, but she hates working at a hot dog place (why do comedies always think fast food restaurants should be circus themed?) so she makes a fake resume to apply for a receptionist job in "the fashion industry" and through luck is hired as "executive administrative assistant to the senior vice president of operations" Rose Lindsey (Joanna Cassidy, THE GLOVE, THE PACKAGE), who believes the resume's claims that Swell went to Vassar and has a bunch of relevant experience.
So really it should be called TEEN PROFESSIONAL or something – it's a regular workplace/deception type of comedy. She struggles to do the job, finding ways to pass off parts of it to people who actually know how to do it, and feuding with unhealthily grudge-holding receptionist Carolyn (Jayne Brook, KINDERGARTEN COP) and sleazeball Bruce (David Duchovny, Twin Peaks). It's funny to see Duchovny, just 2 years before The X-Files, sporting one of those '90s high-up pony tails, and often chewing gum or spraying Binaca in his mouth to emphasize that he's a dumb asshole. In his first scene he refers to "the other broad," holding his hands out to represent big boobs.
Coincidentally, Carolyn is the older sister of Bryan (Josh Charles, HAIRSPRAY), a guy she liked at the hot dog place and kept seeing. She doesn't tell him what she's up to, so they have a falling out over her trying to avoid being introduced to his sister. To do this she has to claim to hate baseball, which we know from CITY SLICKERS is very offensive to boys.
She gets sleazed on by Rose's obviously terrible boyfriend Gus (John Getz, who I didn't recognize as Ray from BLOOD SIMPLE), doesn't know how to order a martini, works with a head designer played by Sydney Lassick (CARRIE, SONNY BOY, COOL AS ICE), is not listened to about what kids want these days, keeps lucking into impressing Rose, and borrows petty cash for groceries, not knowing her siblings will steal it and buy expensive shit before she can pay it back.
Walter only wants to watch TV, so the only time he leaves the house is to climb the roof to fix the antenna. He falls off and gets injured, which leads to Swell pretending like her siblings are her kids. The big joke and/or message is that she experiences the frustrations and responsibilities her mom does balancing the budget, keeping the kids under control, even tucking them in at night.
The biggest arc for any of the other characters is for Kenny, a long haired leather jacket wearing metalhead who hangs out with dudes in ripped jeans with names like Hellhound, Skull and Lizard, smoking joints and skeet shooting from the roof. He makes Belgian waffles for breakfast every day, at first burnt, but he starts getting fancy with flavors and somehow this helps him find his true purpose in life so he suddenly cuts his hair, dresses different and wants to go to culinary school. He also has a big scene where he vents all his frustrations with Swell for not calling to say she'll be late while he's cooking and taking care of the kids, "and when was the last time we went out to dinner together, huh? You know what, I'm sick and tired of not being appreciated!" She complains about work, tells him "It's a rat race and it sucks, Kenny!," and neither of them ever pick up on "ha ha, we're talking exactly like a bickering husband and a wife."
There's a fixing-up-the-house montage as the kids prepare for Swell to implausibly host a big company presentation in the backyard. It goes really well until Bryan interrupts with weird ex-boyfriend shit and then Mom comes home early and says, "You're in big trouble, young lady!" in front of the whole fashion industry. But the happy ending is that SPOILER angry Mom sees Swell acting responsible and the other kids listening to her (even accidentally calling her mom) and she looks around at the new entertainment center and says, "I'll be damned." Also, Rose still likes Swell even knowing she's a teen, hugs her and calls her "sweetie." It's a pretty sweet ending, though the Modern English song repeating "I believe in life's rich tapestry" pushes it over the line into corny.

Like CITY SLICKERS, this has wacky animated credits (Dan Castellaneta does a squeaky voice for the animated Mrs. Sturak). Like FX2 and MANNEQUIN ON THE MOVE it has a nod to a certain movie coming later in the summer ("Stay away from her. She's in one of her Terminator moods.")
This was Applegate's first starring role in a feature film – not that she's had a ton of them since. It was probly good for her career to play a character so different from her more widely seen funny but one-note sitcom character, and I kept thinking she was better than the movie. Married… with Children lasted until '97, so her other movie roles during that decade were mostly in the supporting cast. Luckily her roles in WILD BILL, MARS ATTACKS! and THE BIG HIT are nothing to sneeze at.
Writers Neil Landau & Tara Ison previously wrote an episode of Doogie Howser, M.D. together, so I guess they were into the kids-working-adult-jobs genre. According to this interesting Buzzfeed retrospective they were inspired by RISKY BUSINESS when they wrote this under the title THE REAL WORLD, changed of course because of the MTV reality series. Their original script was apparently darker in that the babysitter actually was nice, not an asshole, and there was a subplot about Swell accidentally killing Rose's cat. One thing that does sound much funnier and more interesting is that they intentionally didn't reveal what Rose's company even did, and Swell never figured out what exactly her job was.
The writers envisioned someone like Winona Ryder starring, and at first Justine Bateman was cast, but she'd moved on by the time it was finally made. Jennifer Love Hewitt was cast as Melissa, but couldn't get out of Kids Incorporated.
Though the writers were worried that Stephen Herek was a "dumb comedy" guy, to me his work to that point makes him seem on the quirkier side. Starting as an assistant editor on Roger Corman productions like SLUMBER PARTY MASSACRE, ANDROID and SPACE RAIDERS, he made his directing debut with CRITTERS (which he also wrote) and followed it with BILL & TED'S EXCELLENT ADVENTURE.
But I don't think there's much sign of those beginnings in this one. There are occasional flashes of style – a cool overhead shot or two, a flying zoom during a little league game, a Hitchcock style dolly zoom. But about as dark as it gets is that she justifies driving the dead babysitter's Buick by saying "Zach, life goes on. I mean, come on, this car's a classic! I think that she'd want it this way." And the weirdest it gets is the inexplicable plot point that a random trio of drag queens (dressed as Marilyn Monroe, Liza Minelli and Dolly Parton) steal said car from the Chuck E. Cheese parking lot.
After this Herek was much more mainstream, giving the world THE MIGHTY DUCKS, THE THREE MUSKETEERS, MR. HOLLAND'S OPUS and the live action 101 DALMATIANS, all in a row. Years later he had a DTV sequel period (INTO THE BLUE 2: THE REEF, THE CUTTING EDGE: FIRE & ICE) and he did a bunch of the recent MacGyver series. He also did the 2003 TV movie YOUNG MACGYVER starring Jared Padalecki as MacGyver's nephew, and Zach mentions MacGyver in this, so I wonder if Herek is a superfan?
DON'T TELL MOM THE BABYSITTER'S DEAD got poor reviews (Gene Siskel called it one of the worst of the year) and only made a small profit in theaters – a disappointment since it had tested well and they were talking about sequels (!). But Wikipedia claims it "went on to achieve a cult following on VHS and television," citing the Buzzfeed article, which calls it a "beloved cult classic" and explains that HBO funded it and therefore played it constantly.
Buzzfeed are not the only ones who believe there's a loyal following: last year the record company Wargod re-released the soundtrack on vinyl with "Clown Dog inspired dust sleeve" and available in ketchup red or mustard yellow with "Clown Dog splatter." There was also a remake announced in 2010, but you know how that is.
–
Cultural references: Comedic use of Twilight Zone theme, a scene set at Chuck E. Cheese, the dead body being covered in a California Raisins sheet.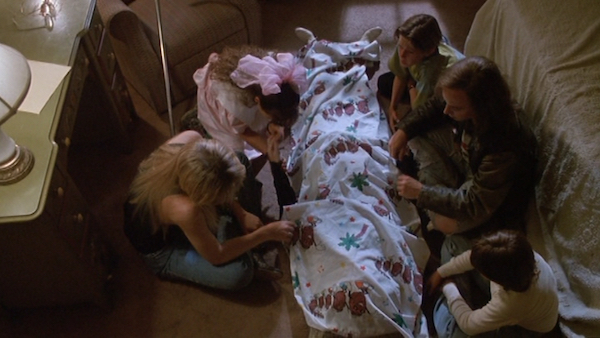 Dianetics is mentioned. Swell is called "Gidget." Melissa says, "I'm gonna git you sucker!" while playing an arcade game (Rad Racer?), but I'm not sure if that was inspired by I'M GONNA GIT YOU SUCKA or not.
Many game shows and talk shows are seen on TV or mentioned, including Win Lose or Draw, Hollywood Squares, Donahue and Oprah. I like this because I remember as a kid it always seemed like a luxury when you got to watch those things on sick days or in the summer, since for most of the year you were at school during those hours.
Dated references: When showing Swell her new office, Rose mentions "There's your mouse," which I thought was kinda cute. On the other hand, this motherfucker has a Confederate flag on his wall!? The movie is filmed in California! (Note: Thelma ended up in some biker t-shirt with a Confederate flag near the end of THELMA & LOUISE, so these are examples of people thinking of it as some symbol of tough rebelliousness.)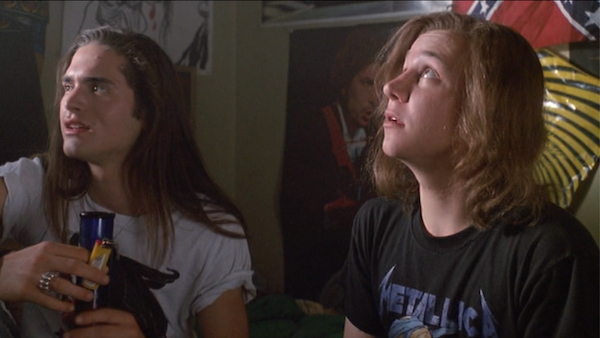 This entry was posted on Wednesday, June 9th, 2021 at 12:05 pm and is filed under
Comedy/Laffs
,
Reviews
. You can follow any responses to this entry through the
RSS 2.0
feed. You can skip to the end and leave a response. Pinging is currently not allowed.