Sometimes, in a man's ongoing journey toward a fuller understanding of his world, he must watch the POLICE ACADEMY series of films. That's all I really have to say as far as an explanation.
If you are not familiar with the POLICE ACADEMY saga, I know it must sound like a very scholarly law enforcement procedural, but don't expect THE FRENCH CONNECTION. Or even POLICE STORY. In my opinion this is more of a "comedy" type of series than a serious analysis of law and order. I guess it's trying to be a version of ANIMAL HOUSE but with cops instead of non-cops, and more of a "not good at all" type of approach than what John Landis chose to do.

Today we will be looking at the first four of the seven films, those that are anchored by the career of Carey Mahoney (Steve Guttenberg), the failed parking lot attendant turned police cadet who charms and pranks his way up through the ranks to become the beloved Sergeant Mahoney before finally ascending, like E.T. or Jesus. But Mahoney does it in a hot air balloon, with a bottle of champagne in his hand and Academy Award nominee Sharon Stone (ABOVE THE LAW, TOTAL RECALL) on his arm.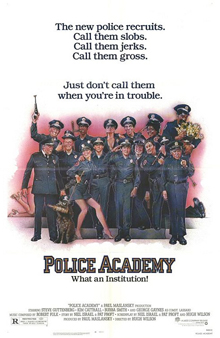 I forgot about this, but it turns out the first POLICE ACADEMY (1984) actually has a premise: the new "lady mayor" of "The City" (it's never named) is apparently some kind of liberal, so she forces the Police Academy to accept the types of recruits that they used to refuse: women, effeminate fat guys, tall black guys (Bubba Smith), etc. The head of the Academy, kind and dementia-suffering Commandant Lassard (George Gaines from Punky Brewster) doesn't mind the new policy, but the Chief of Police (George R. Robertson) and asshole Captain Harris (G.W. Bailey) are pissed. They want to maintain the boy's club status quo, so Harris sets out to drum all the misfits out of the academy by treating them like shit. It's supposed to have kind of a REVENGE OF THE NERDS pro-underdog type of appeal I think.
The first movie is not very funny in my opinion, but at least it's the first one. Mahoney is sort of the lead, he's forced to go to the Academy to stay out of jail. He brings with him Jones (Michael Winslow) because he met him at the police station, where he was brought in for scaring cops with the machine gun sound effects he makes with his mouth. The other cadets include Tackleberry (gun nut, David Graf), Hightower (tall strong guy, Bubba Smith), Hooks (timid lady with quiet squeaky voice, Marion Ramsey), Fackler (nerdy guy whose wife doesn't want him to go, Bruce Mahler), Copeland (asshole guy, Scott Thomson), Barber (fat sissy guy, Donovan Scott) and Martin (Latin Lover, Andrew Rubin). They are trained in part by Sgt. Debbie Callahan (Leslie Easterbrook from THE DEVIL'S REJECTS), a tough lady with sunglasses and giant boobs, so you could imagine some different things that could happen there. (More from the boobs than from the sunglasses.)
So the plot is that Mahoney tries to get thrown out, but then he falls for Kim Cattrall because she's cute, a dog humps the captain's leg, they put shoe polish on his megaphone, then one of them accidentally starts a riot downtown and the cadets save the day in a Jar Jar Binksian type of way.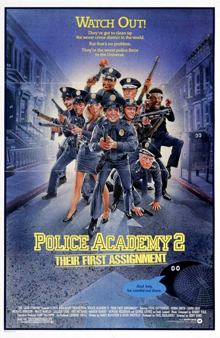 In POLICE ACADEMY 2: THEIR FIRST ASSIGNMENT (1985) some of the cadets (Mahoney, Hightower, Tackleberry, Jones, Fackler and Hooks) are hired as actual professional police officers, despite obviously dangerous incompetence and mental problems. Lassard's brother (Howard Hesseman) is Captain of the police in The City. They're doing such a terrible job that old people are outside of the headquarters throwing rocks at it for fun. Lieutenant Mauser (Art Metrano) is an ass-kisser trying to make the new recruits screw up so he can replace Captain Lassard. He's basically the exact same character as Harris and even resembles him physically. I didn't remember that he was even a different guy. (It doesn't help that Mauser's yes-man Sergeant Proctor [Lance Kinsey] will do the same thing for Harris in parts 4, 5 and 6.)
The City is also being terrorized by a gang of punks led by the squealing, crazy-eyed Zed (Bob Goldthwait, not credited as Bobcat until part 3). By "terrorized" I mean that these guys go into the grocery store and fill up their carts and make a mess and then leave without paying. But they do say thank you. (This movie would've been alot shorter if John Stone or Marion Cobretti had been shopping there.)
There is a lack of big boobs in this one, because Callahan's not in it, but Tackleberry loses his virginity and gets married (he met a female police officer who shared his passion for big guns, obviously).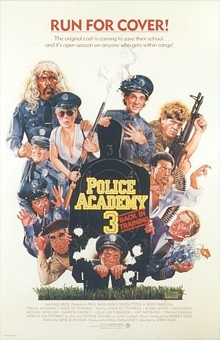 POLICE ACADEMY 3: BACK IN TRAINING (1986) is crucial because the officers are called back to the Academy to help Lassard keep it from being shut down. That way the series can still be called POLICE ACADEMY and not just POLICE. For some reason Mauser is now training beret-wearing officers and is in competition with Lassard.
So Mahoney, Hightower, Tackleberry, Jones, Hooks and Fackler return to the Academy but now as peers with Callahan. They train a new generation of misfits mainly made up of previously non-cop characters they wanted to keep in the story: gang-leader Zed, browbeaten shop owner Sweetchuck (Tim Kazurinsky), Fackler's wife (Debralee Scott), Tackleberry's boxer brother-in-law (Andrew Paris). Also they have a new Japanese stereotype guy (Brian Tochi from REVENGE OF THE NERDS, doesn't speak much English, has camera, proficient in martial arts) and another pretty girl for Mahoney (Shawn Weatherly).
I have to admit there was a part that made me laugh a little. Sweetchuck is driving to the Academy on a scooter, pissing off other drivers by going too slow. A kid passes him on a bicycle, and he angrily yells at the kid, "This is not Le Mans!"
But what I found interesting about this one is I really got the feeling we were supposed to now believe that these guys are good cops and trainers and that their school needs to stay open. It seems like we're genuinely supposed to be touched by their unity as Callahan and Hooks sing a song about team work with Tackleberry on sax and the rest of the Academy joining in to dance at the end while the opposing school sits stone faced. Note that Jones is playing guitar, not doing sound effects, and it never cuts to a joke about Zed screaming or playing bongos or anything. That's how we know it's serious. We're supposed to be rooting for them.
But why? They're still dangerously inept lunatics. It's a miracle that they graduated in part 1, and all they achieved in Their First Assignment was to improperly arrest a bunch of rioters that had to be released, and break the arm of a gang leader who not only didn't do jail time, but has now joined them at the Academy. The other school is run by assholes, but as far as we know their students are competent professionals. And it's certainly possible that they have a saxophone player on par with Tackleberry. We don't really know for sure.
From the point-of-view of Fackler this is the end of a trilogy, because it brings things full circle, reversing the events of part 1 so that it's him that doesn't want his wife to join the Academy, and he ends up on the hood of her car. Fackler disappears until part 6 so as not to destroy that poetic symmetry. Or maybe it's just because "clumsy" isn't as memorable a characteristic as "big boobs" or "loves guns" or "Asian." If they did a remake though they would get Ed Helms to play him.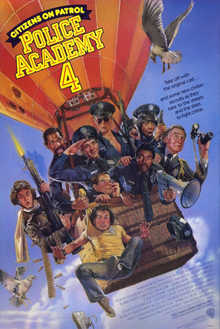 POLICE ACADEMY 4: CITIZENS ON PATROL (1987) closes out the Mahoney Quadrilogy with an even more logic-challenging premise: we have to get behind Lassard's new program of training citizens to fight crime. Suddenly Mauser is gone and Harris is back, and he has the job of being a big asshole about it being a bad idea and wanting to shut it down. But the thing is, he's obviously right! If they're not full-fledged officers why should they be trusted with law enforcement, or encouraged to put themselves at risk?
Sure, this was before George Zimmerman, but it was after Bernard Goetz. There was plenty of reason to know this was unsafe. The movie asks us to get behind an elderly women who loves guns and explosives going undercover without proper training. The program only gets shut down when the lady blows a huge undercover operation (just like HARD BOILED) but then is started up again when she ignores protocol and gets involved in busting some escaped prisoners and ninjas at an air show.
Warning: in the POLICE ACADEMY box set, part 4 is in 4:3. Gone is the visual majesty of parts 1-3.
I like analyzing these plots because what else am I gonna do, list all the jokes? They come up with these things that they repeat in subsequent sequels, making increasingly less sense as you're obviously supposed to laugh just out of familiarity. For example in each one Jones embarrasses people by making people think somebody else made a gross sound. He seems to be able to throw his voice so well that his victims cover their mouths as if even they believe they were the ones that made a slobbering noise or a burp or whatever. In part 4 he makes a fart sound so realistic that people wave their hands in front of their noses – they're tricked into thinking they smell it!
Also in part 4 he does a burp for somebody and when he does it he does a weird horse-face lower-lip quivering thing. I think this is a cheat, really, because anybody could burp, but he does that face so that we think it counts as a sound effect. Unethical, in my opinion.
What a strange fucking phenomenon, Michael Winslow. He's obviously really good at what he does. If he just tried to be a human beatbox he probly wouldn't have much of a career, but he would be cool. Instead he does standup comedy, but I don't know, man. To me making a car engine sound is not really that applicable to telling a joke or a story. I don't think it meshes. It's like if a cartoonist wanted to be a standup, and instead of punchlines he draws funny pictures on an easel. It's just too much, in my opinion. And too little.
But in the movies you can't hold it against him. He's likable because he's so deadpan. He always has to keep a straight face so the Captain or whoever doesn't know it's him. Do the asshole guys even know that he does sound effects? I'm not sure they do.
What is the deal with Jones? That's one of the biggest questions I have with this series. I think in part 1 there was some reference that made me think maybe he was supposed to be mentally ill, but if so they don't mention it again. He becomes a trusted comrade of the other officers and a respected member of the faculty, yet over the course of these 4 movies we almost never see him doing anything where he's not making robot sounds, imitating a machine or a bodily function, or beatboxing, or something involving sound effects.
In part 1 he's alone in his dorm room, sitting and pretending to play an imaginary video game. When the assholes in charge are speaking he makes sounds to embarrass or confuse them. When he's teaching he makes sounds. When he's off duty in public he makes sounds to interfere with a couple going on a date. In part 3, when the lives of himself and others are counting on Jones and his colleagues – the governor has been kidnapped and a gang of masked gunmen are running amok among civilians – he walks around making sounds to pretend that he's using some sort of scanner to detect them.
Does this man have a life outside of sound effects? Doesn't he ever feel like he deserves a rest? Is there ever a time when he just sits down to read the newspaper or watch Newhart and keeps his mouth shut? It doesn't seem like it, but there is some evidence. I mentioned that in part 3 he played guitar. In parts 2 and 3 he does martial arts and acrobatics (he can do a flip over a tall fence). These are skills that require practice. I guess during the fight training he's also doing whooshing. But maybe he shuts up during guitar practice? I don't know. I can't prove it.
Jones is specifically imitating Bruce Lee's moves, expressions and his battle cry, so it's more of an impression than a martial art. But he uses it effectively in combat. On the other hand he probly only learned to fight so he could make whooshy sound effects with each of his moves and do this joke (real popular at the time) where he mimics a dubbed kung fu movie voice and moves his lips out of synch. The writers were so fond of this joke that they had him do it in part 2, part 3 and twice in part 4. The first time in part 4 the C.O.P. Mrs. Feldman (Billie Bird) reacts like this: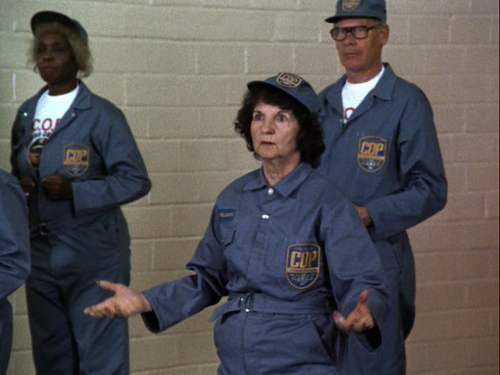 …which is a good summary of how I felt about most of that movie.
23-year-old David Spade makes his screen debut as a bratty kid who gets in trouble for skateboarding in a mall. If Tackleberry had been there he would've shot his wheels off and said "You'll stop skateboarding NOW, mister!", but he wasn't, so Mahoney puts in a good word with the judge and gets him assigned to Citizens on Patrol, to set up a prank they'll play on him later before he disappears from the movie. There's a surprisingly long section of the movie just about him and his friends skating, giving Mahoney and the crew a chance to rest, I guess. Tony Hawk and other famous skaters appear.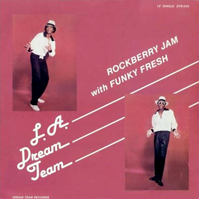 The opening and closing credits have a Melle Mel-ish rap song "Citizens on Patrol," with Winslow beatboxing and making wacky harmonica sounds and shit. The song is by L.A. Dream Team, an obscure but apparently legit group of West Coast hip hop pioneers. So that's where American culture was at in '87. Movies were ready for skatin' and rappin'.
A bird shits on Sweetchuck and Harris. Hightower's dog bites Harris's crotch while he's making a speech. Sweetchuck falls into a pool a couple times and gets launched into a basketball hoop a couple times. Harris slips on a skateboard. Harris rips his pants on a fence. In one of the more forced embarrassments for Harris he accidentally walks into a shower. It's not clear why the shower is running or why he doesn't see or hear it until it's too late. But man, that guy had water on him. Did you see that? Ha ha.
In part 1 Harris got shoe polish on his megaphone, in part 2 Mauser's shampoo got replaced with super glue, in this one Harris gets super glue on his megaphone and his deodorant replaced with mace when he's in the shower. So it's sort of a greatest hits medley.
The C.O.P. recruits are not very memorable, which is why the feisty old lady gets so much play. They got David Spade and they got a fat guy named House (Tab Thacker), that's about it. You know these guys are pathetic because none of them gets it on with Callahan. In parts 1 and 2 guys who should have no shot with her get instant boob-smothering just by knocking on her door. I guess they were honorable or greedy enough not to spread the word about it.
25 years later I'm not sure I understand why we as a nation, as a civilization, thought this shit was so funny. And it's hard to entirely understand at this removed date what it was about Mahoney – about Steve Guttenberg – that made them base this whole movie series around his charms. Obviously he must've been considered good looking, and he takes his shirt off when he can. He also has a knack for sleeveless and even cut-off police uniforms. Probly just a non-sequitur because it looks funny (like his "Bun in the Oven" t-shirt he wears to the Academy upon first arriving), but it might be to show off his body to the ladies, I'm not sure. I mean, clearly he's supposed to be awesome when he does this: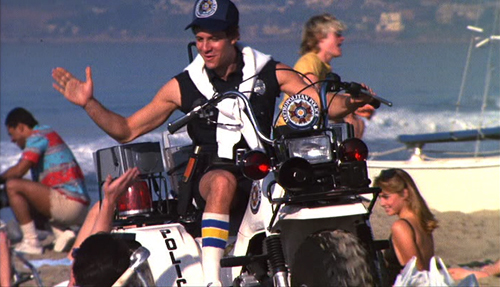 There's no joke here, it's just him driving that thing through a crowded beach, smiling and waving and high-fiving everybody, secure in the knowledge that they all love him and thinks he's The Man.
Like so many '80s comedy characters it's supposed to be funny that he's perpetually hitting on women, and in some installments there's a pretty lady who at first is put off by him and then comes to admit that oh who are they fooling they cannot resist him. Since they disappear before the next installment he never gets a chance to get serious with them (or, to be fair, to have sex with them, so he's not using them for that as far as we know).
His attraction to the ladies is completely unethical half the time, like when he spies on all the female cadets who for some reason all take a shower at the same time late at night (police basketball team practice?), when he's a teacher and he's hitting on his own student, or – my favorite – when he's coaching a women's basketball team (the age range is unclear) and makes them huddle in closer to him. And he gives a sly smile and they all giggle. I mean, picture that in real life, a man coaching young women and flirting with them in a huddle. What in real life would be creepy and disgusting in '80s comedies is funny and cute.
But his main power is as sort of a Bugs Bunny character who just says and does things to fuck with people and then smiles at the fact that they're not in on the joke. He makes them look dumb and gives them the Condescending Suppressed Smile With Eyebrows: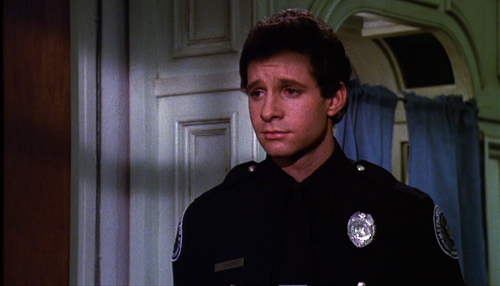 or the standard Smug Smile of I'm-So-Awesome: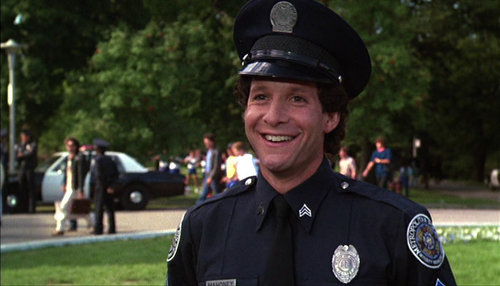 Ironically, people might give these smiles now when they talk about Steve Guttenberg. Ha ha, Steve Guttenberg. The guy from POLICE ACADEMY. Ha ha. The Gute.
But I don't know. He does seem pretty charismatic. I think I get it.
* * *
What of those we lost along the way? In part 1 we had Cadet Karen Thompson (Kim Cattrall), whose beauty inspires Mahoney to stay in the academy and fall in love, but is never mentioned in the sequels. Cadet Leslie Barbara (Donovan Scott), the big effeminate guy with the dog who would for sure be played by the guy from Modern Family in a remake. Cadet George Martín, who inspires Mahoney with his multiple sex partners and phony Latin Lover routine, and who Callahan uses as a one night stand. Part 2 has Officer Vinnie Schutlman (Peter Van Norden), Mahoney's slobby partner who eats cereal even after a cat has shit in it – I guess that character didn't capture the imagination of part 3's writers.
Let us remember them and honor them as if they had big boobs or could imitate the sound of a helicopter.
* * *
POLICE ACADEMY (1984)
Directed by Hugh Wilson (GUARDING TESS, THE FIRST WIVES CLUB, DUDLEY DO-RIGHT)
Written by Neal Israel (BACHELOR PARTY, REAL GENIUS, THE ADVENTURES OF MARY-KATE & ASHLEY: THE CASE OF THE SEA WORLD ADVENTURE), Pat Proft (THE STAR WARS HOLIDAY SPECIAL, HIGH SCHOOL U.S.A., NAKED GUN, SCARY MOVIE 3-4), Hugh Wilson.
POLICE ACADEMY 2: THEIR FIRST ASSIGNMENT (1985)
Directed by Jerry Paris (CAT BALLOU [tv version with Lesley Ann Warren], EVIL ROY SLADE, episodes of The Munsters and The Dick Van Dyke Show and stuff like that)
Written by Barry Blaustein (COMING TO AMERICA, THE NUTTY PROFESSOR, BEYOND THE MAT) & David Sheffield (all the same stuff except not BEYOND THE MAT)
POLICE ACADEMY 3: BACK IN TRAINING (1986)
Directed by Jerry Paris
Written by Gene Quintano (COMIN' AT YA!, TREASURE OF THE FOUR CROWNS, HONEYMOON ACADEMY, THE MUSKETEER)
POLICE ACADEMY 4: CITIZENS ON PATROL (1987)
Directed by Jim Drake (14 episodes of Gimme a Break!, 8 episodes of Golden Girls, SPEED ZONE, 63 episodes of Night Court, stuff like that)
Written by Gene Quintano
This entry was posted on Monday, June 25th, 2012 at 1:47 am and is filed under
Comedy/Laffs
,
Reviews
. You can follow any responses to this entry through the
RSS 2.0
feed. You can skip to the end and leave a response. Pinging is currently not allowed.