July 26, 1991
Kathleen Turner is… V.I. WARSHAWSKI, a Chicago private detective who falls into a case when an ex hockey player she picks up at a bar dies in a suspicious explosion during an inheritance squabble. The movie was a notorious flop, making back less than half its $24 million budget, and Rotten Tomatoes calculates its reviews at 21% (though Roger Ebert and Janet Maslin liked it). But I've wanted to see it for a long time, at least since realizing it was a character from a series of novels. I haven't read the books, but maybe that helps, because movies never seem to be able to capture these characters the way fans want them to (see: Parker, Jack Reacher, Matthew Scudder… I guess people like Jason Bourne and Lisbeth Salander?) and yet, when you don't know any better, they make for fun movie material.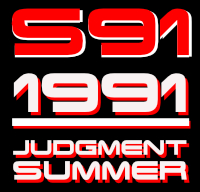 The novels are by author Sara Paretsky – the movie credits the whole series as its basis, but apparently it's mainly from the second one, Deadlock. Though the author and character are noted feminists, Hollywood Pictures got three dudes to write the screenplay – Edward Taylor (no other movie credits), David Aaron Cohen (POINT OF VIEW starring John Savage) and Nick Thiel (Eight Is Enough, The Fall Guy, Magnum P.I., THE EXPERTS, FIREBIRDS, WHITE FANG). Actually, director Jeff Kanew says on the commentary track of the blu-ray and dvd from Kino-Lorber that he never met Thiel and didn't use any of his work but that another guy who wasn't credited did to a bunch of work. Anyway he's a dude also, the one who did EDDIE MACON'S RUN, GOTCHA!, REVENGE OF THE NERDS, TOUGH GUYS and TROOP BEVERLY HILLS. They have one of those "hey, check this out" boxes around his name on the movie poster, so I guess that resume held some cachet in '91.
It's a movie that's far from stylish, ends awkwardly with an ADR joke, and has a score by Randy Edelman (THE CHIPMUNK ADVENTURE, KINDERGARTEN COP) that seems like it doesn't have the guts to go full Harold Faltermeyer. It makes perfect sense that critics in 1991 would be more exhausted by a fairly routine detective story than I would now that it's a time capsule. But I do think they were too hard on this movie. Turner is great, her character is great, there's a bunch of funny dialogue and odd character details, and yes, the novelty of a female-led movie in this genre does make it special, even 30 years later.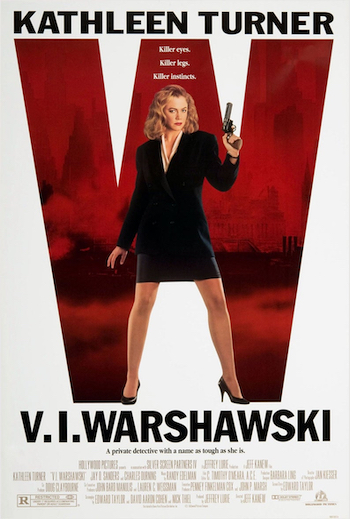 V.I. – the V can stand for Vicky, Very, Virtuous, or "my first name," depending on who asks – is introduced as kind of a mess, like many a male detective in an '80s movie. She doesn't have dried out pizzas laying around and doesn't cut them with scissors, but she doesn't seem to have any clean clothes, her refrigerator reeks and she drives a piece of shit Plymouth Duster that's constantly backfiring. "Do me a favor," she says to some dudes on a sidewalk after parking. "Steal that." (They decline.)
She lives in Chicago, not just close to Wrigley Field, but practically inside it – she comes home to find her ex-boyfriend Murray (Jay O. Sanders, TUCKER: THE MAN AND HIS DREAM) in her apartment to watch the game through the window. She cheers herself after a breakup and turning down a shitty case by going to the bar where her bartender best friend Sal (Lynnie Godfrey, New Monkees, Amen) keeps an emergency box containing jeweled high heels. She uses them to hit on a hunk she spots and then recognizes as injured hockey player Bernard "Boom-Boom" Grafalk (Stephen Meadows, Santa Barbara). Their flirtation is interrupted by him getting in an argument with his brothers Horton (Frederick Coffin, O'Malley from HARD TO KILL) and Trumble (Charles McCaughan, WAXWORK), but she gives him her card.
She ends up making out with Boom-Boom and then having to take care of his daughter (Angela Goethals, HOME ALONE). That sounds bad, but I like it because Kat is a Shane-Blackian 13-year-old who's introduced strolling casually into V.I.'s bathroom during bath time, touching the gun laying on the cabinet and asking, "Are you fucking my dad?" She's fun because she shows complete disdain for V.I. at first and still knows how to flip her shit after she changes her mind. I like the oddball touch that she has to carry around an egg to represent a baby for a school assignment (we had to do that too – mine was a goth). But before we know about that she pulls one egg out of the fridge and asks "Can I have an egg?" and it seems like a funny dig at V.I.'s lack of food.
(When you see an egg baby in a movie like this do you assume it's safe, or that it's gonna get it?)
After Boom-Boom is killed by an exploding tugboat and the cops (Charles Durning, BRENDA STARR, DICK TRACY) write it off as an accident, Kat hires V.I. for a dollar, insists on going along with her and proves to be adept at such skills as conning a bank teller into giving her an account number, escaping an abduction and stealing a boat (leading to a high speed chase on the Chicago River). She's also quick-witted enough to play along with V.I. when they go to Murray's apartment and he's with a woman they want to scare away for laughs. She reprises her "Are you fucking my dad?" line. The mystery itself is not nearly as thrilling as these little encounters along the way, but I care more about the characters and the wisecracks in a story like this anyway. And those work.
Example: When V.I. finds Murray in her apartment she's pissed that he's drinking water out of a goblet. It's a prized treasure she got from her mother, and he knows that, but there weren't any clean dishes. It doesn't turn out to be establishing something that will come up later, it's just a goofy thing that happens. Some people don't like stuff like that, but I love stuff like that (whether or not it refers to something from the books).
She deals with some pretty decent sleazeballs and villains in the movie. Stephen Root (MONKEY SHINES) has a brief appearance as a sausage factory owner (literally) whose primary role is to ask what the V stands for in the most disgusting way possible. Wayne Knight (DIRTY DANCING) is a crime lord who tells her "You know, the only reason you aren't dead already is that we was in the same home room." The more threatening of the Grafalk brothers is Trumble, a shitty metal sculptor with cartoonishly giant red hair. I love the weird moment where he tries to make her feel uncomfortable by saying, "You see, I fuck alot. More than 500 women," and she says, "Just can't get the hang of it, huh?"
I wouldn't classify it as an action movie, but in addition to the boat chase there are some bits where men attack her and she fucks them up with a couple quick moves. When somebody says she does karate she corrects that it's aikido. In the books, from what I've read, it is karate, so in my expert opinion this was inspired by Steven Seagal brining attention to aikido with ABOVE THE LAW, HARD TO KILL and MARKED FOR DEATH.
A character moment I really like is during the climactic showdown, when (ENDING SPOILER) Kat's estranged mother (Nancy Paul, LIFEFORCE) tries to drown her, while she has a disarmed V.I. at gunpoint. Rather than trying to tackle her or something, V.I. runs and jumps into the water, bravely risking herself to save Kat, but also making the calculation that this lady is not gonna be a good enough shot to fire a handgun off a cliff and hit her in the water. She gives it her best, but V.I. called it correctly.
So how does this woman-led (but dude-written) movie fit into the context of Sarah Connor Summer? I'm sure there's way more to her in the books, but I do think she's a good character here, and that she doesn't fall into the "make her feminist by giving her traditionally male qualities" category. Obviously there's a certain amount of gender flip in that she's a detective who kicks ass and that she's kind of a… man-izer, I guess you could say. But I think it plays much less as "these male qualities make her powerful" than a "this woman does her own thing and doesn't give a shit if people aren't ready for it." The promotional materials really emphasize her legs (remember when legs were a bigger deal than butts?) and V.I. finds joy in wearing high heels and fancy dresses (there's a credit for Cerruti 1881 Paris at the end, just like Bruce Willis got in HUDSON HAWK). But more often she's a blue jeans and brown jacket type of lady, because a person can be both. I'm not saying she's the most complex portrait of womanhood we're gonna see, but she's more nuanced than I expected from the REVENGE OF THE NERDS guy, that's for sure. I assume Turner (who okayed the REVENGE OF THE NERDS guy) had some influence on that.
V.I. teaches Kat to "Never underestimate a man's ability to underestimate a woman," and says she goes by her initials because "It's harder for a man to patronize you if he doesn't know your first name." She does experience a ton of sexism, but doesn't pull a THELMA & LOUISE on anyone. People call her "babe" and talk about her "pretty little nose" and a bunch of yahoo frat boys chant "Babe alert!" when she's jogging and the Lieutenant makes some comment about how if she did such-and-such she'd "be a happy housewife now."
"I'm a happy detective," she says. "I was a lousy housewife."

According to Wikipedia the books do take place in Chicago (where Paretsky lives), and it sounds like they carried over some details like her jogging, the way she dresses, her enjoyment of long baths and her ability to let ex-boyfriends remain in her life, plus regular supporting characters like Murray, Sal, her downstairs neighbor Contreras (Herb Muller, JAWS 2) and her doctor Lotty Herschel (Anne Pitoniak, BEST SELLER).
I don't think there's any hint at it in the movie, but despite having a cop for a dad she's supposed to be a liberal who was involved in the civil rights movement (she went on freedom rides in Louisiana) and anti-war protests, and hates Republicans (but only supports particularly progressive Democrats). She used to be a public defender and even as a private detective specializes in white collar crime and clients "who she feels are being bullied by the wealthier and more powerful of Chicago." I guess the stories are usually about cases where the client can't pay but she believes in their cause, which does happen in the movie.
Apparently "Boom-Boom" is her cousin in the books, but the name Grafalk comes from a character who's not in the movie, among other changes. There's no kid in Deadlock, but in other books V.I. "acts in a maternal manner towards teenagers neglected or abused by their parents." On the commentary track Kanew says that earlier drafts were more faithful to the books, but Disney wanted it rewritten to be more like PAPER MOON. (They also wanted him to cast Milla Jovovich in the part.) In post-production he wanted to add a voiceover to recapture some of the feel of the books, and Turner agreed, but ended up never recording it.
There are currently nineteen V.I. Warshawski novels and four short story collections, published between 1982 and 2020. When the movie came out there were six novels. According to this 2001 interview, Paretsky was still working full time for an insurance company, singing in a choir and tutoring at a housing project when she sold the rights to Disney. She lamented that they own the rights to the first four books and the character in perpetuity, but was happy she got to quit her day job. She didn't like what they did with her books: "I think the shape of the movie was sort of wobbling… and the whole tone just fumbled around. And then they didn't put together an intelligible story line." She also resented that they didn't hire a female screenwriter, saying she didn't feel qualified to adapt it at that time but "had friends who were begging to work on it and who were being told that they didn't want women involved in it." But she noted that Turner had "an incredible energy and intelligence" and that "I have to be honest: It was helpful to my career."
I'm glad that was the case. It probly wasn't great for anybody else's career. According to the-numbers.com it opened wide (as you'd expect from Disney), but I can't even find it on their weekly box office charts – it seems it didn't even make it into the top 12 for its opening weekend. If these charts are accurate, it opened below the 8th week of CITY SLICKERS and the 14th week of THOUSAND PIECES OF GOLD (I don't even know what that is!)
Why did it do that bad? Did people get turned off by the name? Just didn't care about a detective movie? Could it really be that they were turned off by it being a woman? Were they right to leave Sarah Connor off the TERMINATOR 2 poster?
I don't know, man, Turner looks pretty fuckin cool on the poster in my opinion. Maybe putting her legs in the middle of a giant W like it's the bat symbol or some shit is presumptuous and/or objectifying. I don't know. But I'm a convert. I'm pro-Warshawski. Fuck you, 1991 people, for all choosing MOBSTERS over this. You fuckin blew it.
Co-writer Taylor later co-wrote FRIDAY NIGHT LIGHTS, THE MIRACLE SEASON and SPEED KILLS, while credited co-writer Thiel did THE ASSOCIATE and BAMBI II. Kanew credits this movie with his nearly decade-long break from directing before Kirk Douglas (who he'd directed in TOUGH GUYS) hooked him up with some Touched By An Angel episodes in 2000. Subsequent films include the National Lampoon's branded ADAM & EVE and THE LEGEND OF AWESOMEST MAXIMUS.
Goethals was later in JERRY MAGUIRE and Todd Solondz's STORYTELLING and on a bunch of TV shows, including 24. She was the lead in BEHIND THE MASK: THE RISE OF LESLIE VERNON, a meta-horror movie that I really couldn't stand, but I think it's fair to say it has a genuine cult following (which earned it a Scream Factory special edition) and from what I remember she was good in it.
I guess Turner wasn't entirely out of the tough lady game after this if you count UNDERCOVER BLUES (1993), and she did reprise Warshawsky for two BBC Radio 4 audio dramas based on the novels Killing Orders and Deadlock. But I wish she'd been able to star in a series of Warshawski films, as intended.
The good news is another actress could absolutely do it now, and maybe be more faithful to Paretsky's creation. Maybe even be made by women. They could go ahead and credit a few who didn't work on it too, if they want. It would probly be a streaming series or something, but that's fine. Until then, I need to check out some of the books.
P.S.: Summer of '91 seems to have gotten away from the arcade scenes that proliferated early on, but this at least has a prominent appearance by the N.E.S. version of Duck Hunt.