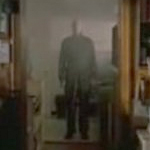 These days we got that thing of the remaquel, where they try to get an old series going again with new characters but they're kinda just tracing over the first movie, because they know we'd get scared and cry if we had to accept something new that we weren't already comfortable with from having seen it a bunch of times before. That seems kinda natural in a pop culture landscape where people demand regurgitations of their favorite "properties" and  even the "new" things they like pay fetishistic tribute to old movies through retro style and nostalgic references. But it's not a new trick.
Take, for example, 1988's HALLOWEEN 4: THE RETURN OF MICHAEL MYERS. John Carpenter had not intended to turn his 1978 smash hit into a series of slasher sequels, nor had there been much of a precedent for that type of thing. After producing, scoring and reworking the direct continuation HALLOWEEN II (1981), he went to his preferred idea of producing HALLOWEEN III as an unrelated, Halloween-set horror story, turning it into an anthology series, causing confusion and disappointment at the time.
That was 1982. Next thing you know it's 1988, ten years after the first one. Freddy is appearing in his fourth movie. Jason is appearing in his fifth (part 7 of a series that started after HALLOWEEN). John Carpenter is off making THEY LIVE and wants nothing to do with this slasher icon shit. But HALLOWEEN is financier Moustapha Akkad's job now, so he's gonna make another one no matter what and he's gonna call it THE RETURN OF MICHAEL MYERS just so everybody is clear.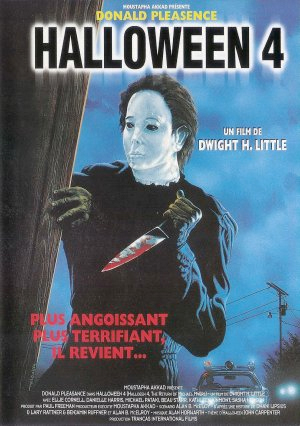 So, Michael Myers (George P. Wilbur, EVERY WHICH WAY BUT LOOSE) escapes the sanitarium again, steals a car and jumpsuit and white expressionless Halloween mask again, heads to Haddonfield on Halloween again, to kill a female relative again. Loomis gets mad again, makes dramatic declarations about how evil Michael is again, tries to find him again, teaming with the sheriff again (but it's not Brackett again. He asks for him, but Brackett moved away. Either that or he told them to tell Loomis he moved away and he's really hiding under a desk, which I think most of us would understand).
Laurie is dead now. I missed if they said how. But she had a daughter named Jamie (Danielle Harris in her big screen debut, before MARKED FOR DEATH and THE LAST BOY SCOUT), who lives in the same neighborhood, babysat by an adoptive older sister named Rachel (Ellie Cornell, HOUSE OF THE DEAD 1-2) who says she was babysat by Laurie. So everybody knows about Michael, and Jamie has visions of him coming to get her. In fact he is: he was catatonic and covered in burn bandages until some dipshit mentioned right in front of him that he has a niece. Then he sat up and poked a thumb through the guy's forehead like it was made of Play-Doh.
Jamie is the target, but Rachel is more the Laurie character, a babysitter who yearns for a boy named Brady (Sasha Jenson, GHOULIES II, DAZED AND CONFUSED) and has a wilder friend, Kelly (Kathleen Kinmont, SNAKE EATER II, NIGHT OF THE WARRIOR), who's the daughter of the sheriff (Beau Starr, ARMY OF ONE, DEVIL IN A BLUE DRESS), but who's a jerk who sleeps with Brady.
Loomis has an oft-changing lumpy burn on half of his face  due to miraculously surviving the suicide explosion of part 2. And Kelly is also friends with Lindsey Wallace (Leslie L. Rohland), who was the little girl Laurie was looking after the night he came. It's a small world.
Instead of the scene where the kids at school tease Tommy Doyle about "the Boogie Man is coming!" they tease Jamie about "The Boogie Man is your uncle!" These little assholes also start a chant of "Jaaaaa-mie's an orphan! Jaaaa-mie's an orphan!" In my opinion the Haddonfield public schools are terrible.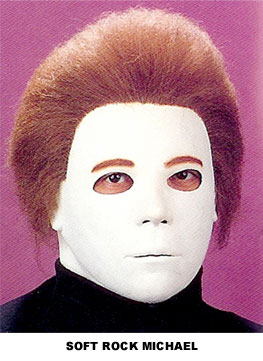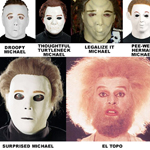 The mask doesn't look as good, but it's supposed to be a new mask, he didn't hold onto the same one from ten years ago. It makes sense, because it is easier to find a shitty knockoff Michael Myers mask than a legit one. He had to settle for what he could find.
Jamie knows about her killer uncle, but doesn't know he's the "nightmare man" she has visions of. Also she doesn't know that the clown costume she picks out for Halloween is just like the one her uncle wore as a kid when he murdered his sister. Great minds think alike?
This is the first screenwriting credit for Alan B. McElroy, who would go on to write RAPID FIRE but also SPAWN and BALLISTIC: ECKS VS. SEVER and WRONG TURN and now I guess he's a WWE Films guy so he did THE MARINE 4 and THE CONDEMNED 2.
Director Dwight Little finds some atmosphere in the quiet opening montage of wind blowing past Halloween decorations at dusk
and there's a haunting image of Michael in the jumpsuit but with a bandage covered face instead of the mask. But mostly it's repeating the kinds of things we saw in the first one, and (like Part II) it seems to be the wrong type of shoes trying to step in Carpenter's footprints. For the first time in the series the music isn't top grade (though it's done by Carpenter's musical cohort Alan Howarth). But Little is a director who probly hasn't gotten enough credit – he did my favorite Brandon Lee vehicle (RAPID FIRE), one of Seagal's beloved Golden Era classics (MARKED FOR DEATH) and a better-than-expected Wesley Snipes joint (MURDER AT 1600) – and it's fun to see a few action movie flourishes in this one. There's a scene where Michael drives over a gas pump and Loomis gets to do a slow-motion-jump-away-from-explosion. Brady tries to punch Michael, and has his fist caught in the air, then he's picked up by the head. Michael gets ahold of a shotgun, but uses it as a stabbing tool. Showing off. Or not wanting to cheat.
(only a good guy with a shotgun to stab people with can stop a bad guy with a shotgun to stab people with)
And it turns into even more of an action movie at the climax, when some dudes are driving Rachel and Jamie out of town only to have Michael crawl up from under the truck like a wing-gremlin and kill them. There's a big scene of Kelly driving fast and crazy, trying to dump Michael. And at the end instead of just Loomis shooting Michael and him falling out the window onto the lawn, they have a whole posse of cops shooting all kinds of rounds into him and he flies backwards and busts through a bunch of loose boards, collapsing into an abandoned mine.
In the final scene (SPOILER) Jamie fulfills the destiny of the clown suit by stabbing her stepmom, and they even re-create the POV mask shots and her standing holding up the bloody knife afterwards. It's kind of cool that they took the opening of HALLOWEEN and moved it to the end of this one, so it would have a certain symmetry, a certain bookending feeling as it is the very end of the series, the way they wrap up the story in the very last Halloween movie.
Well, I don't know if that's what they really thought. Maybe they thought ending this way would really change things up for part 5 since now it would be little Jamie (or maybe Jamie grown up) as the killer. That'll be different, right?