First off I gotta say, Michael Mann is what you call overrated. What did he do, fucking Miami Vice – some asshole who forgot to shave fighting drug dealers in a pink shirt and no socks – we're supposed to give the guy a fucking medal? I mean yeah it seemed like a pretty good tv show at the time but it's not the fucking Parthenon. You belong to the city, you belong to the night. Let's be a little more humble there, Michael Mann.
(To be honest I'm not sure what the Parthenon is, but what I mean is something good enough to last the ages and always stand as a proud beacon of achievement, etc. i.e. not Everybody Loves Raymond or even Miami Vice.)
And you think his tv shows are overblown and pretentious, just watch his movies. I guess I liked Ali more than most (by which I mean sort of), but there's something about this fucking guy. He did a good job trying to do the impossible (having an actor play Muhammad Ali). But anybody else woulda known not to try, because it's impossible. Not Michael Mann. He probaly thinks he did it.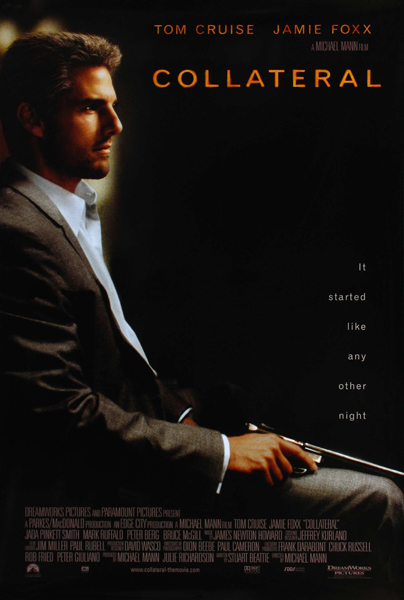 And I know every male under the age of 35 has a hard on for that movie Heat, but I don't know. Maybe I should watch it again. All I remember is a couple amazing shootouts and 3 hours of nothing. Remember when Natalie Portman killed herself? What was that about? Maybe you guys are right. I'll give it another shot. But I'm saying this to give you my general impression of Michael Mann: talented, but not as talented as many would have you believe. And full of himself. His movies give the impression that they think they are more Important than they actually are.
That's why this is a better kind of Michael Mann movie for my money because what this is, instead of a Hollywood movie masquerading as Important Art, you got a regular old Hollywood movie done very artfully. In Hollywood, you know they got all these ideas for movies like, what if terrorists took over a [you name it], or what if a guy gets trapped in a phone booth by a sniper, or what if there was a serial killer who was obsessed with the Civil War, or what if a guy had a live shark in the trunk of his car and if he doesn't win the solar car race before the timer goes off his daughter will be fed to bears, or whatever. Maybe that last one needs a little work. But this one is about what if a hitman forced a taxi driver to drive him around to kill a bunch of people. The driver is played by Jamie Foxx and the hitman is played by Tom Cruise, a very different role for him because one he is the bad guy and two he has grey hair. He also knows a little bit about jazz.
Jamie is just driving his cab, he's having a good day so far but then luck kicks him in the stones by having him pick up this nutbag who offers him a stack of Ben Franklins to drive him to five "appointments." He wouldn't have had to know anything was up except during appointment numero uno the client dies, falls through a second story window and lands on the cab. Cat's out of the bag so Tom Cruise becomes a little more forceful.
Jamie Foxx himself is not nearly as unlucky as his character. I don't know what it is, this guy used to be doing Booty Call and dressing up as a woman on tv and doing all kinds of stupid shit, now all the sudden everybody loves him, and with good reason. I saw that movie Ray and it was pretty good. I mean it's pretty much exactly what you expect from that type of biography movie (even has the corny text at the end telling how many albums and Grammies Ray Charles got) except that this guy Foxx is so damn good. You could argue that he's a comedian and all he's doing is an impression, but I don't know. I kept catching myself forgetting it was Jamie Foxx and just thinking I was watching the real Ray Charles. The real Ray Charles making a record with Booger from Revenge of the Nerds. You talk about lucky, did you see Jamie Foxx on the Golden Globes? They had fucking Prince introducing the clips from Ray. Prince. Jamie Foxx (who was an R&B singer before he stooped to standup comedy) looked like he was about to die and go to heaven and have a big orgy with all the angels.
Well he's good in this one too, a less showy role as a charismatic but somewhat timid guy who has to deal with being a hostage forced into taking part in murders. And actually that brings me to the Mannly portion of the movie. It is a theme throughout the movie that Jamie Foxx is too much of a sissy. He has to GROW SOME BALLS and TAKE A STAND and BE A FUCKING MAN YOU LIMP WRISTED PUSSY. That's the message of the movie, as delivered by the heartless serial murderer who helps him find his true self. The same way E.T. flew down from space to teach Elliott how to be good, Tom Cruise took Jamie Foxx hostage to teach him to be more of a go-getter in life.
(And Michael Mann really does know how to go after what he wants. He wants to be treated as a serious artist, so he has an amazingly humorless and pretentious commentary track on the DVD. He alternates between narrating the movie shot by shot and going into way too much detail about the backstories of the characters, like he thinks they're real people. He goes on at length about how Tom Cruise knows about jazz music from his dad, but his dad didn't actually share his love of jazz music with his son because they weren't close, so Tom Cruise actually resented jazz music but at the same time he learned about it inadvertently by being exposed to it, blah blah blah.)
That whole Straw Dogs grow some balls theme is macho cliche garbage, but you get that in other action movies. The one scene that is unbearably pretentious is the one where a wolf suddenly walks across the street and gives them the evil wolf eye. And before you can even savor the moment of embarassing art school symbolism, it starts playing some cheesy rock song. (Don't worry, not "Hungry Like the Wolf" or anything. Something more modern.)
But despite all that, I liked this movie. It's a good simple gimmick. Two opposite guys in this car together. They go to different destinations (an office building, a jazz bar, a night club, etc.) where they face loud music and physical threats, but in between it's this intimate, quiet movie, two guys in a car talking, surrounded by Los Angeles at night. At least some of it is shot on the high definition digital electronical video type deal, and if I haven't already I would like to take this opportunity to congratulate the scientists for making this hi-def-dig-vid crap into a viable medium. I used to hate digital video and had to include a warning on any review of a movie shot on it. Now it's so good that sometimes, like on this one, it looks better than if it was film. Well played, scientists. Well played.
Like Leon D. Caprio, I'm neutral on Tom the Cruiser. Not sure what the big deal is on this guy, but he can be pretty good sometimes, especially for a short guy playing regular sized characters (also known as the reverse hobbit). I liked him in this one. He's just a real intense asshole killer guy, and he's got a couple good moves, especially in this scene where he has to kill a guy in the middle of a crowded dance club. It's no Blade but it's a good murder in a dance club scene by any other standards.
The movie has a real heightened feel to it, somewhere between an ordinary real life cab ride and the worst night you never had. Only in the end does it start to feel more like a normal action/thriller type deal, with repeated dialogue and lessons learned and of course a chase on a subway. (All movies take place in either New York or Los Angeles and if somebody's gonna get chased, which they are, they're gonna jump on a subway.) But that's okay. It already has enough momentum going at that point that it can just put it into neutral and coast into the end credits.
that last part by the way is just a general automobile metaphor, it is not supposed to be some kind of this-movie-as-taxi-cab metaphor. due to my Committment to Excellence in 2005 I'm not allowed to pull that kind of hack critic horse shit. If that was the case it would've been like "the fare has already been paid, plus tip, so Mann turns the meter off." Oh jesus, how can those people look themselves in the mirror after writing that shit? Man I swear I read a review of The Life Aquatic with Bill Murray, I was underlining all the boating analogies, and there was like 12 or 13 of the motherfuckers. Like, it's covered in the rust of whimsy and the barnacles of quirk, it sails into port with Bill Murray on the starboard side and Willem Dafoe swabbing the deck with a parrot of humor, an eyepatch of comradery and a peg leg of sorrow, 'cause his leg was bit off by the great white whale of meticulously detailed art design. I'm getting off track here though, the point is, something about Collateral. Not sure what the point was I was gonna make but I'm glad I saw the movie Collateral, it was pretty good.