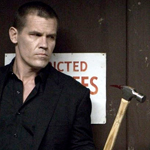 Before I talk about the remake of OLDBOY it's important that I say I liked the original but only saw it one time 8 years ago. Here's what I wrote about it then.
In the remake directed by Spike Lee and written by Mark Protosevich (THE CELL, I AM LEGEND), Josh Brolin (THRASHIN') plays a Nick Nolte character named Joe Doucett. He's an alcoholic, sexually harassing deadbeat dad and advertising asshole who after a long night of drinking, puking and crying in 1993 meets a woman who takes him to a hotel and when he wakes up he realizes she's not there and there are no windows or doorknobs. One of those hotel conundrums, you know. And this was before Yelp and shit like that so he couldn't even give them a bad review. Turns out this is not a normal hotel in that you can't leave. Someone, for some reason, has locked him in this weird prison. Every day they stick a plate of dumplings and a bottle of vodka through a hatch in the door, but they don't tell him why he's here.

He does have a TV though. I wonder if they ever played CASTAWAY on one of the channels he got? Something gave him the idea of drawing a face with blood on his pillow to keep him company. Because of the news he knows all about Bill Clinton, 9-11, the "mission accomplished" banner and Hurricane Katrina. And probly watches the entire run of Frasier, although that is not covered in the movie. Nor is the conversion from analog to digital TV signals. At some point they must've snuck in and upgraded his TV.
Where were you when you first heard about [any major event between 1993 and 2013]? Joe was in this hotel room. And it's funny to see the guy who played George W. Bush in Oliver Stone's W watching so much footage of the real George W. Bush. But it's depressing when he learns from the TV that right after he got locked up his wife was raped and murdered and everybody thinks he did it. The people who locked him up gassed him and took genetic material from him to plant on the body. Not cool. Come on, you guys. This isn't funny anymore.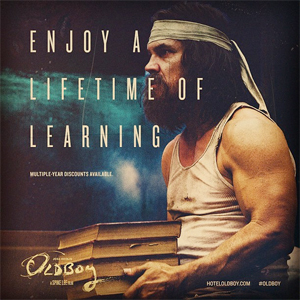 During his time of isolation he wonders why he's there. He makes a list of people who might have a reason to do this to him, but like I said, he's a fucking asshole, it's a long list. He decides to try to better himself. He uses fitness infomercials both as masturbation material and as training. He does pullups and pushups. Like Jija in CHOCOLATE he watches martial arts movies and is able to learn all the moves.
It's weird that he tattoos hash marks on his hand to remember how many years go by. Did he do that in the original? I thought he wrote on the walls. Not only does Joe have walls here but he has pen and paper! Plus he's able to watch TV, I'm sure he could count on TV to remind him the year at least every December. But I guess he's not in a condition for good decision-making. And once he's done one or two he might as well keep going every year. Make it a tradition.
In a semi-related matter, I don't get why the lady who lures him there was holding an umbrella with hashmarks printed all over it. Almost as if she knows she's in OLDBOY. Is she carrying swag for the movie she exists in? Weird.
(spoilers for major story points of movie coming up)
After 20 years (5 more than in the original – America does it bigger and better!) they mysteriously release him into the wild. His old bartender/school chum Chucky (Michael Imperioli) lets him in and helps him out despite him being a fugitive. Also he befriends a young volunteer medic (Elizabeth Olsen) and the three of them try to figure out who set him up. Suddenly a weird rich guy (South African filmatist turned actor Sharlto Copley from DISTRICT 9 and THE A-TEAM) comes to him and claims responsibility, but Joe doesn't even know who the fuck this guy is. The guy kidnaps Joe's daughter and gives him 48 hours to figure out who he is and why he hates him so much he locked him up for 20 years. Pretty harsh implication there, that Joe is such an asshole he could anger a person that much and not even remember it. Like maybe he just walks around all day inspiring twenty-year revenge plots everywhere he goes. There could be guys he ran into at a grocery store one time in the '90s still plotting against him.
He's kind of like unfrozen caveman lawyer. He doesn't understand how computers and phones work, so his friends help him out by Googling and Shazamming for him. (This is the first time I've noticed an app placement.) There's definitely alot more smart phone stuff in this than in the original. Also the tone is pretty different. The look and feel of Chan Wook Park's version was much more exaggerated and dream-like. In most scenes (the coming-out-of-a-suitcase scene pictured on some of the posters is an exception) Lee treats it more like reality, which makes the more outrageous parts, like the big hammer fight scene, seem more ridiculous.
That's gotta be the most famous part of the original, right, the long take of him going down the hall fighting a bunch of guys with a hammer? You'd feel like an asshole leaving that out, so Lee stages a pretty faithful redo. In his version the battle goes left to right and then down a ramp and right to left. Pretty cool. I believe the credits said that J.J. Perry (UNDISPUTED II) did the choreography, and it makes sense. Brolin acquits himself well, and it's fun to see him doing all these moves even though it seems kinda out of place in the movie.
It's strange to see a big fight sequence in a Spike Lee movie, that's not something he's done before. In fact, what action has he done outside of some battles in MIRACLE AT ST. ANNA? Not many. But he adapts well. Another thing we haven't really seen him do until now: gore. But he's got throats gashing blood and a nasty torture scene and a graphic cap peeling.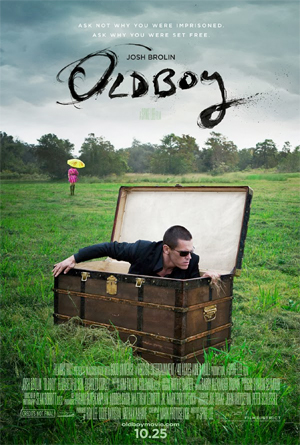 I have to admit, if I saw this with no knowledge I would not be able to identify it as the work of Spike Lee. I think there are some cool insert shots during the hotel section that remind me of his style, but only 'cause I'm looking for it. That's disappointing, because to me the attraction of Spike Lee doing a remake of OLDBOY is to find out what a Spike Lee remake of OLDBOY would look like. Turns out it doesn't look very much like a Spike Lee remake of OLDBOY.
Here's a weird thing. This is not officially "a Spike Lee Joint." He revoked its Joint status due to a dispute with the studio. (Also I noticed there was no 40 Acres and a Mule "Sho Nuff Ya Dig" after the credits.) All he'll say publicly is "tough business," but reportedly they cut about 35 minutes from his version and he and Brolin both implied disappointment about it in interviews. In an episode of the Q&A Podcast Lee avoids questions about it but later lets it slip that the hammer fight actually continued left to right again on a third level and the dumbass studio made him cut it. This is how bad the post-action thing has gotten: when a director includes a clear action scene the studio figures this is the boring stuff you need to cut out to appeal to the mainstream.
I didn't notice the cut in that scene. What I did notice was something obviously missing during the incarceration section. There's a great scene of him discovering that instead of a window behind the curtains there's a rotating photo, the wooden door is actually a cheap wood grain decal over metal, etc. But suddenly, the first time we see food come in through the door, he already seems to know it's about to come in and that there's someone out there to try to talk to. Of all the things to cut out of this section you'd think the parts where he's realizing that he's locked up would be off limits. It doesn't make alot of sense the way it plays out.
This may or may not be from the forced cuts, but some of the stuff that happens in the 20 years is rushed through so fast it's almost comical. A little white mouse gets into the room through a hole, Joe feeds it, befriends it, lets it crawl all over him, makes it a little bed, is there when it gives birth to a litter of baby mice, witnessing the miracle of life. Then to his horror his captors bring the whole family of mice to him served up as his dinner. Or as his warning not to care about anything ever again. Brolin gets so into it and it looks like real baby mice which is an amazing thing to see and it's such a touching story… except the entire subplot happens in probly under a minute and then is over with. I was kinda in between being moved by it and thinking it was hilarious. It's too many different emotions to cram into that short a piece of the movie.
Mr. Senor Love Daddy himself, Samuel L. Hold Onto Your Butts Jackson, plays the guy who runs the hotel prison. It's a pretty small part, but it's kinda a cool role for Jackson because it's more of a weirdo than he usually gets to play. And I like how you can identify the time period by whether his mohawk is blond or black.
Copley doesn't come off as well. He kinda looks like Steve Carell in an MTV Movie Awards parody of HUNGER GAMES: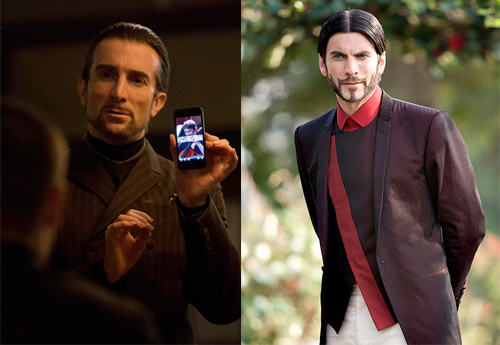 I really liked his crazy performance in ELYSIUM, but this is not his jam. He's good at playing maniacs, but I think effeminate upper class Brit is out of his range, he's not that convincing at it. I read that they offered it to Colin Firth, Christian Bale and Clive Owen but they all turned it down. Those guys would've been good (Firth was an especially inspired choice) but when they found out they weren't getting a guy like that maybe they should've figured out a different way to do the character.
Chan Wook Park's version is 10 years old, and there's been an American version in development for most of that time. Protective film geeks lost their shit all over the place when Will Smith and Steven Spielberg were gonna do an adaptation of the manga the movie is based on (which apparently is very different, not even having the big crazy twist that is the second thing I associate with the movie after the hammer fight). Before that it was gonna be pre-everybody-catching-on-to-his-FAST-AND-FURIOUS-movies Justin Lin with Nic Cage starring.
It's still hard to picture what Spielberg and Smith would've done with this. Smith was the one that brought on Protosevitch, so maybe this is somewhat similar. Now that I've seen it I'm not outraged or nothin, but I wish I could go back to the Lin and Cage one. I think that would've been the best option.  I knew during the montage of Brolin going around tasting different dumplings to try to recognize the food he was given while imprisoned that this was clearly a job for Nic Cage. That montage would've made a good companion to his hot soup eating monologue in BANGKOK DANGEROUS. It would be another remake of an Asian movie under his belt, and it would make a trilogy of cult movie remakes from interesting directors along with his WICKER MAN and BAD LIEUTENANT.
As good as Brolin is in this, Cage could've brought a mega quality to liven things up. The story uses alot of his best gears: drunk, on a rampage, crazily talking to himself, nurturing baby animals. He would be hilarious and wonderful. There's almost no humor in Lee's version, although I did chuckle a little at the worst moment, when Brolin found out the big twist and dropped to his knees in anguish as the music soared. I'm sorry, I couldn't help it. Copley holds his arms out and looks up like he's soaking in the light of God. It's just too much.
I always wondered if an American remake would be willing to have the crazy twist, or if it would even be appropriate in an American movie. To be honest I thought the (EVEN MORE SPOILERS ALL OVER THE PLACE STARTING NOW) incest twist was pretty silly. I was willing to go with it, but for me it kinda veered the movie more into enjoyable over-the-top trash than the high art it has a reputation as.
In some ways the remake tones things down. There is no hypnotism, and he doesn't cut his own tongue out (his friend gets his tongue cut out, but that's nothing). But for the reveal about what the guy is getting revenge for Spike actually made it even more ridiculous. In the original I believe the protagonist had accidentally revealed that the guy was fucking his sister, and then she committed suicide. In this one the guy's sister was fucking his dad, and also he was fucking his dad, and he enjoyed it and still misses it, and instead of just one person committing suicide the dad shoots his daughter, wife, son (who survives) and himself, and we see all this in a graphic flashback.
I don't know what they shoulda done, but I think they needed to do alot better with this twist. If you're gonna make the American version of this story shouldn't the big change be culturally American? Instead the bad guy is a prissy upper crust English guy played by a South African who isn't entirely convincing in the role. It's almost like Spike is jokingly enacting dumb people's fantasy of him being anti-white, creating new white stereotypes. Rich white people are prissy fake Brits with long fingernails and the whole family likes to fuck each other. You see what goes on behind closed doors at these private schools?
Contrast that with THE DEPARTED. I know some people still dislike that movie on the basis of it not being INFERNAL AFFAIRS, but the thing is, Scorsese and his writers took that great story and put it in this very specific world of Boston organized crime and police culture. Alot of what we love about that movie has nothing to do with INFERNAL AFFAIRS, because it has to do with the language and details of the region they moved it to. It's an American texture. OLDBOY doesn't really do that. It's not more American. It's just a little different. In that Q&A podcast Lee said some admirable things about not wanting to translate it, because Americans should be able to relate to things from other cultures. I like what he says, but it makes for a less interesting movie.
Well, I can't say this is a good Spike Lee movie or a good remake of OLDBOY. But I gotta admit I didn't hate it. At least Brolin gets a good acting workout, that's the main reason I don't regret watching it. The Chan Wook Park version will still live on on our shelves, and the Nic Cage one in that special part of our dreams called Mega-Krypton.