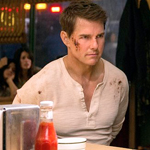 For some reason it's hard to make a movie series based on a book series about some dude who has different adventures. Except for James Bond, and Jack Ryan at one point. And it tends to be only screenwriters turned directors who know this sort of thing would be cool: Brian Helgeland did a Parker book (PAYBACK), Scott Frank did a Matthew Scudder (A WALK AMONG THE TOMBSTONES), Christopher McQuarrie did a Jack Reacher (JACK REACHER). All of these are artful takes on pulpy material, slightly elevated genre fare that's neither generic nor ashamed to take part in a one-liner or just-how-badass-is-he speech. The latter two are really more interesting for their characters and style than for the particular mysteries they get involved in, so naturally you're left wanting them to have a whole series of movies.
So congratulations to Jack Reacher for eking out just enough box office to justify a sequel. It feels so natural, but I honestly didn't think it would happen.
JACK REACHER: NEVER GO BACK is another Jack Reacher adventure. And that's about it. Tom Cruise returns as Reacher, the preposterously talented ex-military drifter who goes from town to town getting mixed up in conspiracies that force him to deliver a long series of ass kickings and/or handings. People always think they can beat him up or shoot him or spy on him, and every damn time they will be outsmarted and overpowered. He gets surrounded by a bunch of guys, he will do a bunch of moves, bones will be broken and consciousness will be lost. He gets tailed by some pros, they will inevitably take their eyes off him for like .0000021 seconds and wait a minute where the fuck did he go OH SHIT HOW DID JACK REACHER APPEAR RIGHT IN FRONT OF ME IS HE MICHAEL MYERS OR SOMETHING.
Even if you haven't read the books you might have heard by now that author Lee Child (who approves of Cruise in the role and cameos as a TSA agent in this one) describes him as a big hulking guy, and the movies really seem like they'd make more sense that way. Or he should at least look unsavory so that people look at him suspiciously when he's the stranger walking along the highway probly up to no good. In the movies you see him walking into town like John Rambo but you think "Oh no, did Tom Cruise's motorcycle break down?"
To be honest I don't see a strong distinction between Cruise's hyper-skilled, ridiculously-knowledgeable, heavily-connected, trained-in-all-types-of-fighting-chasing-evading-investigating-etc., always-twenty-three-steps-ahead Jack Reacher and his also-has-those-exact-qualities Ethan Hunt. Both of them always get betrayed and framed for murders and have to go off the grid and try to use old friends from within the system but don't know who they can trust and have to wear disguises and escape from captivity and make fake IDs and steal people's guns and climb out windows and try not to get followed and make calls and meet up somewhere and come alone don't be followed and all that. And I think Cruise is a very good actor and movie star, but usually not the type that creates distinct characters, like the way you could hear Stallone talk, or maybe even just see him stand there, and know if he was Rocky or Rambo. You could definitely jumble up dialogue from a MISSION: IMPOSSIBLE and a JACK REACHER and I wouldn't know who was who.
So Ethan Hunt is the Tom Cruise with all the fancy equipment, and the one that climbs on tall things. Jack Reacher is the Tom Cruise who stays in motels and eats at diners and hitchhikes and rides the bus. He might wear a similar jacket to what Ethan Hunt would wear, but he would wear a plaid shirt, and Ethan Hunt would not, except as a disguise. Reacher I don't think would wear sunglasses either. So that's pretty different.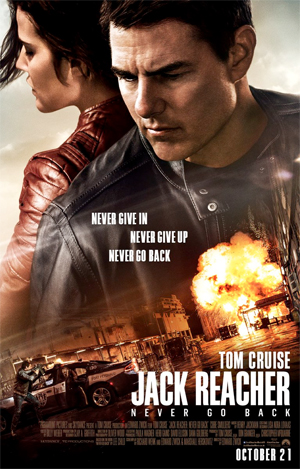 NEVER GO BACK refers to Reacher going back to the base where he used to work. He decides he wants to meet Major Susan Turner (Cobie Smulders, THE AVENGERS), who he never worked with but over the phone he tipped her off about a human trafficking ring (which makes for the type of cold open I like to see in a movie about legendary badassness) and she helped him in some unspecified way. When he gets there she's just been locked up on espionage charges that he senses are bullshit. So he gets involved, even though she thought ahead and specifically left instructions for him to stay out of it. But you know how Reacher is.
Of course it turns out that she was getting too close to some illegal activity within the military and they're trying to get her out of the picture. Something to do with some of her men who were killed in Afghanistan. The two end up on the run together while they try to figure out who and what is behind this. Not only that, but they end up having to protect a troubled teenager named Sam (Danika Yarosh, Heroes Reborn) who may or may not be Reacher's daughter but is being treated as such by the people out to get him. While Reacher is a throwback to the type of loner badass characters we love, the appeal of this one is definitely the family dynamic between the three. Reacher sees qualities in Sam that remind him of himself, which either makes them related or people who should be friends. He obviously likes having her around, but doesn't have the ability to say so. It's obvious, but sweet.
And Smulders holds her own. She's not G.I. JANE tough but you can tell she's been working on her biceps, she looks like she's hitting hard and she's convincing when barking orders. Like Reacher she has a knack for improvised weapons, whether that's finding a meat pulverizer in a kitchen or kicking out a piece of wood from a stair rail to use as a club. Reacher finds a good use for a salt shaker.
There are several enjoyable skirmishes, including one done in secret on a crowded plane, hopefully in homage to COMMANDO.
The downside is that new director Ed Zwick (who worked with Cruise on the more accomplished THE LAST SAMURAI) is in generic, disposable thriller mode when it comes to filmatism. The fights and chases are all competent but indistinct. He gets a few good hits in, but never a knockout punch like that intense sniper scene in the first one. Without the artful precision of McQuarrie's action direction or his refreshingly old school lack of sentimentality, this could be any lesser Liam Neeson or Jason Statham movie, the ones that you don't regret seeing but don't remember either.
Think about this: JACK REACHER had the brilliant stroke of casting Werner Herzog as the creepy villain. Who does the sequel cast? Lars Von Trier? Paul Verhoeven? No, Robert Knepper, same guy as HARD TARGET 2. I mean, I like him, I'm just saying it's not as special. The primary adversary is a hired assassin credited as "The Hunter," played by Patrick Heusinger (BLACK SWAN, FRANCES HA). He's capable, but it's hardly a star-making performance either. Or a "one you bring up to prove he's not as bad as everybody says" as Jai Courtney's was.
I have to agree with the general consensus that this is not as good as the first one. At the same time, I have to admit that as a man of a certain age, possessing a certain type of masculinity, there is a growing part of me that devours stories like this for fuel. It is the part of me that goes to matinees of almost every action movie starring Neeson, Statham, Stallone or Schwarzenegger. The part that watched Justified every week not only for its great extrapolation of Elmore Leonard themes, but as a generic male ritual, like how I imagine some people watched Walker Texas, Ranger. (I took to calling it Men's Abbey.) I'm talking about the part of me that wasn't mad it paid money to see THE MECHANIC: RESURRECTION, that has enjoyed a bunch of those Tom Selleck Jesse Stone movies, that is in legitimate danger of finding out about Longmire.
So I can't be too mad about this, but I wish they did it better. You're not gonna give us as authentic of a tough guy as the DTV and VOD movies, so you better give us something they can't offer.