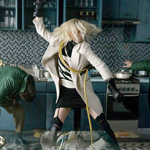 Our Lady of the Swaddledog, Academy Award winner Charlize Theron, stars in her first post-Furiosa ass-kicking movie, and holy shit it's from JOHN WICK co-director David Leitch and the 87Eleven action team. ATOMIC BLONDE, based on a 2012 graphic novel called The Coldest City, is a twisty Cold War spy thriller set in Berlin right before the wall came down. Theron plays Elaine Broughton, a beaten and bruised MI6 agent recounting a disastrous mission to obtain "The List," a document listing all the spies active in the Soviet Union (similar to the NOC List in MISSION: IMPOSSIBLE), and to kill whoever stole it.
Broughton has the qualities we look for in a larger-than-life movie spy: three steps ahead, improvisational when necessary, hyper-fashionable, sexy. When less experienced French agent Delphine Lasalle (THE MUMMY herself, Sofia Boutella) follows her, Broughton immediately makes her and beds her. The movie could get away with treating this like a conquest, but instead they start helping each other – spies with benefits – and you get to like Delphine.
The same cannot be said for David Percival (James McAvoy, THE POOL), the goofy, shifty contact who shows her around but might be the Russian double agent known as Satchel.
The '80s setting is important to the style and vibe of the movie. The music of that decade is used both as soundtrack and as a symbol of rebellion and/or western influence. As one song on the soundtrack puts it, it's "the politics of dancing, the politics of feeling good." Percival meets a guy (Eddie Marsan, THE DISAPPEARANCE OF ALICE CREED) at some kind of outdoor dance party and gets some innocent youths swept up in this. Some of them are punks, some of them breakdance, some ride skateboards. They play "Fight the Power" at their party (which checks out – the single was released with DO THE RIGHT THING that summer). This sort of melting pot of unrelated youth subcultures might seem silly in America, but I like it for this story because they're latching onto whatever forms of expression and rebellion are available. And the authorities who come down on them are offended by all of it, even "99 Luftballons," so it works.
(I don't think people used those little skateboards anymore in 1989, though. Maybe Berlin was different.)
There are other German language songs, like "Major Tom (Völlig Losgelöst)" by Peter Schilling, and "Der Kommissar" by After the Fire. It's a good selection of moody European pop: David Bowie's theme for CAT PEOPLE, "Cities in Dust" by Siouxsie and the Banshees, "I Ran (So Far Away)" by A Flock of Seagulls. Almost all of these are from the early '80s, with Depeche Mode's "Behind the Wheel" and George Michael's "Father Figure," both from '87, the most current songs besides "Fight the Power" and "Personal Jesus," which was actually 1990.
That's for the best, because the actual prevailing music of the time doesn't hold up as well. The #1 single in Germany and all of Europe during the week this movie takes place was "Lambada."
In fact, if they used the music that was popular in the time and place, this would be the soundtrack:
(SPOILER: Includes Milli Vanilli, Neneh Cherry, Technotronic, and David Hasselhoff!)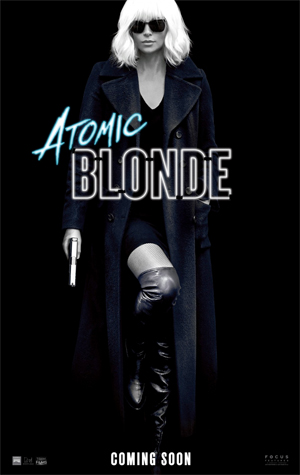 But that's how it is. We choose to remember the culture of an era in a selective, exaggerated way. A movie like ATOMIC BLONDE can filter out the cheesy parts of '80s music and zero in on the moody, synth-heavy tunes that match its idea of neon-lit cool. It can emulate the cinematic world of Michael Mann instead of, like, LOOK WHO'S TALKING or whatever. It can remove the fat and leave Pure '80s Extract. And that's very appropriate for this somewhat heightened version of a spy tale, where the sneaking and tricking sometimes erupts into long, dirty fights and chases of the type where at the end you stop holding your breath and feel like maybe you should be applauding.
Broughton likes ice in her Stoli, but also in her bath tub, because Jesus does she get knocked around in this movie. Her body takes a John McClane level of punishment. She keeps going, but you can tell every bone and muscle aches.
There's alot of intrigue to lay out here, it's not wall-to-wall action, more cloak than dagger. But it's a hell of a dagger. During training, Leitch was reportedly so impressed with Theron's abilities and discipline that he decided to go more elaborate with the action sequences. Due to her dancing background, movie experience and hard training she could do 20 consecutive moves in one take. There's a moment where she's about to fight two cops and she pulls a mask up over her nose, and I thought "here comes the stunt double." And then she proceeds to fight them and pull the mask back down in the same shot.
You guys know who Daniel Bernhardt is, right? He's a Swiss martial artist and model who tried to follow the Van Damme path in the '90s, starring in the BLOODSPORT sequels and Sheldon Lettich's PERFECT TARGET. He's not really a marquee name anymore, so I've been excited to start noticing him in significant henchman roles: an agent in THE MATRIX RELOADED, a guy that fights Statham in PARKER, "Kirill" in JOHN WICK, "Bone Breaker" in LOGAN. Here he's the next-to-last actor credited and just called "Soldier," but he's one of the biggest opponents, having two memorable brawls with Broughton and coming back at her like a Terminator. If you've seen it and don't know who I'm talking about, he's the blond guy she fights in the movie theater, and gives a unique face injury. A major role. Good for him.
Leitch only got onto my radar when he co-directed (uncredited) JOHN WICK. But he's been around since the '90s as a stuntman, including doubling Brad Pitt several times. Lately he and Chad Stahelski have also been a go-to second unit/stunt coordinating team, including for NINJA TURTLES 1 & 2 and CAPTAIN AMERICA: CIVIL WAR. Leitch is credited only for second unit on JOHN WICK CHAPTER 2 because he left to do ATOMIC BLONDE solo. Next he'll do DEADPOOL 2 while Stahelski might do a remake of HIGHLANDER.
This script is by Kurt Johnstad, writer of 300, 300: RISE OF AN EMPIRE and ACT OF VALOR. Coincidentally, Leitch was a stuntman on 300.
I think it's interesting that these two stunt guys are directing such slick looking movies. Pretty different from Hal Needham. There's a scene where she's in her hotel room and it's dark and there's red light shining on her from one side and blue from the other side and her hair looks white. It reminds me of a cool poster for an A24 movie. I'm not sure if this is the scene I'm thinking of: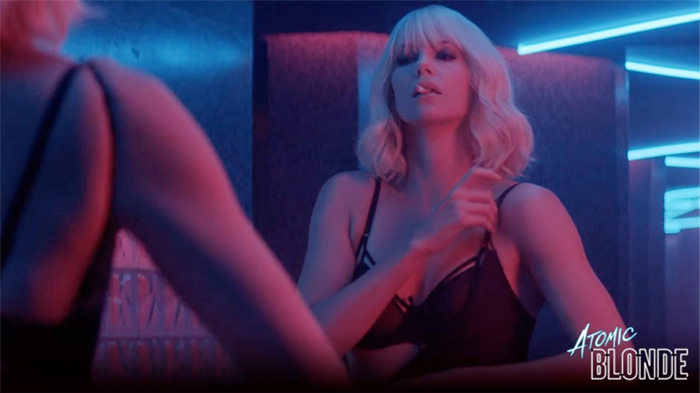 because when I was looking for stills I realized that there are other scenes with a similar color scheme: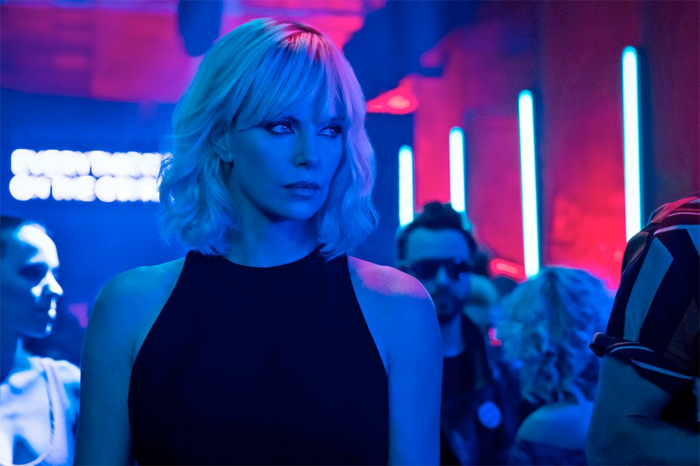 Of course, credit for this style could belong to director of photography Jonathan Sela, who shot both this and the first JOHN WICK (plus TRANSFORMERS: THE LAST KNIGHT). Leitch first worked with him as second unit director/stunt coordinator for BRADLEY COOPER'S MIDNIGHT MEAT TRAIN! Those are all really nice looking movies, actually.
Stunt coordinator/second unit director on this is Sam Hargrave, who was co-fight coordinator for BLOOD & BONE. He also plays her friend who gets killed in the opening. I'm pretty sure the credits listed several choreographers, but IMDb just has Greg Rementer, Vin Diesel's stunt double from xXx: THE RETURN OF XANDER CAGE, and Jon Valera (choreographer of MAN OF TAI CHI) as fight coordinator.
I get why people are comparing this to JOHN WICK and being disappointed. They both have great action, but they're in different genres. WICK is all based around a very elegant revenge premise. ATOMIC is kind of the opposite: a type of spy thriller meant to be stuffed with twists and turns and tricks, hard to keep up with by design. I prefer the first type of movie, but ATOMIC is a unique version of the second.
Admittedly, people who are more into the second type might be harder on it than me. My friend Matt Lynch told me he liked the action but not "the TINKER TAILOR stuff." That's kinda funny because I'm a guy who respects TINKER TAILOR SOLDIER SPY more than enjoys it. I can see that it's masterfully acted and designed and composed and it respects its audience's intelligence, but maybe it overestimates mine, because it's so subtle in a way where you miss one or two subtle things and you're fucked, you will never catch up. I understand why my friends all worshipped it at the time, but I'd talk to them about what I thought it was about and what happened and apparently I was way off. (I don't seem to have written a review.)
So my point is that the version of that that's maybe not as smart but does have an amazing 8-minute uninterrupted fight and chase like THE RAID meets CHILDREN OF MEN is the one I prefer.
I keep coming back to this: did you ever think you'd see an Academy Award winner for best actress fighting the star of BLOODSPORT 2-4 in front of Tarkovsky's STALKER on the screen at the Kino International? I mean sure we all considered it as something that could possibly happen some day, but did we think we'd get it this year? I didn't.
But seriously folks – that scene is beautiful just as an exceedingly unlikely confluence of elements, but you could also ascribe meaning to it. Here we have an Acclaimed Hollywood Superstar in a long battle with a mostly forgotten star of obscure b-movies. His status is elevated by her project and her presence, but she's really in his territory more than the other way around – martial arts, stunts, the part somebody might fast forward to if they didn't care about the plot. And neither of them will ever reach the cultural stature of the Russian art film they've cut through and had projected onto them. A battle royale of class and crass, art and exploitation, contemplation and asskicking, pop and academia. Asskicking comes out the clear winner, but it's made better by its opponents.
Thank you, ATOMIC BLONDE.
SPOILER POST-SCRIPT TO ONLY READ IF YOU'VE SEEN THE MOVIE: Thinking afterwards about those shots with the red white and blue lighting, I realized it must've been intentional foreshadowing. And always drinking vodka, like the Russians, might've been fake out foreshadowing. I like it.