I can't claim COLOMBIANA is anything special, because I'm not a fuckin liar. But I enjoyed it as a solid Luc Besson production, a retelling of the good ol' cliches about elite assassins and avenging the deaths of parents, but with the novelty of an up and coming star we haven't seen in this type of role before.
It's a hitwoman movie, but not the post-Tarantino type where you see they're just like us and watch TV and stuff. It's the opposite. The one where she's so driven that she has no real life. Her man friend (Michael Vartan from ROGUE) has to quiz her just to try to get her to say where she's from. And she won't say. All we really see about this Cataleya lady outside of her job is that she enjoys dancing by herself and sucking on lollipops. Those are her hobbies. By sheer coincidence those are also the type of things Luc Besson would like to see an attractive actress doing.
But it starts when she's a ten year old girl (played by rookie child actress Amandla Stenberg) in Colombia and her parents are killed in front of her by drug lords. Normally this would horribly traumatize the kid and years later she'd be a trained fighter. A nice touch here is that she's already a little badass when it happens. She doesn't cry, she sits calmly with her father's betrayer, then stabs him, climbs out the window, does a bunch of acrobatics on the side of the building, and leads the henchmen on a chase across town. There's a motorcycle involved, a sewer, and of course parkour – remember how in 1992 Colombian druglords always had two parkour guys on the payroll, just in case? It's not a DISTRICT B13 level of chase scene, but you gotta respect a movie where a little girl leaps over a person while running through a crowded market. Not sure how they did that stunt.
There's no explanation for how she became so awesome, unless you count that they show her reading a Xena comic book. After making her way to the States she tells her soon to be parental figure/murder mentor (Cliff Curtis from LIVE FREE OR DIE HARD) "I used to want to be like Xena, the warrior princess."
"Not anymore?" he asks.
"Now I want to be a killer. Can you help?"
"Sure."
I mean, this is not good that she's doing this, but more 10 year olds should have this kind of initiative. She knows what she wants to do with her life and she goes after it.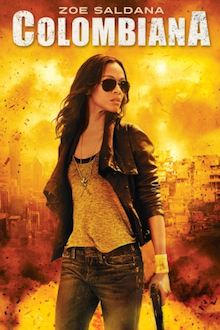 Half an hour into the movie it skips ahead 15 years to when she's a professional, then it takes its time parseling out information about how her operations works and what she's been up to.
The first hit we see is the one that gets the FBI on her ass. It's a good sequence although her plan requires two specific jail cells to be connected by vents large enough for her to crawl through. That seems unlikely, in my opinion. I wonder if she knew the ventilation setup in advance, or if she just went in sure she was so awesome she could pull it off no matter what. She's definitely confident. That's proven later when she enters the mansion of a Ponzi scheme crook through his shark tank.
Adult Cataleya is played by Zoe Saldana, that crazy blue bitch from AVATAR. She's very graceful and precise in her movements. She's also beautiful, and that's obviously central to the appeal of the movie, so it's too bad she has the body of a ballet dancer. I'm not saying I disliked the part where she runs around in booty shorts and a tank top trying to escape a SWAT team, but it could've used at least 25% more va-va-voom. In fact, I think this character has an eating disorder. She never brags about eating drug kingpins for breakfast, because she doesn't eat breakfast. She actually tells Vartan that. He also has trouble getting her to eat dinner, she always wants to go right into the sex. When he makes her lunch she leaves. When she's a kid she knows how to induce vomiting. These are all signs. This girl needs help.
Seriously ladies, breakfast is the most important meal of the day.
Director Olivier Megaton hasn't really lived up to his awesome name yet, but I think this is alot more enjoyable than his TRANSPORTER 3. I just think he lacks the sense of fun of a TRANSPORTER 2. This is all very serious like the earlier Besson movies. But it has some good parts and the action is at least readable. I like when the villain is making a Just How Badass Is She? speech and uses the cliche that "she's like mist," and right then a fuckin missile flies into the house. Looks like she's not gonna bothering being a ghost or an invisible ninja this time out, she's just gonna get right to it PUNISHER WAR ZONE style.
I also gotta give praise to the fight in the bathroom – a home one, not a public one. She utilizes the tub, hand towels, toothbrushes, even the glass he probly uses to rinse out his mouth. No, she doesn't wash her hands afterwards. So she doesn't succeed in the hygiene department but she does use the location well.
One criticism of the detective work in this movie: I think maybe you guys took too long to figure out that the rare flower drawn on the victims is THE FUCKING KILLER'S NAME. And that she wears a necklace of it at all times for extra identification. That was not that cryptic of a clue, she's not the fuckin Zodiac.
I'm not sure about the title of the movie. Is "Colombiana" like "Americana"? Is this saying that vicious drug lords and cold-blooded assassins are a little piece of Colombian culture for us to enjoy? That doesn't seem right.
Another thing I'm not sure about: there was this rumor that this was re-written from a script that would've been a sequel to LEON THE PROFESSIONAL but Besson couldn't get the rights to it. I don't know, if they made a sequel and it was just about her getting revenge for Leon's death that might be fun to watch but I'm not sure it would be worth doing. That story might've been made up. Anyway it would've been totally different because the villain is pretty standard issue foreign-criminal-who-lives-in-mansion, he has nothing in common with Gary Oldman's reptilian mega acting pill popper and classic music afficianado.
A buddy of mine that enjoyed this movie okay had a big problem with the ending, so this paragraph is a SPOILER about that. When she gets to the last guy, the big drug lord guy, she doesn't kill him with her own hands, or even see it with her own eyes. After all that she's content to trick him into getting into a van where he'll be eaten by her dogs. My buddy thought that was too impersonal, it was unsatisfying to him and didn't make sense. But I don't know, I think it's kind of fitting. That guy didn't personally kill her parents, he was responsible but did it from a distance. She treats him the same way. Don't even give him the satisfaction of being there in person. She misses his death like a movie dad misses his son's little league game. Sorry, champ. I swear I'll be there next time.
I don't know man, I'll probly forget all about this movie soon, but I enjoyed watching Saldana as Cataleya and at the end of it I was happy for her. I hope now that she straightened that revenge shit out she'll start eating more healthy. And maybe she can go back to following that dream of being like Xena.